Discover client acquisition methods to land your first project – or up-level your client base with high-paying clients.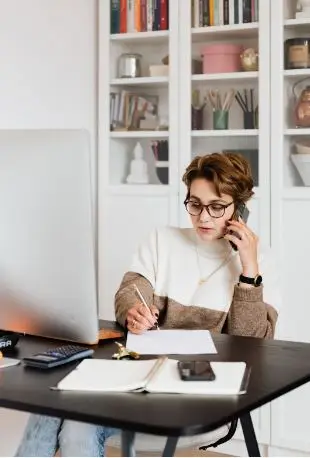 Does this sound like you? You have a ton of valuable skills to offer as a copywriter. You can't wait to work with more clients to genuinely benefit their company. Once you land projects, you know you'll knock it out of the park.

But actually getting those clients feels like a puzzle you can't figure out.

In the early stages of your copywriting journey, figuring out how to get copywriting clients can feel overwhelming. You love the idea of working for yourself on your own terms. But keeping your client load full and thriving all the time is challenging.

The good news? Once you crack the code of client acquisition, you become unstoppable.

That's why this article is here to show you the many proven ways of how to get copywriting clients.

I. How to Prepare to Get Copywriting Clients
II. Selecting a Strategy to Get Copywriting Clients
III. 5 Proven Ways to Find High-Paying Copywriting Clients
IV. Get Support With Finding Copywriting Clients


You've come to the right place. Whether you're standing at the starting line, eager to secure your very first copywriting client, or an experienced copywriter who wants to work with bigger, higher-paying clients.

I've had the privilege of working with some of the most prominent clients in my industry. Most recently, I was hired by Facebook (now Meta) to teach copywriting to their team members. The fact that they sought my expertise fills me with immense gratitude and pride.

And these are the same methods I've taught thousands of students in my signature copywriting program, Write Your Way to Freedom. Most of my students land clients and start earning within three months. Some have even soared to six figures and beyond.
Learn How to Build a Lucrative Freelance Copywriting Career
Get my free copywriting masterclass that walks you through exactly how I went from zero to consistent five-figure months with copywriting – with no experience and no portfolio.
Gain instant access – right to your inbox – when you sign up below. 👇
We will never spam you or share your email with anyone. In addition to the guide you'll also receive semi-regular email updates with tips, tools, offers and exclusive resources. All emails include an unsubscribe link, you may opt-out at any time. Read our Privacy Policy to see how your data is handled.
How to Prepare to Get Copywriting Clients
(Psst… if you've already handled the fundamentals like choosing a niche and creating a copywriting portfolio, skip to the next section).

There are hundreds of millions of brands worldwide. And almost every brand needs content and marketing to sell their products and offers. That means you have a ton of opportunities – but it's essential to give your search direction.

Instead of going after every type of client, the first step is to get clear on who you want to work with and why. This is why I recommend choosing a niche early on, to keep your client search and conversations rooted in one industry.

Here are a few steps to take before you start looking for copywriting clients:


Identify Your Ideal Client. Get clear on the type of brand or client you'd be excited to work with. This gives your client search direction and makes sure you work with clients who light you up.


Choose a Niche. Decide which field or industry you'd like to work with. Choosing a niche allows you to become an expert in one area. This builds trust with potential clients and shows you know how to help them.


Create a Copywriting Portfolio. Before you start pitching clients, you'll want to create 1-2 portfolio pieces to display in your copywriting portfolio. Write about topics that are relevant to your niche and audience.


You might be wondering, "What if I don't have any experience?" Don't let that deter you.

The reason I recommend choosing a niche and writing portfolio pieces is because you'll start to gain knowledge about the industry. You can build trust with clients by demonstrating your knowledge of their needs and industry.

Showing your proficiency and how you can help them goes much further than listing out credentials. And I always teach my copywriting students to earn as you learn.

Booking a project before you feel 100% ready is actually the best way to learn. You'll be very intentional and focused when you want to do an exceptional job for a client.
Selecting a Strategy to Get Copywriting Clients
As a freelance copywriter, acquiring new clients is always a part of your career. It might feel strange at first, but it's important to get comfortable pitching and promoting your services. Client acquisition is simply part of the job to keep your client pipeline flowing!

But don't worry, there are many, many strategies you can use to pitch and attract clients. And the tactics you use will likely evolve over time as you grow in your career.

With that in mind, here are two fundamental ways to think about how to get copywriting clients:


Outbound Strategies. Outbound strategies are the proactive techniques you use to reach out to potential clients and capture their attention.

Examples: This may include cold emailing, sending personalized DMs, attending networking events, or using platforms like LinkedIn to make connections.

When to Use: Outbound is often the way to go if you're starting out and building your client base. It allows for direct engagement and can lead to immediate opportunities.



Inbound Strategies. Inbound strategies refer to the methods you use to attract clients to you rather than actively seeking them out.

Examples: This might involve crafting engaging content on your blog, developing a robust social media presence, creating a referral program, or optimizing your website to rank well in search engine results.

When to Use: You may want to incorporate inbound strategies as you grow and have a more established presence. They can create a self-sustaining flow of new clients that gravitate towards you, attracted by your reputation and the value you offer.



When you're first starting out, using outbound methods is the fastest way to get into conversations. But as you grow, you'll likely incorporate both types of strategies.

Many successful copywriters find a balance. They blend outbound efforts to actively reach potential clients with inbound methods that pull interested prospects towards them. This balanced approach can provide a steady stream of clients and build a sustainable client base.

Like I said, I want to empower you to get comfortable pitching, networking, and promoting your services. As a freelancer, your career and earnings are much more stable when you consistently have clients interested in your services.
5 Proven Ways to Find High-Paying Copywriting Clients
There are numerous ways to get copywriting clients. One day, you'll likely have a successful mix of strategies. But my biggest advice is to focus on just one method for at least three months – especially if you're starting out.

This focus enables you to fully understand and implement a strategy. So you don't dilute diluting your efforts across multiple areas, which makes it harder to excel in them.

The process and results might seem slow at first. But remember, your consistent efforts compound over time. Every action you take builds upon the previous one, gradually moving you toward your ultimate goal.

As you read through the various options of how to get copywriting clients, consider which aligns best with your abilities and mindset. Then, concentrate your energy there!



1. Cold Email: Pitch New Clients With Intentional Messages
The top strategy I recommend, especially to new copywriters, is to cold email clients. 

Cold emailing is the idea of emailing a potential client you've never connected with, unlike warm emailing. In warm emails, there's already some level of relationship or interaction between the sender and recipient. Cold emails are sent to individuals who may not know you.

This is an impactful way to create opportunities with brands you admire and feel passionate about working with. Here's how to get started:


Identify Targets: Assemble a list of prospective clients that catch your interest. This list can be an ongoing project where you add potential leads as you encounter intriguing ads or companies. You'll refer to this later as a source for outreach.


Make Your Pitch: Now's the time to compose and send those emails, actively engaging with potential clients by offering your services. Brands get tons of poor cold emails. So if you include personalization and recommendations, your email stands out.


Follow-Up: Brand owners frequently have full plates, so your initial email might go unnoticed. By sending follow-up messages, you can significantly boost your chances of receiving a reply—sometimes by more than half.


Read this article to get step-by-step instructions on crafting your cold email strategy and pitches. Effective cold emailing requires careful targeting, clear communication, and a compelling call to action. 

Like I said, clients receive tons of cold messages – but very few are compelling. You stand out by crafting a thoughtful message that catches their attention and provides value.



2. LinkedIn: How to Find Copywriting Clients on LinkedIn
Finding copywriting clients on LinkedIn requires a balanced approach emphasizing active engagement and strategic posting.

LinkedIn is not the stuffy, corporate tool that people think it is. It's actually a powerful social platform where tons of potential clients hang out and seek expertise.

The goal is to continually get in front of your audience, demonstrate your knowledge, and build an association between your name and the quality copywriting services you offer.


Optimize your profile: Write a clear headline that communicates what you offer. Treat your About section similar to how you'd treat your website copy. Make it more about your ideal client and the problems you solve versus listing your credentials.


Comment on posts your audience follows: Engage with the content your target clients are interested in. By commenting and participating in discussions, you show up in other people's feeds with your expertise.


Send intentional connection requests: Connect with potential clients and like-minded professionals. Be sure to personalize your requests and explain why you want to connect, as it increases the likelihood of acceptance and fosters a genuine connection.


Post around 4x per week: Regularly posting content related to your field shows your active involvement and keeps you on top of your network's minds. Share insights, tips, or updates to provide value and encourage engagement from your connections.


Focusing on posting and networking allows you to create a robust LinkedIn strategy connecting you with high-paying clients who recognize and value your expertise.



3. Connect With Copywriters Who Are Ahead of You
Connecting with other copywriters in your niche is a fantastic way to learn and potentially book projects. By building relationships with those who have already established themselves in the field, you can tap into their wealth of knowledge and possibly open doors to new opportunities.

Here's how you can get copywriting clients by approaching this strategically:


Show Appreciation for Their Work: Begin by demonstrating that you've done your homework. Reference specific pieces of their work that impressed you or aspects of their style you admire. This acknowledgment shows respect and initiates a connection based on shared interests and professionalism.


Offer Your Assistance: Rather than asking for help outright, focus on how you can support them. Whether it's by collaborating on a project or offering a fresh perspective, illustrate how your skills could complement theirs. Be specific and genuine about what you can bring to the table.


Request a Meeting: If you've established a connection and feel that a conversation would be beneficial, don't be afraid to ask. Frame it as a learning opportunity and express how much you value their insights. Remember to be respectful of their time and make it as convenient for them as possible.


Reciprocate Generously: Building relationships is a two-way street. Offer value, show gratitude, and be willing to help in return. Whether it's providing feedback, sharing their content, or supporting their initiatives, active reciprocity can solidify your connection.


Connecting with copywriters further along in their careers is about professional growth, mentorship, and community building. Approach it with sincerity and a willingness to contribute – and you may find doors opening that you never anticipated.

Bonus: building connections with fellow copywriters often leads to friendships. This is one of the rewarding aspects of engaging with others in the online space. 🤗



4. Create a Referral Program
Client referrals can be a powerful way to gain new, qualified clients. When someone who has benefited from your work refers a client to you, that recommendation comes with built-in trust, making them more likely to book with you.

But satisfied clients won't always refer you automatically. It's not that they weren't happy with your work – they're just busy with their own lives.

One way to incentivize past clients to think about who they'd refer you to is by creating a referral incentive. This essentially means you offer them a small payment in exchange for any client they send your way and end up booking with you.


Offer Incentives: Consider offering a small commission, a discount on future services, or a thoughtful gift for every successful referral. This tangible reward can gentlely nudge a satisfied client to actively think about referring to you.


Make it Easy: Create simple, shareable content or templates that your clients can use to refer clients to your services. The easier you make it for them, the more likely they will take action.


Communicate Clearly: Clearly explain how the referral program works, what's in it for them, and how they can participate. Transparency builds trust!


Maintaining a connection with past clients is key to encouraging referrals and repeat projects. It's not about constantly promoting yourself. It's also about keeping the lines of communication open and staying at the forefront of their minds.

This can be as simple as following up to see how a launch went or asking how they're doing. Even casual interactions, like engaging with their content on social media, can sustain the relationship and lead to further opportunities down the line.



5. Create Content That Attracts Clients
You're a copywriter who knows how to market and sell your client's services. But what's your strategy for promoting your own skills?

You don't necessarily need to create content to draw in clients. My own process of building a six-figure copywriting business came primarily from cold emailing. But if crafting content resonates with you, it can become a valuable part of your client acquisition strategy.

If this approach piques your interest, here's how you can harness it to your advantage:


SEO Blog: Writing SEO-optimized blog posts can showcase your expertise in the field. This can be a fantastic way to draw potential clients to your site. Focus on relevant keywords and create valuable content that addresses your target audience's needs.


LinkedIn Articles: LinkedIn is a hub for professionals, and publishing well-thought-out articles on this platform demonstrates your understanding of the industry. Engage with your network, share insights, and provide valuable content encouraging your connections to view you as an expert. Consistent quality posting on LinkedIn can lead to partnerships, collaborations, and direct client inquiries.


Social Media Content. I still believe that you don't need a social media page to promote your copywriting services. But social media has become a pretty creative and compelling place. So if crafting social media content appeals to you and your ideal client hangs out there, then embrace it as part of your strategy!


A mistake I see on social media is copywriters creating "how-to" videos. But most clients aren't looking to write content themselves – so instructional videos don't appeal to them.

Instead of teaching them how to write, focus on showcasing the value and impact of professional copywriting and what it can achieve for their brand.

For example, rather than making a post about "how to create a welcome sequence," consider creating one on "the benefits of a welcome sequence." This approach highlights the importance of the concept, instead of how to do it.

By emphasizing the benefits of your expertise, you pique their interest in content creation, but they'll quickly realize that they'd rather entrust this task to a pro. That's where you come in as the go-to expert they'll want to hire.
Get the Support You Need on How to Get Copywriting Clients
Finding the right client acquisition strategy is paramount to creating a lucrative and stable career as a freelance copywriter. It's not just about landing any client. It's about connecting with those who align with your values and vision.

My copywriting education program, Write Your Way to Freedom, emphasizes the significance of choosing an acquisition method that resonates with you.

Whether you're drawn to networking on LinkedIn, offering referral incentives, engaging through Facebook Groups, or other proven strategies. The right approach can make all the difference.

The program guides you through various client acquisition methods, allowing you to:


Identify high-paying copywriting clients that fit your niche.
Craft compelling pitches that speak to your targeted audience.
Maintain consistent client relationships by delivering effective copy.

The quest of how to get copywriting clients is often the most challenging yet rewarding part of a freelance career. That's why we provide such a robust support system in this area.

Ready for that kind of support? Schedule a strategy session with our skilled team to find out if Write Your Way to Freedom is for you.

Our ultimate goal is to empower you to find a client acquisition method that works and feels right for you. By doing so, you'll set the stage for a career filled with high-paying clients and meaningful work. 💪