Learn whether you should use social media marketing to get copywriting clients.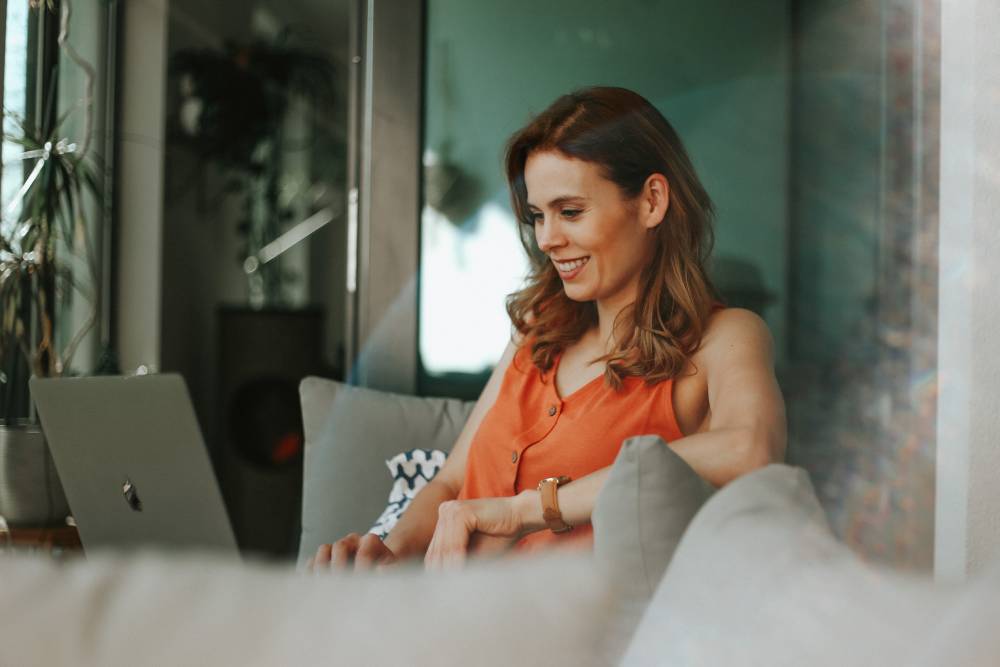 When you first started freelance copywriting, you may have thought your business needed an Instagram account. Maybe you spent hours sharing posts, stories, and helpful how-tos.

But now you're wondering, "is social media marketing actually growing my business?"

Although there are exceptions, social media marketing is generally not the most effective way to get your first few copywriting clients.

And spending time on your Instagram marketing could be taking your energy away from more impactful outreach strategies.

I grew a lucrative copywriting business without finding copywriting clients on Instagram and so have hundreds of my students – so I know you can, too.

Is Social Media Marketing Important?
You're about to start your workday when you think of the perrrfect idea for an Instagram post.

Charged with excitement, you drop everything to think through your message. After you craft the headline, you need to create a graphic to share the post in your feed. So, you head over to Canva to create the design – you adjust the coloring and formatting until it feels just right.

When you finally press publish on the post, you look up and realize you spent over an hour on your spontaneous idea. While you enjoyed the process, you're overwhelmed thinking about the list of to-do's you put off. And you're not sure if the post will lead to any real results.

Yep, we've all been there.

It can feel exciting to share your ideas and brand with the world on Instagram. And there's nothing wrong with doing so if your goal is to share and connect. But to help you protect your headspace and energy, it's time for a little tough love.

If your top priority is to find and book your first few copywriting clients, social media marketing likely isn't the most effective way to do so. Here's why…


Your Audience Probably Isn't on Instagram

Many small business owners don't know how a copywriter could help them – let alone where to find one. So, there's a good chance that your ideal clients aren't using Instagram to find a copywriter like you.

Consider whether the content you're sharing is relevant to your audience. A benefit you offer to business owners is that you take copywriting off of their plate entirely. So, your potential clients likely aren't interested in learning copywriting tips from your Instagram – because they want you to handle it for them.

However, social media marketing can be effective if your niche is online entrepreneurs since coaches and consultants tend to use Instagram to learn about growing their businesses. But you still need to put a lot of time and energy into your social media marketing to reach this audience effectively.



Effective Social Media Marketing is Time-Intensive

The Instagram algorithm favors posts from accounts that release content frequently. The more often you post, the more likely your posts will appear on the explore page and in your followers' feeds.

To be successful on Instagram, you need to constantly release new content and engage with your feed. So, managing your account can be a full-time job – that's why social media management is an entire job role at most companies.

If your audience isn't using social media, it's more impactful to direct all that time and energy into a different client outreach method. For example, try reaching out to your ideal client with a cold email. This allows you to get specific on how you'd help them grow and resolve their pain points. Cold pitching creates opportunities with businesses, even if they weren't looking for you.1



Social Channels Are Unpredictable

Remember when Facebook and its network totally crashed in October 2021? Maybe you got through your day fine without checking Instagram. But many businesses lost their entire method of advertising and reaching customers while the sites were down.

Luckily, Facebook's sites were fixed within a day. But the crash reminded advertisers that you can't always rely on one method to reach your customers. Aside from site crashes, social media marketing gets affected by algorithm changes that you can't always predict.

So, it's important to diversify your client outreach strategy. Relying on more than one way to get clients is more reliable.


Like I said, having a social media account for your copywriting business is not a fundamentally bad thing. If it lights you up to share posts and connect on Instagram then go for it. 👏

But from my experience, social media marketing is a long game that takes time to produce quality results. To get your first few clients as quickly and efficiently as possible, I recommend you try cold emailing first.
How Social Media Can Benefit You as a Copywriter
Though social media marketing isn't the most effective way to get copywriting clients, social media can still be a massive tool for your business.

For example, Facebook groups are an effective place to get to know your audience and connect with them organically. I recommend you join the Facebook groups where your audience hangs out, and connect with them there.

These are a few ways you can use Facebook groups as a tool:


Niche Research. Learn exactly what your audience is struggling with – from their own words. You can apply these pain points in your business content, cold emails, and any other outreach to make marketing your copywriting business more effective.


Networking. Comment on posts where people are asking questions and looking for solutions. You get to jump in and relieve them of frustration, show your expertise, and solve their problem. Then these clients may reach out to you because you've shown how you can help them.


Find Contact Information. Clients usually include their email addresses on their social media accounts. Once you've located this contact info, you can follow up in their inbox with a personalized pitch.


Facebook group interactions tend to be more effective than posting on Instagram because you're connecting with specific people. Instead of creating a post that speaks to a broad audience, you're demonstrating how you can help an individual client.
How to Find Copywriting Clients
Are you having a hard time finding a client outreach method you enjoy that's also effective? Maybe you enjoy social media marketing because it's more connective than cold emailing. But you're still struggling to book your first few clients, so you know you need a change.

I always recommend cold emailing to new copywriters, but there are other effective ways to find clients. My copywriting course, Write Your Way to Freedom, includes an entire comprehensive section dedicated to client outreach so you can find a channel that works for you.

To learn more, check out my free online copywriting masterclass: How to Build a Lucrative Freelance Copywriting Career.

Beyond improving your copywriting skills, you'll learn actionable steps to finding and booking your ideal clients – so you can love your client base and charge what your work is worth.
Want to Watch Instead?
Watch my Youtube video to learn why you don't need social media marketing to find copywriting clients. Subscribe to my channel for more tips on client outreach, writing, and growing your business.
Resources: