Steal this cold email example and process to pitch and land high-paying copywriting clients.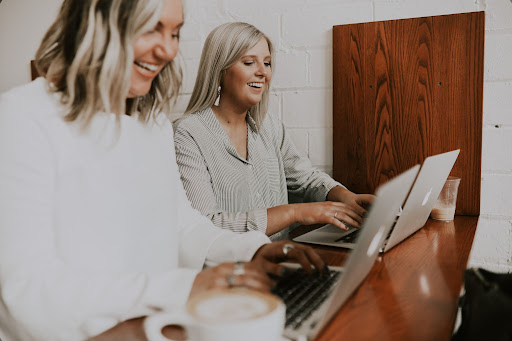 As a freelance copywriter, your top priority is to attract new copywriting clients. Even if you're a talented writer, you still need a proven way to bring in new leads and clients to find success in your business.

Maybe you just started copywriting and want to build a reliable client base. Or perhaps you've been copywriting for a while but want to land bigger, better, higher-paying clients.

Either way, cold email is a powerful way to connect with potential clients and ultimately land lucrative projects. This is the process of pitching your services to brands you admire and want to work with through email.

Many freelance copywriting resources mention cold emailing as an effective way to build your copywriting client base. But you might be asking yourself, "What do I say, where do I start, and who do I reach out to?"

That's exactly what this article is here to show you. In this post, we'll dive into the nitty-gritty of how to write a cold email sequence that gets results.

I. What Is Cold Emailing – And Why Should You Do It?
II. The Basic Cold Emailing Process (Overview)
III. How to Create Your Cold Email Client Prospecting List
IV. 4 Proven Cold Email Templates for Your Cold Email Sequence

When you're starting out, pitching your services might feel a little uncomfortable. But cold emailing is *such* a reliable way to consistently get new copywriting clients. So I want to make this process feel easy and sustainable for you.

Cold email is genuinely the most important strategy I used to build my multimillion-dollar copywriting business. It enabled me – and thousands of my copywriting students – to skip the low-paying job boards and instead rely on a roster of stable, high-paying clients.

But I'll be honest, I've also seen a lot of unsuccessful cold emails. So let's explore the elements of a successful cold email – and how to steal my proven cold email sequence template.
Want to take the guesswork out of launching your copywriting career?
Watch my free copywriting masterclass to learn exactly how I went from zero to consistent five-figure months with copywriting – starting with no experience and no portfolio.
We will never spam you or share your email with anyone. In addition to the guide you'll also receive semi-regular email updates with tips, tools, offers and exclusive resources. All emails include an unsubscribe link, you may opt-out at any time. Read our Privacy Policy to see how your data is handled.
What Is Cold Emailing – And Why Should You Do It?
There are so many benefits to pursuing freelance copywriting instead of working for an employer. As a freelancer, you have control over your time, schedule, and income.

But like every career path, there are some challenges. The biggest challenge of being a freelancer is acquiring new copywriting clients.

Freelancers succeed at creating a sustainable income with copywriting by having a way to *consistently* bring in new clients. The key to creating a lucrative career is to always network and pitch – even when you're busy with client work.

Your client acquisition strategy will probably evolve to include different methods, like referral incentives, content creation, and LinkedIn networking. It's essential to choose a strategy that works well for you.

But cold emailing is a proven pitching technique that gets results. It consists of personalizing an email to a specific brand explaining your interest in them, how they benefit from your services, and how you can help them reach their goals.

A big benefit of cold email outreach is it allows you to proactively build your client base by introducing yourself, showcasing your skills, and pitching your services.

Here's why cold emailing is a powerful tool for freelance copywriters like you:


Skip the low-paying job boards. Many freelancers start their careers on job sites like Upwork and Fiverr. But these platforms often lead to a race to the bottom. This leads to only a small percentage of writers being able to secure high-paying gigs.

Pitching your services through cold email allows you to convey the value of your services and present yourself as a professional. This allows you to directly reach brand owners willing to pay more for your services.


Work with clients you admire. Instead of waiting for job postings from brands you like, take the initiative to pitch those brands directly. This is how you create opportunities with clients that align with your values and interests.


Is there a particular brand whose mission statement or impact resonates with you? Research their contact information and pitch your services! Imagine how excited you'll feel to help that brand make a bigger impact.

Cold emailing is a proactive approach to pitching your services to potential clients – even if they're not actively looking for a copywriter. This means you create your own job opportunities rather than solely relying on job postings or client inquiries.

Pitching empowers you to create more meaningful client relationships. You're not limited to working with just anyone who comes your way. Instead, you have the ability to be selective and intentional in choosing clients who align with your values and vision.

I truly believe that working with value-aligned clients is the key to creating a fulfilling copywriting career. Partnering with brands you believe in and helping them grow makes you feel like you have a greater impact on the world.


Your Mindset About Cold Emailing
Many copywriters face resistance when it comes to cold outreach, and I totally get it. The thought of putting yourself out there may feel scary. Or maybe it's hard to keep going if you haven't heard back from your first few pitches. Is it really worth your time?

The answer is yes.

The sooner you get comfortable with cold emailing and outreach, the more successful you're going to be – and the key to cold email success is consistency.

Even when you have plenty of work lined up, constantly pitching is how you break free from the feast-to-famine cycle many freelancers experience.

You know the one: when you have so much work one month it overwhelms you, so you don't do client outreach. But the next month, you have almost no work, making you anxious and stressed.

If you make it a practice to continually pitch new clients, you're going to have a steady stream of potential clients that are interested in you at all times. That means if you outgrow a client or a project ends, you'll have a network of people excited to work with you.

Start by making a small commitment to yourself, like two personalized cold emails daily. With practice, you become more efficient and confident in your outreach.

Getting comfortable with pitching and bringing in new clients helps you see success faster than your peers.

But cold emailing doesn't work if you use a generic template you send to the masses. To succeed with cold emailing, you need to get personal and give your reader a compelling reason to open your email and respond to you. Let's explore how to do just that.
The Basic Cold Emailing Process (Overview)
It's helpful to break down the process into three main phases to make the most of your time and send high-quality cold emails efficiently. This helps you streamline your approach instead of jumping back and forth between tasks.

Here are the three main phases of the cold emailing process:


Prospecting: The first step is to create a list of potential clients you want to target. Keep an ongoing list that you can add to whenever you come across an ad or an interesting client throughout the day. This list will serve as your research pool for later.


Pitching: This is where you start sending the actual emails and reaching out to clients to pitch your services. To save time, it's best to pitch similar companies on the same day, so you can use similar email templates and streamline your communication.


Follow-Up: Be sure to follow-up. Remember, brand owners are often busy and may not respond to your first email. Sending follow-up emails increases your chances of getting a response by over 50%.1


Breaking the process into these three phases makes your cold emailing more efficient because you won't constantly switch between research and email writing.

Dedicate a specific day each week or month to add prospects to your list. Then, on subsequent days, focus on pitching those prospects – using the research you've already done.

Aim to send out around 15-20 pitches per week. Of course, there will be seasons when you're busier and may only be able to send 5. And other times when you have lots of time and can send 50 in a week. But the key is to stay consistent at all times.

By making consistent cold emailing a habit early on and maintaining it, you'll continue to have potential clients to tap into when you're ready for more work.

Now that you have a clear understanding of the general process, let's dive into the detailed steps to master cold emailing.
How to Create Your Cold Email Client Prospecting List
The number one element that separates an unsuccessful cold email from a successful one is personalization. Generic cold pitches tend to feel stale and boring – but emails that include specific ideas for a client's brand get opened and read.

The more specific and targeted your research is, the more you can personalize your cold email when you start writing. So, it's crucial to do intentional client prospecting research that makes it easier to personalize the emails later on.

Pro Tip: create a spreadsheet to track your client prospecting and cold email outreach. This prevents you from accidentally pitching the same client twice.

Here's how to get started researching your prospects:


Define Your Target Audience(s). To give your cold email search direction, figure out the types of clients you want to find and work with first. Consider a few areas, such as:



Niche: What is the specific industry or copywriting niche you're genuinely interested in? This helps you tailor your email pitches to resonate with that particular group's needs and pain points.


Brand size: Think about the size of the brands you want to target. Are you interested in working with solopreneurs, small businesses, or larger brands?


Types of copy: Consider the specific types of copywriting that might benefit your target clients. This helps you speak directly to the copy needs of your potential clients in your cold emails.

Create sections in your client acquisition spreadsheet to group potential clients based on their similarities. You may be able to send them similar cold emails that address their shared needs. This saves you time, so you're not always starting your emails from scratch.


Search For Potential Clients. Finding potential clients can sometimes feel overwhelming because so many brands are out there. The good news is there are literally countless potential clients and opportunities. But here are a few ideas to give your search direction:



Blogs: Use Google to search for topics related to your niche. Look at the articles that come up and the websites they're attached to. Could their blog or website be improved in some way?


Social Media Ads: Pay attention to ads on your social media feed. This indicates that the brand has a budget for advertising. You could reach out to see if they would be interested in testing out a new writer (you!).


YouTube: Research the topics in your niche on YouTube and take note of the profiles and channels that come up. Head to their profile and look at the rest of their marketing funnel for ways you could improve it.

Keep an eye out in your daily life for potential clients. Whether it's the boutique shop owner in your town, the family friend who recently started her business, or the flyers in your local coffee shop. There are opportunities all around you!


Research Their Marketing. Once you have a list of potential prospects, research their marketing. Your goal is to look for areas you could improve and help them see more results with your copywriting services. Here are a few ways to research their marketing:



Sign up for their email list: What content does the brand send (or forget to send) when you sign up for their list? One common mistake is that brands don't send a welcome sequence upon signup, which you can pitch them on creating.


Do an SEO audit of their site: Use a free SEO tool like Ubersuggest to analyze their website's performance, like backlinks, organic search traffic, and keyword rankings. Look for ways you can improve their SEO to help them grow.

Try to find one main idea to focus on in your cold email. The most effective cold emails hone in on one very specific problem you can solve. You can always open up the conversation later on to include more work, but focusing on one makes it targeted and focused.


At this stage, all you need to do is put this information together in your prospecting spreadsheet. This way, the information is easy to pull from when you're ready to start emails.

The final part of the client prospecting stage is to find the client's email address. My #1 tip is to email the CEO or founder. This might feel intimidating at first, but you ultimately want to reach the people at the top who are the decision-makers.

You can use a tool like Hunter.io to help you find client email addresses. Remember, you're not spamming this person. You're looking for their email so you can reach out and genuinely help them grow their brand with your ideas and services. 🙌

Once you have a list of groups with different types of brands and needs, you can create cold email templates for each type of brand or need. This saves you time because you can simply personalize each template before you send them instead of starting from scratch.
How to Write a Cold Email (5 Steps)
Later in this blog, we're going to review a 4-part cold email sequence that includes follow-up emails. Although a follow-up is important, the first email is the most critical.

This initial email should be hyper-personalized and convey how you can help the brand owner solve a specific problem. So, it's crucial to spend the most time crafting this first note.

Here are six areas to think about when you're writing your initial cold email:


Craft a compelling cold email subject line: Use a subject that's concise, compelling, and customized. Avoid self-focused lines like "Copywriting Services." Instead, use something specific that piques their curiosity and encourages them to open the email.

Example: "Would this help you make a bigger impact?"


Hook: Start your email with a personalized introduction beyond generic statements like "I love your mission." Show that you've done your research and are paying attention to their specific brand.

Example: "Your recent [piece of content] resonated with me [for these reasons]."


Introduce the problem: Focus on one specific problem you can help the brand owner solve. Keep the email focused and concise, and position yourself as a solution to their pain point or problem.

Example: "I noticed you've been blogging since last October, but this hasn't led to an increase in your website's search traffic. I have a few ideas for your approach that would help you see a much bigger impact from your SEO efforts."


Position your services as the solution: Communicate clearly how your copywriting services can address the problem you've identified. Be sure to express why it matters to them and the larger benefits it would lead to.

Example: "My SEO strategy and content package helps brand owners like you increase their site traffic and visibility on organic search. So you can start receiving qualified leads on your website while you stay focused on your vision."


Showcase relevant results: Share any relevant results or successes you've achieved for similar clients or projects. Provide data, metrics, or testimonials that demonstrate the impact of your work and the value you can bring to their business.

Example: "Just recently, I helped a client increase their website traffic by 70%, which directly translates to more opt-ins and revenue. I'd love to help you see even bigger results than these."



Include a clear, easy call to action (CTA): End your email with a clear and concise call to action (CTA) that tells the recipient what to do next. Make it easy for them to take the next step – whether it's scheduling a call, watching a video, or taking another action.

Example: "If you're interested, let's hop on a call so I can share my ideas with you. Here's a link to schedule a discovery chat."


If you've ever received a cold email, you've probably noticed they're usually very dry, non-personal – and, quite frankly, boring. These six sections completely set your emails apart and get your reader interested.

It shows the potential client that you're a professional, you've done your research, and you have valuable ideas to help them grow their brand. The key is to always tie it back to how your services can benefit them and their goals.
4 Proven Cold Email Templates for Your Cold Email Sequence
Now that you have a better idea of what to include in your cold email, let's put it all into action.

The first email is the most critical for getting your prospect's attention. But the follow up helps increase their likelihood of response. What do you say in all those emails?

Here are four cold email templates to inspire your cold email sequence:


Email #1: The Attention-Grabber.
The first email covers the six sections we went over in the last section. Here's an example so you can see the cold email template come to life: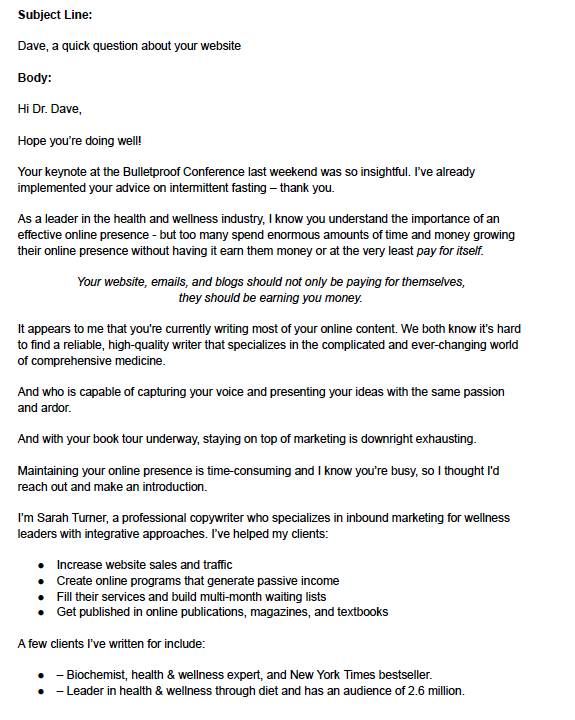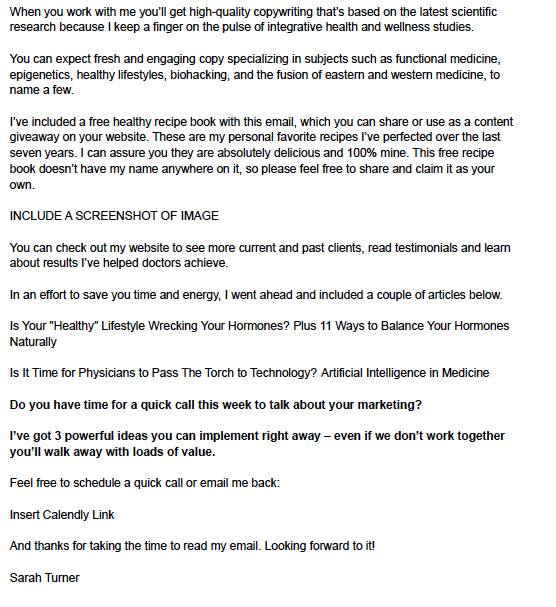 Email #2: The First Follow-Up.
Email number two is a short, simple email that simply bumps up the last note to the top of the client's inbox. The goal is to remind them of your initial message and prompt them to read it.

Example: 
Hey <first name>,
I know the days get busy, so I wanted to pop my last email to the top of your inbox. Hope you have an awesome day!
<sign off>
<link to website>


Email #3: The Big Win Email.
This email is an opportunity to highlight your success with a previous client in the same niche as the person you're reaching out to. The goal is to get them interested in your results so they can envision themselves receiving them.

If you don't have any previous client work yet, that's okay. You could detail two big problems their niche is experiencing with digital marketing and how you would tackle those problems. Position yourself as the expert who can diagnose and treat their problems.


Email #4: The "Goodbye for Now" Email.
If you're still waiting to receive a response, you can send one last email that lets them know how to reach you in the future. The goal of this email is to keep the opportunity open for potential collaborations down the line. You never know, they might reach out to you a year later.

Example:

Hey <first name>,

I know there are a lot of moving pieces when you're running a brand, so I totally get it if it's not the right time to work together. This is the last time I'll reach out for now, but I'd love to connect in the future if you're ever interested in growing your sales and traffic.

My inbox is always open, so feel free to save my email and reach out when you're looking for a copywriter or marketing support.

Have a great day!

<sign off>

<link to website>

Pro Tip: you can use apps like GMass, a free Google Chrome add-on, to automate parts of your cold email process. With GMass, you can program preset follow-up responses to be sent automatically if the prospect doesn't respond to the initial email.

This saves you time because you don't need to go back and send emails to anyone who didn't respond. Gmass will send those emails for you automatically.

The first email in the sequence is always going to be the most personalized. But the rest of the emails in the sequence can be duplicated and reused easily with a few tweaks.
How to Get Copywriting Clients Through Cold Email
Cold emailing puts you in control of the clients you work with and how much you can earn. It's how you elevate from a freelance copywriter to a copywriting business owner. Instead of waiting for a raise, you increase your income by pitching and taking on new clients.

Lucrative income and value-aligned work lead to a purposeful freelance copywriting career. You can achieve both of these things through cold emailing. That's why my comprehensive copywriting program, Write Your Way to Freedom, walks you through the process.

Write Your Way to Freedom teaches you how to find high-paying copywriting clients and pitch them like a pro. It also dives deep into multiple client acquisition methods, like…


Cold Emailing
LinkedIn Networking
Referral Incentives
Facebook Groups

…and so much more.


Learning how to get copywriting clients consistently is critical to your success as a freelance copywriter. That's why Write Your Way to Freedom offers so much support in this area.

Apply for a strategy session to speak with our wonderful team. They'll help you discover if Write Your Way to Freedom is the right fit for you.

Our goal is to help you say goodbye to job boards forever, master cold email, and start working with high-paying clients you believe in!


Resources: