A proven business and marketing plan to build an online business that offers you purpose, wealth, and unparalleled freedom.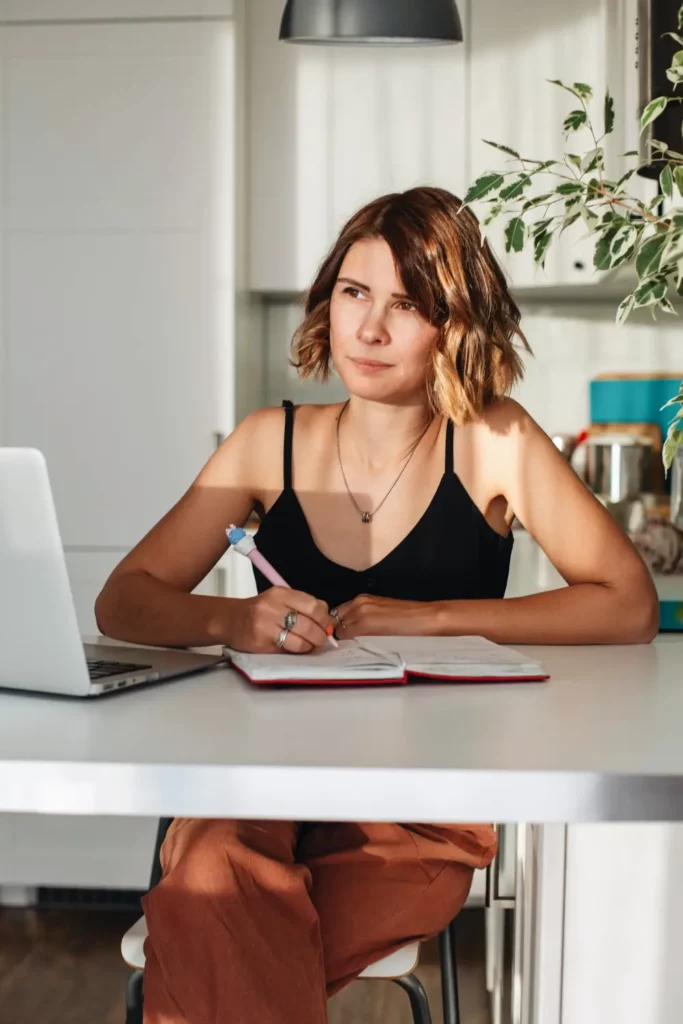 Thinking about diving into the entrepreneurial world? There's no better moment to start an online business than right now.

2023 is brimming with opportunities for budding entrepreneurs. Maybe you've seen how-to's on social media about consulting, e-commerce, affiliate marketing, and so much more. The opportunity is there – but which one should you focus on?

As an entrepreneur, I can tell you that success depends on having a clear and focused plan. It's crucial to zero in on *one* idea and stay consistent in your pursuit.

This article guides you through every crucial decision as you start an online business.


I. Determine Your Offer (15 Online Business Ideas)
II. How to Create a Business Plan
III. Marketing Your Online Business
IV. Cultivate Habits to Achieve Your Goals


You'll come away with a clear idea of the online business you want to start and the steps to take to bring it to life. (There are a lot of phases packed into this blog, so you may want to bookmark it and come back to it as you work through each step).

I've been an entrepreneur for over a decade, and I'm proud to own a 8-figure business that's allowed me more purpose, wealth, and freedom than I ever could've imagined.

But I'll be honest: many of the business "gurus" make it sound way too easy. That's why I'm going to be transparent with you about the process.

Entrepreneurship requires strategy and consistency. But with the right steps, support, and focus – you'll achieve your goals much faster than you thought possible.
Let's Build Your Online Business – Together!
Ready to kickstart a business that boosts your income and makes a profound impact?
I'm rolling out a monthly membership designed to guide you on starting or scaling your online venture – encompassing business development, offer formulation, and impactful marketing.
Dive into a vibrant community where mentorship meets candid conversation. You'll get valuable feedback and resources tailored for success. 
Join the waitlist to be the first to know when Let's Build Your Online Business opens!
We will never spam you or share your email with anyone. In addition to the guide you'll also receive semi-regular email updates with tips, tools, offers and exclusive resources. All emails include an unsubscribe link, you may opt-out at any time. Read our Privacy Policy to see how your data is handled.
Determine Your Offer (15 Online Business Ideas)
Twenty years ago, launching a business was pretty risky and expensive.

Securing loans, establishing a physical storefront, and managing the hefty overhead costs were all part of the entrepreneurial journey. Fast forward to today – and the digital landscape has dramatically reshaped the way we think about entrepreneurship.

All you need is a stable internet connection to start an online business.

That's not to say that starting a business is easy. It still requires strategic planning, unwavering commitment, and a great deal of hard work. But opportunities are abundant, and the barrier to entry is much lower than ever before.

Starting an online business comes down to choosing what your business will be – aka, what are you selling/offering? Your offer is the core of an online business, so the first step to success is identifying a skill, product, or service with market demand.

If you've already pinpointed your offering, congratulations! Feel free to move to the next section. But if you're still navigating the brainstorming phase, here's a list of 15 potential online business ideas:



Sell a Service or Skill.
Examples: Freelancers, consultants, and service providers.

This approach is a personal favorite of mine when considering a transition into entrepreneurship. It's a relatively fast way to start earning income and get exposed to the field. You likely already possess a marketable skill or can acquire one online.

Here are a few sought-after skills to consider for your online business:


Copywriting: Writing marketing content for websites, ads, and emails.

Graphic Design: Designing logos, marketing collateral, and websites.

Web Development: Building, maintaining, or optimizing websites.

Photography: Event, product, or portrait photography services.

Videography: Creating promotional videos, advertisements, or event filming.

Virtual Assistance: Offering administrative services remotely.

Bookkeeping & Accounting: Helping businesses manage their finances.


If there's a skill that employers value, it's likely an avenue to shape your entrepreneurial journey. For example, I started my first business as a freelance copywriter and have taught thousands of people how to break into entrepreneurship with copywriting.

Many of those people have built highly successful careers in marketing. While some have remained in copywriting, others have branched out and thrived as entrepreneurs, building brands or launching diverse services.

The takeaway? Becoming a service provider is a great way to break into entrepreneurship. You learn what it takes to develop a successful online business and can apply it to your future ventures.



Create a Product.
Examples: E-commerce, physical products, and digital downloads.

Have you ever thought about selling goods online? Maybe you'd like to create a jewelry or clothing line. Or perhaps you like the idea of selling digital templates.

E-commerce platforms now allow anyone with an idea to set up shop. You no longer need substantial capital to open a storefront or pay for employees. You can create a digital storefront and start selling things as soon as today.

Here are the avenues to consider for a product-based business:


Physical Products: You can sell unique items that cater to specific niches, like jewelry, candles, clothing lines, and so much more.


Digital Downloads: Offer e-books, design templates, music, or any digital content that customers can access instantly after purchase.


Subscription Boxes: Curate monthly or quarterly boxes with themed products, catering to specific interests or trends.


Remember, you'll need to invest time and effort into developing your product. For example, there's a small business specializing in "thank you" boxes that consultants can send to their past clients post-collaboration. This is a really creative idea, and the owner meticulously curates these boxes each month.



Develop an Online Education Program.
Examples: Coach, course creator, or online education developer.

The internet has made it easy for people who know a lot about something to teach others, no matter where they are. Think of it like being able to have a teacher for anything you want to learn. Whether it's life advice, business tips, or specialized classes.

Here are a few examples of online education programs and coaching:


Life or Mindset Coaching: Help individuals navigate personal challenges, set goals, and achieve their aspirations.


Business Mentoring: Offer guidance to budding entrepreneurs, sharing industry secrets and effective strategies. This is best if you've already had success and are in a place where you can help other people get results.


Online Courses: Identify a skill or knowledge area you excel in and design a comprehensive course. Like "Knitting for Beginners" or "Mindful Parenting."


Workshops & Webinars: Host live sessions addressing specific topics, offering hands-on training, or answering questions in real-time.


The online education space is exploding and is expected to grow to nearly 500 billion by 2030. You can use what you know to start an online business, earn money, and make an impact by teaching others something useful.

There are so many ways to make money online that it might feel a bit overwhelming. There's always someone on social media talking about selling digital products, affiliate marketing, online consulting, and more.

Lots of these ideas really work. Many people have made good money from them. But to truly succeed, you need to stick to one idea.
Find what feels right for you, and then stick with that idea for at least six months.

A lot of folks don't succeed because they jump from one idea to another. If you try to do too many things at once – nothing might work out. That's why staying consistent and having a clear plan from the beginning is important.
How to Create an Online Business Plan: 5 Steps to Consider
So, you've got a brilliant business idea – that's fantastic! But an idea is just the starting point.

Transforming that spark of inspiration into a full-fledged online business requires a blend of careful planning, steady persistence, and a touch of determination.

Let's dive into how to build your roadmap to start an online business journey:


Research and Exploration

Start by pinpointing who exactly your target audience is. Dive into their demographics, behaviors, and preferences. Are they young professionals, parents, or hobbyists? Knowing them inside and out will make creating your offerings much more effective.

Also, look into competitors with similar products or services in your niche. You can learn from them and spot where there might be a gap or an unmet need.


Product/Skill Development

You've got an idea, and now it's time to bring it to life. For physical or digital products: Start with prototyping, get feedback, and iterate. Remember, your first version doesn't have to be perfect. It's more about learning and refining.

For skills: invest in training, practice, and perhaps even mentoring. Whether it's copywriting or coding, hone your craft until you know enough to deliver a quality service. But don't wait until you're an expert to start. It's all about growing while you go!


Build Your Online Presence

Once you have your offer, start developing an online presence. You could start with a simple website that communicates the value of your offer. Think of this as your digital business card you can share with people as you get the word out.

Your online presence isn't just about a cool logo – it's about the message and feeling you want to convey. What will make customers recognize and trust you? Think colors, design, and even the tone of your messaging.


Begin Marketing Your Offer

Get the word out about your business! Attend networking events, reach out to potential customers/clients, and develop a marketing strategy. You can consider organic methods like SEO and paid avenues like sponsored posts.

You could have the best product/service in the world, but you need great marketing and outreach to get it into the hands of your audience. Stick around for a deep dive into marketing once you start an online business in the next section.


Customer Engagement and Feedback Loop

After securing your initial customers, it's paramount to nurture those relationships. Dive deep into engaging with them, making them feel valued, and fostering loyalty.

But don't just stop there – feedback is gold. Use it to refine and enhance your offerings. A happy customer doesn't just return, they often bring others with them!



The digital world is constantly in motion, so embracing a growth mindset and adapting is crucial. The initial months will likely involve a mix of trials and learning.

You might try a strategy that doesn't quite hit the mark, but don't let that discourage you. Instead, see it as a chance to learn what worked and how you can refine it for next time.

As your business takes off, you might think about adding to your product suite, introducing fresh services, or reaching out to new audiences. If you find testing, adjusting, and evolving fun – then the entrepreneur path is for you.
Marketing 101: How to Advertise Your Online Business
As I mentioned before, marketing is pivotal to your business's success. Even if you have an outstanding offer, it's vital to promote it effectively so people can truly benefit from it.

Marketing can be complex and can sometimes feel overwhelming. It's genuinely important to me to make things clearer and more accessible for you. Drawing from my decade-long journey in online marketing and copywriting, here are the main insights I've found valuable.

While we won't cover every aspect here, this guide offers the foundational building blocks of marketing when you start an online business.



Identify Your Ideal Client.
Understanding your audience is the core of successful marketing. The more specific you can speak to your customer, the more your messaging resonates.

Here are a few things to research about your dream client:


Characteristics. These are the facts about your audience – like their age, gender they identify with, and stage of life.


Beliefs. Think about the values that shape their decisions. How do these beliefs influence their choices?


Objections. These are thoughts that could make them hesitate about your offer. It's best to call these out head-on.


As you go, tweak these personas based on real feedback. The better you know your ideal client, the stronger your marketing will be. And the best way to get to know them is to actually speak to them and get their feedback.



Emphasize Building Your Email List.
Email marketing is one of the most critical aspects of your marketing. Emails are your direct link to potential customers. Social media platforms come and go, and algorithms change. But your email list is something you own and control.

So, if you choose *one* area to focus on off the bat, let it be email marketing. Here are the fundamental building blocks of an email list:


Opt-In. This is the content you use to incentivize your audience to sign up for your list. It could be a discount, engaging quiz, exclusive content, and more.


Welcome Email. As soon as someone signs up, they should receive a warm welcome. Introduce them to your brand and let them know what to expect.


Newsletters. Provide value and showcase your products or services periodically. Don't be nervous to sell – your audience signed up to hear!


While growing after you start an online business, you'll want to add more sequences to your lifecycle email marketing. Things like sales emails when you launch a product, abandoned cart emails, and winback campaigns. These are all part of the strategy.



Focus on Growth Methods.
It's time to set the path for growth. Leaning into organic methods is beneficial, especially if you're on a tight budget. Then, as your business picks up, blending organic with paid marketing can help you grow even faster.


Organic Growth. These marketing methods are free to use as this is marketing on your owned channels, such as your blog or organic social media content.


Paid Growth. Methods that you pay for, like Facebook Ads or Google Ads. Paid ads exponentially increase your reach when you target the right audience.


You might think you need to post on social media constantly to succeed, but there are many other options. If you'd rather invest money than time spent on organic content, that's a viable option. Paid advertising has been a highly effective way to grow my business.
Marketing isn't just about randomly posting content and hoping it sticks. It's about smart, intentional efforts that truly connect with the right people.

Your online business flourishes by staying consistent, tweaking as you go, and understanding your audience. And I can't wait to see you succeed!
Cultivate Habits to Achieve Your Online Business Goals
I couldn't finish an article about how to start an online business article without touching on your mindset habits. Because too many beginner entrepreneurs get held back by their own self-doubt and limits.

So, let's dive into some crucial mindset practices. From the art of goal setting to the daily habits that can make all the difference.
Set SMART Goals
It's easy to get swamped when you're trying to tackle everything simultaneously. That's why it's important to learn how to translate your big visions into achievable steps.


Specific: Concentrate on one core aspect of your business and define your targets clearly. Focusing on one area gets better results than spreading yourself too thin.


Measurable: Use tangible metrics to track progress, like sign-up rates for online classes or sales figures for products. And celebrate milestones!


Achievable: Set bold yet realistic targets. For a new venture, it's wiser to set modest initial goals and then scale up.


Relevant: Your goals should mirror your business's essence. A graphic designer, for example, might prioritize a varied portfolio over sheer sales.


Time-bound: Assign clear timelines to your goals. Instead of a yearly outlook, focus on 90-day periods, reviewing and adjusting strategies at each interval.



It's far more effective to dig deep into one core aspect of your business than to scratch the surface of many. I like to work in 90-day periods. For bigger goals, just divide them into manageable 90-day segments.



Cultivate Your Mindset Habits
Your mindset can make or break your entrepreneurial journey. Beyond the tools and strategies – it's your mental framework that differentiates a thriving business from one that doesn't quite make it. You're able to stay consistent even when it gets hard.

Here are some key mindsets for your online business success:


Investment Mindset. Don't be afraid to invest in your business if it ultimately helps you grow. Like paid ads, the right investments can multiply your returns.


Adopt a Scientist Mindset. Like a scientist, hypothesize, test, and iterate. Treat every outcome as a stepping stone. Stay curious – the digital world is ever-changing, so keep learning and adapting.


Take Action, Even if It's Not Perfect. Don't wait for the perfect moment. Dive in, learn on the go, and adjust.


Continuous Refinement of Your Business. Regularly evaluate and adapt based on feedback and the ever-shifting market landscape. Prepare yourself for an adventure of constant growth and adaptation.


Challenge Perfectionism. Aim for excellence, not sheer perfection. Launching a good enough product and refining it based on real-world feedback is more effective than waiting endlessly.


It's easy to fall into the trap of comparing your journey to others, especially with social media. But those highlights don't show the entire story – the struggles, the setbacks, the late nights.

Every entrepreneur has a unique path with its own challenges and triumphs. Stay focused on your growth and progress, and avoid measuring your success by someone else's standards.

The road of an entrepreneur is filled with highs and lows – but the right mindset keeps you grounded, even during challenges. A growth-oriented perspective distinguishes those who succeed from those who don't, and that's good news! You can absolutely cultivate these habits.
Let's Build Your Online Business!
Alright, we covered a lot! But don't worry – you can always revisit this. Start with the basics: hone in on your offer. And when you're ready to level up, this resource will be here waiting.

Starting an online business is hard work. It takes a lot of consistency, strategy, and staying strong even when things get tough. I've found that the best way to see success is to surround yourself with mentors and people who help you stay accountable and consistent.

That's why I couldn't be more excited to introduce you to the Let's Build an Online Business membership.

In this monthly membership, you'll gain hands-on insights, steadfast accountability, and unwavering support. Plus, you'll get a sense of camaraderie as you start an online business and craft your offer.

My #1 piece of advice for new entrepreneurs is: If you want to go further, faster, don't go there alone. To get support, community, and resources on your journey – sign up for the waitlist for Let's Build Your Online Business!

Let's Build Your Online Business – Together!
Ready to kickstart a business that boosts your income and makes a profound impact?
I'm rolling out a monthly membership designed to guide you on starting or scaling your online venture – encompassing business development, offer formulation, and impactful marketing.
Dive into a vibrant community where mentorship meets candid conversation. You'll get valuable feedback and resources tailored for success. 
Join the waitlist to be the first to know when Let's Build Your Online Business opens!
We will never spam you or share your email with anyone. In addition to the guide you'll also receive semi-regular email updates with tips, tools, offers and exclusive resources. All emails include an unsubscribe link, you may opt-out at any time. Read our Privacy Policy to see how your data is handled.