Learn how to work for yourself, boost your income, and take back your freedom as a freelance copywriter.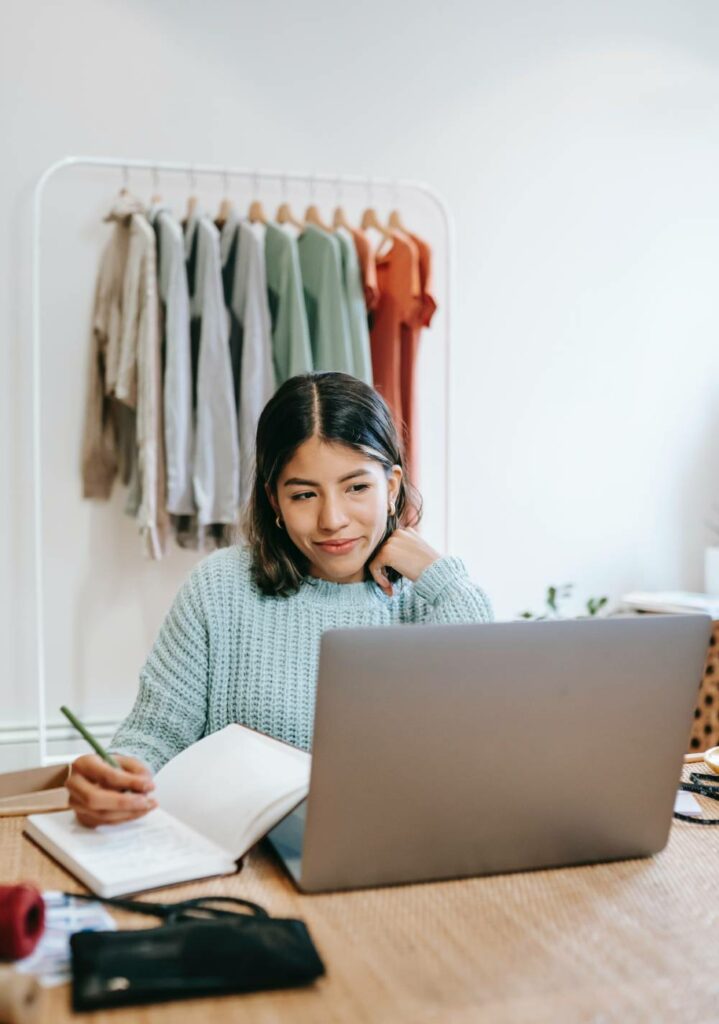 Do you want to learn how to become a copywriter and work for yourself in 2023?

A new wave of working style has launched in the past few years since 2020. Self-employment, online entrepreneurship, and freelancing are becoming more and more common.

More than ever, you may be looking for ways to work remotely, increase your income, and control your own hours. And one of the long-time, proven ways to become your own boss is to learn how to become a copywriter.

Copywriting is…


Lucrative. Copywriting is a high-paying skill because it delivers high value by driving sales and earning money for a brand you're working with.


Accessible. You don't need to go back to school or get another degree to pursue most forms of copywriting.


Flexible. As a freelance copywriter, you get to set your own hours, decide who you work with, and be your own boss.


Copywriting is bursting with opportunity. But this isn't a get-rich-quick scheme or shortcut to wealth. It takes work and intention to grow your copywriting skills and client base.

Most people fail without a proven process.

That's why this guide is here to teach you exactly how to become a copywriter and start earning money in three months or less. 

You'll learn what a copywriter does and the proven steps on how to become a copywriter:


Part One: What is Copywriting?

Content Writing vs. Copywriting
Is Copywriting Right for You?
Freelance Copywriting vs. Employed Copywriting



Part Two: How to Become a Freelance Copywriter

Learn Copywriting Skills
Choose a Copywriting Niche
Create Your Copywriting Portfolio
Build Your Copywriting Client Base
Develop Your Business Owner Mindset
How to Get Your First Copywriting Client – Today
Learn Client Acquisition Tactics
Level-Up Your Skills and Lead Generation



Part Three: Frequently Asked Questions
Part Four: Your Next Step to Become a Copywriter in 2023


…and much more. Plus, I'm going to answer common questions like: how long does it take to become a copywriter? How do I become a copywriter with no experience?

And if you're wondering what makes me qualified to give you advice, well – I've been freelance copywriting for over a decade. I'm proud to share that I earn $25k per month through copywriting alone.

My copy is responsible for over $27 million in sales in the service sector.

And most importantly, I've helped thousands of copywriting students start earning 6, 8, and 10k per month (and more) without working 40+ hours per week.

They found success by using the exact process I'm about to teach you.

What sets this guide apart is that it'll show you how to learn copywriting and how to build your copywriting client base.

You'll come away knowing exactly how to become a copywriter with no experience and start earning money within three months. You'll also know how to scale your services to 6 figures.
Learn How to Build a Lucrative Freelance Copywriting Career
Get my free copywriting masterclass that walks you through exactly how I went from zero to consistent five-figure months with copywriting – with no experience and no portfolio.
Gain instant access – right to your inbox – when you sign up below. 👇
We will never spam you or share your email with anyone. In addition to the guide you'll also receive semi-regular email updates with tips, tools, offers and exclusive resources. All emails include an unsubscribe link, you may opt-out at any time. Read our Privacy Policy to see how your data is handled.
Part One: What Is Copywriting?
>> If you already know WHAT a copywriter is, and you want to skip to HOW to become a copywriter – click here.

Copywriting, or "copy," refers to the words in marketing materials that promote a brand's products, services, and offerings.

Examples of copywriting include:


Words on a brand's website
Ads you see on social media
Email promotions and newsletters
Blog articles, like this one


…the list goes on!

In today's world, copywriting is everywhere. You're constantly shown messages that aim to make you aware of a brand or compel you to purchase a product or service.

All brands need effective copywriting to sell their offers.

This critical piece of marketing communicates the value of their products and services and compels people to engage with them.

This is why copywriting is a highly in-demand skill. If your copywriting produces results, you can earn a great living doing something creative and interesting.
Freelance Writing vs. Content Writing vs. Copywriting
Freelance writing is an umbrella term that copywriting, content writing, and other forms of writing fall under. But there's a major difference between copywriting vs. content writing.

Content writing is solely educational and doesn't compel the reader to take further action.

Copywriting can be educational, but it always compels the reader to take action.

The action your copywriting drives may vary. It could incentivize the reader to purchase a product, book an appointment, or take the next step in the marketing funnel.

What you'll discover in this article is that copywriting is more valuable to your clients than content writing. Copy is helpful, informative, and influences a sale or action their customers take with their brand.

If your copy persuades your reader to take action, then your clients get more engagement and revenue. You can be confident charging more when your copy delivers results like these.
Is Copywriting Right for You?
If you're thinking of exploring copywriting as a career, you may be wondering if it's right for you. Copywriting is a versatile field where you can specialize in topics that interest you. Many people are able to make copywriting work for them – regardless of their background.

That said, here are a few qualities that many of my successful copywriting students share:


You want to pursue writing. Did you enjoy writing but grew up thinking you couldn't earn money as a writer? Copywriting pushes back on this idea and offers a very effective way to earn money writing. (But copy is very different from academic writing, so if you didn't like writing in school – don't worry).


You like to learn. Copywriting involves a fair amount of research into different topics and types of copywriting. This keeps your job fresh and exciting, which many copywriters love. If you enjoy exploring new subjects, copywriting could be the career for you.


You want to work for yourself. Like I said earlier, copywriting lends itself well to becoming your own boss. Copywriting is a highly in-demand skill that many brands need. So you can build a client base fairly quickly as a skilled copywriter.


Having a foundational interest in writing or marketing benefits you as you start your copywriting career. But if you're still learning what copywriting is, don't let this intimidate you.

You can learn copywriting skills and become a copywriter even if you have no prior experience. Later in this article, I'm going to show you how to become a copywriter.
Freelance Copywriting vs. Employed Copywriting
There are two main ways to pursue copywriting as a career.

Some copywriters choose to work as an employee at a brand or a marketing agency. This is the route to take if you're looking for a corporate job with a set salary and working hours.

If you want to become your own boss and have more freedom, then freelance copywriting is the career path for you. Freelancing means you're not employed by one specific brand, but instead work with various clients on a contract basis.

Here are a few of the benefits of being a freelance copywriter versus an employee:


Work from anywhere.

Freelance copywriters are able to work remotely from anywhere in the world. As long as you have a laptop and a stable wifi connection, you can take your work with you.

Are you craving the freedom of being able to work remotely? Freelance copywriting lets you work from the road – whether you want to travel or spend more time with family.


Control your salary.

When you work for a brand or agency, your salary is set at a specific rate. You need to ask for a raise or get a promotion in order to see a boost in your income. As a freelancer, you set your own rates – and raise them when you increase your skills.

Plus, you can take on extra work and projects if you want to earn a higher income in a certain month. The bottom line is that you are in control of your income. And I've watched thousands of my students replace and exceed their corporate salaries.


Work part-time and control your hours.

As a freelancer, there are no specific hours when you have to be online. You can work when you want for as long as you want.

Are you a night owl who has your most productive hours at night? Do you prefer to finish all your work in the first 4 hours of the early morning? Your hours are up to you as long as you get your work done and deliver value to your clients!


Choose the brands you work with.

At a marketing agency, you don't always get to choose the brands you work with. You could be put on an account that doesn't feel interesting or aligned with you. And if you work at a brand, you're always working with that one specific client.

As a freelancer, you get to pitch clients that you admire and really want to work with. This is how you grow a value-aligned career that stays interesting and gets you excited to get your work done each day.


Learn copywriting quickly with online resources.

Going back to school used to be one of the only viable ways to make a career shift. And many creative marketing agencies still favor candidates with two years of creative advertising school under their belt.

You don't need prior experience or a degree to become a freelance copywriter. You can learn copywriting skills through an online copywriting course and start earning money in three months or less.


Now you know all the incredible benefits of becoming a freelance copywriter who works for yourself. Maybe you came to this article already knowing freelancing is the route you want to take. Or perhaps this last section convinced you (I thought it might! 😉)

To make this article the most applicable resource for you – the rest of this guide will walk you through how to become a freelance copywriter.
Part Two: How to Become a Copywriter (Freelance Edition)
The following sections will walk you through the A-Z steps for how to become a freelance copywriter. Each of these phases takes time on their own, so don't try to rush the process. You may want to bookmark this page to come back to as you work through it all.

Becoming a successful freelance copywriter depends on both copywriting skills and career-building skills.

You could be the most talented copywriter in the world. But if you don't know how to market and sell those services, you won't have a client base to serve.

On the other side, you could master your marketing and new client acquisition. But if your copy doesn't drive results and meet their needs, you're not going to keep clients and leads.

That's why, unlike other copywriting resources, this guide is going to teach you how to do both. First, you're going to learn how to grow your copywriting skills. Then, we'll talk through how to grow your client base and career.

Let's dive in!
Learn Copywriting Skills
One of your top drivers of success as a copywriter is the ability to get your clients results. That means that copywriting skill is truly the foundation of your success. Prioritizing your skills and evolving your skills as you grow sets you apart.


The Basics of Copywriting
Copywriting is more casual and conversational than the traditional forms of writing you may be used to, like academic writing. You want to think of your copy as a 1:1 conversation with your reader. How would you speak to them in real life?


Use "you." Using "you" helps your reader visualize themselves as the subject of your copy. This builds a connection and makes them more likely to take action.


Active vs. passive voice. In the active voice, the subject of the sentence performs the action. This helps you get your point across faster and more efficiently.


Elementary reading level. Did you know that the average reading level is a 6th-grade level? Keep your language simple, so you don't lose your readers to confusion.


Short and punchy sentences. Run-on sentences take a lot of brain power for your audience to read. Use short and direct sentences to keep readers on the page.


Use storytelling. Paint a picture for your reader to help them envision themselves in the story. Our brains like stories and clear narratives that cut through distractions.


These techniques differentiate copy from the types of writing you're familiar with. So the first step is to study effective copywriting.


Study Effective Copywriting
One of the most effective ways to learn copy is to study the work of other copywriters.

One tactic I recommend to my copywriting students is to hand copy effective copy. This tactic allows you to truly pay attention to every word and phrase that you write and helps you understand this writing style.

When you copy the text by hand, it gives you a sense of the pacing, rhythm, and style of copywriting – which your brain stores and remembers later.

Aside from hand copying, I also recommend reading a few books on the craft of copywriting.


Books like these play a huge role in your understanding of copywriting techniques, skills, and examples. It's beneficial to read these books once a year or every couple of years to re-familiarize yourself with the tactics and fundamentals of copywriting.

Like I always say: learn the rules of copywriting so that you can break them like a pro.
Once you know effective skills and techniques, you can take creative liberty from there.


Understand Your Audience
Copywriting is all about your audience and how you meet their needs, resonate with their pain areas, and empathize with their experiences.

Your copy should communicate how the offer would solve their problem. So, before you get started writing, you want to research and understand the audience you're speaking to.

Here are a few questions to help you get to know your reader:
Who is your audience?
What are their beliefs?
What are their pain points?
What problems does your product or offer solve?


Taking time to research and write these types of questions before you start writing gives you a lot of information to start with. Instead of staring at a blank page, you'll have research to begin forming your outline.


Learn Persuasive Copywriting Techniques
Your copy's goal is to compel your audience to decide to take action with your client's brand. Whether that means purchasing a product, enrolling in a program, booking a consultation – or whatever action is most pertinent to the piece.

Since you're prompting a decision, it's helpful to understand the factors that influence human decision-making. Here are the six principles of persuasion coined by Robert Cialdini:


Scarcity – It's human nature to not want to miss out on something. So the less there is of a product, the more we want it. Limited stocks or limited deals are effective because they tap into the feeling of scarcity.


Reciprocity – If you give someone a personalized and/or unexpected gift, they may feel compelled to give you something in return. It's effective to give away something for free, like a freebie, to connect with a new audience.


Commitment – Once someone purchases or takes action with the brand once, they're far more likely to do it again. Effective copywriting gets the reader to say yes to small things along the way to increase the chances of them saying yes to the big purchase.


Social Proof – Consumers want to see reviews from others who have an objective perspective of your offer. Sharing positive results, testimonials, and case studies build trust with the audience.


Authority – Consumers are more likely to purchase from brands they trust. Showing your knowledge and authority in the industry builds trust with your audience and helps them choose you over competitors.


Liking – Like they say, people buy from people. Likeability isn't the only factor in your audience's buying decision. But you want to make sure the brand is likable and relates to audience values.


It's fascinating to learn about human psychology and how it affects your marketing efforts.

If you understand how the human brain thinks and makes decisions, you can guide your audience into making the decision to buy the product or take the next action. This helps them solve their pain point – the problem your offer helps them with.

Of course, be sure to use the psychology tactics ethically. Do your research on the offer you're promoting to make sure it's a quality, ethical product.


Grow Your Copywriting Skills
As you start and grow your career in copywriting, always continue to learn and evolve your craft. Too many copywriting "experts" don't put enough emphasis on continually learning and growing their skills – even as they become more successful.

Continuing to learn and grow sets you apart as a freelance copywriter. Here are a few ways to continue to evolve your craft:


Get feedback on your work. I recommend working with a copyeditor as early as possible. This is a profound way to save time, learn from feedback, and even boost your confidence when you hear positive reviews of your work.


Listen to copywriting podcasts and Youtube videos. There are many free online resources about copywriting. Listen to these on a car drive or a walk around the neighborhood to learn new things or to study something specific.


Work with clients. The most effective way to evolve your skills is by working with clients, even before you feel fully ready. You learn the most when you're accountable for a client project. And I always tell my students to "earn as you learn!"


Once you have a foundational understanding of copywriting, it's time to start working with clients. There are a few more steps to take first to set yourself up for success.


Choose a Copywriting Niche
Choosing a copywriting niche or area of specialty boosts your success in your copywriting career. It gives you direction for growing your career in a couple of different ways.


Specialist vs. Generalist. You grow your knowledge of one specific industry, so clients in this space see you as a specialist for their needs.

Focused Outreach. When you start pitching clients, you focus on one industry, making your search easier.


My #1 tip is to choose a copywriting niche that genuinely interests you. You're going to spend a lot of time researching and writing about topics in that area. So, make sure you enjoy it!

Enjoying your work makes you more productive and happier. Your ideas flow, you feel energized by your work, and you get a sense of fulfillment.


Create Your Copywriting Portfolio
So, you've studied copywriting techniques, read copywriting books, and even chosen a copywriting niche. Now, it's time to start putting together your copywriting portfolio.

The wonderful thing about pursuing freelance copywriting as a career is that you don't need years' worth of experience or a resume to succeed. As a copywriter, your clients only care about how effective your writing is.

You only need a couple of copywriting samples and a portfolio to show clients that you're capable of creating solid work for them.

Here are a few tips for creating your copywriting portfolio:


Create a website. Want to stand out from other freelancers? Create a simple website that communicates your services and how you solve your ideal clients' problems. Your website should include your services and rates and help the audience get to know you.


Link out to writing samples. Self-publishing your first copywriting samples on Medium.com is a simple way to have a professional-looking sample. Have someone else read over your work before you publish it.


Remember to tailor your copywriting samples and portfolio to your copywriting niche.

Think about your ideal client within your niche and then speak to their needs on your site. Similarly, choose a copywriting topic that relates to your niche. For example, if you want to write for functional medicine doctors, you could publish a piece about gut health.

Now that you have a copywriting portfolio, you're ready to start pitching your first clients!
Building Your Copywriting Client Base
Understanding copywriting skills is only half of the formula for learning how to become a copywriter. Now it's time to discover how to market your services and to get paid for copywriting work.

There's an abundance of potential clients and opportunities available to you as a copywriter. And you only need about 2-10 clients to have a full-time income with copywriting. As you grow, you'll get even bigger retainers and opportunities.

Building your client base doesn't need to be hard, but it does take some intention, consistency, and patience. Here's how to do it.


Develop Your Business Owner Mindset
As an independent copywriter, you are more than a freelancer. You're a business owner!

Viewing and treating yourself as a business owner versus an employee is critical to building a career you love. A business mindset means that you…


View yourself as an equal to your clients. Don't view yourself as "beneath" your clients. You are bringing huge value to the table as a skilled copywriter and deserve the same respect they do.


Reach value-aligned goals. As a freelancer, you're in the driver's seat of your career. Choose to make decisions that lead you towards the goals that align with your values and vision for your life.


Put your growth before your clients'. It's easy to slip back into an employee mindset where you're always focused on your clients' brands. Remember to prioritize your own growth before your clients.'


I urge you to start cultivating your business-owner mindset from the beginning. Prioritizing your business growth and values propels you forward and helps you create a career you love.

From there, you'll naturally grow your confidence as you start to get results for your clients.


How to Get Your First Copywriting Client
One of the simplest, fastest ways to get your first client is to tap into your existing network.

Between your family members, friend, and mutual friends – I'm willing to bet there are multiple people who need marketing help. Whether they own their own brand or work for one.

Think about your personal network. Maybe you know…

An aunt who started her own jewelry brand a few years ago.

A friend who's starting her own online fashion brand.

The owner of your favorite local pet store.

Anyone like this is a potential client to reach out to. Reaching out to your existing network is an effective way to get new clients because you already have rapport. You can tap into a relationship to land your first project, get a testimonial, and find more clients.

Pro tip: if you're working with someone in your network, be sure to over-deliver. The fact that they're your friend doesn't mean you should take the project lightly. Do the best you can so you can keep your relationship strong and get a glowing testimonial.
Get my free guide, "How to Earn Your First $200 as a Copywriter – In an Afternoon," when you sign up for my copywriting masterclass.👇
We will never spam you or share your email with anyone. In addition to the guide you'll also receive semi-regular email updates with tips, tools, offers and exclusive resources. All emails include an unsubscribe link, you may opt-out at any time. Read our Privacy Policy to see how your data is handled.

How to Get Copywriting Clients
Okay, so you've tapped into your existing network, and now you're ready to expand and go after bigger fish. How do you start getting freelance copywriting clients in your niche?

Here are four proven client acquisition tactics. Try each of these out to see which aligns with your energy and working style.


Cold Email. One benefit of being a freelance copywriter is you don't need to sit and wait for work to come to you. One of the most impactful ways to get copywriting clients is to send them a personalized cold email.

Focus your pitch on a problem you can solve for the brand and then introduce your services. If you communicate the value you deliver and speak to their specific needs, your pitch is going to be better than 90% of the cold pitches they get.


LinkedIn Networking. LinkedIn is a fantastic place to network with ideal clients and create short- and long-term opportunities. First, optimize your profile to speak to your ideal clients. Then, make connections and engage with each other's posts.

The goal on LinkedIn is to start a conversation – whether that's on someone else's post or your own. The more consistent you are with posting content, the more impact you'll see on this channel.


Facebook Groups. Similar to LinkedIn, Facebook groups are a great place to network with ideal clients in your niche. Start a conversation in this space where your audience already hangs out.

Focus on providing value in the groups. Answer questions on other people's posts and post helpful content. The goal is for people to start seeing you as a resource, so you come to mind when they have copywriting needs or know someone who does.


Upwork (try with caution). When done right, Upwork can be an effective way to find clients. You may need to send out a large number of responses to job postings at first. But once you get positive reviews, clients are able to find you.

A word of caution: clients often try to pay low freelancing rates on websites like these. So make sure you're intentional and don't let clients lowball you.


Keep in mind you don't need to do all these tactics at once. It's essential to identify a client acquisition strategy that feels right for you. I've seen my students have success using one of these platforms – and others using a mix to bring in a steady stream of leads.



Up-Leveling Your Client Acquisition
The four client acquisition tactics above aim to bring in new clients as quickly as possible. But there are a few longer-term ways to get new client leads organically. This means that people find your services on their own, saving you time.

Here are two organic lead-generation tactics:


Search Engine Optimization (SEO). Incorporating SEO keyword strategy on your website and content helps your ideal clients find you on search engines like Google.

It can take 3-6 months to start seeing results from consistent SEO efforts. But these efforts compound over time – and you could have many clients find you in the future from the website content that you create now.


Referral Program. A referral program encourages current clients to refer new clients to your services. This is a great way to grow your client base through the power of word-of-mouth marketing.

Offering a referral incentive makes it easy for clients to refer their contacts, increasing your client referrals. And when you focus on providing valuable, effective services, client referrals tend to happen organically.


Results from these strategies compound over time, so it's beneficial to start them as early as possible. Many of my copywriting students generate their client leads through their website SEO instead of cold pitching.

This saves you time to grow other areas of your career – or enjoy more of your free time! 👏
How to Become a Copywriter: Frequently Asked Questions
Now I'm going to answer a few questions I get about how to become a copywriter. We've already covered a few of these in this article, but I'll recap it all to make things easier.


What qualifications do you need to be a copywriter?
You don't need formal qualifications or a degree to become a freelance copywriter. You can learn the skills you need through online resources and copywriting courses.

Writing quality content that gets results for your clients is much more important than having a degree in copywriting. Create a copywriting portfolio and copywriting samples where potential clients can view the quality of your writing.


Do copywriters make good money?
Copywriting is generally a high-paying role, although a copywriter's salary varies depending on where they work. The average salary of a senior copywriter at a brand or agency is around $60-$80k per year.

One of the main reasons I recommend freelance copywriting is that you can earn more money without working 40+ hours per week. The top copywriters earn around $25k per month from copywriting alone and then create additional income streams.
How to Become a Copywriter in 2023: Your Next Step
Want even more in-depth support? My signature copywriting course, Write Your Way to Freedom, takes you through every step this article outlines – and so much more. You'll get clarity and training on each stage of the process.

Get to your goals faster with…


In-Depth Training. Step-by-step modules on copywriting techniques, building your client base, learning types of copy, and much more.


Coaching & Q+A Sessions. Hands-on support and mentoring from some of the top copywriters in the industry.


Community. A network of other like-minded freelancers who are building their freelance copywriting careers alongside you. Get support, accountability, and friendship.


Apply for a strategy session to see if Write Your Way to Freedom is the right program to teach you how to become a copywriter. ✨


Resources: