Plus, steal my go-to copywriting portfolio template to get started.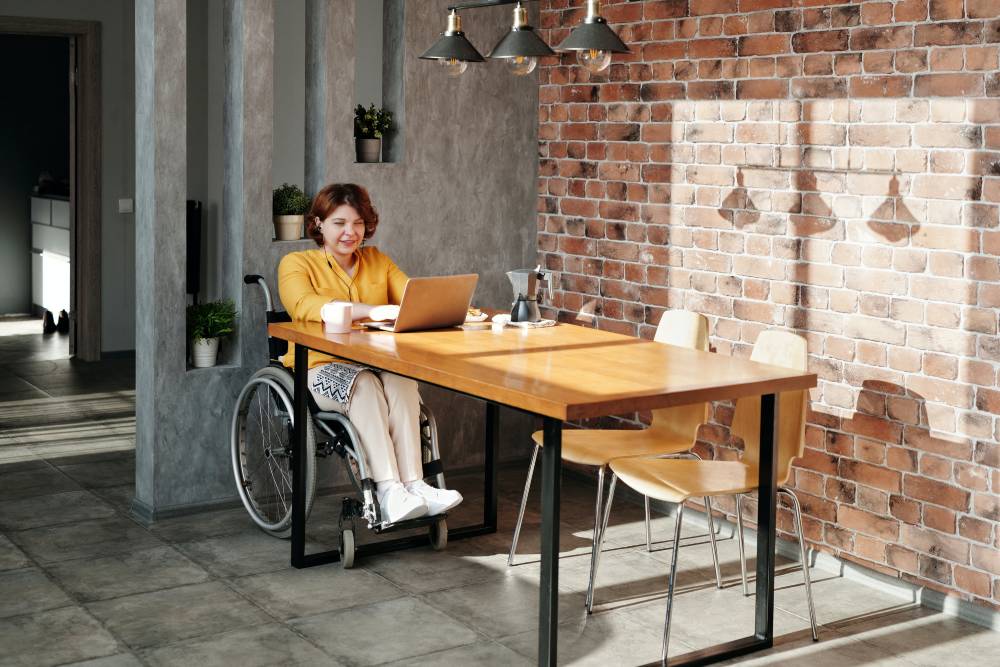 You don't need prior experience to become a copywriter. Potential clients won't ask for your job history or resume. But they DO ask to see your copywriting portfolio.

Your copywriting portfolio is your opportunity to showcase your writing samples, build your credibility – and tell your potential clients how you solve their problems.

Many copywriters treat their portfolio as a simple gallery of their past work. If you create a portfolio website that tells a story and speaks to your ideal client, you stand out.

But there are probably a few questions running through your head right now, like…

"What if I don't have any writing samples?"
"What's important to include in my copywriting portfolio?"
"What's the best place to host my copywriting website?"

This comprehensive guide is here to answer all of your questions and more. Stick around to learn how to create a copywriting portfolio – with examples, steps, and templates.

You're going to learn:

I. What Does a Copywriting Portfolio Look Like?
II. How to Optimize Your Copywriting Portfolio With SEO (And Why).
III. What to Include in Your Copywriting Portfolio Website – With Examples!
IV. How to Create Your First Copywriting Portfolio Samples
V. My Recommended Copywriting Portfolio Templates and Hosting Platforms

I'm sharing the exact formula that thousands of my copywriting students have used to create their copywriting portfolios. This approach is how you skip the low-paying jobs and go straight to landing quality, high-paying copywriting clients.
Want to take the guesswork out of launching your copywriting career?
Watch my free copywriting masterclass to learn exactly how I went from zero to consistent five-figure months with copywriting – starting with no experience and no portfolio.
We will never spam you or share your email with anyone. In addition to the guide you'll also receive semi-regular email updates with tips, tools, offers and exclusive resources. All emails include an unsubscribe link, you may opt-out at any time. Read our Privacy Policy to see how your data is handled.
What Does a Copywriting Portfolio Look Like?
Let's say a potential copywriting client is interested in working with you. They visit your copywriting website to learn about your offers, and your website copy blows them away.

You mention their pain points and how you'd alleviate them. You use personality-infused words that give them an idea of what it's like to work with you. They keep thinking, "wow, she gets me," as they read through your page.

This is the exact reaction you want your ideal clients to have when they visit your site. As a copywriter, your website IS your copywriting portfolio.

Like I said, you'll come across creative portfolios that use a simple gallery format. They include the person's name and a list or images of past work.

That's why creating a website geared toward your audience sets you apart from other creatives and freelancers. Your copywriting website is your opportunity to demonstrate your writing abilities, which impacts your audience.

Here are a few benefits of creating a copywriting portfolio website:


Position yourself as an authority. An official website showcasing your knowledge of marketing and copywriting gives you an edge.


Explain the benefits of your services. Communicating how your services help your potential clients' brands grow makes them more likely to book with you.


Attract leads through search engine optimization (SEO). Incorporating SEO in your website helps qualified clients come to YOU.


When done right, your copywriting portfolio builds credibility with potential clients – and even helps new leads find your services organically.

I always recommend my students create a portfolio website, even if they're just starting out. Your website changes many times as you grow as a copywriter, and that's normal. But creating a website puts you ahead right from the beginning.
How to Optimize Your Copy Portfolio With SEO (And Why)
Before we dive into each section to include on your website, I want to take a moment to explain search engine optimization (SEO). Ultimately, your copywriting portfolio website is much more beneficial for you if you incorporate SEO into your process.

Imagine you're having a very busy month with copywriting projects (yay!).

You're excited about all the work, but you may have said yes to a little more than you can handle. Props to you, by the way, because we definitely learn the most when we have a little too much work and not quite enough time to do it. You've got this. 💪

Anyway, you're so busy with client work that you spend less time on new client outreach. What could happen is that once your projects are over, you don't have new client work.

But what if, instead, you have ideal clients finding you even while you're busy with existing projects? What if new, qualified leads fill out the inquiry form on your website each month?

That's the power of website SEO.

Incorporating SEO into your copywriting portfolio website helps new clients find you and your services on search engines like Google.

Here's how to approach SEO for your copywriting portfolio website:


Select relevant keyword phrases. What phrase would your ideal client type into Google if they were looking for a copywriter like you? Your goal is for your website and content to rank #1 for your targeted term.

Be sure to choose a term relevant to your niche. Use a keyword planning tool like Ubersuggest to make sure the term has the potential to drive traffic. Choosing a phrase that gets at least a few hundred searches per month is most beneficial.



Incorporate your keyword into your website copy. After identifying your keyword phrase, use the planning tool to identify relevant keyword phrases.

Use your shiny new SEO keywords throughout your website copy. (The next section dives into exactly what to include in your website.)



Use your keywords in your meta description. Remember to incorporate SEO into the backend of your website, such as your page titles, meta description, and URL.

Backend descriptions tell search engines what your content is about. This makes your site more likely to rank in search engines for the keyword.



Publish blog content monthly. Using SEO in your website is the first step. Next, it's time to publish more content that helps your ideal clients find you. You can do this by creating blog articles that capture a keyword your clients would type into Google.

A student of mine was able to rank on page 1 for the keyword "health and wellness copywriter" within four months by publishing two articles a month. This helped new clients find her services, so she could spend less time on client outreach.



This is a very brief breakdown of how to use SEO in your website. Bookmark this blog to read next for a step-by-step guide on how to choose SEO keywords.

It's important to give you this knowledge on SEO because it truly makes your website more beneficial to you. But I know you're here because you're wondering what to include in your copywriting portfolio website. So, let's talk through how to approach each section.
What to Include in Your Copy Portfolio Website
Your copywriting website is your landing page – it compels a client to work with you. It's similar to how you would approach a copywriting piece for a client.

Your site should communicate the value of your work, resonate with your client's pain areas, handle objections, compel them to contact you – and more.

To demonstrate, I'm going to walk you through my copywriting portfolio example. This is the website that I used to attract clients in the medical copywriting niche when I first started.

Note: Plagiarism diminishes your credibility as a copywriter and also negatively affects your SEO. So, make sure you refrain from copying these examples. Instead, use them to spark ideas for your own unique, compelling copy!

Here are the seven sections to include in your copywriting portfolio website.



Section One: Unique Value Proposition (Headline, Benefits, and CTA)

Did you know that you only have 10-20 seconds to hook your audience with your website copy? Your headline and unique value compel your reader to stay on the page.

Use this space to be very direct and clear about who you are, what you offer, and the benefits for your audience. I also recommend including your first call to action (CTA), so the audience knows exactly what step to take next.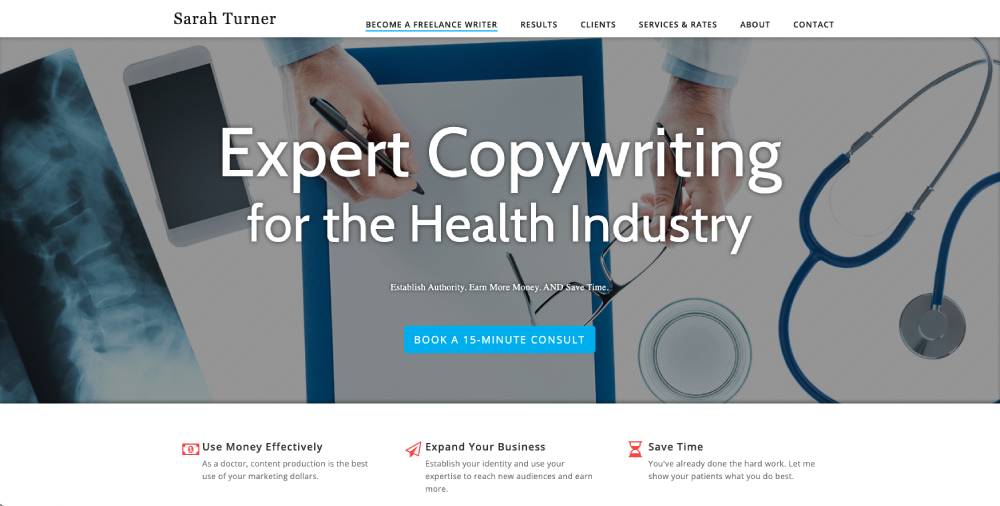 Prioritize being clear over clever, especially in your website copy intro.

The headline of this copywriting portfolio example tells the reader exactly what the offer is. Then, it leads to three quick benefits that are important to them. Finally, it includes the call to action to book a complimentary consultation.



Section Two: Pain Points and How You Solve Them
Alright, you've hooked your reader. Where do you take them next? Now is your chance to show the audience that you empathize with the pain points that relate to your services. State how you can alleviate those frustrations and describe the benefits of working with you.

Here's a portion of the pain points area of my copywriting services website: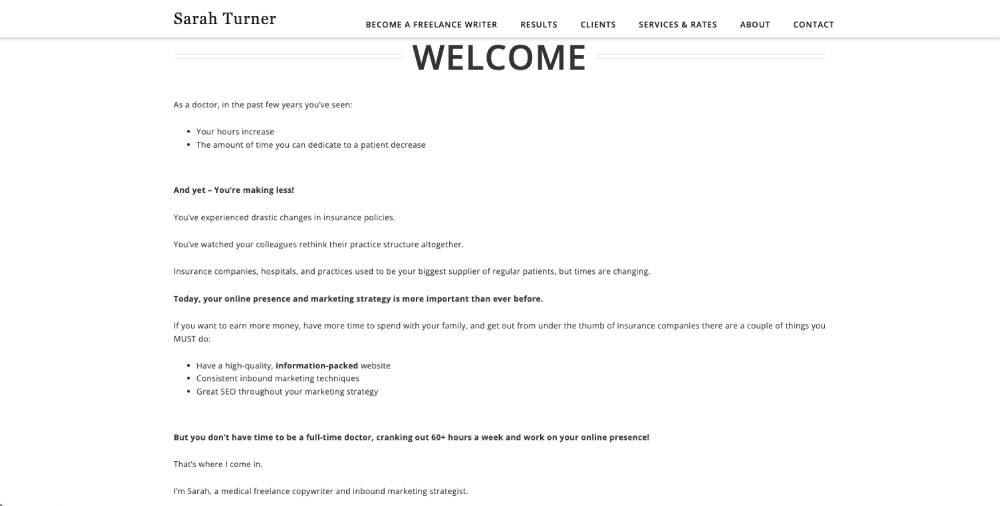 Your clients' pain points may vary depending on the industry you're in. But most clients have three incentives in common: time, money, and impact.

Copywriting is a key element of marketing a brand to grow awareness and revenue. But many brand owners don't have the time or expertise to focus on marketing for their brand effectively. That's where you come in.

Need help figuring out how to start? Communicate how your service saves them time while helping their brand expand their impact and make more money.



Section Three: Services and Rates

So, you've told your client what pain points you solve. Now, it's time to answer HOW you solve them. Enter: your services and ways to work with you.

Create a clear section that outlines the services you offer and your rates. I recommend clearly communicating the benefits of each service to compel the client to learn more.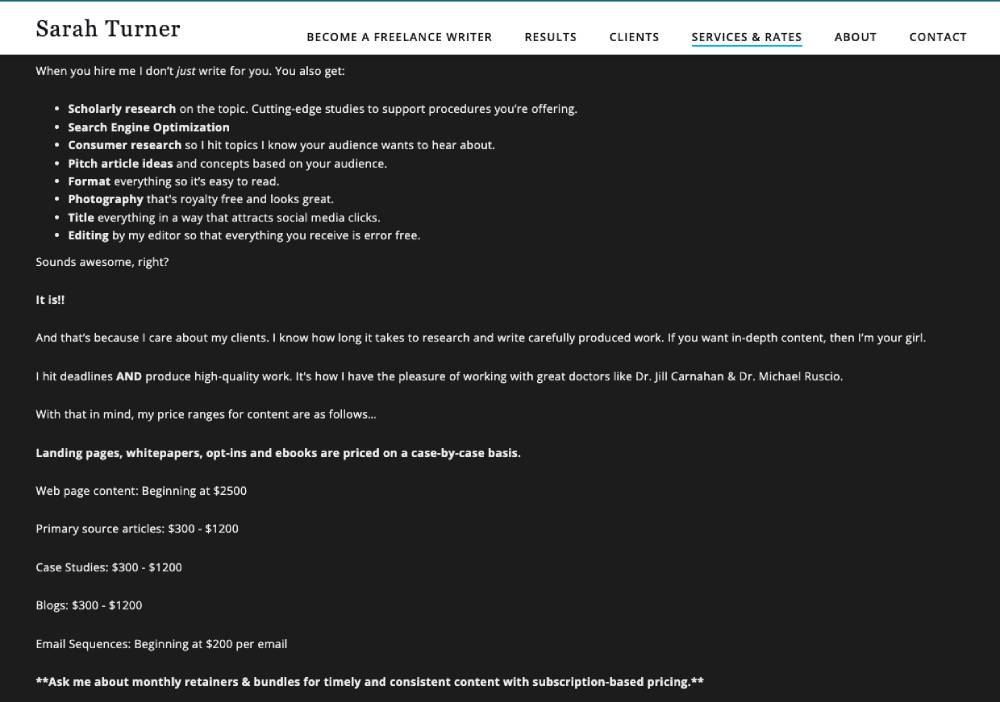 How do you go the extra mile for your clients? Use this section to communicate all the value they receive when they choose to work with you over other options.



Section Four: Results and Testimonials
When you start working with clients, always follow up for testimonials and the results of your copy. Displaying results on your copywriting portfolio builds trust with your audience.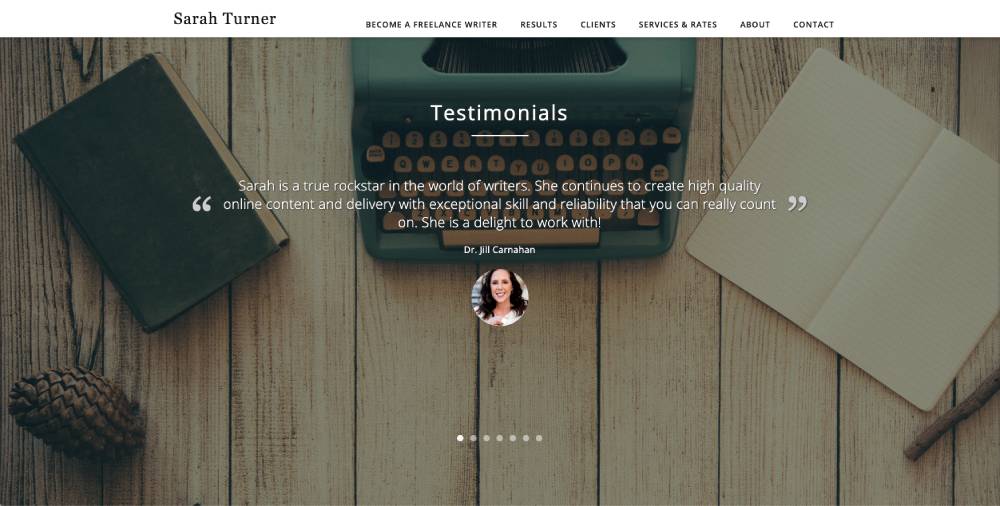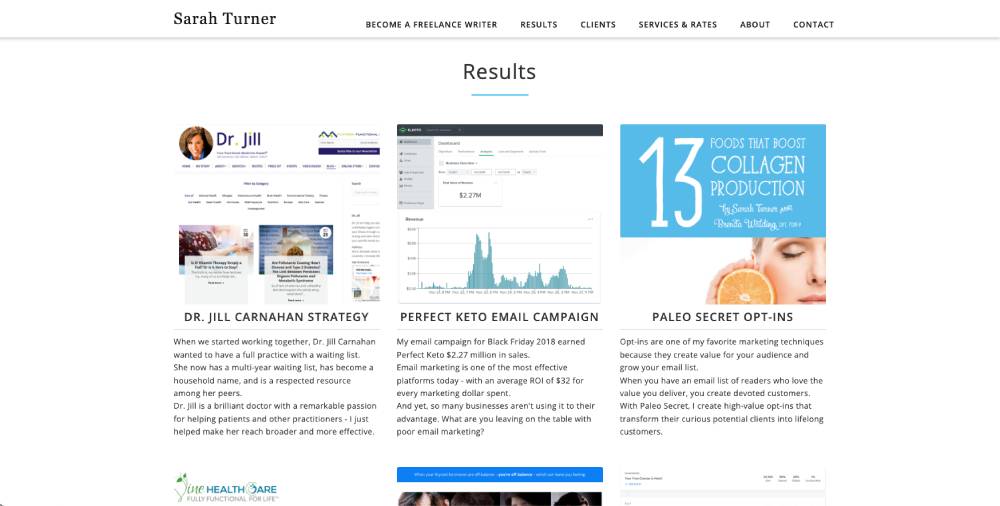 Have you worked with a reputable client that others in your niche would recognize? Display their name and testimonial noticeably on your site.

Showing the big-name clients you've worked with can demonstrate your credibility and authority in your specific niche.

But at the same time, potential clients want to know that your work leads to results. So, it's most effective to display testimonials and past projects' results.


Here are three types of results you can track:

Landing Pages. If you have conversion rates for opt-ins, sales pages, or any other direct response, this is portfolio gold.
Emails. Ask your client for the open rate, click-through rate, unsubscribe rate, and revenue generated for the email campaign you created.
Blogs. Watch the traffic of your client's website using a tool like Ubersuggest. Did traffic increase since you started creating SEO blogs for them?


If you're first starting out and still need results, don't worry! You could offer a small copywriting project in exchange for a testimonial.

As you work with more clients, remember to follow up for results. One day soon, you'll have a whole collection of testimonials and results to share. 📈

*Important Note* be sure to get your client's permission to display their results, testimonials, and case studies on your website. Let them know your site is usually only viewed as a portfolio for other potential clients. Most clients are happy to say yes!



Section Five: Relevant Copywriting Samples

Include copywriting samples relevant to your ideal client's niche. You catch their attention and let them know you can meet at least one of their specific needs.

For example, if you're in the e-commerce copywriting niche, include product description samples. If long-form blogs are essential to your clients, include a full blog on your site.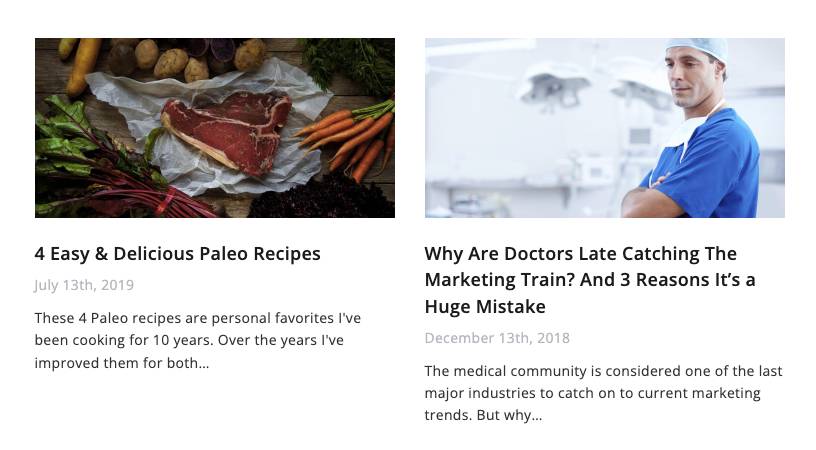 Haven't written any copywriting portfolio pieces yet? Don't worry. Later in this article, I'm going to give you three actionable ways to write your first copywriting samples.



Section Six: About You

It's time to give your clients an idea of who you are and what it's like to work with you! Although this section is about you, it's really another opportunity to connect with your reader. Tell a story that resonates with your audience and how you help them.
For example, my copywriting niche is the health industry. So, I tell a story that shows my understanding of functional medicine and why it's important.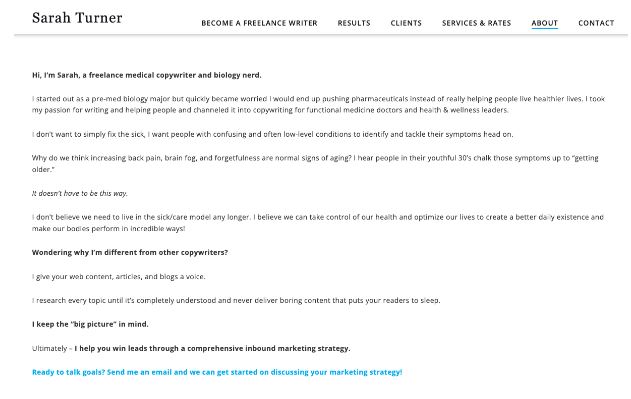 Communicate why you're passionate about the field, and how your expertise helps them. This section is also a place to show your values to attract like-minded clients.



Section Seven: Contact (Call to Action)
You've built the value of your services and incentivized your audience to work with you. How do they get in touch with you?

Your call to action should outline exactly what step to take next and what's in it for them. For example, you could compel them to book a complimentary discovery call.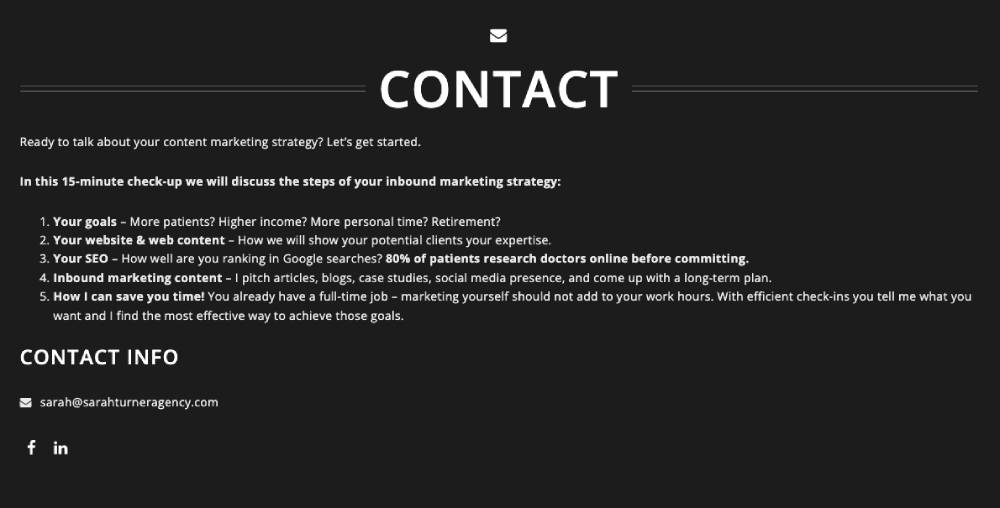 Communicate the value that the audience receives by contacting you. My contact form clearly states that regardless of whether we work together, clients receive value in the discovery call. They walk away having a better understanding of their marketing strategy.

You don't need to limit your call to action to the contact form itself. Include CTA buttons throughout your website that link to the contact when it's relevant. Your goal is to have them click to contact you as soon as possible!
How to Create Your First Copy Portfolio Samples
If you haven't written a full piece you can display on your copywriting portfolio yet, that's okay. Here are a few actionable ways to write and display that first piece on your site.


Self-Publish on Medium.com. Medium is a writing platform where creators can self-publish their content. You can publish your first article and then link to the post from your website. This makes your portfolio look clean and professional.

Be careful that you're *actually* writing copy, though. Many Medium pieces are classified as content writing or even simple journal entries. You want your article to display effective copywriting techniques.


Ask Your Network. Everyone in your existing network that owns a business could be a potential client. Think of the business owners in your life and propose a project to them.

For example, my sister is a photographer – so I helped her optimize her website with SEO when I first started out.


Make a Trade. If you're just starting out, you can offer a blog for free in exchange for a backlink to your website. It builds credibility to display an article published on someone's website.

Offering an exchange is an effective way to get started. But I want to empower you to start charging for your work shortly after. Your copywriting is incredibly valuable!


If you're feeling overwhelmed, don't worry. Just focus on creating one article you're super proud of. One day, you'll have written hundreds of pieces you could display in your copywriting portfolio. ✨
Copywriting Portfolio Templates and Hosting Platforms
Ready to start creating your portfolio? You first need a platform to host your website and content.

I recommend choosing a platform that's very intuitive, easy to use, and looks professional. Most of my copywriting students choose Squarespace or Showit for their sites. Both are simple to use, cost-efficient, and have tons of professional themes.

Want to make it even easier on yourself? One of my copywriting students, Melanie Pylant, creates beautiful Squarespace copywriting portfolio templates for copywriters.

Melanie's website templates already include placeholders for the effective sections of a copywriting portfolio website I walked you through today.

If you pair this article with a portfolio template, you should have your copywriting portfolio website up and running within the next week! 🏃
You Created Your Copywriting Portfolio, What's Next?
The stage you're at right now is very exciting. You've got copywriting skills under your belt, and you're ready to use them. I'm proud of you!

But if you're feeling a little overwhelmed about where to start, that's totally normal, too. My course, Write Your Way to Freedom, is here to help.

The comprehensive copywriting course teaches you how to write effective copy. Beyond that, you learn step-by-step how to…
Create a copywriting portfolio
Build your value-aligned client base
Level up your copy skills

…and so much more.


Apply for a strategy session to fast-track your success as a freelance copywriter.

The methods inside Write Your Way to Freedom have helped thousands of copywriters launch their copywriting businesses successfully. You could be next.