Learn how you can earn 6-figures as a medical copywriter for healthcare practices and brands.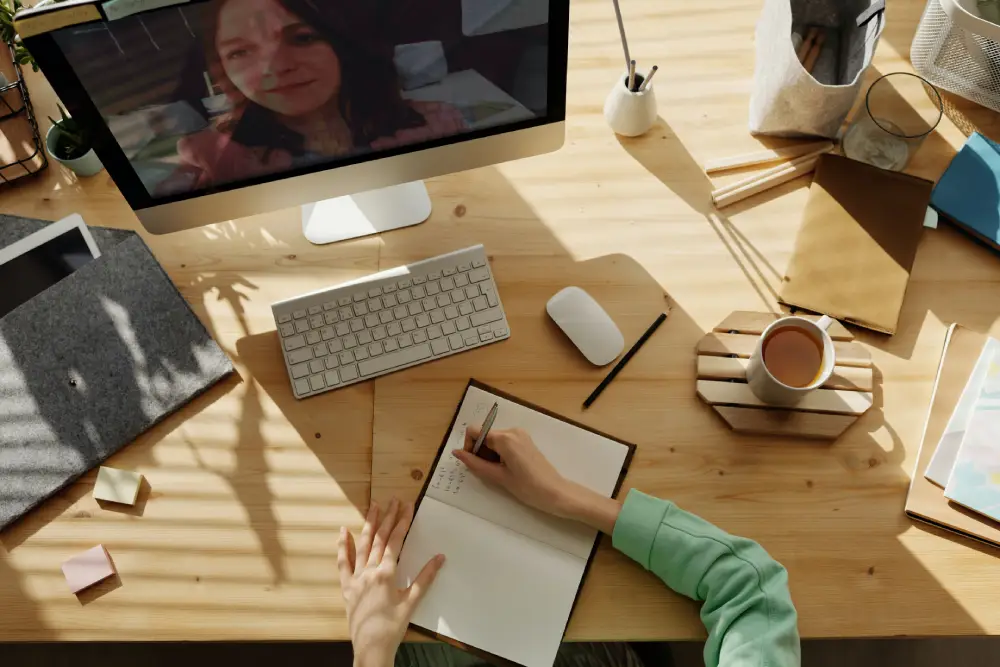 Are you looking for a new, creative career in the health and wellness industry?

Perhaps you're tired of your long hours and repetitive daily tasks, feeling like you've outgrown your role. But you keep going because you cherish the impact you have on others and the opportunity to learn new, interesting things.

Whether you're a physician looking beyond the clinic or a freelancer eager to find a niche you love – becoming a medical copywriter could be a fantastic path for you.

As a medical copywriter, you collaborate with healthcare establishments, brands, and visionaries dedicated to enhancing well-being.

While copywriting has its creative flair and may leverage your medical insights – it demands a distinct set of skills. And that's precisely what I'm here to guide you through.


I. What Is a Medical Copywriter?
II. Medical Copywriting vs. Freelance Medical Copywriting
III. How to Become a Medical Copywriter: Step-By-Step
IV. Get Support on Your Medical Copywriting Journey


Medical copywriting is particularly special to me because it's been my copywriting niche for over a decade. I'm proud that my copy is responsible for over $37 million in the services sector. I've also helped my clients 10x their revenue.

This niche is very profitable and particularly tailored for those with a science background or an excitement to write about topics in health and wellness. So, let's dive in!
Learn How to Build a Lucrative Freelance Copywriting Career
Get my free copywriting masterclass that walks you through exactly how I went from zero to consistent five-figure months with copywriting – with no experience and no portfolio.
Gain instant access – right to your inbox – when you sign up below. 👇
We will never spam you or share your email with anyone. In addition to the guide you'll also receive semi-regular email updates with tips, tools, offers and exclusive resources. All emails include an unsubscribe link, you may opt-out at any time. Read our Privacy Policy to see how your data is handled.
What Is a Medical Copywriter?
Take a moment to think about the healthcare brands you encounter daily.

If you're a clinician or in the healthcare sector, you might come across: 


Medical equipment manufacturers
Pharmaceutical brands
Health supplements


But even if you've never worked in healthcare, you still bump into healthcare brands regularly. Like the local practice you visit for check-ups or the ads that promote an energy supplement.

The health and wellness industry is deeply ingrained in our society.

Especially now, with the wellness industry becoming more popular. There are more and more brands offering ways to "hack" our health and feel like the best versions of ourselves.

All of these brands require savvy marketing and strategic copywriting to get their message across and sell their offerings. But many of these brands need external expertise for their marketing. Especially those managed by doctors and clinicians.

Consider a functional medicine doctor who has a local clinic. While they excel in patient care, marketing might not be their strong suit. But for the clinic to survive and thrive, it's crucial to make potential patients aware of their services.

Enter the medical copywriter (you!).
Types Of Medical Copywriting
As a medical copywriter, you craft compelling marketing and promotional content that amplifies a healthcare brand or clinic's visibility and offerings.

The types of writing a medical copywriter creates might include:


Website Copy. Online presence starts with a brand's website. But many healthcare professionals need help crafting a narrative. Plus, local places greatly benefit from search-engine-optimized (SEO) content, making it easier for clients to discover them.


Articles and Whitepapers. Brands need content that showcases their credibility. That's where informative content like articles and whitepapers comes in. Such articles offer a deep dive into niche medical topics, shedding light on groundbreaking research or unpacking the complexities of certain treatments.


Email Marketing. Email is another essential piece of online marketing that many brands might not know how to operate. You help them build their email list, send regular updates, and sell their products to their audience.


Sales Copy. Content that specifically promotes particular products or services. This might include sales pages, sales emails, or even social media ads that enhance the visibility of these offerings.


Medical copywriting requires a deep understanding of health and wellness topics. A background in healthcare would set you up well in this field, but it's not necessary. As long as you have an interest in researching and fact-checking, you can excel.

Facts and data are important, but as a copywriter, you also infuse your distinct creativity into the content. Your expertise lies in translating intricate topics into understandable and relatable narratives. And you play a key role in expanding a brand's visibility and credibility.
Medical Writing vs. Medical Copywriting?
If you're coming from the healthcare field, you might've considered becoming a freelance medical writer. Maybe you've heard this is a career that allows you to stay in your field while still having more precious control over your time, schedule, and headspace.

So, what's the difference between a medical writer and a medical copywriter? 


Medical writing typically focuses on creating documents that communicate complex medical information in a clear and structured manner. This might include research articles, clinical trial reports, regulatory documents, and patient education materials.


Medical copywriting is a different field focusing on creating marketing and promotional content for medical and healthcare brands. This content always includes a call-to-action (CTA) that directs the reader to take action.


As a copywriter, you help clients grow their brands, practices, and offers. The tone is persuasive and combines medical information with marketing and sales skills.

Though both fields operate within the realm of healthcare communication, medical writing is anchored in fact-based, educational content. Whereas medical copywriting emphasizes captivating, brand-centric messaging that compels the audience to act.

The rest of this article speaks to medical copywriting and how to get started in that field.



Employed vs. Freelance Medical Copywriting
If you're venturing into medical copywriting, there are two main paths you can take. You can work in-house for a specific brand or become a freelancer and serve a variety of clients.

Here's the difference between the two:


In-house Medical Copywriting. Want to work full-time for a single company or brand? In this role, you're a dedicated in-house copywriter, producing content exclusively tailored to the organization's brand and objectives.


Freelance Medical Copywriting. As a freelance medical copywriter, you have the freedom to select projects that resonate with you, collaborate with different clients, and dictate your own work rhythm.


Each of these has its benefits and challenges. But if you're interested in leaving healthcare (or another 9-5) to have more freedom, flexibility, and income – freelancing is for you.

As a freelance writer, you get to control your own hours, income, and headspace. And you can continue to write about topics that you're passionate about.

Here are a few of the many benefits of becoming a freelance medical copywriter:


Have a Calmer Work Environment. The medical field is demanding – especially in current times. If you're grappling with burnout, you're not alone.

Transitioning to freelance copywriting empowers you to dictate your tasks, choose your clients, and set your working hours. This paves the way for a better work-life balance.


Work Remotely. Clinicians or traditional 9-5 jobs often require your physical presence. But maybe you're eager to be able to travel more or spend more time with family in different states.

As a freelance copywriter, you get to enjoy the luxury of location independence. You can work from anywhere in the world – whether you aspire to be in a different country or just a cozy home office in your house.


Earn More Money. In healthcare and other traditional jobs, your income is often fixed. You only have the opportunity to get a minimal raise once or twice a year. As a freelancer, you control your income by taking on more work or raising your rates.

Many copywriters in my online community have replaced their 9-5 income in three months and now earn 6-figures or more. Many of these individuals work less than 20 or 30 hours a week.



Control Your Schedule. Freelance copywriting lets you design your own schedule. So you have more flexibility and can be present for essential personal moments – mentally and physically.

Imagine being able to schedule your work around your personal life instead of the other way around. You could pick up your kids from school, never miss a family holiday, always say "yes" to trips with your friends – or whatever freedom looks like to you.


Make an Impact. Copywriting presents a unique opportunity to make a difference. Through persuasive writing – you can uplift brands and help their life-changing offers get into the hands of people who need them.

While marketing is very different from healthcare, it offers a way to make an impact on your audience's lives. I wholeheartedly believe that genuine marketing is world-building. It brings people together under a common mission.


I come from a science background and worked a 9-5 job before becoming a freelancer.

The daily grind of the office and long hours under fluorescent lights really got to me. I craved a change – so I took a leap into the world of freelance copywriting.

I was able to not only leave my job but quickly exceed my previous salary. And becoming a copywriter paved my way to entrepreneurship. Now, my online community consists of over 5,300 incredible students that I feel so blessed to mentor and have in my world.

Freelance copywriting changed my life, and I know it can change yours, too.
Learn How to Build a Lucrative Freelance Copywriting Career
Get my free copywriting masterclass that walks you through exactly how I went from zero to consistent five-figure months with copywriting – with no experience and no portfolio.
Gain instant access – right to your inbox – when you sign up below. 👇
We will never spam you or share your email with anyone. In addition to the guide you'll also receive semi-regular email updates with tips, tools, offers and exclusive resources. All emails include an unsubscribe link, you may opt-out at any time. Read our Privacy Policy to see how your data is handled.
How to Become a Medical Copywriter: Step-By-Step
You want to dive into medical copywriting – but where do you begin?

The web is overflowing with info, but sifting through it all can be daunting. Trust me, charting a new career path is way easier with a solid plan in hand.

Here's a straightforward, step-by-step guide to kickstart your journey:


1. Hone Your Skills
Becoming a successful medical copywriter starts with sharpening your skills. Having a medical background helps, but pairing that with solid copywriting techniques is important. Having solid skills that get results for your clients is the best way to grow.

Remember, the heart of copywriting is motivating your reader to act. So, always include a call-to-action (CTA) when crafting your content. 

Here are a few ways to begin and hone your copywriting skills:


Invest in Knowledge. The first step is to get familiar with copywriting and spend time studying credible copywriting books. Books like these introduce you to the fundamentals of copy from some of the best copywriters in the industry. 


Practice by Hand-Copying. It might sound strange if this is your first time doing it. But one of the best exercises for new copywriters is hand-copying successful copywriting pieces. This helps you ingrain the structure and rhythm of persuasive writing.


Get Feedback. To sharpen your skills and gain motivation, seeking feedback from a seasoned copyeditor is invaluable. Such professionals provide constructive insights and serve as pillars of support during tough times.


The most important skill to cultivate is curiosity and a continuous drive to learn. Your career is going to change over time. You might bring on new offers or switch your client base. If you have a keen curiosity and ability to evolve – that takes you the farthest in your career.
2. Create a Portfolio
As a freelancer, you don't need to show your resume. Your skills speak more than a list of experiences. That's why it's essential to create a portfolio that showcases your work.


Write Sample Pieces. Don't have a paying client yet? That's okay! Write a sample piece as though you are writing for a client. Pick a topic your ideal clients would be interested in having on their own website to catch their eye.


Create a Website. Your copywriting website is your portfolio. This is a chance to show your ideal client you understand what they're going through – and how you'd solve their problems. It also showcases your writing skills.


Learn as You Earn. Say yes to projects, even before you feel ready. You'll learn quickly when you're getting paid to write something because you're incentivized to do a fantastic job for your clients.


Your copywriting portfolio shifts and evolves over time. Start small by crafting a simple website that speaks to your ideal client and writing 1-2 sample pieces. Being able to link to a website makes you look 10x more professional when you're pitching new clients.



3. Start Client Outreach
Now that you have a firm foundation and portfolio, it's time to find clients!

Client acquisition is paramount as a freelancer. Maintaining a client pipeline keeps you thriving and voids the feast-to-famine cycle. Luckily, there are many strategies to choose from.

First, think about the types of clients you want to work with. There are many types of potential clients in the medical copywriting niche.

Types of Clients:


Local Clinics & Hospitals: From small medical practices to large hospital networks.
Healthcare Brands: Brands that sell products to enhance your health, like supplements, biohacking brands, health apps, and more.
Health Coaches: Professionals guiding others on their health and wellness journeys.



How to Get Clients


Leverage Networking: Attend industry conferences, join webinars, or be active on platforms like LinkedIn. Genuine connections often lead to fruitful collaborations.

If you're having a slow season, shake things up! Attend networking events in your city. You never know what opportunities might come your way.


Harness the Power of Referrals: Once you've delivered quality work to a few clients, encourage them to refer you to their peers.

Word of mouth, backed by stellar performance, is incredibly powerful.


Lean Into Organic Marketing: Nailing SEO for your personal website helps clients find your services and come to you. Pinpoint keywords that have solid search potential but aren't swamped with competition.

Believe it or not, my old website still pops up on the first page when you search for "medical copywriter." This shows the power of solid SEO!


Starting a freelance career is a thrilling new adventure. 

Every day looks a little different. Sometimes, you're deeply focused and busy with client projects. While others, you're pitching new clients or drafting an idea for a new service. It's a dynamic career with tons of opportunities and room to explore.

With the right path, becoming a medical copywriter is as fulfilling as it is profitable.
Get Support on Your Medical Copywriting Journey
Want to become a medical copywriter? My biggest advice is to join a copywriting community and mentorship to clarify your path faster.

The benefits of a community are plenty. You can learn from folks who are ahead of you, get feedback, and chat about the latest strategies. This sense of belonging and mutual growth can make all the difference in your freelancing journey.

That's why my copywriting education program, Write Your Way to Freedom, is a delicate blend of both education and community.


Education: Modules for every step of creating your freelance journey – from developing your skills to setting up your portfolio and getting clients.


Weekly Live Q&A. Ask me (Sarah) anything and get answers to your questions in real-time to navigate your journey with confidence.


Community: Lifetime access to a supportive community and weekly live coaching calls free in your first year of membership.


Want a sneak peek of Write Your Way to Freedom? My free masterclass walks you through how I went from zero to consistent five-figure months as a medical copywriter – starting with no experience or portfolio. Gain instant access right here.