Plus, learn how to use ChatGPT to save time and set you apart as a freelance copywriter.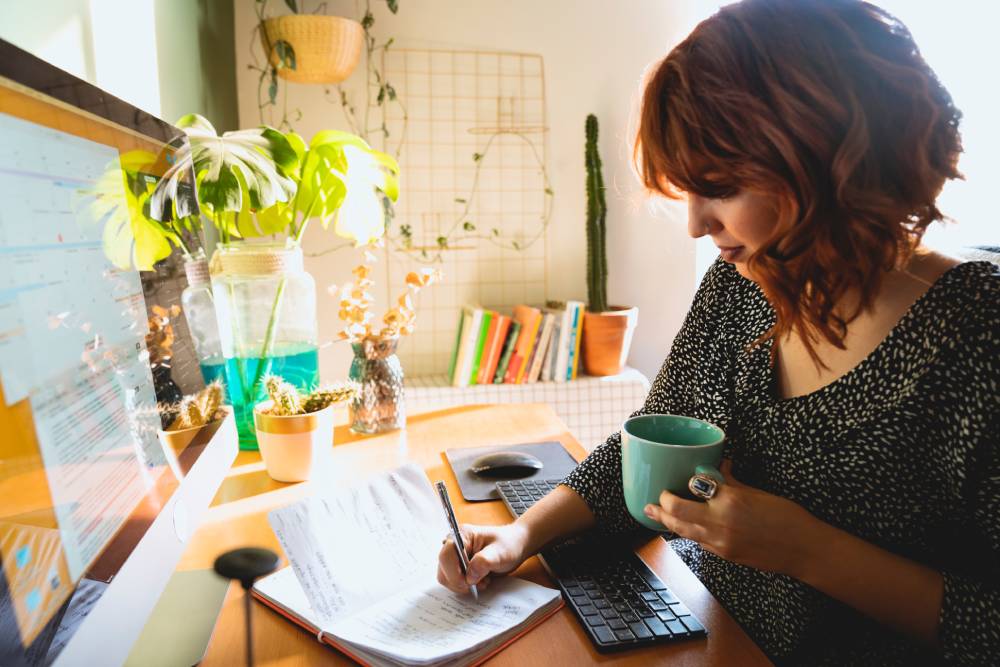 Everyone has been talking about ChatGPT, the advanced artificial intelligence technology by OpenAI. If you're a freelance copywriter, you might be wondering, "Can AI copywriting tools replace real, human copywriters like me?"

Maybe you've gotten into the groove of working with copywriting clients you adore. And you're worried ChatGPT could affect your client relationships.

Or perhaps you recently entered the copywriting field with tons of excitement for the future. But now you're not sure if there are long-term opportunities in this field.

All these feelings are completely understandable.

It can be scary to hear about new technology or trends that feel unfamiliar. Especially when there are so many different opinions on the subject – you're not sure what to believe.

I find that the root of anxiety usually comes from not having enough information. The way to feel calmer and more prepared is to empower yourself with knowledge and an open mind.

That's exactly what I'm here to help you do.

I've been in the copywriting and marketing industry for over ten years. I've learned how to shift and evolve my career amid new technology and environments. Plus, how to keep a growth mentality and stay relevant throughout industry changes.

And I'm proud to have guided my clients and thousands of copywriting students through industry changes, too. Such as market crashes, the COVID-19 pandemic, and the rise of other AI copywriting tools like Jasper and Copy AI.

Many of my students even see career growth during dips in the market and industry shifts. They follow my advice on evolving and providing value in new ways during industry changes.

Today, I'm going to share some of that advice with you. We're digging deep into ChatGPT and the future of copywriting. So you can feel empowered, prepared, and ready to navigate change with confidence.


You'll come away from this article with the knowledge, tools, and mindset to position yourself for success, even amid new technology.

Because it's true that ChatGPT could replace some copywriting work – similar to how Canva replaces some design work. But there's still a huge demand for high-quality copywriters who provide expert skills and forward-thinking strategies that AI doesn't replicate.
Want to learn how to build a sustainable freelance copywriting career?
Get my free copywriting masterclass to learn exactly how to launch your copywriting career with irreplaceable skills, build your client base, and get consistent five-figure months  – starting with no experience and no portfolio.
Gain instant access – right to your inbox – when you sign up below. 👇
We will never spam you or share your email with anyone. In addition to the guide you'll also receive semi-regular email updates with tips, tools, offers and exclusive resources. All emails include an unsubscribe link, you may opt-out at any time. Read our Privacy Policy to see how your data is handled.
How to Reframe Your Mindset About AI Copywriting
The rest of this article is going to show you how to cultivate skills that set you apart from AI copywriting software. But first, let's talk about your mindset toward AI and other tech.

I want to empower you to reframe your fear into fascination – and keep an open mind about new technology and industry shifts. The best way to stay relevant in times like this is to be willing to shift and evolve with new changes.

Freelancers and entrepreneurs who embrace change and new tech are the ones who stay on top and use industry shifts to their advantage. For example, AI copywriting is a very interesting tool that makes your life and work much more efficient.

That's why it's essential to get *curious* in situations like these. I'd encourage you to check out ChatGPT and experiment with it. When new tech emerges, you can always ask yourself, "How can I learn about this tool so that I can inform my clients and stay relevant?"

As a freelancer, think of yourself as an explorer, always looking for new ways to learn and shift your career. When you cultivate this forever-learner mindset, you'll always be able to identify new opportunities for yourself in your life and career.

Industries are constantly changing, evolving, and surprising people. For example, big tech companies had a hiring surge during the pandemic when everyone started working online. But recently, the industry unfortunately laid off thousands of employees.

It might be hard for these employees to navigate their industry changes. If they've worked the same job for years, starting over in a new field is difficult. But a freelancer like you has the skills and mindset to always navigate changes, cultivate new skills, and look for opportunities.

That's why cultivating a growth mindset is a cornerstone of my copywriting course, Write Your Way to Freedom. Our community members keep open minds and help each other navigate changes and questions. Because industry shifts will keep happening, and that's okay.

AI copywriting tools will keep popping up, changing, and progressing in the next few years and beyond. Stay curious, open-minded, and confident in your ability to evolve. 🌱
ChatGPT: AI Copywriting Capabilities and Limitations
There have been other AI copywriting tools in the past, so why is there so much buzz around ChatGPT? The platform is innovative because it's a new type of model that generates language and conversation that's more human-like than ever before.

Most AI copywriting tools operate on rule-based systems, which are pre-programmed with scripts. ChatGPT uses advanced deep-learning techniques to generate human-like responses and narratives.1

The creators of ChatGPT trained the software with extensive research, text, and databases. So when you ask a question, it searches its existing knowledge to produce a unique answer.

ChatGPT's interface is also different from other AI tools because it's similar to a search engine. There's a prompt bar to input questions and directions for the tool. You can ask it to generate text, write outlines, pull research, and much more.

ChatGPT is fascinating because you're basically having a conversation with a robot, lol. 🤖

If you haven't yet, I'd encourage you to give ChatGPT a try because you'll likely be relieved when you see what it cranks out.

Although ChatGPT has a lot of helpful qualities, it doesn't replace high-quality copywriters.

Copywriters infuse copywriting skills and persuasion techniques that make content more effective and drive more results. Plus, top copywriters are so much more than writers alone.

They partner with their clients and recommend marketing strategies and ideas to reach their unique brand goals. Strategy is another invaluable skill that ChatGPT struggles to replicate.

Here are the major limitations of AI copywriting tools compared to a human copywriter.


Copywriting: Language, Emotional Intelligence, and Storytelling
Effective copywriting ignites emotions and inspiration through storytelling, human empathy, emotional techniques, and more. These techniques are essential to writing copy that builds trust with your reader and compels them to take action.

And quite frankly, ChatGPT doesn't replicate the techniques that make copy interesting and compelling. Even the software itself acknowledges its limitations.

Here are the copywriting techniques that AI copywriting tools struggle to replicate:


Language and humor trends. Language is difficult for AI to master because it's continually changing. We constantly create new trends, phrases, and slang, so it's hard for AI to stay on-trend.

AI also struggles to master humor because of its deep complexity and nuance. It doesn't know how to make sense of common everyday expressions and metaphors.

For example: you wouldn't target a millennial audience with a Gen Z term like "bet" or "no cap." A Gen Z audience might resonate and laugh at these trendy terms. But your millennial audience would get super confused and even cringe at them. You'd def lose me right then and there. 😂


Emotional intelligence and empathy. ChatGPT may be able to generate lists of pain points. But copywriters have lived human experiences that are essential to creating content that's truly empathetic, impactful, and connects on an emotional level.

I encourage my copywriting students to choose a writing niche based on what's important to them. When you do this, your genuine empathy and knowledge of the topics come through naturally.

For example: a copywriter who's been through the pain, betrayal, and confusion of a divorce has a unique perspective on the topic. They understand the unique pain points, like how hard it can be to trust yourself on the other side. This pain area is much deeper and more nuanced than AI copywriting tools could pick up on.


Originality and creativity. ChatGPT generates text using existing simple language. Human copywriters infuse storytelling, prose, and rhythm that AI doesn't replicate.

Humans are dynamic storytellers that communicate through empathy, experiences, and emotional cues. Our intuition is strong, and we can tell when writing content is genuine. Savvy readers pick up on this and don't resonate as closely with AI copywriting.

For example: you know when you're reading a piece of content, and suddenly you feel so seen and understood? Maybe it even brings tears to your eyes to read the words that connect with you. Quality, emotive writing has a way of moving your reader.


Unique voice and personality. Effective copywriters create work for different clients that sound distinctive. Each client should have a unique voice, personality, and character that emulates the brand.

AI doesn't have the same capability to portray personality – whereas humans can shift their tone and vibe intuitively to match their clients' voices. ChatGPT aims to do this and could even give you ideas, but YOU still know your client and their audience best.

For example: unique jargon and language references build a connection with the reader. If you write for a female, millennial audience, maybe you toss in references to 2000's rom-coms like Gilmore Girls or Legally Blonde. And you use the personality and catchphrases your client uses.


Your readers are human. They want to connect on a human level through empathy, shared experiences, and personality. Trust that your reader can distinguish the difference between generic copy and genuine, human-driven content.


SEO Keyword Strategy, Planning, and Implementation
Search engine optimization (SEO) is the process of incorporating keywords and phrases that help your client's content rank on Google. SEO increases your client's site traffic and organic ranking, which helps their ideal clients find them.

SEO is one of the most valuable skills because it grows your client's brand, audience, and leads – all while saving them time. SEO is another area ChatGPT struggles to generate without a ton of specified input from the user.

Here are the limitations of AI copywriting tools when it comes to SEO:


SEO keyword strategy. You can ask ChatGPT to generate a list of potential keywords for your niche. But the AI tool doesn't have access to real-time search data to inform relevant SEO recommendations.

Plus, general keyword lists don't apply to everyone. It takes a deep understanding of your client's audience, brand goals, and preferences to create a tailored SEO strategy.



Organic ranking on Google. Google and other search engines consider AI copywriting as spam. Google's algorithms may de-index your content if it determines the text is AI-generated, low-quality, or doesn't provide original value.2

It's gotten more challenging to detect content written by the latest ChatGPT technology. But, Google is continually developing and changing its algorithms to identify the nuances of AI-generated copy.

The most effective way to rank on search engines has always been to create unique, compelling, high-quality content. Infusing effective copywriting skills and providing unique value sets your writing apart from AI-generated content.


Some clients might use ChatGPT to DIY their SEO planning. But SEO tends to be an overwhelming subject for copywriting clients. Many brands will still want copywriters who spearhead their SEO strategy and make sure they're implementing it correctly.


Strategy: Tailored Marketing Recommendations and Ideas
Copywriting is an essential piece of the content marketing puzzle. But before you ever start writing, you need a strategy that defines your content plan, goals, and frequency.

AI tools can provide general guidance and suggestions on creating a content plan. But creating an effective strategy requires a thorough understanding of the brand's goals, target audience, industry trends, and more.

Here are the limitations of AI copywriting tools when it comes to strategy:


Identifying client needs. Most of the time, new clients come to you because they don't know what types of content they need. These clients are looking for an expert to listen to their goals and create a plan using marketing knowledge they don't have.

The output of ChatGPT is only as effective as the input. It would be very difficult for a brand owner to ask an AI copywriting tool to generate a strategy when they're not sure what to ask in the first place. As a strategist, you help your clients navigate what they need – and help them implement it.

For example: let's say a potential client wants to get more leads, but they're already super strapped on time. You could recommend they start creating SEO-driven content to increase their site traffic and ranking. They may not know the first thing about SEO, but you'll walk them through the strategy and handle all the content creation.



Creating unique, value-driven strategies. There's no one-size fits all approach to marketing strategy. There are hundreds of techniques that *could* work for a brand, but it's a strategist's job to determine which methods to use.

The goal is to recommend a strategy based on a client's unique goals and preferences about how they want to show up. It's important to consider their values.

For example: ChatGPT might recommend social media as a strategy. But what if your client greatly dislikes showing up on social media? A human copywriter could consider their desires and recommend a different plan that meets their goals.


Overall, ChatGPT does have a lot of helpful capabilities you can use to your advantage (we'll get to those soon!). But it's important to acknowledge these various limitations of AI copywriting tools.

ChatGPT could replace certain quick-turn, lower-quality copywriting projects. Like many of the copywriting jobs that you find on Upwork and Fiverr that pay a minimum wage. But that's not the type of client or project that you're looking for anyway, right?

Picture YOUR ideal client. 💭

Let's say they're a 7-figure consultant who works with big companies on their hiring strategy and company culture. Aside from their services, they also deliver keynote speeches and develop courses and programs – all while wanting to stay present in their personal lives.

A client like this doesn't have the time, desire, or skills to create and edit ChatGPT content. Plus, they need more than a content creation tool. They're looking for a trusted partner who provides strategy and recommendations based on their goals.

So, let's talk about how to cultivate the copywriting and strategy skills that make you irreplaceable, even amid new technology.
How to Set Yourself Apart From AI Copywriting Tools
Remember how Canva *disrupted* the design industry?

At first, people speculated that the platform might replace designers and branding agencies altogether. Graphic designers were freaking out. Sound familiar?

Sure, Canva is incredible at helping you DIY quick-turn graphics and projects. But it doesn't replace the need for creative designers who take the entire project off your plate. Real designers give you a unique end product versus a template tons of other people use.

Another example is when people freaked out when those fancy T89 calculators came out. The older folks grumbled, "These kids are never gonna learn math!" Probably while shaking their fists in the air. 😂 But we still had to learn math – you just have a tool that helps you get there more quickly.

AI copywriting tools might make it easier for some copywriting clients to create certain aspects of their marketing when they're in the DIY phase.

But a large majority of brands and marketers know better and still want to work with high-quality copywriters. Someone who takes the entire project off their plate, consider their larger brand goals – and make the work as unique and effective as possible.

Here are a few key ways to set yourself apart as a high-quality, irreplaceable copywriter:


Position Yourself as a Strategist
One of the biggest ways to differentiate yourself as a copywriter? Always consider ways to improve your clients' marketing funnels. Take the initiative to identify areas of opportunity and tell your clients how the work could be more effective.

AI copywriting tools can only solve the problems you ask them to solve. Take the initiative to solve problems your clients might not have even known about in the first place.

Taking the initiative to improve your client's copy and marketing strategy is an invaluable skill. This not only sets you apart from ChatGPT – it also sets you apart from other freelancers.


Double-Down on Your Storytelling and Copywriting Skills
With the rise of AI-generated content, copywriters and marketers should lean into storytelling as much as possible. When your audience gets bombarded with generic messages – storytelling cuts through the noise and gets their attention.

How do you incorporate storytelling into your copywriting? Insert the reader right into the action of a relevant story they'd relate to.

To demonstrate this point, I asked ChatGPT to "write me an intro to my newsletter about sleep training your newborn baby." Here's the response from the AI copywriting tool:

Okay, so the intro is technically factual. But the text starts by focusing on themselves and feels very short and straightforward. It lacks the empathy and curiosity to pull the reader in. Quite frankly, it's boring.

Here's how I would infuse copywriting techniques like empathy, humor, and storytelling to differentiate from AI-generated content:

"It can feel like you're slowly losing your mind when you're sleep deprived at 3 a.m., and your little one is crying.

It feels like you've tried everything – from feeding to rocking to singing. You're on the verge of a breakdown and starting to question if you can trust your mama instincts.

The thing is, there's so much that you're expected to know but couldn't possibly know, and that's where we come in.

We see you, and we're here to help.

Here are three strategies to use for sleep training your little one this month…"

The second opening makes you more interested in reading the rest of the newsletter, right?

Writing with empathy, curiosity, and storytelling pulls your reader in – which would ultimately increase open rates and results for your client. Skills like these make your work more impactful and valuable than AI copywriting.
How to Use ChatGPT to Your Advantage as a Copywriter
ChatGPT and other AI copywriting tools offer copywriters a unique advantage. You can use these tools to save tons of time on research, ideating, and drafting. They could even save you money if you opt to use AI versus hiring a research or writing assistant.

Here are the primary ways to use AI copywriting tools like ChatGPT to your advantage:


Project Research
ChatGPT answers your questions quickly in an easy-to-understand format. AI saves you time by providing quick answers instead of reading through multiple articles and search results. But it's important to still do your own research and ensure you're covering relevant points.

Here are three ways to use AI for your copywriting research:


Audience research. Use AI to give you a list of the audience's characteristics – like pain points, hesitations, and questions. For example, "what are some reasons that someone would object to buying [insert product]."


Competitor research. Ask AI for a list of competitors relevant to the industry you're writing about. Then, follow up for more details on each competitor. For example, "provide a list of [brand name's] biggest competitors."


Topic research. Use ChatGPT to research the topic you're writing about. You can ask it to provide explanations of the topic, outlines for your project, and more.


Where does ChatGPT get its information? The tool generates responses by drawing on the large database that OpenAI trained it with. This database includes various sources such as scientific papers, textbooks, and articles.

The problem is that ChatGPT doesn't always cite the exact source of the information it shares. If you ask for the origin, it lists the various studies and articles it pulled from. But it doesn't differentiate the quality of its search results or the exact source.

That's why it's so important to fact-check the data and source. You need to make sure your information is accurate, reliable, and up-to-date. Especially in niches like health and wellness, legal and finance industries, cannabis, and so much more.

Even ChatGPT acknowledges that it's not perfect and sometimes provides incorrect or unreliable information. So, use AI as a starting point for research – but always be sure to fact-check your data.


Content Ideas
One of my favorite ways to use ChatGPT is to generate content ideas. This is the ultimate way to save time – whether you're creating ideas for your client's content or your own.

The more specific details and instructions you give ChatGPT, the more effective the outputs are. For example, "generate a list of content ideas about sleep training [niche] for working moms [audience]." Get specific for more tailored recommendations.

But, continue to do your own research on platforms like Buzzsumo to make sure you're covering relevant topics your reader cares about.


Outlines and Rough Drafts
Do you ever get overwhelmed staring at a blank page? AI copywriting tools give you ideas to get you started. Use the tool to create outlines for your content – and even rough starting points for your writing.

For example, "generate an outline for the most comprehensive article on how to sleep train your baby as a working mom." Once ChatGPT creates your outline, ask specific questions about the sections provided.
How to Become an Irreplaceable Copywriter
ChatGPT is disrupting all industries right now, including copywriting. But top-quality freelancers who provide expert strategy, technique, and copywriting knowledge set themselves apart.

Do you want to be one of those top copywriters who remains irreplaceable – even amid new AI copywriting tools? The best thing you can do is invest in your skills and knowledge.

Write Your Way to Freedom is the most comprehensive copywriting training, coaching, and support program. When you sign up, you get access to:

Extensive Training. Learn to master the skills that AI copywriting can't replicate, like storytelling techniques, sales funnel strategy – and so much more.


Group Coaching. Get weekly coaching calls from top copywriters in the industry to learn new copy techniques, career paths, and ways to stand out.


Live Q&A Calls. Receive weekly support from me to get your questions answered and learn how to take your copywriting career to the next level.


With Write your Way to Freedom, you have the top copywriters in the industry at your fingertips. Our amazing coaches help you navigate industry changes from AI copywriting tools to shifting niches. You'll learn how to continually set yourself apart as a freelance copywriter.

Apply for a strategy session to discover if Write Your Way to Freedom is right for you.

Resources: