Learn how you can have more control over your time and income as a freelance copywriter.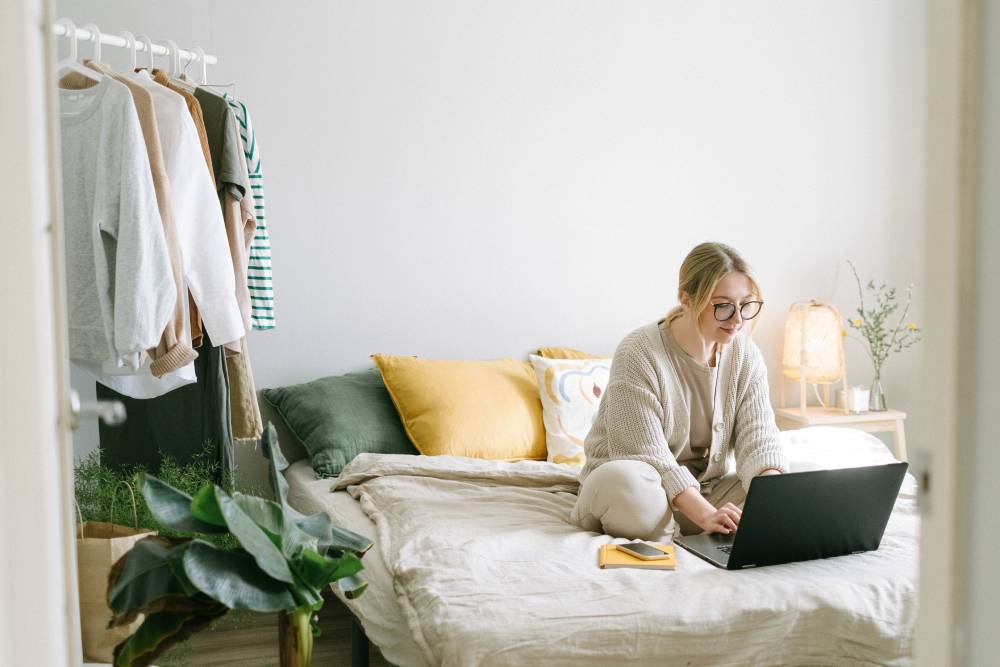 Are you a nurse looking for a new career that gives you more control over your schedule, headspace, and income? You've come to the right place.

Freelance copywriting is one of the best alternative jobs for nurses because it checks all the boxes that you're craving in your career. ✅

And the best part is you don't need prior experience to get started copywriting today. All you need is this handy blog to walk you through why and how to try freelance copywriting.
Freelance Copywriting Defined
When the pandemic started, you watched as other people started working remotely. And even as some offices reopen, many people still have the flexibility to work from anywhere. 

But as a nurse, you never had the option to work from home.

You're one of the heroes working on the frontlines of healthcare – before, during, and after the pandemic.

At the peak of COVID, you kept showing up for other people. Even when you were exhausted and overworked, or feeling like your cup was empty.

I know I speak for my whole community when I say thank you. We are all so grateful for the way you've endlessly cared for others, especially in the last two years.

And now, it's time that YOU fill your own cup.

You deserve to be able to control your priorities, schedule, and headspace. And that's exactly what freelance copywriting allows you to do.

Freelance copywriters create marketing content that promotes brands and sells products. This includes content like website copy, blog articles, social media captions, and much more.

More brands were formed in 2020 than any other year on record. And guess what? All those brands need high-quality copywriting to be successful.1

Opportunities as a freelance copywriter are continuing to grow. And there's a way you can learn the skills you need and start earning money in as little as three months.
6 Benefits of Freelance Copywriting as an Alternative Job for Nurses
First, let's talk about the difference between a freelance copywriter and a copywriting employee.

An employee works full-time for a brand or marketing agency. 

A freelancer builds their own client base and operates as an independent business.

If you're looking for a second career as a nurse that offers more freedom and control, freelancing is the path to choose. You get to be your own boss, create your schedule, control your income, and more.


Here are six reasons why copywriting is one of the best second jobs for nurses:


No Prior Experience Is Needed. 

You worked your butt off for that nursing degree. But you don't want to go back to school, rack up more debt, and endure countless contact hours to earn your APN degree. Are there any second jobs for nurses that don't require you to start over and go back to school? Yes!

The truth is, you don't have to become an advanced practice nurse to cultivate new skills and create a career you love. Thousands of my students have become successful copywriters after taking my self-paced, online copywriting course – including hundreds of fellow nurses. In it you learn effective skills, how to build your portfolio, pitch your first clients and so much more.


Work From Anywhere. 

Have you ever considered becoming a travel nurse so you could explore new places? The problem is that you might spend all your time exploring the unit you're assigned to instead of the city you're excited about.

Freelance copywriting offers you location independence and the ability to manage your schedule. You can take your work with you, and actually have the time and headspace to enjoy traveling while working.


Build on Your Expertise. 

Maybe you're thinking "biology and medicine are my expertise, how can I become a writer?" You can write for the medical industry! There's a large demand for medical copywriters and clients would be interested in working with you because of your knowledge.

You definitely don't need to stay in the medical niche forever – or even start in it if you don't want to. But it may be comforting to start in a field that feels familiar and explore other niches as you build confidence in your skills.


Use Your Experience. 

We both know that one of your strongest traits as a nurse is your ability to empathize with your patients. And empathy is a cornerstone of effective copywriting.

Your goal is to meet the reader where they are, empathize with their pain points, and guide them to where they want to be. With your experience, connecting with your reader will likely come naturally to you!


Control Your Income. 

Are your opportunities for receiving a raise as a nurse limited? Maybe you're hindered by the years you've worked at your institution or the union you're required to join.

As a freelance copywriter, you have control over your rates and the types of projects you work on. When you're ready to increase your income, you can raise your rates or focus on higher-paying types of copy.


Experience More Flexibility. 

Are you tired of having little control over your schedule? Maybe you've had to miss family holidays or trips with friends because you couldn't find someone to cover your shift. Imagine getting to spend Thanksgiving AND Christmas with your family. No more having to choose between the two.

Imagine how fulfilling it would feel to decide when you work, how long you work, and who you work with. As a freelance copywriter, you get to be in the driver's seat of your schedule and plan your work around your life – instead of the other way around.


There are a ton of benefits to exploring copywriting as an alternative job for nurses. But maybe deep down you're still feeling like you want to make a positive impact in the world. Is that something you'd have to give up?

Of course, I won't pretend your impact as a copywriter is comparable to saving lives. 🙂

But when you work with brands that are doing good in the world, you do get a sense of fulfillment. You can be confident that you're playing a key role in their positive impact.

And one day, you're going to be working with clients who are so grateful for your help and expertise. You truly can make an individual impact by making your clients' lives easier and building trusting relationships with them.

Not ready to leave nursing altogether? You could split your time between copywriting and working as a part-time nurse.

Imagine having a thriving copywriting career and working per diem. This could be the perfect solution to keep doing the parts of nursing you love – while having more schedule flexibility and income.
Ready to Start the Best Second Job for Nurses?
Imagine starting work on a Monday morning and feeling energized. You spent the weekend with your family or friends experiencing adventures and recharging.

You no longer feel like you're coming to work already on empty. Instead, you feel excited, prepared, and calm.

As you open up your laptop, a feeling of gratitude washes over you. You get to work with clients you believe in while having control over your time and headspace *pinches self.*

You only could have dreamt of feeling this way just a few short months ago.

This reality is possible for you, and it's so close within your reach. When you're ready to get started, I'm here to help.

My course, Write Your Way to Freedom, teaches you the exact steps to…


Learn effective copywriting techniques
Build your value-aligned client base
Master your business-owner mindset
Create a website and market yourself


… and much, much more. 

With almost 60 comprehensive lessons, live coaching three times a week, and access to our online community – you have everything you need to feel supported while becoming a freelance copywriter.

Get support from other copywriters who are building their careers right alongside you. It makes me proud to hear the nurses in our community talk about a new sense of peace and control when they become freelance copywriters. 

Excited to explore copywriting as one of the alternative jobs for nurses? These incredible nurses-turned-copywriters got started with a strategy session.

Find out if Write Your Way to Freedom is right for you by applying for a strategy session today.



Resources: