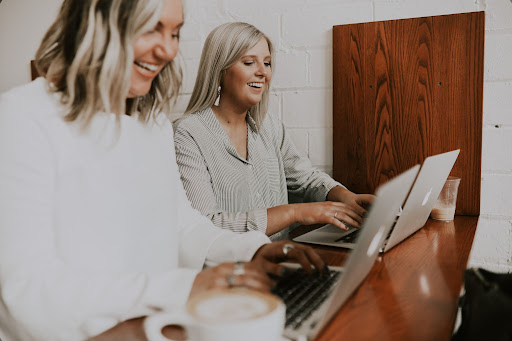 Cold emailing is the key to working with your ideal clients and earning what your work is worth.
As a freelance copywriter, you get to set your own hours and rates. And you get to work from anywhere in the world. You love the freedom of freelancing because you get to create your own schedule and work for yourself.

… But sometimes it's tough to consistently book enough client work to meet your income goals.

You're on all the freelance websites, but every job posting is super competitive. And maybe you find yourself accepting any job that comes your way because you feel like you need to make ends meet… even if they're jobs you really don't want.
I'm here to share with you my favorite not-so-secret secret about freelancing…
You can break this cycle by directly cold emailing your dream clients.
Cold emailing puts YOU in control of your client acquisition. Instead of scouring freelance job sites hoping for a gig, you can go after the clients YOU WANT to work with – and actually get paid what your work is worth.
I built my 6-figure copywriting business by cold emailing, and thousands of my students have too. So freelancers who say that cold emailing doesn't work probably aren't doing it right. And I'll be honest, I've seen a lot of super bad cold emails.
To set you up for success, I'm sharing the elements of an effective cold email, and an actual cold email example that's worked for me countless times.
How to Find Copywriting Clients
Let's play out a common scenario…
You're applying to yet another freelance copywriting job posting. As always, there are hundreds of other copywriters going after the same gig.
Because there's so much competition, the client is able to lowball what they're going to pay you. They know that if you're not willing to take the job at that rate, someone else will be.
But you don't have a waitlist for other client work, so you end up having to take all the jobs you can get.
It's impossible to know what you'll earn monthly because it's never consistent. One month you get a ton of jobs, and suddenly you have so much work that you're overwhelmed. The next month, you don't book any and you're freaking out.
Sound familiar?
If you're stuck in this feast to famine cycle, I totally understand your pain. When I first started copywriting, I thought my only option was to go after competitive jobs that paid me way below my worth.
After being accidentally cc'd on an email I wasn't supposed to see, I learned that good writers can charge $150 per blog and beyond! I decided to take control. Instead of relying on job boards, I went after high-level clients with genuine cold emails.1

Cold emailing is when you pitch a potential client over email to work with you. You can use this method even if the company doesn't appear to be looking for a copywriter, which means you'll create your own job opportunities instead of waiting for them.
Cold emailing gives you the confidence to book new clients almost whenever you need them. This means you don't have to work with anyone that doesn't align with your values – and you know I'm all about working with value-aligned clients that know your work's worth!
But cold emailing doesn't work if you use a generic template that you send to the masses. You need to get personal and give your reader a reason to open the email. So let's explore how to do just that.
How to Write a Cold Email
Before you start writing, get clear on who your ideal client is and how you're going to reach them. Specify what their industry is, what their role is, and how you can help them.
Once you have an idea of your ideal client, look for them in the places that they hang out. Maybe that's a Facebook group or a web conference.
Next, find their email address by using a site like Hunter.io. I believe email is the most effective place to send a cold pitch because you can get really personal and it's like reaching them in their "virtual living room."
Now, you're ready to start writing! Use these eight tips to structure and write your cold email:
1. Focus on Them.
So many freelancers make the mistake of focusing on themselves in cold emails. But your clients need to know right away what's in it for them. So speak to your potential client's experiences, pain points, dreams, and how you will specifically help them.
2. Leverage the RAS.
The brain's reticular activating system (RAS) is the filter that decides what we pay attention to. Mention something that's relevant to the clients' life to trigger their attention. For example, talk about an event they recently attended.
3. Use Reciprocity.
When you receive something for free, you're compelled to reciprocate. Sharing a freebie in your cold email will make the client more likely to respond. For example, give them a helpful piece of content that they can use on their website.
(Hint: freebies often look similar to an opt-in)
4. Get Personal.
Demonstrate that you've done your homework by citing specific things about their business. Getting personal shows that you're not just sending out the same generic template to everyone.
5. Establish Credibility.
Instead of telling them you're an expert, show them. Exhibit your knowledge by focusing on how you can help them. By offering a solution to a specific problem, you'll demonstrate your expertise.
6. Over-Deliver.
Show the client that you'd go above and beyond for them by offering something useful. This is another reason to include the freebie I mentioned in the reciprocity element.
7. Provide a Work Sample.
A client will consider working with you based on your writing styles and skills. Make it easy for them to find a writing sample by including one in the email. But be sure to include this as a link and not an attachment – which is more likely to get flagged as spam.
8. End on a Call To Action.
Be super clear about the next steps the client should take. If you want them to set up a meeting then include a link to your calendar scheduler. Without a CTA, the client might not know how to respond!
Remember that you're pitching your copywriting services. So make sure your cold email demonstrates your excellent writing skills. It's the perfect place to show how you empathize with your reader, solve their problems, and lead them to take action.
Build Your Dream Business Through Cold Emailing
Most of my writing tips for a cold email are similar to what I recommend for effective copywriting!
Cold emailing puts you in control of the clients you work with, and how much you can earn. It's how you elevate from a freelance copywriter to a copywriting business owner. Instead of waiting around for a raise, increase your income by pitching and taking on new clients.
Lucrative income and value-aligned work lead to a purposeful freelance copywriting career. You can achieve both of these things through cold emailing. To learn how, sign up for my free online copywriting Masterclass: How to Build a Lucrative Writing Career – with No Experience.
My goal is to help you say goodbye to job boards forever, and start working with clients you believe in!
Want a Cold Email Example? Watch My YouTube Video.
Watch this video for an example of an effective cold email that's worked for me countless times. But remember – cold emails only work when they're personal and use your own writing style. So don't just copy this example.
Subscribe to my channel for more tips on finding copywriting clients and building a value-aligned business.
Resources:
Business Insider: Sarah Turner built her multimillion-dollar copywriting business by cold-emailing clients.