Guest blogging is a fun and effective way to get new clients and network.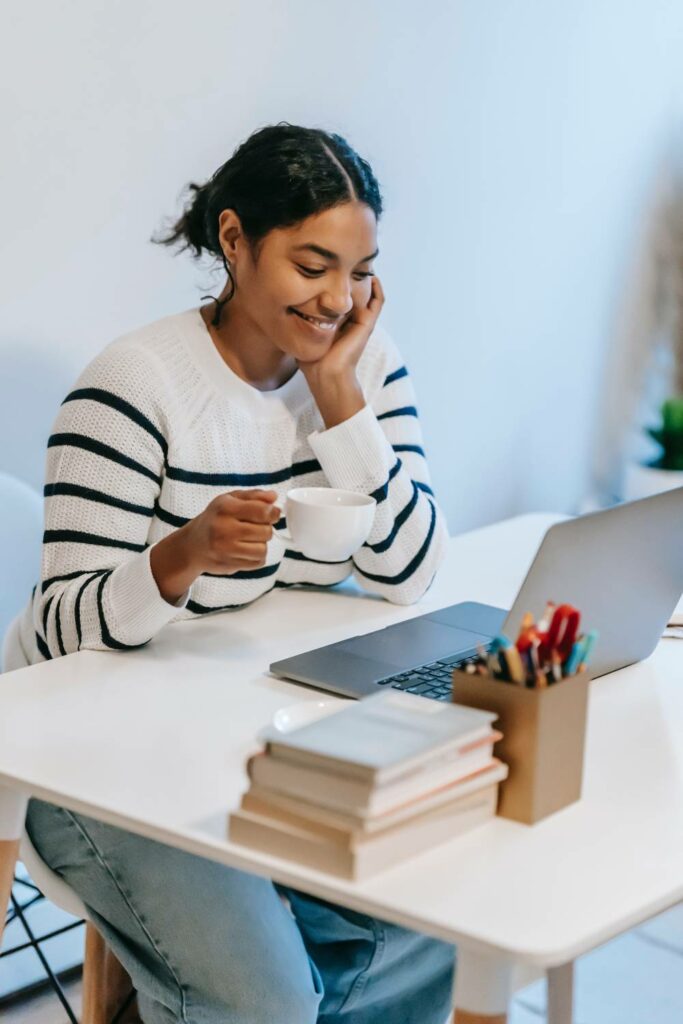 Generating new client leads is essential to success as a freelance copywriter. Having a network of client leads is how you keep your workload and income steady and consistent.

If you're looking for fresh and creative ways to get new clients, I'd like to introduce you to guest blogging! 🙌

Writing a guest blog is a beneficial way to grow your audience and network – and fill your lead pipeline with new, qualified clients. Here's how to get started.
The Benefits of Guest Blogging
First off, what's the difference between guest blogging and ghostwriting a blog? In both cases, you write an article that gets published on someone's website. But there's a key difference between the two. 

When you ghostwrite a blog, the website owner publishes the blog under their name. They pay you to write the blog in exchange for creative ownership.

Whereas a guest blog acknowledges you as the author of the article. The website owner may not pay you but instead gives you a byline that links back to your website. This is called a backlink, which is beneficial for many reasons.1

Here are a few of the benefits of guest blogging:


Get Credibility. A guest blog post on a credible website is beneficial for your copywriting portfolio. You can link the piece on your website to look clean and trustworthy.

If you're looking to get your first few portfolio pieces, try guest blogging. You can likely find a website owner to publish your article for free in exchange for a backlink.


Boost SEO. How does a guest blog help your SEO? In general, websites with higher traffic are more credible in Google's eyes. If a credible website links back to your site, it tells Google that your website is credible, too.

Plus, a backlink sends the blog readers back to your website. All this increases your organic ranking for your keywords and drives potential leads to your site.


Grow Audience. Writing a guest post gives you the opportunity to get exposure among someone else's audience. Tapping into someone's existing audience is a fast way to grow your own.

If you want to grow your audience, look for a thought leader your potential clients follow. If you guest blog for that thought leader, these potential clients then read your article and learn about you.


Build Your Network. Offering to write a guest blog is a fantastic networking opportunity. You can create a relationship with a thought leader in your field. 

Once you've finished writing the guest blog, continue to check in with the website owner. This could lead to other opportunities, or simply a friendship!

There are many benefits of guest blogging as a freelance copywriter. Whether you're looking for your first portfolio piece. Or if you're working to grow your audience and exposure.

Maybe you're thinking, "Is it really worth it to guest blog for free?" The answer is yes, and you're not totally writing for *free.*

Although you may not get paid money for a guest blog, you receive many other incentives in exchange. The payoff is that you grow your audience, credibility, and SEO. 

Of course, I'm not saying you should put all your energy into guest blogging only. But it's well worth it to add this to your client acquisition methods.
How to Start Guest Blogging
Ready to start guest blogging, but not sure how to get started? I've got you. To experience all the benefits, it's essential to target the right websites for a guest blog.

Here are five steps to get started guest blogging:


Find Thought Leaders. Consider two main questions when you're looking for potential websites: 

Does their audience include my ideal client? 
Does their website have a high amount of site traffic and authority?

Pitching websites with high traffic increases the exposure and SEO benefits. A simple way to check site traffic is by inputting their URL into Ubersuggest's traffic overview tool.


Community Outreach. Explore your existing network for potential guest blogging opportunities. You likely know a lot more thought leaders than you realize.

Have a family member that owns their own brand? Know an old coworker that launched their own website? Connections like these may have an audience you could write for.



Search "Write For [Publication]." Do you read articles by popular editorial brands, like Entrepreneur, MindbodyGreen, or Refinery29? Many of these sources accept guest blogs in exchange for a backlink.

Type the phrase "write for [publication name]" into Google. You'll usually find the guidelines for submitting an article to these brands.



Consider the Audience. Make sure that the guest blog topic you pitch is relevant and helpful to the website's audience. Their audience may be different from your own, so you want to research their interests and needs.

The website owner is more likely to accept your offer if you show that you know their audience. Their top priority is to serve their audience with helpful content!



Promote the Blog. Once your guest blog gets published, promote the article. You can post about it on your social media, send it to your email list, or share it with friends.

Getting more eyes on the article boosts SEO and sends more readers back to your website. Plus, you deserve to showcase your wonderful work!


Once you start guest blogging, you'll likely be able to find tons of opportunities in your niche. And getting published by reputable websites can boost your confidence. It makes me soo happy to see copywriters like you growing their voices through guest blogging.

Want to score bonus points with your existing copywriting clients? Offer to put together a guest blogging exchange between clients in the same niche.

You can write articles for each of their websites that backlink to each other. I did this with a few of my clients once, and it led to fantastic results. A win for everyone!
Master Getting New Clients
Getting new clients can be one of the biggest challenges as a freelance copywriter. Having a community of copywriters can help you excel through these challenges. When you join Write Your Way to Freedom, a copywriting coaching community, you don't have to do it alone.

The course is stocked with resources that help you find the client outreach strategy that feels best to you. Then, you get the exact steps to master your chosen strategy – whether you decide to cold email, network on LinkedIn, or more.

Plus, our community has your back. 

We continually host client acquisition challenges together within the group. These give you the strategy, consistency, and accountability to get high-quality clients and reach $10k months (or more). 🙌

To save time and see if Write Your Way to Freedom is the right fit for you, apply for a strategy session today. We can't wait to meet you!
Want to Watch Instead?
View my Youtube video on how to guest blog to get new copywriting clients. Subscribe here for more valuable tips on growing your freelance copywriting career.
Resources: