Mastering your mindset helps you overcome anxiety at work and in your life.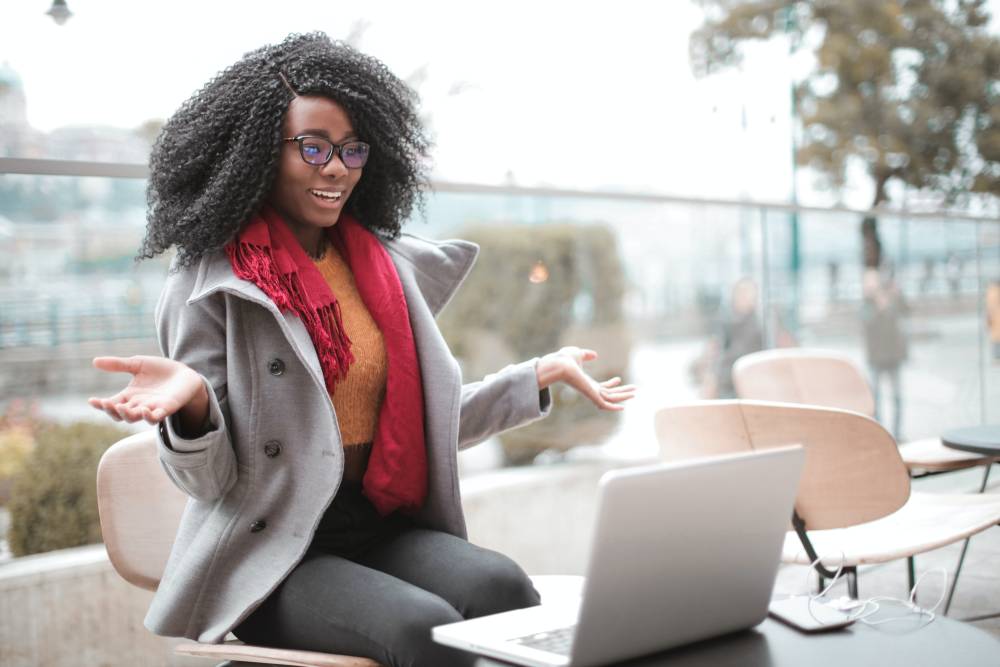 Do you ever experience anxiety as a freelancer?

Maybe the thought of getting on a sales call makes your chest feel tight. Or perhaps you dread receiving client feedback on your work.

Whatever your fears are, work anxiety can hold you back from reaching big goals – and feeling happy while doing so.

I also understand because I experienced a TON of anxiety when I first started freelancing. Here's what I did to overcome my anxiety and have a career I love – that may help you, too.
6 Ways to Address Work Anxiety
As a freelancer, you constantly expose yourself to new challenges and experiences. While getting outside your comfort zone is something to be proud of, it can also trigger work anxiety.

Your brain instinctually fears the unknown as a way of protecting you. But sometimes, these fears are actually just keeping us small. It's our job to determine which fears are valid and which we should push back against.


Here are six reminders to help you overcome fear and work anxiety as a freelancer:


Take Imperfect Action. We tend to want to wait to take action until we know exactly how a situation will go or how to do something perfectly. But the only way to learn and get better is by taking action and learning from the experience.

Give yourself permission to take imperfect action and adjust as you go. Do the best you can right now with the information and tools you have. You'll continue to grow and improve as you take action. There are no failures – only learning lessons.


Be Curious. Newbie freelancers tend to think they need to know everything before they get on a sales call or work on a project. But the best way to learn is by starting a project and learning as you go.

If you experience sales call anxiety, remember that potential clients respect curiosity. All you need to do is ask a lot of questions, show genuine interest in their brand, and have a willingness to learn.


Practice to Build Confidence. Confidence is not something you do or don't have. You can cultivate traits like confidence and creativity over time. So, it's okay if you're not feeling completely assured in your skills yet.

As you get more practice, you start to prove to yourself that you can do what you set out to do. Watching yourself succeed grows your confidence and helps you overcome your work anxiety.


Don't Be Too Hard on Yourself. If you recently started a new 9-5 job, you wouldn't expect yourself to know everything right off the bat. So, why do we beat ourselves up for being beginner freelancers?

It's okay to be a beginner. Be careful not to compare yourself to someone who is ahead of you on their freelance journey. It's essential to look up to others, but to remind yourself that you have plenty of room to learn, grow, and evolve.


Voice Your Fears. Our fears and work anxiety tend to get more powerful when we keep them to ourselves. Your mind can become an echo chamber that repeats and amplifies negative thoughts.

Say your fears out loud to take away their power. You can voice them to someone you trust or even say them to yourself. Hearing them out loud can make you realize how ridiculous they sound!


Change Your Environment. Raise your hand if you became a freelancer so you could work from your couch in your PJs. 🙋 Of course, working from home is an excellent benefit. But if you're feeling more work anxiety than usual, it could be a sign to change your environment.

Throw on an outfit you feel confident in and head to a coffee shop or workspace – maybe even a forest or beach. You may feel more energized and less stressed being around others and in nature.


If you're feeling overwhelmed or paralyzed by your work anxiety, you're truly not alone. I wish I could reach through the screen, hug you, and tell you it's going to be okay because it really is.

We tend to be so, so hard on ourselves and expect so much from ourselves as freelancers. You're allowed to take messy action, make mistakes, and learn and grow as you go.

Get started by committing to a few actions and proving to yourself you can do them. Be kind to yourself throughout the process and celebrate your wins, even the small ones.

I'm willing to bet you're already doing a lot better than you think you are. You've got this!
Mastering Your Mindset to Beat Work Anxiety
Freelancers often experience work anxiety and other negative limiting mindsets. Overcoming your work anxiety and mastering your mindset is particularly important for freelancers because you're entirely in control of your own success.

A limiting mindset can hold you back from growing, pitching bigger clients, and raising your rates. On the flipside, mastering your mindset helps you expand into the successful, confident business owner you want to be – and can be.


Here are the limiting mindsets to address to reduce work anxiety and help you succeed:


Imposter Syndrome. Have you ever felt like you aren't deserving of your own success? Or convinced yourself you weren't qualified to do something, even if you've done it before? These are signs of imposter syndrome.1



Self-Limiting Beliefs. Self-limiting beliefs are the beliefs we impose on ourselves that hold us back. For example, if you believe you're "not good enough" to work with a particular client or take on a project.



Negative Self-Talk. Does your inner voice bring you down throughout the day? We tend to be our own biggest critics. Being aware of our negative self-talk is essential to reframing our narratives and building confidence.


Mindset is a common topic of conversation in the freelance/online entrepreneur community. Many sources talk about how limiting beliefs could be holding you back.

But there are very few resources that show you how to overcome these limiting beliefs. You're told what you need to address but not how to do it.

We created Master Your Mindset to fill this information gap. And give you the exact tools you need to develop a growth mindset, overcome work anxiety, and start living a fuller, happier life.

In one comprehensive course, you receive all the help you need to…

✨ Identify and reframe your self-limiting beliefs
✨ Address limiting mindsets like imposter syndrome
✨ Develop a positive inner narrative and self-trust

And so much more. Mindset work leads to more success at work and expands into your personal life, too. So many of my students have said that intentional mindset work and personal development have positively impacted their whole lives.

Ready to beat work anxiety and transform your mindset? Sign up for Master Your Mindset today.
Want to Watch Instead?
View my Youtube video on how to overcome work anxiety to experience more success and fulfillment as a freelancer. Subscribe here for more valuable tips on entrepreneurship and mindset.
Resources: