Get more flexibility and freedom *while* earning a high income.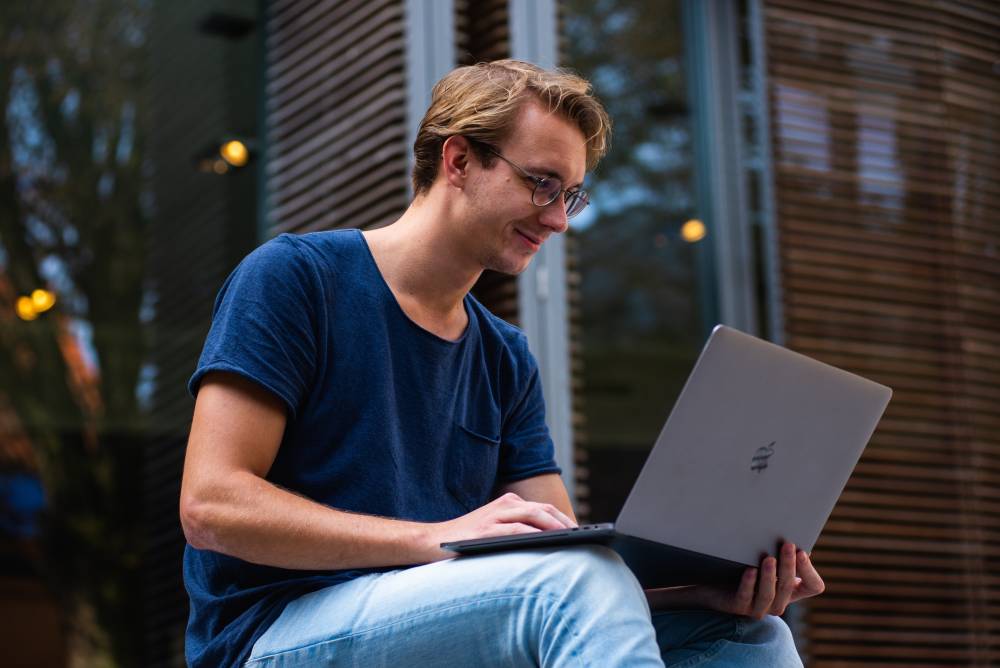 Are you looking for alternative careers for lawyers?

Maybe you've been on the hunt for a new career for a while now. But it's hard to find a new job where you'd be earning the same amount or more. I get that. 

So, I'd like to introduce you to freelance copywriting.

This career offers you the flexibility and freedom you're looking for. And you can absolutely replace and exceed your current income as a freelance copywriter. 

Sounds too good to be true? Keep reading to find out for yourself.
Freelance Copywriting as an Alternative Career for Lawyers
So, what exactly is freelance copywriting?

A freelance copywriter writes the marketing words that promote brands and their products. In today's world, copywriting is everywhere.1

For example, a copywriter likely wrote the:

Website copy on your firm's website
Social media ads that pop up on your feed
Marketing emails you get from the software you use at work


Heck, a copywriter even wrote the article you're reading now. 😉

Since 2020, there's been a surge in new brands that continues to rise. And every brand needs effective copywriting to market itself and be successful.2

The opportunities for freelance copywriters continue to grow.

Some copywriters work for marketing agencies or within the marketing department of brands. But if you're looking for an alternative career for lawyers with more freedom and earning potential, I recommend freelance copywriting.

As a freelancer, you work with brands on a contract basis and write certain deliverables for them. You're not an employee, which means you set your own terms, rates, hours, types of copy you work on – and more. 

You can choose what clients you want to work with and just how many a month. You also have the freedom to customize your rates to achieve your specific pay goal.  
Is Copywriting a High-Paying Alternative Career for Lawyers?
Being a lawyer is traditionally a high-paying career path. Maybe you've become accustomed to a specific salary, and you don't want to take a huge pay cut. 

This is completely understandable – whether you're concerned about supporting your family or continuing a lifestyle you love.

So, I'm going to be completely transparent about your earning potential as a freelance copywriter. 

In general, top copywriters can earn around $25k per month from copywriting alone. Of course, it takes some time to build up your experience, portfolio, and client base. But you can start earning a high income sooner than you may think.

Plus, there are many ways to create passive streams of income as a copywriter. For example, you can create a digital product once and sell it over and over. This allows you to earn more money without always working more.
5 Other Benefits of Freelance Copywriting
Do you daydream about an alternative job for lawyers where you're able to feel good about your work while having control over your life? Perhaps you want to continue using your skills and work towards your goals. But you want to do so on your own terms and schedule.

This is all possible for you as a freelance copywriter. 

Along with the earning potential, here are five more benefits of freelance copywriting as an alternative career for lawyers:


Break Free From Working Hourly. Working by billable hours as a lawyer incentivizes you to work longer to increase your income. I always recommend freelance copywriters charge by deliverable, not hourly.

This payment process motivates you to work faster and more efficiently. As you improve your skills, you can work less time and earn the same amount of money – or more. Say hello to shorter hours *without* compromising your income.



Use Your Writing Skills. Writing long briefs and reports is a cornerstone of being a lawyer. What if you could use these writing skills in a new and creative way?

The style of copywriting differs from legal and academic writing – which you can learn. But your foundational writing skills can set you up for success in this alternative career for lawyers.



Location Freedom. Are you tired of spending so much of your life in your office? Maybe you get up for work bright and early but stay long after dinner time – and you're ready for a life change.

As a freelance copywriter, you can work from anywhere. You can travel the world and bring your work with you. Or spend much-needed time with your family and friends. The world is truly at your fingertips. 🌎



Keep Learning. Do you enjoy learning new things for your cases? Maybe you want to use your research skills in an alternative career for lawyers.

Freelance copywriters are forever learners who continually research new topics and projects. You'll get paid to write about topics that interest you!



Build Your Own Business. Did you ever think about owning your own law firm one day? As a freelance copywriter, you don't have to give up your dream of having your own business.

As you develop a business owner mindset, you'll see that freelance copywriters are actually copywriting business owners. If you want, you can grow your business into an agency or acquire a small team. You get to define your own idea of success.


The list of benefits is endless.

Imagine how it would feel to *finally* have the freedom and control you've been craving for in your life…

No more working late and missing bedtime with your kids.

Stop saying "no" to fun trips with friends because you're on a deadline.

Work with clients that energize and excite you.

And you can do all this while still earning a high income that supports your family and lifestyle.

Your life is simply too important to keep working a job you don't love. Especially if it requires working long hours that prevent you from living your life the way you want.

That's why freelance copywriting is such a ideal alternative career for lawyers. You'll have a high income along with freedom and flexibility.
How to Become a Freelance Copywriter
Write Your Way to Freedom offers the all-in-one course, community, and coaching support you need to launch your freelance copywriting career. 

So many students in our community left their 9-5 jobs – which, let's face it, is more like 8-8 if you're lucky – for freelance copywriting.

But you don't have to go all-in right away. 

The course teaches you how to build your freelance copywriting career as a side hustle. You can discover if you enjoy copywriting and expand your client base before you ever quit your job as a lawyer.

Ready to pursue freelance copywriting as an alternative career for lawyers? Apply for a strategy session to talk with my team and see if Write Your Way to Freedom is right for you.


Resources: