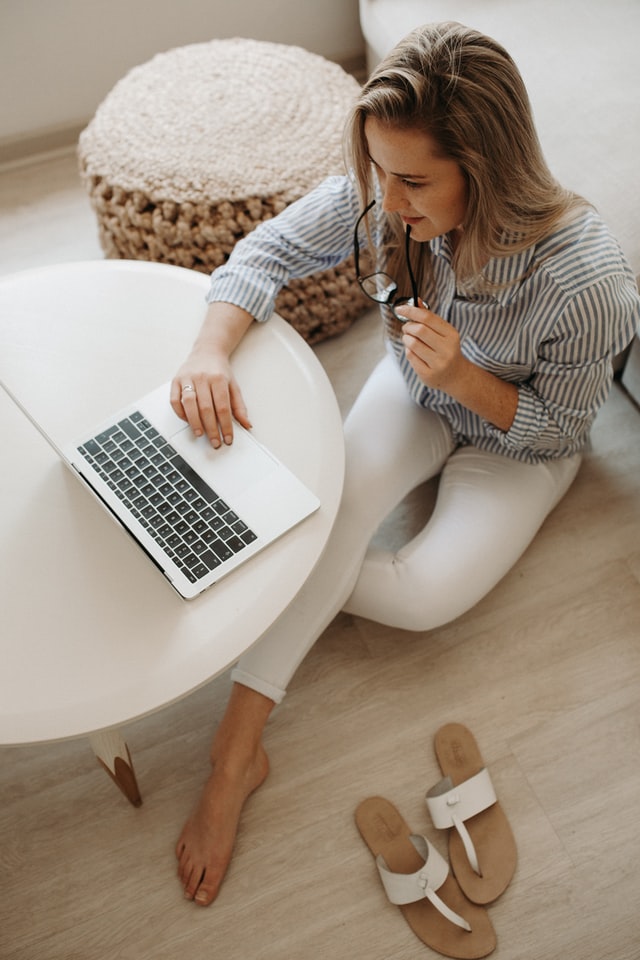 Follow these copywriting SEO best practices to outlast the changes to the Google algorithm.
Learning search engine optimization, or SEO, as a copywriter can be super overwhelming. You do a ton of research and follow the best practices – but since SEO takes time to work, you're not sure you're doing it right.
Is there something other SEO writers know that you don't? 😱
Don't worry, it's not you. SEO is confusing for everyone in the beginning because there's no exact science behind it.
To save you any more confusion, I'm sharing the exact SEO best practices and research methods I use. These consistently get results – and even outlast Google's algorithm changes!
What Exactly Is SEO?
SEO stands for search engine optimization. This is how you tell search engines what your content is about. Using relevant SEO keywords and phrases increases the content's organic ranking for those terms.
A general rule is that anything you want to be found by a Google search should incorporate SEO, like web copy and blog articles. But content that wouldn't be found by anyone searching online doesn't need SEO, like emails or sales pages that are part of a funnel.
Now I'm going to let you in on a little secret about SEO…
All the SEO best practices and processes you find online are just everyone's best guess.
Search engines don't expose exactly how to approach SEO, because that would allow anyone to rank on page one. Because ultimately, they want relevant, high-quality, and informative content to earn a high ranking.
But there are still best practices to follow that consistently work. Though I hope you're encouraged knowing that everyone else is playing the same guessing game that you are!
Another thing to keep in mind is that SEO builds momentum over time. So don't get discouraged if your page isn't ranking on page one of Google overnight.
If you follow these practices and have a little faith, you'll eventually see the results of your efforts.
Copywriting SEO Best Practices
The user experience is the top priority for search engines like Google. They want the user to find resources that are relevant, helpful, and meet the needs of their search.
So the best way to outlast the Google algorithm changes is to create genuinely helpful and well-written content.
Using a keyword strategy is super important – but even web copy with keywords often won't rank high unless it also provides genuine value.
To demonstrate this, I tell my freelance copywriting students to write for three people:
1. Google.
Use SEO keywords and phrases so your audience can find your content. I recommend including 1 main keyword and 3-5 long-tail keywords.
The main keyword is usually 1 term that your audience would use to find your content. These are broad while long-tail keywords are more specific. Don't worry, the next section tells you exactly how to find these!
2. The Skimmer.
This webpage visitor is busy and doesn't have a lot of time to read your content. They want to skim your piece for helpful info and learn what it's about quickly.
To make your copy skimmer-friendly format your content so it's easy to quickly glean information. Do this by using short paragraphs, lists, bullets, and subheadings.
3. The Digger.
This webpage visitor wants to read the piece from start to finish for all the details. To get traffic from these visitors, your content needs to captivate them with storytelling and offer valuable information so they stay engaged in your copy.1 These readers are more likely to stay on the page longer if you have quality content, which helps with overall SEO.
I love that Google prioritizes high-quality content because it sets high standards for copywriting. Focus on being helpful, getting creative, and improving your writing skills – and the rankings will follow.
Writing for the skimmer and the digger may not seem like SEO practices, but this makes your content more valuable to a variety of audiences. And trust me, it works.
Writing for all three readers makes your content more likely to rank high in search engines because it's addressing multiple factors that positively impact SEO ranking.
4 Steps for Approaching SEO as a Copywriter
Now that you understand who you're writing for, let's take a deeper dive into that first reader, Google.
These are the exact steps I use to research the SEO strategy for my copywriting pieces:
1. Google Research.
The first step is to type your topic into Google and see what search results come up. Go to the bottom of the results page to find the frequently searched keywords and questions that relate to this topic for ideas. Add all these keyword phrases into a list you can refer back to.
For example, let's say that you work with a dog trainer who teaches dog owners techniques they can do on their own. Here's what your SEO keyword research on Google may look like:

Step 1: Type the topic into Google to see an initial list of related searches.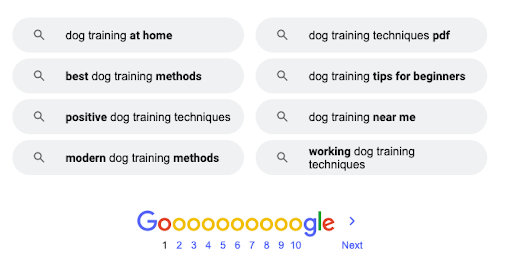 Step 2: Scroll down to the bottom of the search results page to the "related searches" section.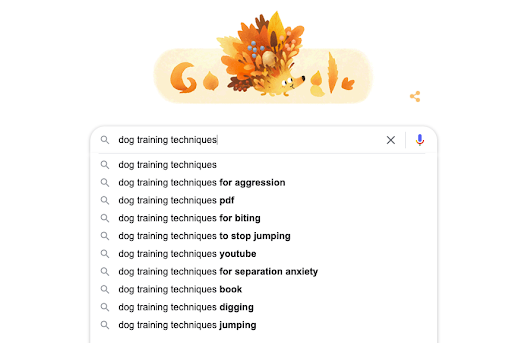 This list shows that your audience is interested in positive dog training techniques and tips for beginners. These two topics would both be interesting blog articles. You could even create a helpful dog training techniques PDF and offer it as an opt-in on the website!
Pro Tip: Install the "Keywords Everywhere" Chrome extension to easily identify additional related keywords.
2. Keyword Planning.
After finding potential keywords in Google, use an SEO planning tool like Ubersuggest. This software shows you how frequently certain keywords are searched and how competitive they are.
Don't shy away from competitive keywords if they're relevant to your topic, but incorporate less competitive long-tail keywords. SEO planning tools are also helpful because you can find content ideas based on your terms.
Pro Tip: The most important thing is to make sure your keywords are relevant to what your audience would be typing into Google to find your product or service. So ask yourself, "What problem would my ideal customer type into Google to find my product or service as the solution?"
3. Create an Outline.
Keyword research is an effective way to see what your audience is interested in learning about. Create an outline for your copywriting piece based on these phrases and questions you found during your search. Using long-tail keywords in headings and subheadings helps with SEO and can make creating an outline a breeze.
Creating an outline before you start writing also helps you avoid keyword stuffing and allows you to evenly address each section – sometimes I even assign a word count under each subheading.
4. Backend SEO.
Before you publish your content, incorporate keywords in the backend of the website. This helps Google find, crawl, and rank the page. Here are some quick technical SEO tips:
Use the main keyword in the backend descriptions (SEO title, meta descriptions, alt image text).
Make sure you used your keyword in the first and last 100 words of the piece.
Hyperlink a relevant source/article over a keyword.
Providing SEO guidance for your copywriting clients is a great way to be helpful, but I usually don't recommend you handle the actual backend process of uploading.
Careful SEO research and planning may feel like an added step at first, but it's worth it! This research tells you exactly what your audience is interested in learning – which means you'll never get stuck wondering what to write about.
Become an SEO Copywriter
Using SEO in your content increases the value of your work as a freelance copywriter. It helps your client's audience find their content in organic searches, which leads to exposure and site traffic.
So when you offer SEO as part of your copywriting you can charge more – and know that your work is making more of an impact. Not only do you create high-quality content, but you have a proven process for getting that content in front of the right audiences.
To add SEO to your skillset as a freelance copywriter, sign up for my course: Make Google Your BFF in 3 Days or Less. This course shows you the exact steps to learn SEO best practices and make your work even more valuable.
If you want to stop getting confused by SEO and learn what actually works, then Make Google Your BFF is for you. Never shed a tear over SEO again!
Want to Watch Instead?
Watch my Youtube video on the copywriting SEO best practices. Don't forget to subscribe for more tips on growing your copywriting skills and business!
Resources:
Ubersuggest: A Step-by-Step Guide to Growing Your SEO Traffic Using Ubersuggest