Want to enter the financial copywriting niche? Discover how to develop lucrative skills and clients.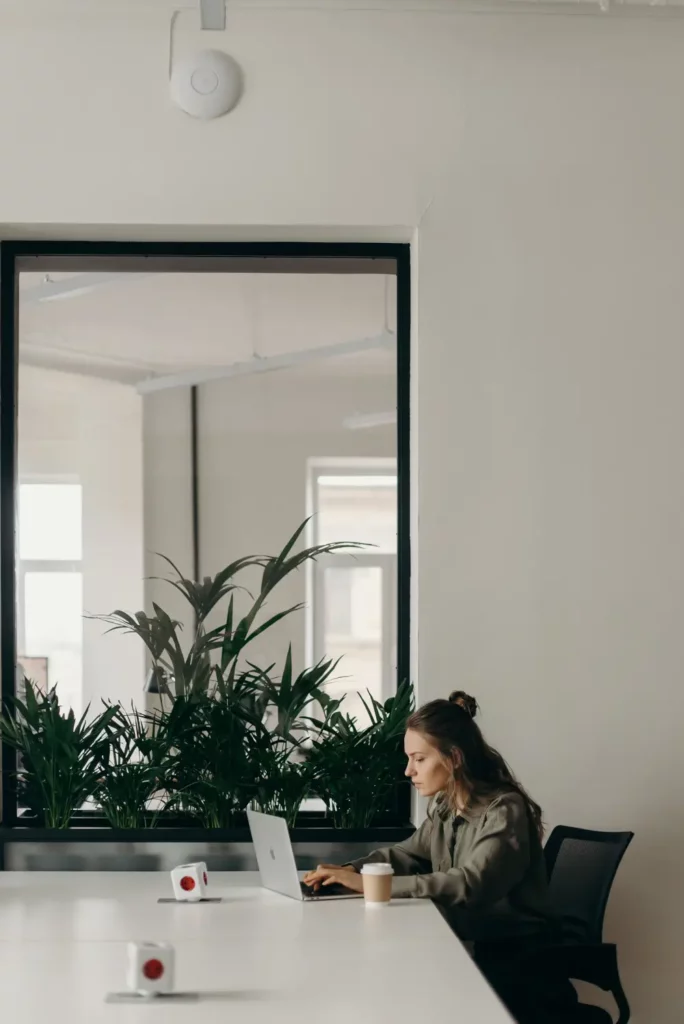 Do you have an interest in personal finance – like budgeting, saving, and investing? Want to pursue a copywriting niche with an abundance of lucrative opportunities?

Allow me to introduce you to the thriving world of financial copywriting!

The financial copywriting niche covers all different elements of the finance industry, from personal finance to banking and accounting. Finance is a specialized field with tons of possibilities – you don't need prior experience to get started.

If you have a passion for writing, a curiosity for the financial landscape, and a determination to dive into research, you're already equipped to embark on this exciting path.

This comprehensive guide is your key to unlocking the financial copywriting niche. We're breaking down what it is and going over a clear, step-by-step roadmap to success:


I. What Is Financial Copywriting? Definition and Benefits
II. Various Types of Financial Copywriting
III. How to Earn Money as a Financial Copywriter: 3 Steps
IV. Become a Financial Copywriter in 3 Months or Less


I'm honored to have personally guided over 5,300 students on their copywriting journey. And I'm thrilled to share the knowledge and techniques that have helped my students break into lucrative niches and earn money in as little as three months.
Learn How to Build a Lucrative Freelance Copywriting Career
Get my free copywriting masterclass that walks you through exactly how I went from zero to consistent five-figure months with copywriting – with no experience and no portfolio.
Gain instant access – right to your inbox – when you sign up below. 👇
We will never spam you or share your email with anyone. In addition to the guide you'll also receive semi-regular email updates with tips, tools, offers and exclusive resources. All emails include an unsubscribe link, you may opt-out at any time. Read our Privacy Policy to see how your data is handled.
What Is Financial Copywriting? Definition and Benefits
One of the most common questions I get is, "How do I choose a profitable copywriting niche?"

I always tell people that you can make almost any niche profitable. The pivotal factor is finding subjects that ignite your interest and enthusiasm. However, exploring flourishing and in-demand industries like financial copywriting is undeniably beneficial.

Financial copywriting is crafting marketing materials tailored specifically for the financial services sector. This might include writing content like blog articles, website copy, whitepapers, social media ads, and more.

The finance industry spans various brands. From user-friendly personal finance apps to individual finance coaches, all the way to established banks.

Personal finance plays an indispensable role in our lives. How we handle our budgets, investments, and retirement planning can set us on the path to success. Yet too many people find themselves daunted and overwhelmed by financial management.

As a financial copywriter, that's where you come in. You translate these complex financial topics into accessible, engaging materials for the audience.

Here are a few major benefits of pursuing financial copywriting as your niche:


Industry Demand: The personal finance software market is expected to increase to $1.7 billion in 2023. As financial brands continue to grow, so does their need for effective communication and marketing.1

Financial copywriters are essential in translating complex financial concepts into accessible language for a brand. This growing demand means there's a lot of opportunity in this particular niche.



High Earning Potential: The financial sector includes large corporations, banks, investment firms, and other brands with substantial budgets. Many recognize the value of effective communication and are often willing to invest more in quality copywriting.

Given the specialized nature of financial copywriting, the ability to navigate complex financial topics and regulations can make your skills even more valuable.



Impact-Driven Work: Like I said, personal finance is a key driver in empowering individuals to get ahead in life. Taking on this influential role can be incredibly rewarding if you're looking to make a real difference in people's financial well-being.

Imagine helping someone take the steps to own their own home or even retire early. That's the power of financial copywriting. You guide readers toward well-informed decisions by breaking down and clarifying financial products and services.



Dynamic and Interesting: The financial landscape is continually changing with the introduction of new technologies, regulations, and products. This means there's almost always something new to learn and research.

A career in financial copywriting means constant learning and adaptation – keeping the work fresh and engaging. If you enjoy staying on top of industry trends and evolving your skills, you may find this field particularly fun.



Personal finance is becoming increasingly popular. More than ever, individuals want financial apps and services that feel accessible and friendly. That's why many brands are on a mission to demystify finance for their audiences and have the funds to hire freelancers like you.

And here's a bonus reason to consider this field: You get paid to learn how to manage your own money. As you dive into financial copywriting, you'll likely adopt a more educated approach to your own personal finances and investments. That's a win-win.

But before you dive in, be sure to do your research!

Navigating the world of financial copywriting requires understanding intricate financial products, regulations, and subject matter. Success means having a deep understanding of financial concepts. You'll also need to get familiar with the laws and regulations in the industry.

Even if you're new to all this, you can definitely learn as you go. But it's important to have a desire to learn about and research financial topics like these.
7 Types of Financial Copywriting (With Examples)
Ready to explore the versatile world of financial copywriting?

What's really exciting about this field is that it's not just one-size-fits-all. There are countless sub-niches and categories within financial copywriting. Maybe working with big banks doesn't excite you? You could collaborate with entrepreneur finance coaches. And vice versa.

Financial copywriting is a lively landscape, full of different areas and interests. So there's likely something that resonates with your particular passions or expertise.

Here are seven types of financial copywriting that you could dive into:



1. Investing.

Many find the stock market and the investing world to be a complex maze. By diving into this area, you might craft content that demystifies investment strategies, portfolio management, stocks, bonds, mutual funds, and other investment options.

This means breaking down complex subjects and conveying an understanding of market trends, risk management, and investor behavior.

Investing Copywriting Example: Ellevest
Ellevest is a digital investment platform designed to cater to women's unique financial needs and goals. Founded by Sallie Krawcheck, a former Wall Street executive, Ellevest aims to close the gender investing gap.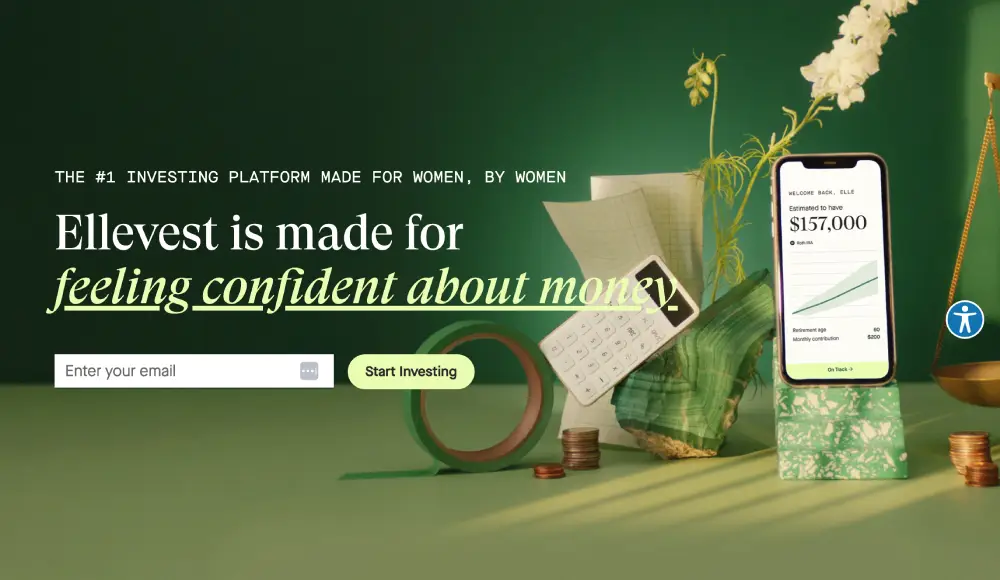 2. Banking and Credit Cards.

Did you know that there are over 44,000 banks around the world? Just like any other brand, all those big banks need marketing to draw in and educate their audience.

Writing for banks may include crafting content for checking and savings accounts, loans, mortgages, credit cards, and other banking services. You'll want to gather a deep understanding of banking operations and regulations.

Banking Copywriting Example: Chase Bank
Chase Bank is one of the largest and most recognized financial institutions, offering both banking and credit card offerings. By seamlessly integrating both banking and credit card services, Chase has positioned itself as a one-stop financial hub.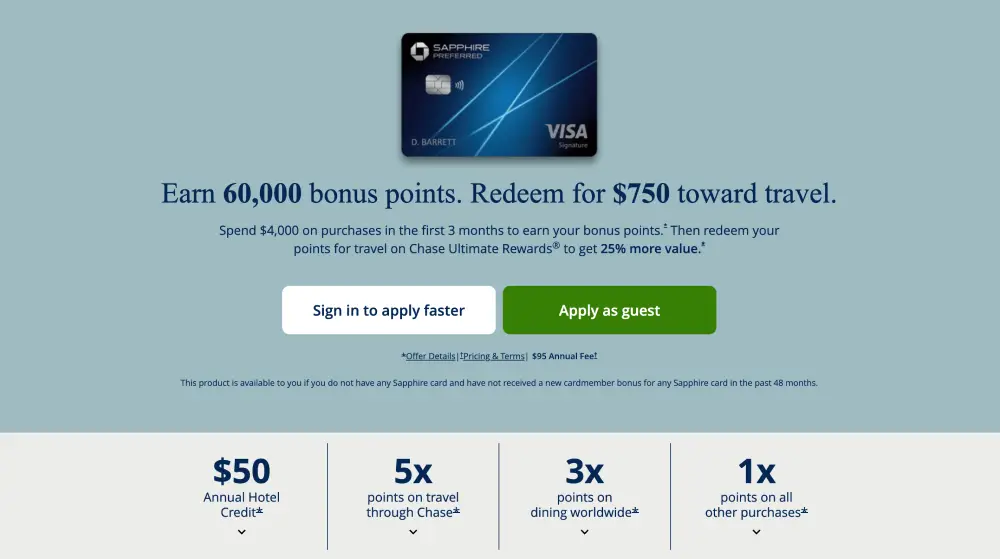 3. Insurance.

Many find insurance terms complex and intimidating. But imagine being the bridge between those perplexing policies and the everyday person, turning confusion into clarity.

That's the exciting challenge of writing for the insurance sector. You have the opportunity to demystify life, health, auto, property, and more.

Insurance Copywriting Example: NerdWalletNerdWallet is a personal finance website that offers consumers advice, tools, and objective information to help them make informed financial decisions. Whether someone is looking to understand their credit score, find the best mortgage rates, or explore investment strategies – NerdWallet has a comprehensive suite of tools and articles tailored to assist.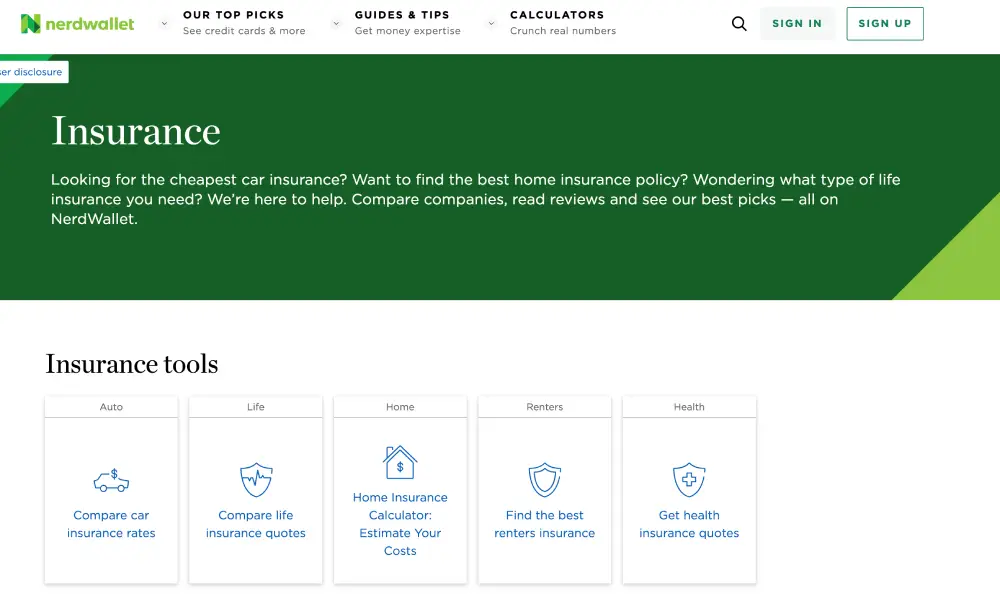 4. Retirement Planning.

Want to help people learn how to save for their retirement? This involves creating content that helps readers understand retirement savings options, pension plans, 401(k) accounts, and other long-term financial planning strategies.

Retirement Copywriting Example: FidelityFidelity is a major multinational financial services brand that offers a broad spectrum of investment and financial products to individual consumers. They most notably provide various retirement account options such as IRAs and 401(k)s.

5. Budgeting and Personal Finance.

This area deals with writing about managing personal finances, budgeting, debt reduction, credit management, and financial wellness. It aims to provide practical advice to individuals or families to achieve their financial goals.

Budgeting Copywriting Example: You Need a Budget (YNAB)
You Need a Budget (YNAB) is a personal budgeting software that helps users gain control of their finances. Unlike many traditional budgeting tools that focus on tracking past spending, YNAB emphasizes a proactive approach based on giving every dollar a job.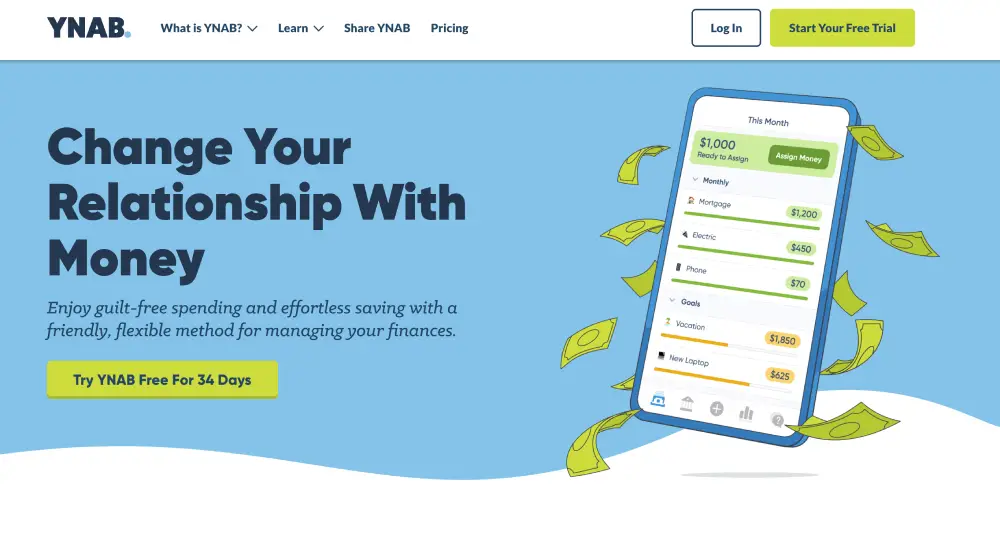 6. Fintech.

This focuses on technology-driven financial services. Fintech copywriting may cover topics like mobile banking, peer-to-peer lending, cryptocurrency, and more. It often requires staying informed of the latest technological innovations in finance.

Fintech Copywriting Example: Venmo
Venmo is a mobile payment service that allows users to quickly and easily send, request, and receive money. Venmo's user-friendly interface, combined with its social feed where users can share and view payment descriptions with their network, has made it particularly popular.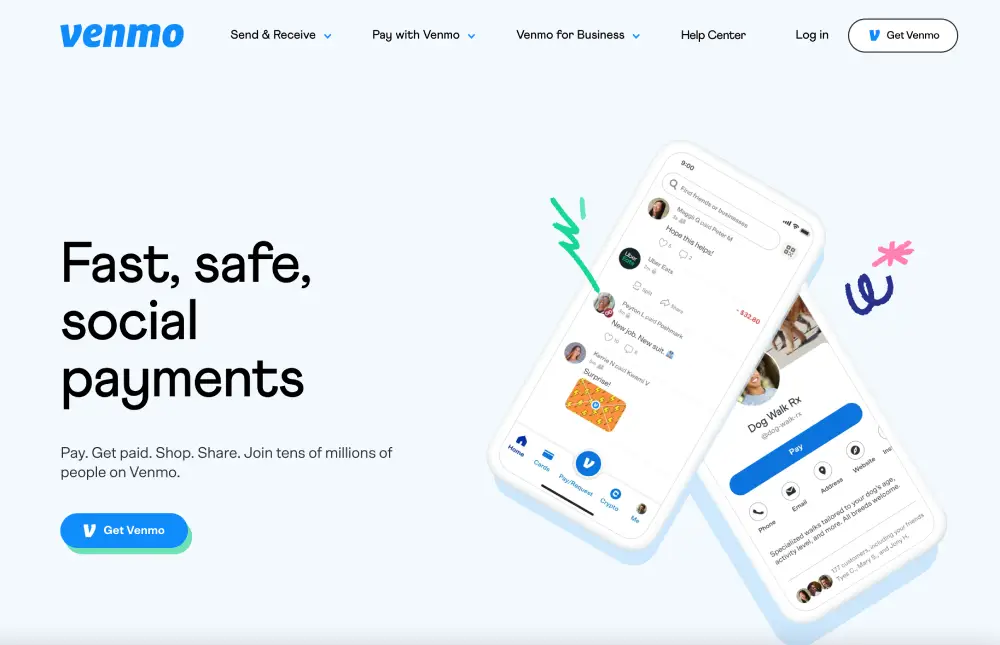 7. Tax and Accounting.

This involves writing about taxation laws, accounting principles, bookkeeping practices, and financial compliance. It's typically geared towards businesses and individuals who need guidance in managing their financial records.

Accounting Copywriting Example: Quickbooks Self Employed
QuickBooks Self-Employed is a software tailored specifically for freelancers, independent contractors, and other self-employed individuals. It's designed to simplify financial management for those who want to track income, expenses, and manage their tax obligations.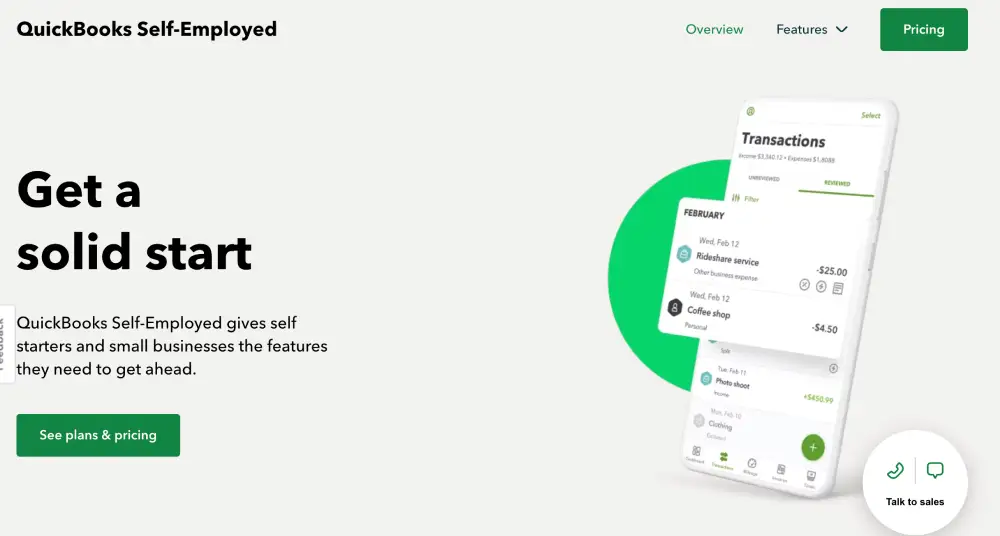 There are tons of brands that fall under each of the specific categories above. And some brands help their audiences with all areas of personal finance. So, you may work for a single brand but cover a broad spectrum of topics in all these categories.

Don't let a lack of experience hold you back! If finance piques your interest, you can learn as you earn and write for these brands. Diving into a project might be the best way to learn.

When you're working with real client deadlines, you hold yourself accountable, and that's when the real growth happens. Whether you're a beginner or a seasoned writer looking to break into the financial niche – there's room for you to grow, learn, and thrive. Let's dive into how.
How to Become a Financial Copywriter: 3 Steps
At this point, you might be excited about finance copywriting. You're ready to dive headfirst into this niche, eager to start earning money. But where do you begin?

Here's a step-by-step roadmap on how to break into the finance niche:



Step 1: Study Financial Copywriting Skills.

The key to a lasting and successful career in freelance copywriting, especially in the financial niche, is to hone skills that consistently drive results for your clients.

The more tangible results you deliver through your copywriting, the more you can attract new clients and demonstrate a clear return on investment (ROI) for your work.

Here are the skills to focus on as a finance copywriter:


Financial Knowledge: Understanding financial concepts, terminology, and industry trends is crucial. Consider reading finance-related books and articles to gain a solid grounding in investing, banking, taxation, and insurance.


Copywriting Techniques: It's vital to develop copywriting techniques that resonate with your readers and entice them to take action. Practicing writing, reading books, and studying successful examples of financial copy can help you hone your skills.


Research Skills: Staying current with financial news and market dynamics is vital. Develop research strategies to gather information efficiently and keep your content relevant and up-to-date.



If you're just starting your journey as a copywriter, investing more time in developing fundamental copywriting skills makes sense. But if you're already an established copywriter looking to shift into the financial niche – you may already possess many of the basic skills.
Step 2: Build Your Financial Copywriting Portfolio.

Don't have experience writing for finance clients yet? That's okay – you can start by creating 1-2 practice pieces to showcase your ability. Select topics relevant to the finance niche, focusing on subjects potential clients might be interested in publishing themselves.

Here's how to create an impressive copywriting portfolio:


Demonstrate your knowledge. Your portfolio highlights your knowledge and writing skills, even if you're just starting out. Craft your website copy thoughtfully so it resonates with potential clients by identifying their pain points and showing how you solve them.


Create relevant samples. Writing 1-2 practice pieces related to finance can showcase your writing style and your ability to grasp financial concepts.


Display results and testimonials. As you start to work with clients, be sure to gather results from your projects. Showcasing the results your copy drives is one of the most impactful ways to get the attention of new clients.


While many copywriters see their portfolio as merely a gallery displaying previous works, you can rise above the rest by crafting a portfolio website that tells a compelling story. Use it as an opportunity to build your credibility and articulate how you can solve your clients' problems.



Step 3: Look for Potential Financial Copywriting Clients.

The financial industry is bustling with opportunities for skilled copywriters – from banking giants to innovative startups. And there are many effective ways to get copywriting clients.

Here are three proven ways to build your copywriting client base:


Ask Your Network: Don't hesitate to ask friends, family, or colleagues if they know anyone in need of financial copywriting services. A personal recommendation can open doors faster, especially when you're first starting out.


Send Personalized Cold Emails: Is there a specific brand you want to write for? Pitch them! Research the brand, find the appropriate contact person, and craft a personalized cold email showcasing how your skills align with their needs.


Network on LinkedIn: LinkedIn is a fantastic way to connect with potential clients organically. Engage with their content on LinkedIn, connect with relevant employees, and offer value before pitching your services.


As you embark on your freelance copywriting journey, there's a lot more to figure out. But don't let it overwhelm you – stick to these three foundational steps first.

Focus on these three proven strategies to realistically get your first clients in three months or less. Once you've established yourself, the opportunities to grow and diversify into new areas and services will naturally unfold.

Keep things simple first, build your client base, and let your career evolve from there!
Become a Financial Copywriter in 3 Months or Less
Imagine you land your first financial copywriting client – hooray! – and they want you to craft an insightful blog article on how to use a personal budgeting app.

You've never written a blog before, so you begin to sift through countless online resources, seeking guidance. But almost every training and article offers different advice, and suddenly, you feel in over your head.

What if, instead, you had a tailored, step-by-step guide to teach you all the skills you need to thrive in the financial copywriting niche, all neatly packaged in one place?

A resource that equips you with the exact know-how to skillfully…


Learn copywriting skills
Develop your portfolio
Get your first clients


And so much more.


Write Your Way to Freedom is a comprehensive copywriting course that shows you how to develop essential writing skills – and how to expertly land and manage new copywriting clients.

If you're ready to break into the financial copywriting niche, we can't wait to help. Schedule a strategy session to see if Write Your Way to Freedom is for you.



Resources: