5 reasons why freelance copywriting is an incredible alternative career for dentists.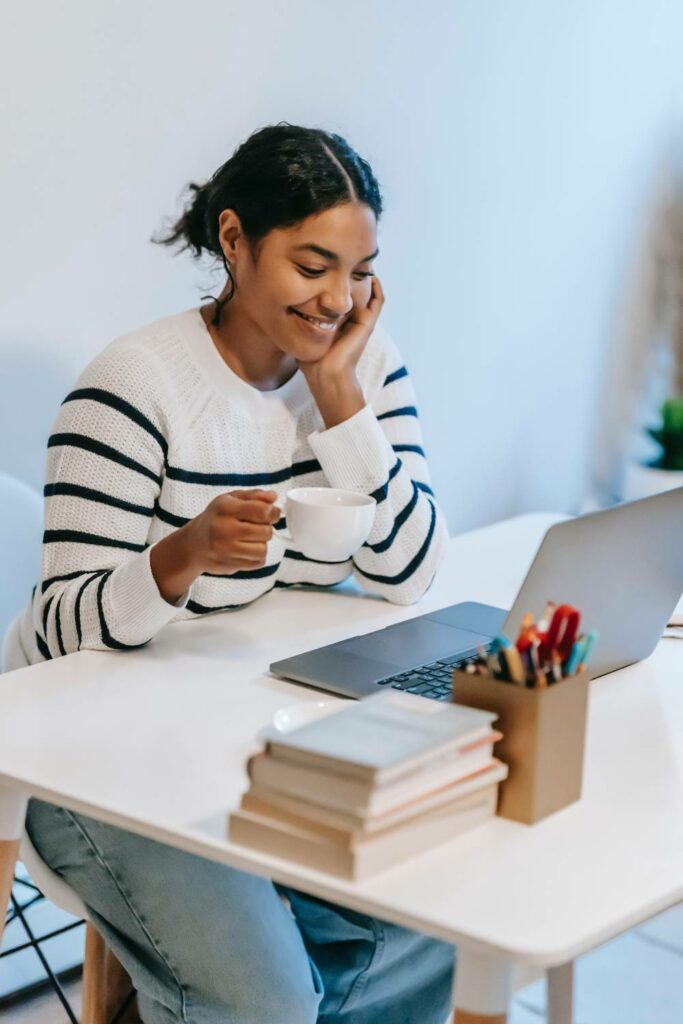 Have you been searching endlessly for alternative careers for dentists? It's hard to find the right fit to justify leaving the dentistry field.

Maybe you love parts of what you do – but lately, the burnout has been weighing on you. You want to have more time for yourself and your family. You crave the ability to work from anywhere, travel the world, and cross off more bucket list items.

You can't shake this feeling that you want more for your life. But does a job that pays the bills, lets you work remotely, and feels fulfilling even exist?

Whether you're a dentist, a dental assistant, or a hygienist – you're in the right place. Freelance copywriting could finally be the job you've been looking for.

With freelance copywriting, you get to create your days and earn a high-paying income working part-time hours. Keep reading to learn more about this career path and how to get started. 👇
Copywriting as an Alternative Career for Dentists
Hearing the word copywriting may make you think, "this can't be for me." Maybe you don't consider yourself a writer after coming from a scientific background.

But hear me out.

Copywriting is different from any form of writing you're used to. And the skills you have now already lend themselves to copywriting.

So, what is it exactly?

Copywriting is the text, words, or "copy" used within marketing materials. The copy promotes and sells a product or service to the brand's audience. 

Copywriting comes in many forms, like the…


Website copy on your dental practice's website
Descriptions inside the pamphlets in your office lobby
Emails you get from the brands you shop at


Copy is all around you. That's why copywriting is such an in-demand skill because a brand needs so many different forms of content to promote itself.

As a freelance copywriter, you write the copy for those brands – but you're not their employee. As a freelancer, you get contracted to write specific deliverables for your clients. You have the freedom to build up your own client base instead of working for one brand.

Being a freelancer versus an employee gives you ultimate freedom in your career. You control the hours you work, the clients you work with, and even your income.

But if you're hesitating about leaving dentistry, I get it.  

Switching careers from dentistry is not as simple as leaving a corporate 9-5 job. You invested a ton of time, energy, and money into your education – and it's hard to imagine not "using" your degree. 

The good news is that all the skills you learned in school are going to apply to copywriting. So your degree would never go to "waste" in this field.

And if you're craving more out of your life – more income, more freedom, and more fulfillment – life is simply too short to stay in a job that doesn't make you happy.

I'm telling you this with love to empower you to know that the life you desire is possible for you. And freelance copywriting might just be the ticket to get you there.
5 Benefits of Freelance Copywriting
Deciding to leave your field to pursue alternative careers for dentists is a big decision, and you want to make sure you're ready. 

To help you decide, here are five of the many benefits of freelance copywriting:


Work from anywhere.

The nature of work is switching to an online setting, and many are starting to work remotely permanently.

An undeniable truth about dentistry is that it always requires you to do your work in person. It's not like you can perform a teeth cleaning over a Zoom call.

Copywriting gives you the ability to work from anywhere. You can finally take those vacations you've been dreaming about or finally make it to all your kid's practices and games.  When you work from your laptop, the world is truly your oyster.


Choose your clients.

Maybe a part of you still enjoys doing dentistry work. But you don't always *love* the different folks who come to your office.

Whether you work at a dental office or own your practice, you usually can't pick and choose your clients.

But as a freelance copywriter, you get to choose who you work with. If you discover you're not aligned with a client, you respectfully let them go. Pretty soon, you'll have a base of value-aligned clients you love to work with.


Earn more money.

Dentistry is a field with high earning potential. So maybe you're wondering if you'd *actually* be able to replace your income. Copywriting is one of the few lucrative alternative careers for dentists.

To give you an idea of what's possible for you, students in our community are earning upwards of $25k from copywriting alone – while only working 20 hours per week.

Of course, it may take some time to build your skills and client base to reach that level. But you can absolutely start earning money in three months or less and increase your rates quickly.


Set your hours.

As a full-time dentist, you're likely working 40 hours per week – or more. Imagine if you could cut the hours you work in half, and still earn a full-time income.

Freelance copywriters get to decide when they work and how long they work. You set your own schedule and always have flexibility with your schedule.

Want to pick up your kids every day and spend time with them after school? You get to build your workday around your personal life, instead of the other way around.  


Apply your skills.

Almost every brand needs copywriting to be successful. So, there's a broad range of brands to work with – and types of copy to offer.

When you first start out, you could even write for dental practitioners. You'd have a ton of credibility with dentists. This is a simple way to apply your knowledge and get started in a familiar field.

But don't feel like you need to stick in this copywriting niche forever. Once you learn effective copy, branch out to a different area that aligns more with you.


Listen, freelance copywriting is a pretty big career shift from dentistry. Your path will look much different as a copywriter, and that's incredibly exciting.

Exploring alternative careers for dentists and embarking on this new journey ignites a sense of excitement and fulfillment in being in control of your life again. Which is one of the greatest feelings in the world.

Countless students in our community have come from the medical field. They used to be dentists, doctors, nurses – and more.

Nothing makes me more proud than hearing these students say they've found a new sense of purpose in their copywriting careers.
Switching Careers From Dentistry to Copywriting
So… how exactly do you make a massive leap from the dental field into the world of freelance copywriting? Write Your Way to Freedom breaks down that massive leap into clear, actionable, bite-sized steps.

When you jump inside the course, your path to freedom becomes clear through:


Educational training modules
Weekly live Q&A calls and coaching sessions
Community forums and support

You get every tool and support you need to learn effective copywriting, build your client base, scale your career, and so much more. Copywriting may just be the alternative career for dentists you've been searching for. 

To discover whether Write Your Way to Freedom is for you, apply for a free strategy session with our team today.