Have a flexible schedule and earn a high income as a freelance copywriter.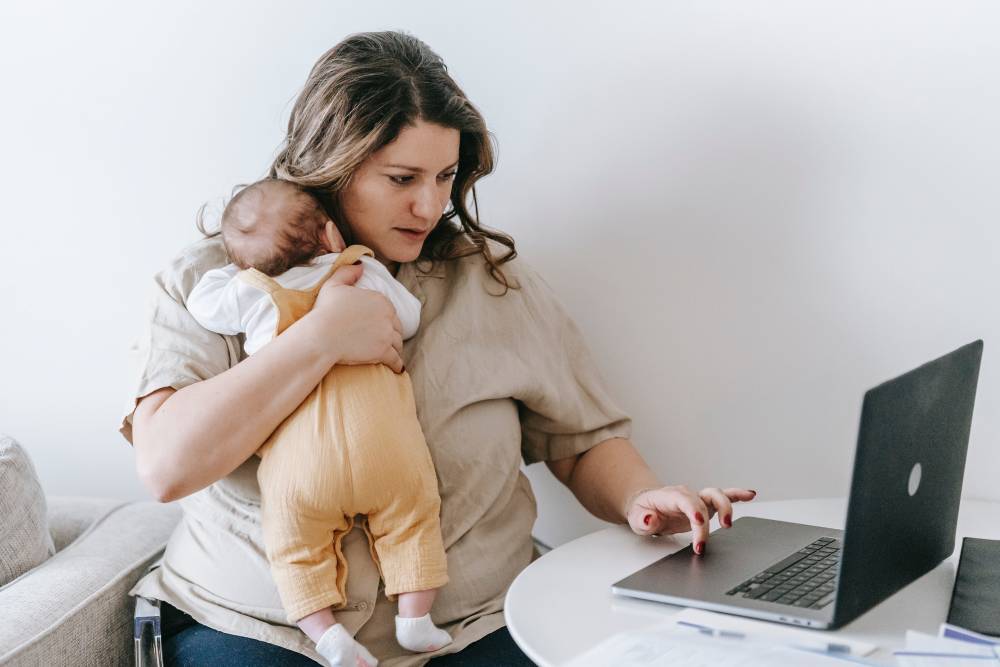 Are you looking for at-home jobs for moms with babies? 

Maybe you thought you'd return to your company after maternity leave. But your little one changed your life, and now you can't imagine working full-time outside your home.

Maybe you want to add to your monthly household income as your family grows.

Or perhaps you simply want an outlet for yourself outside of being a mom.

Freelance copywriting could be the fulfilling, lucrative, and flexible job you're looking for. Let's get into the benefits of copywriting and why they make it a brilliant job for moms with babies, like you.
What Is Freelance Copywriting?
Copywriting is the copy (words) included in marketing and promotional materials. A lot of the words you read online are copywriting.

For example, a copywriter likely wrote:
Marketing emails from your go-to children's clothing store
The sleep training blog you read at 2 AM while rocking your baby back to sleep
Even the social media ads on your Instagram and Facebook

Copywriting is all around us. And while copywriting has always been an essential piece of marketing, it's become even more relevant in recent years as content marketing is on the rise.1

Content marketing focuses on creating high-quality, helpful material for the audience. And brands need expert copywriters to create their content for them.

As a freelance copywriter, that's where you come in.

Freelance copywriting is a fantastic work-from-home job for moms with babies, newborns, and kids. You get flexibility while still doing work that lights you up and supports your family.

Copywriting may feel a little foreign if you've never worked in marketing. But it's a skill that you can absolutely learn, even if you have no experience.
Benefits of Freelance Copywriting as a Job for Moms With Babies
Imagine having control over your schedule, income, and headspace as a mom with a baby. 💭

When your baby wakes up a few times throughout the night, and you don't get a good night's sleep, you don't need to stress. You simply shift your work schedule the next day and sleep in a little.

You plan your workday around your baby's schedule and get work done when they nap, have tummy time, or independent playtime.

You have the peace of mind that you'll be right there when your baby needs you.

And even with all this flexibility, you still reach your income goals at the end of the month. Whether your goal is to supplement your household income or fully support your family.


Here are 5 main benefits to consider freelance copywriting as a job for moms with babies:

No Prior Experience Needed. 

Maybe you're thinking, "This sounds great, but I've never been a writer." And that's okay. You don't need prior experience to learn copywriting and build your portfolio. Copywriting is simply a skill you get better at as you practice more over time.

There are tons of moms in the Write Your Way to Freedom community who started with no experience and are now successful freelance copywriters. So, don't let this fear hold you back. 💪


Use Your Knowledge and Interests.

Has being a mom made you super interested in topics like sleep training or childhood development? You could write for brands that cover these types of parenting subjects and even blog about them on your own website.

Of course, you don't have to write about parenthood if you don't want to. Choose your niche based on what interests you! There are plenty of opportunities in lots of different fields.


Earn a High Income. 

Does it feel like the only option to spend more time with your kids is to work for a company part-time? You want part-time hours but still want to get paid a full-time income.

As a freelance copywriter, you can earn a high income even while working part-time hours. And you can always increase your workload or rates whenever you want to earn more money.


Have Schedule Flexibility. 

We both know you can't always predict your little one's schedule. Some days they may have long naps and be in a great mood. On other days they may need more of your attention. As a freelance copywriter, you can fit your work schedule around your baby's instead of the other way around.

Controlling your schedule is helpful when you have a baby, and it continues to be a benefit as your kids grow. You can keep being present as a full-time mom while working a job you love.


Create Meaningful Work. 

You love being a mom and know you play a crucial role in your kids' lives. But do you ever also crave the feeling of making a positive impact on lives beyond your family's?

As a freelance copywriter, you can spread the message of brands working on making a meaningful impact in people's lives. And copywriting could offer you a creative outlet that helps you be even stronger as a mom.


We both know it can be challenging to figure out how to juggle being a mom and having a traditional career. If you work in a 9-5 role, it may feel like you have to choose either having a career or being a stay-at-home mom.

As a freelance copywriter, you can do both.

There are a lot of different ways to earn money online these days. But freelance copywriting is one of the best work-from-home jobs with newborns and babies because you can start earning money in three months. Some of the moms in the Write Your Way to Freedom community have actually done it in less. 
The Best Job for Moms With Babies
Ready to become a freelance copywriter? You don't have to do it alone.

When you join Write Your Way to Freedom, you get immediate access to our supportive community. Many of the most active members in our group are moms just like you.

Imagine having a community of other moms to turn to who…

🙌 Are supporting their families financially while working part-time hours
🙌 Can relate to the challenges of being a working mom with a baby (hello, sleepless nights!)
🙌 Feel proud to set a strong example for their kids as a working mom

Finally, you've found a flexible and meaningful job for moms with babies like you!

It makes me proud to watch this community grow into one of the most supportive communities on the internet. And we know you'll feel welcomed from the moment you join. ❤️

If this sounds like the support you're looking for, apply for a Strategy Session. We'll answer your questions and help you determine if Write Your Way to Freedom is the right fit for you.


Resources: