Plus, the top 10 business tools to help you grow.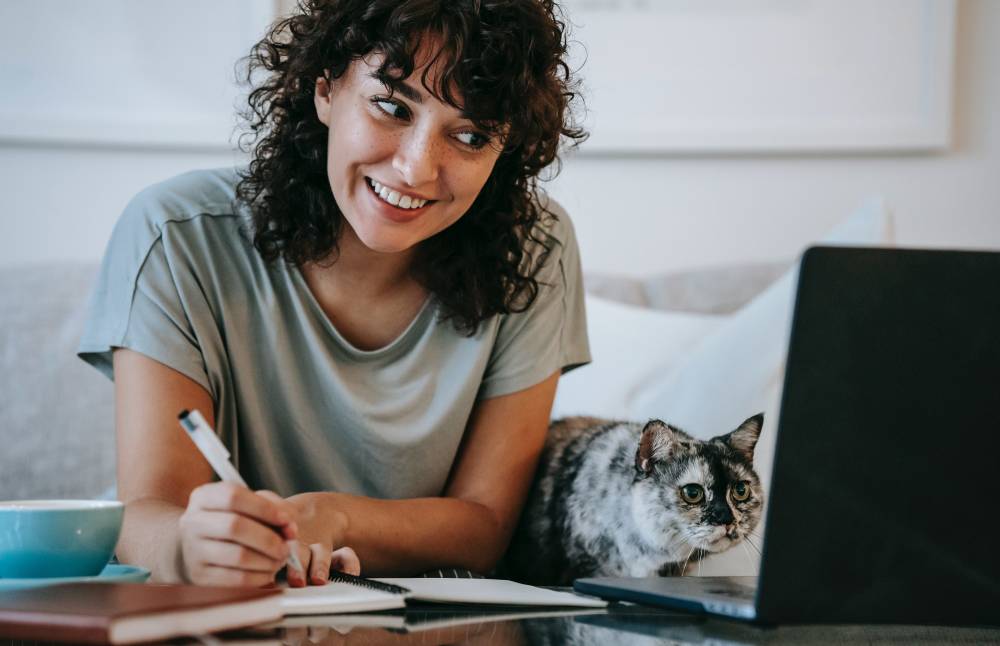 It's 2022, and many people are starting their own online businesses. Maybe you want to quit your current job and get into the laptop lifestyle, too. Especially if you're ready to…

Have location independence.

Be your own boss.

Feel fulfilled by your work.

But you're probably wondering, "Can I afford the startup costs for an online business?"

Freelance copywriting checks the boxes you're looking for. Plus, the business startup costs for copywriters are very low.

Let's take a look at the training and tools you need to get your business up and running – that won't break the bank. 🙌
Mindset About Business Startup Costs
I'm going to walk you through the exact startup costs for a copywriting business. But first, let's talk about your business finances mindset.

You can either look at your business costs as expenses or as investments.1

A business expense is money that you lose.

A business investment is money you spend to help you eventually make more money.

If you view your costs as expenses, you may feel uncomfortable purchasing tools for your business.

But investing in tools and support that make your life easier and save you time actually allows you to earn more and enjoy your life more.

So, it's essential to keep your business and personal finances separate and get comfortable reinvesting some of your business finances back into your business.

But luckily, you don't have to spend too much on business startup costs as a copywriter.
Copywriting Business Startup Costs
Until recently, one of the most common ways to create a business was to start a brick-and-mortar store. To do so, you likely needed to take out a loan and pay for tons of expenses, like rent, renovations, and employees.

The startup costs for a copywriting business are a fraction of the cost of opening a store. You have very little overhead when you can run your business from home on your laptop. 

Hopefully, this gives you some perspective and helps you keep an open mind about the few business startup costs you do have. They are well worth it! 👏

Here are the ten essential tools to invest in to start your freelance copywriting business:


Website

Creating a copywriting website is essential to standing out as a copywriter. It's how you can demonstrate professionalism and expertise, even before you have experience. Building a website may sound daunting, but it's actually pretty simple.

I always recommend Squarespace to my copywriting students because it's easy to use. The templates look professional, and using the interface is intuitive, even if you have no design experience.

Cost: Starts at $19 per month.


LLC Filing

A limited liability company (LLC) is a business structure that protects you from personal responsibility. Filing for an LLC is different in every state, but I recommend doing this to protect you from unlikely legal disputes.

When you file for an LLC, you are also able to open a business bank account to separate your personal and business finances.

Cost: Filing for an LLC ranges from $50-$500/year, depending on your state. 


Zoom

You've likely used Zoom before for virtual meetings. The app lets you host video conferences and record your client calls so you can easily replay them.

Use the free version of Zoom to record up to 40 minutes of a call.

Cost: Free to record up to 40 minutes, then starts at $15 per month.


Calendly

Calendly is a meeting scheduler that makes it super easy for your potential clients to book meetings with you. Instead of going back and forth with a client on availability, you simply send a link to your calendar, where they can book time directly.

Calendly makes your life easier, and you look more professional to your clients.

Cost: Free to book 15-minute meetings, then starts at $8 per month.


Google Workspace

With Google Workspace, you get to create a professional email using your website domain as the URL. If you ever decide to grow your team, you can also make a business email for them.

This isn't a completely necessary business startup cost, but it can give your business a cohesive, professional feel.

Cost: $12 per month.


Client Management Tool 

Client management tools make tasks like invoicing and sending contracts very straightforward and professional.

Having a simple, trusted way for your clients to pay you helps you get paid faster and have peace of mind. There are many to choose from, but I've always used FreshBooks in my business. Many of my students love Dubsado.

Cost: FreshBooks starts at $130 per year. Dubsado is free for your first three clients, then starts at $200/year.


Hunter 

This website helps you easily find the email addresses of employees within a company. This is helpful when you're first starting out and doing a lot of cold pitching.

Hunter is free for up to 25 monthly searches. The paid option could be a worthwhile investment for the first few months.

Cost: Free up to 25 searches, then $49/month.


Ubersuggest

Implementing SEO keywords is crucial as a freelance copywriter. Ubersuggest makes SEO research very simple and straightforward.

Use this tool to find SEO keywords, content ideas, and research on competitors.

Cost: $29/month.


Loom 

Does your client have a question, or do you want to explain your copy? Save time by recording a Loom video instead of hosting a call.

Loom videos are a wonderful way for virtual clients to hear your voice and get a personal connection.

Cost: Free for up to 5 min/video. Then, $8/month.


Books/Training/Courses 

Investing in learning new skills and information helps you grow so much faster as a copywriter. And when you continue to learn, you can confidently increase your rates.

There's no exact number, but I recommend setting aside a budget each year to invest in your learning and growth.


Invest in tools that save you time and give you the headspace to do more of the things you love – whether that means more time writing, more free time outside of your business, or both.
Start Your Freelance Copywriting Business
So, you're ready to start your own copywriting business. But maybe you're feeling a little overwhelmed by all the steps you need to take to get you up and running.

When you join Write Your Way to Freedom, you get access to the exact steps all in one place. Of course, you learn the techniques of effective copywriting. But unlike other copywriting courses, you also get a roadmap to build your business.

✅ Create your website.
✅ Set up your LLC.
✅ Onboard your clients.
✅ Navigate taxes.

Imagine how it would feel to ditch the overwhelm and have one resource to show you the way.

Start today by applying for a Strategy Session to see if it's the right fit for you. Investing in your business truly does help you go further, faster. Ultimately, Write Your Way to Freedom gets you where you want to be in much less time. 
Want to Watch Instead?
Watch my YouTube video to get a breakdown of copywriting business startup costs. Subscribe here for more tips on building your business, entrepreneur mindset, and more. 
Resources: