Learn how to go from making hundreds a month to thousands a month.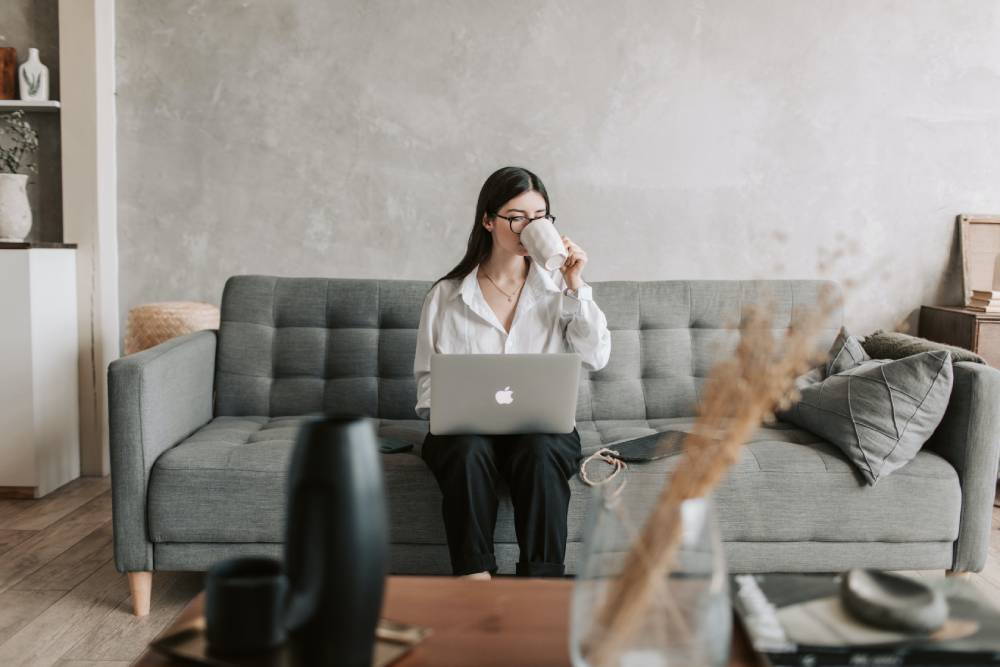 So, you've been copywriting for a few months now, and you're ready to reach the next level of revenue. How do you break through from earning hundreds a month to earning thousands a month?

Luckily, your freelance copywriter income mostly comes down to factors within your control – like your rates and the types of clients and projects you work on.

Here are my main tips on how to increase your income and the mindsets you need to get you there.
6 Tips to Increase Your Income Without Working More
Imagine that the money you're earning from freelance copywriting is flowing in abundance.

You never doubt how much you're going to earn each month. You have the confidence that your projects cover your expenses and more.

You're working with clients you love, on projects that fulfill and energize you. You make enough money to bring you the security and experiences you desire.

You're so ready to increase your income to feel this level of flow and security. ✨

But right now, you're already working a ton. Maybe you can't figure out how to increase your income without working more and feeling burnt out.

The good news: the abundance you're looking for is already available to you.

There truly is a plethora of opportunity and wealth out there. You just need the right processes, systems, and mindsets that enable you to bring in more revenue.

Ready to learn what those are? Here are six tips to increase your income from home as a freelance copywriter:


Focus on High-Paying Projects.

What do a $100 project and a $1,000 project have in common? They both need a similar amount of upfront work and admin work – like strategy, onboarding, and invoicing.

If you want to earn $1,000 you could book 10 of the $100 projects all with their own admin work. But what if instead you booked one $1,000 project and only went through the paperwork process once?

You could save *so much more* time and energy, allowing you to increase your income without working more. This is why it's so beneficial to focus on higher-priced projects. Which leads me to my next point…


Have a Project Minimum.

When you first started out as a freelance copywriter, it was important to say yes to all the projects. As you're growing and expanding, it's now time to get more selective about the projects you take on.

Having a project minimum is a way to hold yourself accountable and focus on high-paying projects. A project minimum means you don't take on projects below a certain number, like $1,000.

It may feel scary at first to say no to something. But doing so is going to create space for you to increase your income by taking on those higher-payinghigher paying projects you're looking for.


Focus on High-Value Types of Copy. 

All copywriting plays a role in growing a brand. But the results of certain deliverables are more direct than others.

If your copy triggers a direct response, such as a sale, you can tie back that result to your copy. Direct-response copy brings in more revenue for your clients, which means you can charge more for it than other types of copy – like blogs, for example.

So, consider focusing on high-value types of copy such as landing pages, email sequences, and other sales copy to increase your income.


Pitch High-Ticket Clients. 

When you're first starting out, it may be tempting you to pitch clients that don't have any marketing yet. But clients who don't have a website or other types of marketing likely don't see the value of copywriting. 

The brands that already have a website, email marketing, etc. are the ones that know the value of copy. Which means they likely already have the budget and desire to work with someone like you.

Maybe you're thinking "those clients already have their marketing in place, they don't need me." But that's simply not true! You have the skills that could make an impact on their brand.


Add to Your Skill Set.

We have a motto in the Write Your Way to Freedom Community: become a forever student. Continue to add to your skill set and knowledge base as you grow as a copywriter.

Skill development happens naturally as you get more projects under your belt. But it's also beneficial to read books, take courses, and get practice that enhances skills like…



Email Marketing (email sequences, newsletters, promotional campaigns)

SEO (website copy, blogs) 

Sales Content (sales email sequences, sales pages, social ad copy)


You can increase your rates as you enhance your skill set and the results of your copywriting.


Invest in Tools that Save You Time. 

Your time is golden as a freelance copywriter. The less time you're spending on admin work, the more time you can spend on income-producing tasks.

Examine all the tasks you're doing and determine which of them could be offloaded or delegated. Maybe this means hiring a virtual assistant or, at the very least, using a client management tool such as Dubsado.

Not only does freeing up time allow you to increase your income, but it also allows you to focus on your priorities. Freeing up your headspace in this way makes your work and life so much more enjoyable.


When you think about pitching high-ticket clients, raising your rates, or hiring someone, how does it make you feel? Are you thinking, "this doesn't apply to me, I'm so not ready for that yet."

I'm going to challenge you to push back on limiting thoughts like these.

I'm willing to bet that you're a talented copywriter who truly cares about your clients. You have every right to expand to that next level of income and opportunity.

And the best advice I can give you is, do things before you feel 100% ready. Invest in yourself, hire the help you need, and go after that dream client – even if it scares you. 👏

Taking bold action is how you're going to increase your income and reach the new levels you're looking for.
The Fast-Track to Increasing Your Income
Are you looking for more support and accountability to help you reach the next level?

When I was in your shoes, I was so determined to make freelance copywriting work for me. But it was still hard to navigate the process and face all those freelance challenges alone.

I created Write Your Way to Freedom so you don't have to go through the process alone.

Write Your Way to Freedom is the all-in-one copywriting course and community that teaches you skills, mindset, and application. In one course, you have the tools to help you…


Up-level your skillset and learn high-value copywriting
Find and pitch high-ticket clients with marketing budgets
Master the mindset of a high-earning copywriter

And much, much more.

Get all the skills and tools you need to increase your income and reach the next level. We even recently expanded Write Your Way to Freedom to include coaching calls that walk you through how to master each skill – from high-earning copywriters themselves.

To learn more, sign up for my free copywriting masterclass: How to Build a Lucrative Freelance Copywriting Career.
Prefer to Watch?
View my Youtube video on how to increase your income as a copywriter. Subscribe here for more tips on building a lucrative freelance career and mastering your mindset!