Discover how to create sales funnels that get more results for your clients – and set you apart as a freelance copywriter.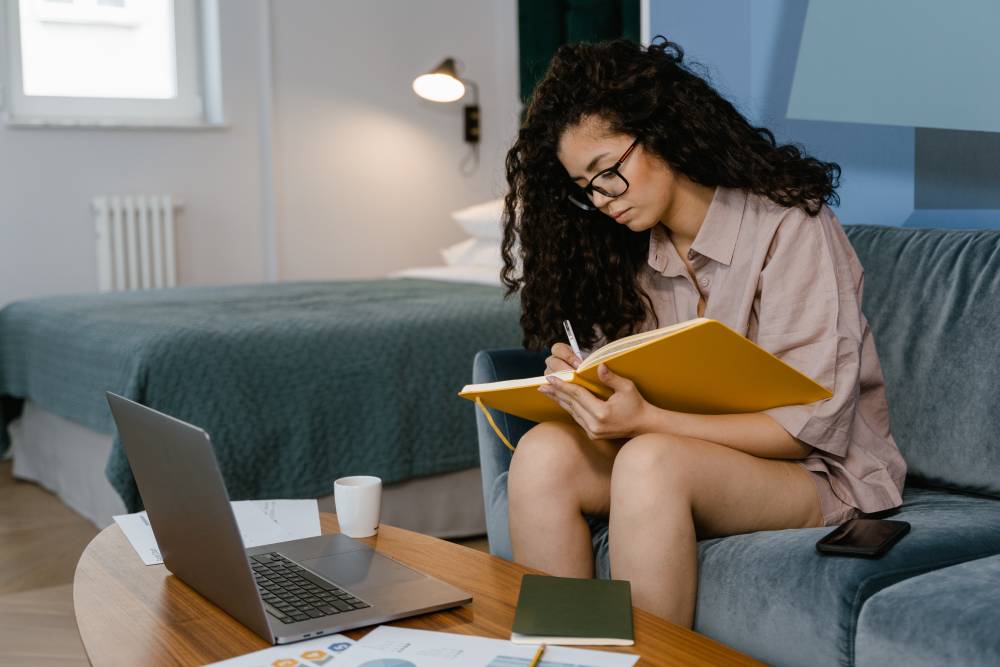 Are you ready to learn about sales funnel strategy as a freelance copywriter?

Maybe you've completed a few one-off copywriting projects for clients. You wrote a blog post for a brand here or a page of website copy there. Now, you're ready to learn how all the content you offer fits together to reach your client's larger goals.

If you're starting to tackle sales funnel strategy, you're leveling up as a copywriter. 🙌

Strategy enables you to drive bigger results for your clients and create larger copywriting packages. Plus, you're setting yourself apart from other copywriters and AI tools.

The only problem is sales funnels are confusing to learn at first. You may be wondering, "what even IS a sales funnel, and how do I create one?"

If you're not sure where to start, this article is here to demystify it all. Keep reading to learn:

I. What Is a Sales Funnel?
II. Understanding the Five Sales Funnel Stages
III. Examples of Sales Funnels
IV. How to Get Sales Funnel and Sales Copy Training

I'm very passionate about teaching my copywriting students about marketing funnels because it truly puts you at a higher level. Your work becomes even more valuable to your copywriting clients, leading to bigger projects and revenue.

How do I know? I've made it a priority in my 10-year copywriting career to be a strategic partner to my clients. This helped me form positive, long-standing client partnerships with top providers in my niche – and book monthly retainers as high as $21k per month.

I've also gotten learned-from experience by managing my own sales funnel for my copywriting program, Write Your Way to Freedom. Our strategy has helped over 3,700 students find our community and replace or exceed their income with copywriting.
Learn How to Build a Lucrative Freelance Copywriting Career
Get my free copywriting masterclass that walks you through exactly how I went from zero to consistent five-figure months with copywriting – with no experience and no portfolio.
Gain instant access – right to your inbox – when you sign up below. 👇
We will never spam you or share your email with anyone. In addition to the guide you'll also receive semi-regular email updates with tips, tools, offers and exclusive resources. All emails include an unsubscribe link, you may opt-out at any time. Read our Privacy Policy to see how your data is handled.
What Is a Sales Funnel?
A sales funnel is a marketing term illustrating a customer's journey from first becoming aware of a product or service to eventually making a purchase.

The funnel begins with a large number of potential customers at the top and gradually narrows down as customers progress through each stage of the sales funnel.

For example, say you're watching one of your favorite TV shows after work. An ad comes on for a new flavor of Doritos. Now you're aware of the product and want to learn more.

You look up the Doritos flavor and become even more interested. Your mouth starts salivating – the craving really kicks in. So, you decide to head to the store to buy them. You purchase them and enjoy them so much that you may want them again the next time you're watching TV.

The Doritos analogy is a simple example of the five stages of a sales funnel: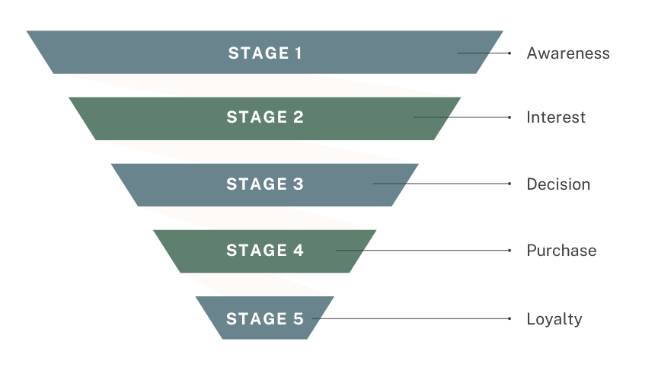 You became aware of the product through a TV ad.
You searched for the product online and became interested in purchasing it.
You decided to head to the store to grab the Doritos.
You bought and enjoyed the bag of chips.
The next time you watched TV, you bought the product again.


Resources don't always include stage 5 when they're talking about sales funnels. But loyalty is one of the most important parts of a sales funnel. It's much easier to compel an existing customer to purchase again than to always rely on finding new customers alone.

So, where does copywriting come into play? Your content's job is to meet the customer at each stage and compel them to take the next step in the funnel.

Creating effective content at each funnel stage makes your customer much more likely to keep moving down the funnel and eventually purchase.

The top of the funnel is the widest because it represents the large pool of people that become aware of the offer. But the funnel gets smaller as you progress because not everyone is going to purchase the product – and that's completely normal.

Set expectations with your clients by communicating that the average e-commerce lead conversion is around 2.9%. So, over 97% of people that find a product decide not to buy it.1

An offer isn't for everyone, and that's okay! But effective copywriting within the sales funnel increases conversions among the right-fit buyers. Your copywriting should deter people who aren't the right fit and help qualified prospects say yes to the offer.
Understanding the Five Stages of the Funnel
Now you have a general overview of how a sales funnel works. Let's dig deeper into each specific stage – and what to know about different areas of the funnel.


Phase One: Awareness

This is the stage where potential customers become aware of the product or service. They may see the offer through advertising, social media, or other marketing efforts. Awareness is at the top of the funnel where the audience begins the journey.

Remember that adding just anyone to the funnel doesn't necessarily lead to more conversions. It's critical to attract qualified leads into the funnel regularly because they're much more likely to want to purchase the offer down the line.

Phase Two: Interest

Now that you have the audience's attention, they'll likely become interested and want to know more about the offer. The interest stage of the sales funnel is where your audience visits the brand's website, researches the brand, or engages with a piece of content.

Helpful blog articles, freebies, and other credibility-building content drive interest with the audience. The goal is for the content to deliver free value that gets them even more interested in the paid offer.


Phase Three: Decision

At this sales funnel stage, the customer is ready to buy the offer. But they might want to compare different options from other brands first. This is usually when the audience compares pricing, reviews, and deals with other options.

It's essential to display social proof, case studies, and testimonials. These tactics play a large role in building credibility and helping the audience choose the brand over other available options.


Phase Four: Action

The fourth stage of the funnel is when the audience takes the action of purchasing the offer. Congrats, the potential prospect is now officially a paying customer!

At this stage, meeting all of the customer's needs and expectations is crucial. Be sure to deliver the experience or product they asked for.


Phase Five: Loyalty
The customer journey continues after the transaction. Loyalty is actually one of the most critical stages. This is when the audience decides to refer the brand to other customers and become repeat buyers.

Acquiring a new customer costs up to five times more than retaining an existing customer. So, remember to continue providing the customers with value and give them incentives to refer and return.2


There are many different ways to create a successful sales funnel. Your strategy shifts depending on the type of offer, price, and promotion length.

That's why types of content sometimes fall into multiple categories of the sales funnel. For example, an email sequence is a strong decision-making driver that compels purchases. But emails can also create awareness by announcing your offer to your existing email list.

What's important is that each piece of content works together to compel the customer to move through the customer journey.

To clarify this, let's go over a few real-life examples of sales funnels.
Two Real-Life Examples of Effective Funnels
Okay, the theory of a sales funnel is starting to make sense. But you might be wondering, "how do I actually put this into action within a client project?"

Here are two common sales funnels to consider:


1. Content Marketing Funnel Example
A content marketing funnel is a strategy that consistently brings in new leads and makes them aware of a brand's services. Brands benefit from a funnel that creates new customers on a regular basis.

Imagine your client is a functional medicine provider offering one-on-one services to their patients. Your client's marketing funnel can help new people to take action with their services while they stay focused on their patients.

Here's an example of a standard content marketing sales funnel:


SEO Blog Article (Awareness). Create search-engine-optimized (SEO) blogs to attract new, qualified clients to the client's website. SEO blogs help ideal clients find the website through organic search. Plus, they build trust and credibility.

Identify the keywords the audience might be searching for that a functional medicine provider could solve. For example, "how do I heal my gut?"



Freebie (Interest). The SEO blog brings the reader to the website. Now, you want to incentivize them to share their email address. Capturing their email allows you to continue the conversation in their inbox.

A common email opt-in tactic is offering a freebie. For example, you can create a PDF of "5 Proven Ways to Heal a Gut" in exchange for the reader's email address. This sets up your client as a credible and knowledgeable source in their industry. The reader signs up, receives the freebie, and is now a subscriber on the client's email list.



Welcome Email Sequence (Decision/Action). When the customer signs up for the email list, this is their peak point of interest. Capitalize on this interest by sending a series of emails that introduce your client's offers and incentivize them to take action.

A welcome email sequence can generate 320% more revenue than a standard promotional email. This step is crucial because it tells the customer what to do next. Whether that means booking an appointment, purchasing a product, or more.3


This simple content marketing funnel takes someone from being unaware to taking action with the brand. It generates new leads, compels them to enroll in the email list, and maybe even drives the first sale or booking.

Once the customer is on the email list, you can continually follow up with them, build trust, and introduce more opportunities to interact with the brand.
2. Webinar Funnel Example
A webinar sales funnel involves using a live or pre-recorded webinar to attract potential customers and guide them through a series of steps toward making a purchase.

A webinar sales funnel is a strategy that's often used to generate interest in a program, coaching offer, or course. Let's say your client is a fitness coach promoting a 12-week wellness program that covers exercise, mindset, and nutrition.

Here's what their funnel might look like:


Paid Ad (Awareness). Paid ads are an effective way to get an offer in front of their ideal audience. Social media platforms like Facebook, Twitter, Instagram, and LinkedIn allow brands to create paid ads on their platform to reach their target audience.

I recommend using ads as an opportunity to incentivize the reader to sign up for the email list. In this example, the paid ad would advertise the webinar, and the call to action would be to register for the webinar with their email.



Webinar (Interest). The webinar is an opportunity to give away free information that applies to the paid program. The goal is to build trust with the audience, deliver value, and get them interested in the paid offer.

For example, the webinar could dive into one of the strategies used in the 12-week wellness program, like how to optimize their eating plan to have more energy. Then, the end of the webinar would introduce the full program.



Sales Email Sequence (Decision). After the webinar, the next step is to send an email sequence that introduces the program. This is an opportunity to educate about the offer, handle their questions, and compel the reader to purchase.

The goal of the sales emails is to compel the audience to decide to buy. These emails direct the reader to the program sales page, where they make the final purchase.



Sales Page (Action). The sales page is a critical piece of the marketing funnel. It's where the customer goes to take the final action of purchasing the offer.

An effective sales page educates the reader on the program and helps them decide if it's right for them. The goal is to build excitement, provide reviews, handle objections – and finally compel them to purchase.


The webinar sales funnel is a popular strategy for brands and entrepreneurs who sell digital products or programs. It's an effective way to educate the audience about the paid program, build trust between them and the program creator, and generate interest.
Benefits of Offering Sales Funnel Strategy as a Copywriter
I want to emphasize just how valuable it is to incorporate a sales funnel strategy as a copywriter.

Many clients who look for copywriting also need help with their strategy. Knowing how content fits together to reach a client's larger goals gives you an edge.

Here are three main benefits of learning sales funnel strategy as a freelance copywriter:


Expand your client relationships. One of the most effective ways to increase your income as a copywriter is to expand your existing client relationships. Expanding an agreement with an existing client who trusts you is often easier than finding a new one.

Understanding sales funnel strategy enables you to recommend additional content that would help your client reach their goals. This leads to bigger results for your clients and larger packages for you (like the $21k per month retainer I mentioned).



Market your own services. As copywriters, we put most of our focus on marketing for our client's brands. But how do you market your own services and offers?

Cold emailing is an effective way to pitch to clients you'd like to work with. But employing a simple sales funnel strategy helps new clients find YOU regularly.



Set yourself apart. Like I said, most copywriting clients need help figuring out what content they need. Being a strategic partner to your clients sets you apart from other copywriters – and even AI copywriting tools.

AI tools provide general suggestions for content plan creation. But developing an effective strategy requires your unique understanding of the brand's target audience, goals, and value-aligned preferences.


As a sales funnel strategist, you offer more than copywriting alone. You take the initiative to make your client's strategy more effective – an invaluable quality in a freelancer.
Get Sales Funnel and Sales Copy Training
Are you ready to set yourself apart as a freelance copywriter? Offering a sales funnel strategy is a highly valuable skill. The only problem is learning and executing strategy can be challenging when starting out.

Maybe you've already spent hours reading articles, downloading freebies, and going down the YouTube rabbit hole. You're ready to have a clear plan with actionable steps and examples.

That's where Write Your Way to Freedom can help.

My comprehensive copywriting program teaches effective copywriting, marketing strategy, and the proven steps to building a profitable freelance copywriting career.


Write Your Way to Freedom comes with:


Comprehensive training
A like-minded community
Weekly live coaching calls to deepen your learning

Just this month, we held a copy coaching call on expert sales funnel strategy. 🙌

Apply for a strategy session to discover if Write Your Way to Freedom is right for you.


Resources: