Discover how to write magnetic product descriptions that compel your audience to buy – and have fun while writing them!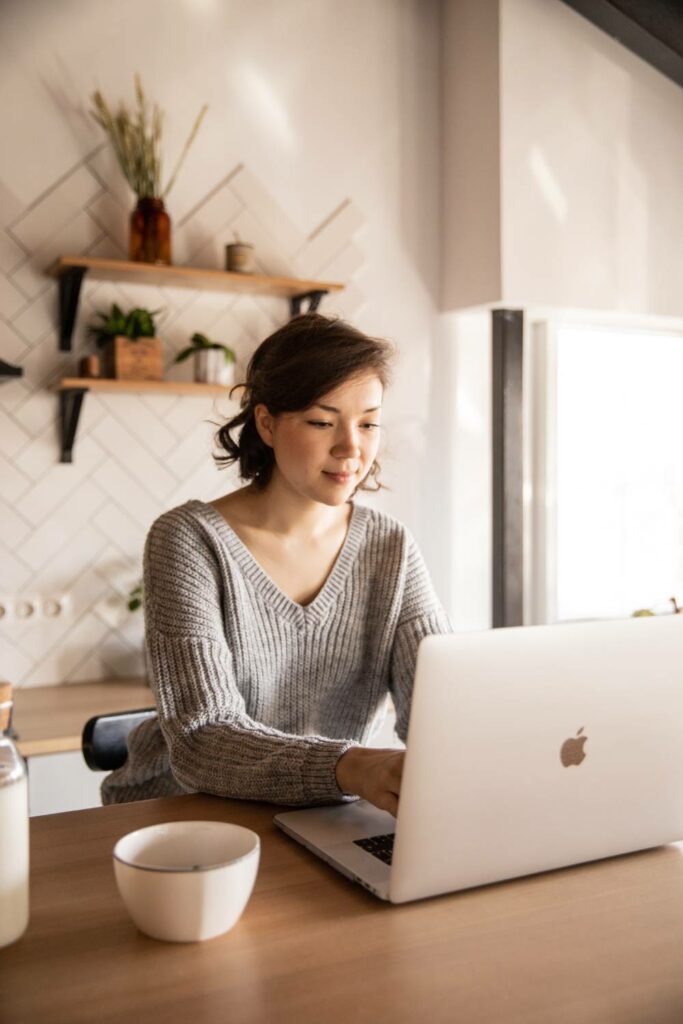 Never underestimate the importance of a product description. These descriptive lines of copy may seem insignificant. But they actually play a *huge* role in driving sales and purchases.

Product descriptions are the final text a buyer sees before deciding to buy a product. They're the tipping point between the customer making a purchase… or not.

A well-written product description compels the customer to click "add to cart."

Plus, writing SEO-optimized product descriptions makes the products more likely to appear in Google and other search engines. This helps buyers find your clients' products when searching for similar items online.

If you're ready to add product descriptions to your copywriting skill set, you're in the right place. Stick around to learn:


I. What Are Product Descriptions – And Why Are They Important?
II. The Anatomy of Different Product Descriptions
III. Product Descriptions Examples
IV. Incorporating SEO in Product Descriptions


Almost every client you work with needs some form of product descriptions to sell their offers – whether they're promoting a product, service, or program.

Compelling product descriptions increase your clients' sales, conversions, and revenue. Increasing your clients' revenue gives you more credibility and the ability to charge higher rates as a copywriter.

It's my mission to empower copywriters like you with high-value skills like these. So you can get bigger results for your clients, earn a higher income, and ultimately achieve more freedom in your copywriting career.

I'm proud to have helped thousands of newbie copywriters create lucrative freelance copywriting careers by teaching them these high-value skills – and how to apply them.

Many of my students in the Write Your Way to Freedom program are even earning $10k per month – and beyond – from their copywriting services alone.

You can build your own life of freedom, one step at a time, too. So let's get started!
Learn How to Build a Lucrative Freelance Copywriting Career
Get my free copywriting masterclass that walks you through exactly how I went from zero to consistent five-figure months with copywriting – with no experience and no portfolio.
Gain instant access – right to your inbox – when you sign up below. 👇
We will never spam you or share your email with anyone. In addition to the guide you'll also receive semi-regular email updates with tips, tools, offers and exclusive resources. All emails include an unsubscribe link, you may opt-out at any time. Read our Privacy Policy to see how your data is handled.
What Are Product Descriptions – And Why Are They Important?
Product descriptions are exactly what they sound like. They're the descriptions you find next to a product or service on a website. The text provides the audience with more information about the offer and compels them to take action.

Although the length and format of product descriptions vary, they're usually found on a product landing page. Other elements of the marketing funnel drive the customer back to the landing page, where they can actually purchase the product.

But the customer wants to know all the product details before purchasing.

A product description should:


Communicate exactly what the product is
Answer questions about the order
Describe how the item can benefit the customer's life

A compelling product description can incentivize customers to purchase the product before they abandon the cart. The average cart abandonment rate is about 70%. These are the customers who add items to their cart but don't end up buying.

Here are a few different offers you might write product descriptions for as a copywriter:


Physical or Digital Products. Product descriptions are a big part of your job if you write for e-commerce clients that sell products online. You'll write a new description for each product's landing page.

E-commerce includes digital products as well. Digital downloads, programs, and online courses also need compelling descriptions that describe what's included and incentivize the audience to purchase.


Client Services. Although product descriptions are a big part of e-commerce, they also promote service-based offers. Buyers need information and details before they decide to book a service.

Think about the services section on your copywriting website. You likely have the name of the package you offer with a description underneath that outlines exactly what the service offers, the benefits, and how to book. That's a product description.


Product descriptions play a crucial role in driving conversions and sales. The call-to-action is usually to "Add to Cart," "Purchase Now," or "Contact."

But not just any product description is effective. There are copywriting techniques you can use to write descriptions that connect and convert. ✍️

You want to make sure the audience has all the information they need to purchase the product or service. Like what it is, how it solves their specific problem, and answers to their questions.

As I said, the product description is the final text customers see before they decide to buy. So as a copywriter, this is your time to shine by creating a compelling description that drives them to purchase.

Personally, I love writing product descriptions – they're a lot of fun to write. They're some of the simplest types of copy and a great place to infuse creativity. But sometimes, newbie copywriters get stuck on these types of copy because it's challenging to be concise.

You might be wondering, "how do I fit all this information into one succinct explanation?" So, let's break down the anatomy of a product description. You might be wondering, "how do I fit all this information into one succinct explanation?" So, let's break down the anatomy of a product description.
The Anatomy of a Product Description
Picture the decision-making process you go through when you're deciding whether or not to purchase a product. You want to be certain that the product is going to meet your needs, fulfill what you're looking for, and be worth your hard-earned money.

Did you know that 20% of unsuccessful purchases happen because the buyer doesn't get enough relevant information in a product description? The description should give all the essential facts and help the customer get excited about the product.1

The length and format of your product description copy vary across placements (stay tuned for specific examples). But these are the fundamental copy tips to keep in mind for all different types of product descriptions.


Clearly state what the product is and does.
Be extremely clear about exactly what the product is. Confused customers don't buy, so you want to make sure they understand exactly what the product offers.

Some products are more straightforward than others. If you're promoting something like a shoe, the use of the product is more obvious. But if you're promoting something like a health supplement, the reader might need more detail to understand the benefit.

The description can also give more context to the headline. You might use a catchy and creative headline, but the description brings home exactly what the product does.


List the features and benefits of the product.
The features are the factual truths about your product, which appeal to the customer's logic. The benefits are why the feature matters to your customer, which appeals to their emotions. A customer purchases with both logic and emotion.

Write down a list of all the facts about your product. Like the materials it's made of, the ingredients it includes, or how it works. Then, write down the larger benefits of each of these facts.

For example, let's say you're promoting a superfood supplement, and you include all the ingredients. You could say, "contains nutrient-dense matcha [feature], which boosts brain function so you can beat the afternoon slump [benefit]."


Answer questions and handle objections.
Write down all the questions you anticipate someone would have about your product. The audience needs to get their questions answered before deciding to purchase – so don't overlook this area.

Objections, or reasons that people hesitate against buying the product, often come in the form of questions. So, the FAQ section is a powerful place to tackle objections.

Discover your buyer's questions and objections by researching similar products on the market. Look at the reviews section of those products to see what people are asking, what's important to them, and their objections.


Add delivery and return information.
When a customer purchases a physical product online, shipping time is crucial to their decision-making. The audience wants to know exactly when they can expect to receive the product.

Plus, customers also want to know about return information. Many people will only buy if they know they have a chance to return or exchange if they're not totally satisfied with the products they receive.

It might sound simple, but including delivery and return information can be the difference between someone clicking away or buying. Be sure to communicate these facts clearly and succinctly.


Highlight positive reviews and testimonials.
Have you ever noticed how you automatically gravitate towards products that have 5 stars when shopping online? Social proof, like testimonials and reviews, are extremely important to potential customers.

Many e-commerce landing pages display the rating of a product with stars, which goes a long way. But you'll also want to include a section for testimonials in the product descriptions. That way, your customer can easily read through the reviews.

You could write an *amazing* product description. But the buyer still wants to hear about the product from an objective perspective. Positive reviews can back up all the benefits you're writing about.


Always come back to the question: what would my audience need or want to know to decide to purchase this product? Your product descriptions' job is to provide information, ease hesitations, and help the buyer visualize how the product enhances their life.

Include your most engaging copy right before the call to action. This is how you leave your reader with the excitement that compels them to buy.

Now let's look at some actual examples to see these tips in real-life.
Product Description Examples
Now that we dove deep into the anatomy, let's dissect some product description examples. If you're a visual learner like some of my copywriting students – seeing examples might help you learn more quickly.

Here are some effective examples of compelling product descriptions:


Glossier – Hydrating Lip Balm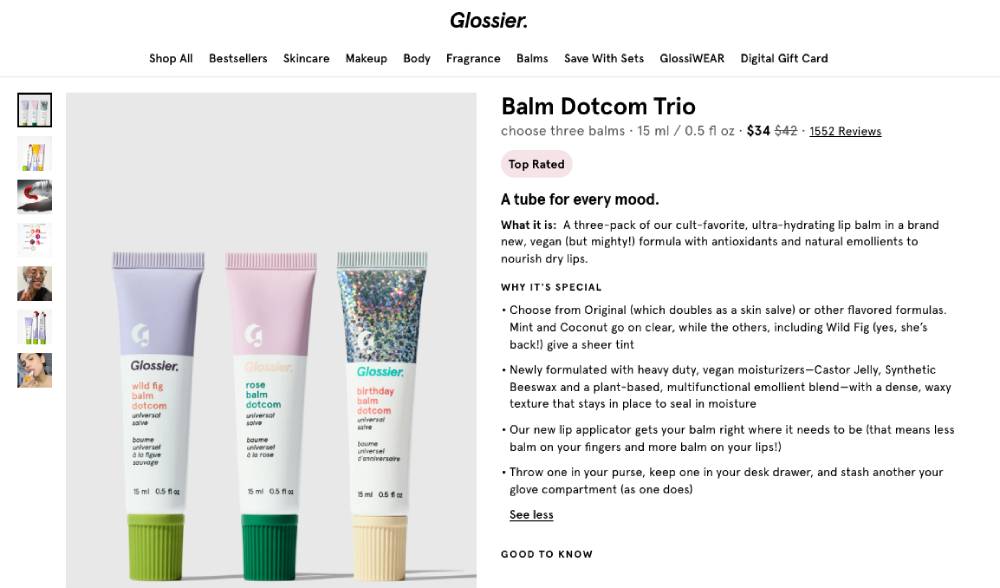 What they do well:


Ties the features to the benefits. For example, "the new applicator… means less balm on your fingers" helps the reader know exactly why the applicator matters.

Helps the reader visualize how they would use this product in daily life. "Keep one in your desk drawer.." makes the customer imagine how they might pull it out during the workday or while they're working from home.

Uses their playful, excited voice throughout to help the customer recognize the brand.


Knowing your client's distinct voice goes a long way when writing product descriptions. The Glossier example is fun to read because its voice is playful and consistent with the brand.
Merrell – Hiking Boots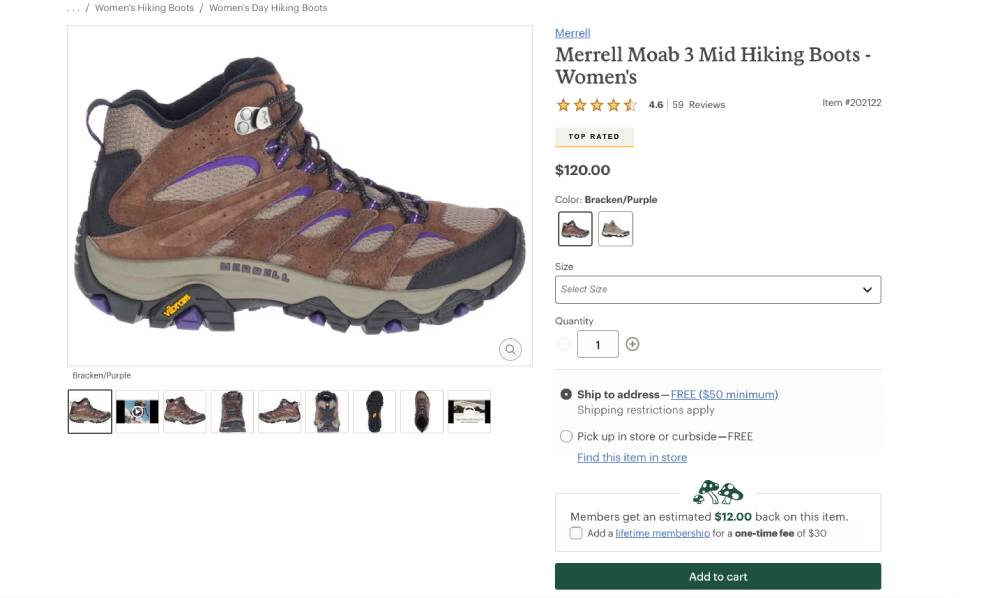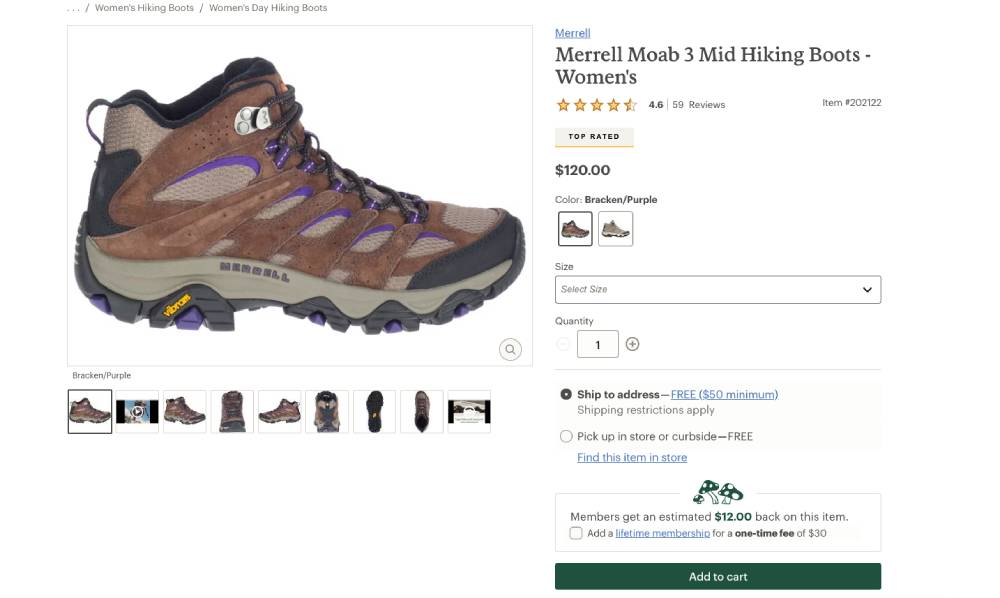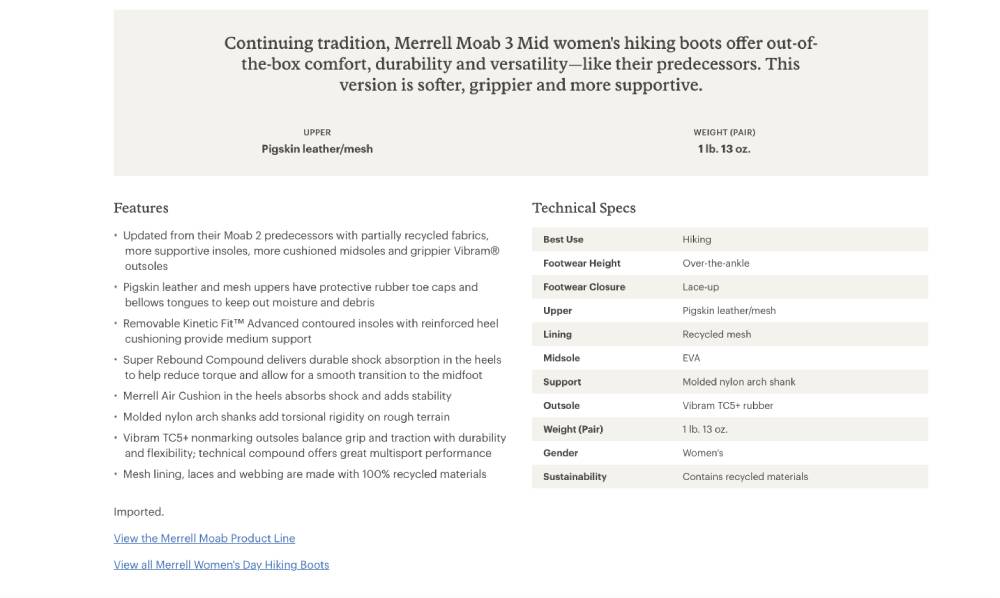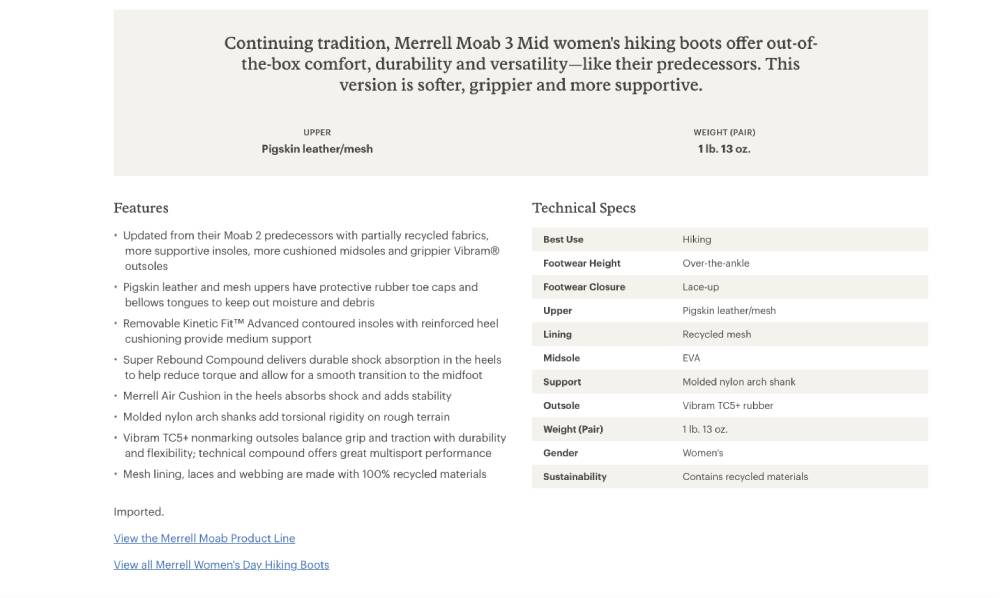 What they do well:


Shows the 4.6-star rating at the top with an easy link to click to read reviews.

Ties the features to the benefits. For example, "Rubber toe caps and bellows tongues to keep out moisture and debris" helps the reader know exactly why the toe caps are important.

Tells the customer exactly where and when this product would benefit them the most. "Best Use: Hiking"


Now that we've seen a couple useful examples, let's dive into how you can make an even bigger impact on your clients' businesses by incorporating SEO.
Incorporating SEO Research for SEO Product Descriptions
Want to know how to make your product descriptions even more valuable? Incorporate search engine optimization (SEO) in your writing.

SEO is the method of using the keywords and phrases that someone would use to find the product you're promoting on Google. This increases the likelihood of the product appearing on the results page when someone searches that phrase.

SEO product descriptions help potential customers find the product online – even if they've never heard of the brand before. The search result sends the customer back to the brand's website, where they can learn more about the product and make a purchase.
There's a simple process for researching SEO for your product descriptions. And including this strategy is a way to use the power of organic search to get bigger results for your clients.

For the purpose of this exercise, let's say you're promoting a pair of white cowboy booties for your client. Here's a three-step process for creating product descriptions with SEO:


Create a potential keyword list. Start the process by simply thinking about what your audience would type into Google if they were looking for the product. What types of adjectives would they use? What kind of event would they want to wear the shoes to?

Write down a list of all the potential search terms. This gives your search a starting point, but now we're going to bring in the technology tools.


Use the Google results page. Head over to Google and type in one of the phrases you wrote. Take a look at the suggested terms that start to come up beneath the search bar.

Google is showing you exactly what terms people use when they're searching for a product like the one you're promoting. Add these descriptive terms to your list.

As you keep researching, the terms get more and more specific. Use these specific terms and phrases when they're relevant. Here's what it looks like in Google: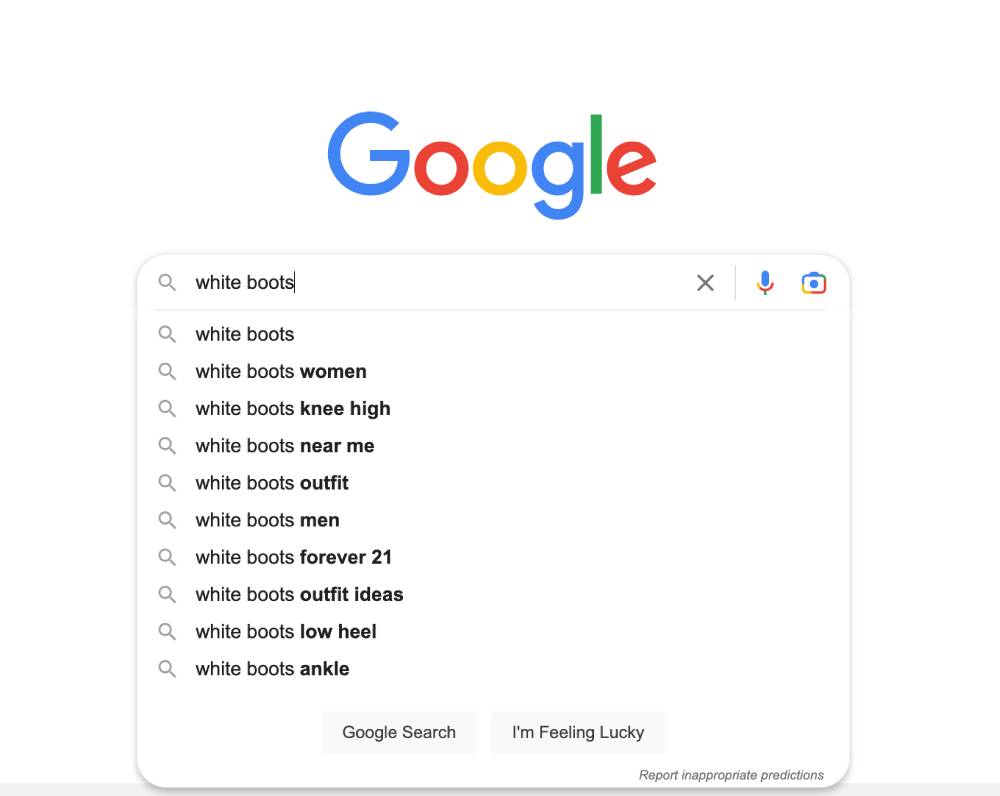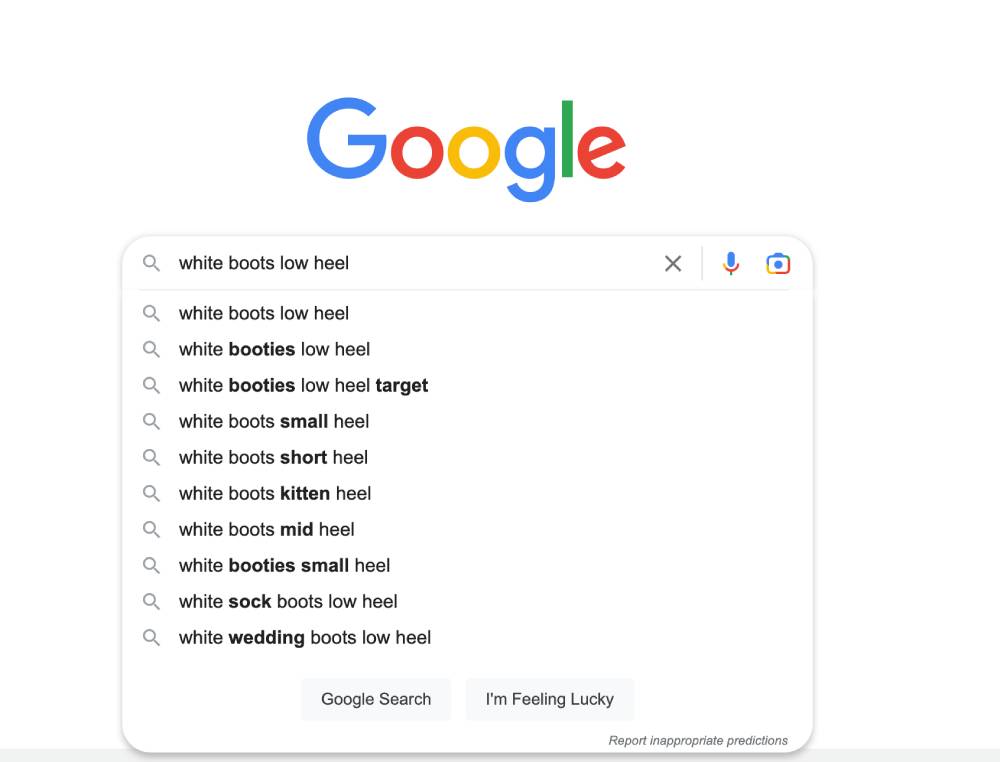 Another place you can find keyword ideas is at the bottom of the results page. If you scroll down to the end of the results, you'll find the "related" area. This is where Google lists the similar phrases people search for when they're looking for a similar product.



Use a Planning Tool. Using Google is a simple way to conduct SEO keyword research for product descriptions. But if you want to go a step deeper, you can dig into SEO research with an SEO tool like Ubersuggest.

An SEO tool gives you more data about the keywords, such as how often the terms are searched and how difficult it is to rank for them. Your goal is to target both the broad, competitive terms and the more niche, targeted keywords.

The more specific you get in your description, the more likely it will show up in search results for specific searches. For example, the term "white western booties low heel" is much more specific and targeted than "white boots."

Using detailed terms like these helps the product get in front of niche customers looking for very specific products. By targeting these terms, you increase the chances of the person finding the product and purchasing it.

Many clients don't know how to research for SEO, so it's a valuable skill to offer as a copywriter. Incorporating SEO makes your product descriptions even more impactful.
Want to Write Product Descriptions for High-Paying Clients?
The bottom line: product descriptions are crucial for driving a final sale. Mastering this skill helps you get bigger results and conversion rates. And the right copywriting clients are *excited* to invest in effective copywriting that delivers results like these.

Maybe you've discovered you LOVE writing product descriptions and want to offer this service to more high-paying clients. Or perhaps you're still eager to find your first paid project.

Either way, my comprehensive copywriting program helps you find and land the value-aligned clients you're looking for. Write Your Way to Freedom is your one-stop resource to increase your skills and client base.

First, you'll learn every step of the sales funnel. From high-level, big-picture strategy to the nitty-gritty details of how to write each line of your product descriptions. You even learn exactly how to approach SEO as a copywriter.

Next, you master how to run a copywriting project like a pro. From pitching and landing high-ticket clients to pricing product descriptions, getting returning clients, and more.

Ready to have a comprehensive copywriting toolbox at your fingertips? Apply for a strategy session to discover if Write Your Way to Freedom is for you. I can't wait to help you reach the next level in your copywriting career.


Resources: