Get the exact breakdown of a large copywriting retainer agreement.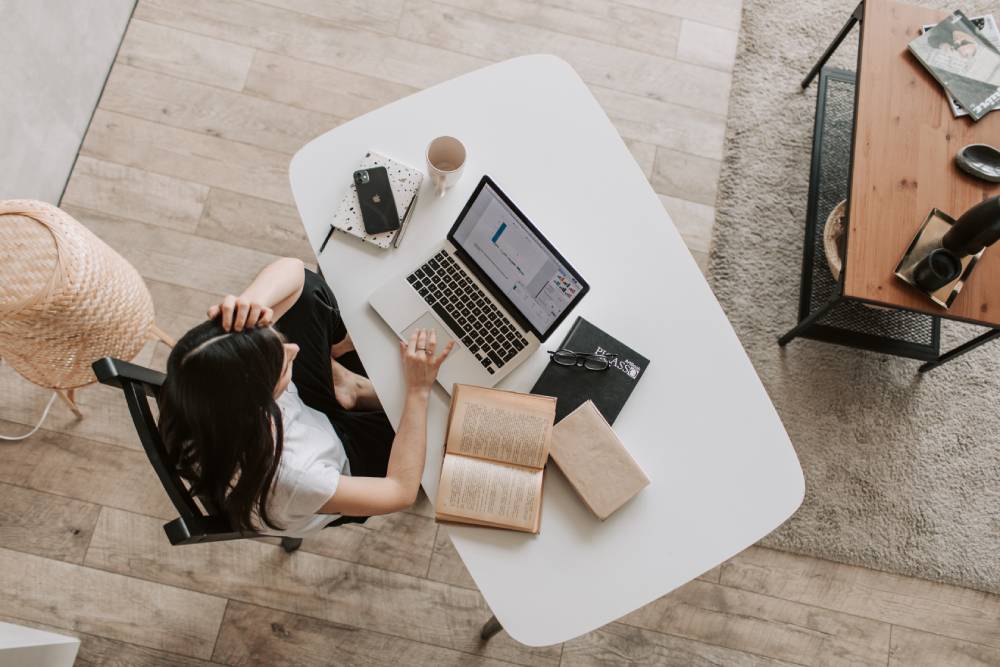 Have you ever wished you could peel back the curtain and look inside a successful copywriter's client roster?

You hear about freelance copywriters earning $10, $15 – even $20 thousand per month. But how does that actually break down within their retainer agreements?

Today, I'm going to demystify it all for you.

Keep reading to discover exactly what I included in a $21,000 per month copywriting client retainer that lasted over a year.
Benefits of a Large Retainer Agreement
Are you ready to increase your income as a freelance copywriter?

You may be taking on tons of small projects here and there. Or maybe it feels like you're working all the time but not meeting your income goals.

One of the most effective ways to bump your revenue is to increase the amount of work you're doing with existing clients.

You already have a positive relationship with your clients. You've built trust with them, and they enjoy your work. They'll likely want to increase the work you're doing if you communicate how the work brings additional value.

Plus, increasing your retainer agreement with your clients is usually much more time efficient than continually onboarding new clients for smaller projects.


Here are a few benefits of large retainer agreements:


Boost results.

Understanding how each of your deliverables fits inside a larger marketing funnel sets you apart as a copywriter. When you make each piece of the funnel more effective, it makes your copywriting results more effective as well.

Let's say that you write weekly emails for a client. Your emails are compelling, but they're only effective if they reach the right audience.

You could talk with your clients about developing their email opt-in strategy to make all your work more effective.


Increase income.

One of the fastest ways to increase your income is by pitching a larger retainer agreement to your existing clients. It's faster to upsell a client you have a relationship with instead of finding a new one (although that's effective, too!).

After you read this blog, make a spreadsheet of all of your existing clients and what you're currently working on for them. Take another look at their website and marketing funnel to see where there are any gaps.

Then, pitch your clients a new strategy with additional deliverables to make their marketing more effective. Your clients will be happy you've taken the proactive initiative – the worst that could happen is they say no!


Save time.

Increasing your work with an existing client is much more time efficient than onboarding new clients for smaller projects. You're already working with your client – now you're just adding a few more deliverables.

Reducing time spent on administrative tasks like onboarding, emailing, and invoicing is crucial. Especially as a freelance copywriter who handles most admin tasks yourself.

Your time is your most valuable asset!

Large retainer agreements are beneficial to both you and your client. The client will get more value and bigger results from the work you're creating.

Plus, it saves them time to outsource more work to one person instead of working with multiple freelancers on different projects.

This doesn't mean you need to offer every single type of copywriting. But handling a few aspects of the marketing funnel is mutually beneficial. So, what exactly does that look like – and how do you pitch a client on a large retainer?
My $21,000 per Month Copywriting Retainer Agreement
Yep, I worked with a client for an entire year on a $21,000-per-month retainer. This particular client was an e-commerce brand within the health and wellness industry that sold multiple products.

Wondering how a large retainer agreement like that breaks down? Let's get into it. Here's exactly what I created for the client each month:


Product Sales Funnel


Like I said, this client had multiple products to sell to their audience. So, we created different sales funnels to sell each of these products. Each funnel included:


Ad Copy. Facebook and Instagram ad copy consists of a few different elements. I would provide ten variations for the client to test for each product.1

Each ad copy variation included:



Copy. Compelling direct-response copy to get readers to purchase.
Audience. Recommendation on the target audience to send the ad to.
Visual. Recommendations for the visual to accompany the copy.


Opt-In. Email is one of the most effective marketing tools for any brand, especially e-commerce. We created content to attract new subscribers for each product.

The opt-in content included:



Lead Magnet. A compelling "freebie" that incentivized readers to subscribe in exchange for valuable content.
Opt-In Landing Page. Captivating website copy that compelled readers to download the freebie.

There's no rule that says you should only create one opt-in! It's actually more effective to create and test multiple opt-ins for specific products than to only create one for the whole brand.


Welcome Email Sequence. It's important to nurture new subscribers and get them excited about the brand right away. So, we created unique welcome sequences for each lead magnet topic and audience.


Product Sales Page. The sales page is where the reader actually purchases the product, so it's a critical piece of the funnel. It's the final opportunity to handle objections, answer questions, and compel readers to purchase.


Having an effective sales funnel is essential to getting those customers through every step of their customer journey. So they finally click that "purchase" button.


Additional Content


The product sales funnels made up a good portion of this client retainer agreement. But there were also other copywriting elements that I took care of each month, like:


Nurture Emails. Weekly email newsletters that delivered value straight to the audience's inbox. These emails continued to build a relationship with the readers, so they were excited to buy from the brand in the future.


List Segmenting and Automation Suggestions. I provided recommendations on what content to deliver to specific segments of their email audience. For example, if someone clicked the first email, I suggested they reward those readers with a discount code.


Product Descriptions for Product Bundles. This client often bundled different products that paired well together. So each month, I created new product descriptions for different deals to promote to their email list.


Sales Email Sequences. Finally, I created unique sales email sequences to send to different segments of their email audience. Whereas weekly newsletters nurtured the audience, sales emails compelled them to buy.


If you're looking to book a large retainer agreement, an e-commerce brand is a good client to pitch. They tend to need a lot of content to promote their different products.

Plus, e-commerce clients are high-paying clients because their products are generally more scalable than services.

The copy I wrote for this particular client generated millions of dollars in revenue. Our $21,000 per month retainer was a drop in the bucket for the amount of money and value they were getting from the copywriting.

This client and I ended up parting ways because I was restructuring my business and no longer felt like we were a good fit. But I was able to replace that income very quickly with other clients.

Many clients are willing to pay top- dollar freelance copywriters who write copy that gets results. So, this retainer agreement wasn't a one-time opportunity or good luck.
How to Book Large Copywriting Retainer Agreements
Do you want to learn how to create large freelance retainers – and find clients who would be excited to pay them?

Write Your Way to Freedom has everything you need to increase and communicate the value of your work. So you can up-level your client base and boost your income.

Get crystal-clear clarity on how to:

Suggest copywriting work to make a marketing funnel more effective.
Write direct-response copy that increases your client's results and revenue.
Find, pitch, and land high-paying clients who know the value of your work.


If you're ready to increase your retainer agreements and start earning 5-figure months with copywriting, Write Your Way to Freedom is for you.

Apply for a strategy session to learn more today!
Prefer to Watch?
View my Youtube video on what a $21,000-per-month copywriting retainer agreement looks like. Subscribe here for more tips on up-leveling your client base and reaching five-figure months with copywriting.
.
Resources: