Freelance copywriting could be the unexpected path to a more lucrative, fulfilling career.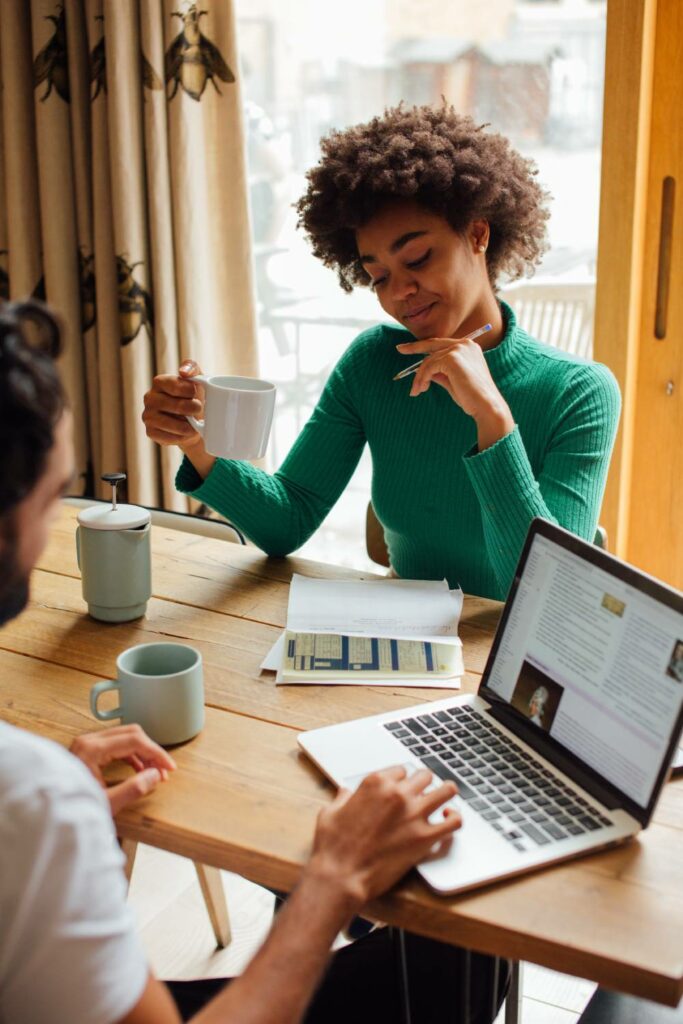 If you're looking for alternative careers for social workers – have you ever considered freelance copywriting?

Anything in the field of writing or marketing may feel too different from your expertise. But I'm here to show you why copywriting could actually be the perfect solution for you.

Copywriting gives you the opportunity to have a bigger salary, fewer working hours, and to continue making a positive impact in the world.

If you're a social worker interested in leaving your industry to pursue a more lucrative, flexible career – you're in the right place.
Why Freelance Copywriting?
Did you become a social worker because you wanted to help other people? 

Maybe you're a foster care social worker who helps kids find their long-term families. Or a clinical social worker who helps diagnose and prevent mental health issues.

No matter which specialty you're in, the work you do is incredibly important.

But maybe you feel like your job is no longer sustainable. You want to keep making an impact, but you're tired of earning a low income and working long hours.

You're not alone.

Burnout is increasingly common among social workers who are underpaid and overwhelmed. With not enough social workers in the field, social workers have to work harder than ever to meet demands.1

On top of it all, it's difficult to process the hard events that happen to clients you're working with. It's heartbreaking to see that you can't help everyone despite your best efforts.

If you're feeling the weight of this all, your feelings are completely valid.

There are other jobs social workers, like you, can do to contribute back to society without compromising your own health and happiness.

As a freelance copywriter, you use your skills to make a positive impact – while earning a high income and working fewer hours.

Freelance copywriters write content for brands to promote their products, services, and offers. For example, a copywriter likely wrote:


The website copy on different brands' websites
The thought leadership articles from other social workers in the field
The emails you get from the brands you shop at


Copywriting comes in many different forms, and it's one of the critical drivers of brand presence and growth today. Copywriting is highly in-demand, lucrative, and essential, which makes it a compelling alternative career for social workers.

So, how do you use copywriting to make a positive impact? Let's find out.
5 Benefits of Freelance Copywriting
Some copywriters work full-time at a brand or an agency. But freelance copywriting is the real ticket to freedom and control over your time, headspace, and income.

The view that freelancing is not as "stable" as working at a corporation is a misconception. As a freelancer, you set your own hours and rates. And working with multiple clients reduces the risk of losing all your income if you lose your job.


Here are five of the many major benefits of freelance copywriting as an alternative career for social workers:


Increase your income potential.

Let's talk about the elephant in the room. Even though social work is one of the most essential, selfless careers – it's a historically low-paying industry.

Social workers typically make from $35,000-$85,000 a year. This may have been enough when you first started out. But with inflation and the cost of living rising, you need more to fund the lifestyle you desire.2

Freelance copywriting is a high-earning field. You'd only need about 2-3 clients to replace your income. And within a couple of short years or less, you could earn up to $20-$25k per month from copywriting alone.


Work fewer, more efficient hours.

I always recommend my students charge for their copywriting work by the deliverable rather than by the hour. This actually incentivizes you to get your work done in fewer hours while earning the same amount.

Having the freedom to choose your working hours puts you in control. You get to schedule your life around your work instead of the other way around.

Plus, working fewer hours prevents the overwhelm and burnout many social workers experience today. If you're ready to feel fulfilled and inspired by your work without burning out, freelance copywriting could be for you.


Work remotely.

Are you tired of needing to go into the office or meet your clients in person every day? Maybe you wish you could work from a cozy home office at least a few days a week.

Freelance copywriters do all their work remotely. This means you can spend your workday at home, in a coffee shop, or even in another country when you want to work while traveling.

Getting to work from anywhere gives you freedom over your life. It's incredible to be able to spend more time with your family or see more of the world.


Contribute to social work causes. 

You make a massive difference in the lives of the individuals and families you help. You could amplify your impact even more by donating to social services causes if you wanted to.

Funding makes a huge difference in helping people in need get access to life-changing things, like housing and education.

Being able to earn a high income and donate money to the causes you care about has an even larger impact on the communities and individuals you work with. Having the means to give back to causes is one of the things I find gratifying about being a freelance copywriter.


Use your existing knowledge.

Becoming a freelance copywriter doesn't mean you need to leave the social work field entirely. Work with brands, funds, or social service agencies and help these clients grow their reach and impact.

Writing copy for social services is an effective way to apply your knowledge and interest while earning more money. But you don't have to choose social services as your copywriting niche if you don't want to.

The best part: you don't need to go back to school to become a freelance copywriter. Take a comprehensive online copywriting course instead.

If you deeply enjoy being a social worker, you also don't need to quit your job. You could work part-time as a social worker and do freelance copywriting on the side.

I usually recommend starting your freelance copywriting career as a side hustle. It's important to get a sense of whether you like copywriting before you go all-in. You only need about 30 minutes a day to create a successful copywriting career.

And it won't take long to build a freelance copywriting client base.

Many of my copywriting students start earning money in three months or less – and quit their jobs shortly after. (After you get a taste of the freedom and earning potential, it's hard to stay away from copywriting!).

The bottom line is that YOU are in control. If you love copywriting, make it your full-time career. Or simply use it as a side hustle to contribute to your income.
How to Become a Freelance Copywriter
If you're ready to become a freelance copywriter, you don't need to do it alone.

Write Your Way to Freedom has everything you need to grow your copywriting skills, find your clients, and continue to expand as you grow.

Inside this comprehensive copywriting course, you get:


In-depth modules on copywriting skills and business-building strategies
Weekly group coaching sessions on freelance copywriting topics
Access to a private community for real-time answers and support


And so much more.

Want to pursue freelance copywriting as an alternative career for social workers? Apply for a strategy session to see if Write Your Way to Freedom is right for you.


Resources: