Finding entrepreneur friends makes your freelancing journey more successful and enjoyable.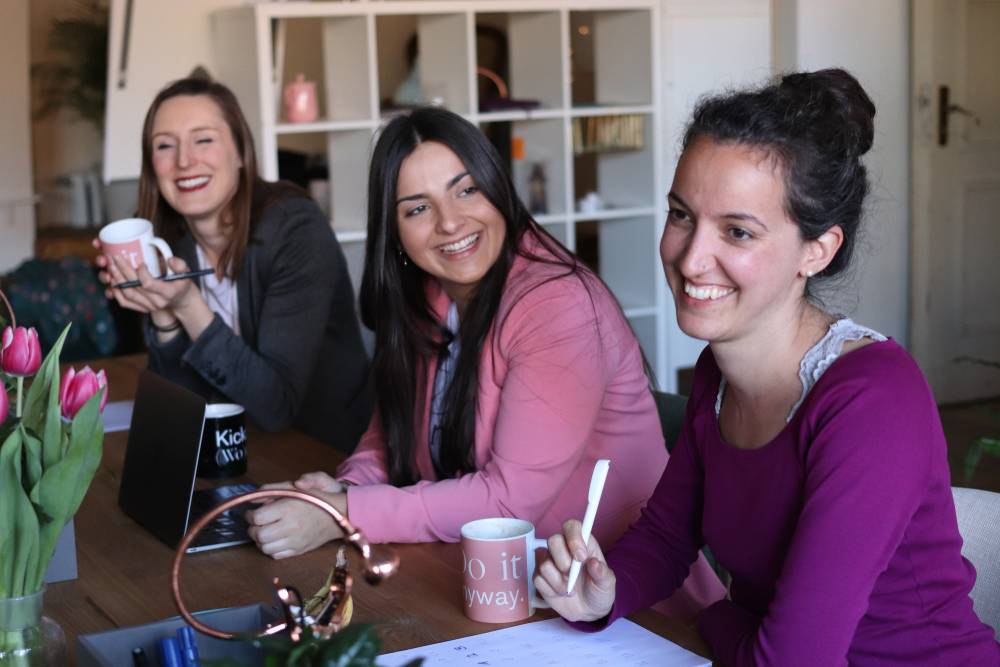 Let's be honest, freelancing can get a little lonely sometimes.
Working for yourself gives you a ton of freedom. But it's easy to accidentally spend too much time alone behind your computer screen. Know the feeling?

I know from experience that freelancing is so much more enjoyable and sustainable when you have other entrepreneur friends in your corner.

But meeting other freelancers is not as straightforward as making friends with coworkers in a physical office. So, here are my best tips on how to intentionally make entrepreneur friends.
Why It's Important to Make Entrepreneur Friends
Do you ever miss socializing with your coworkers?

If you recently left a traditional job to start freelancing, having work friends may be one of the few things you miss about your last gig.

You love working for yourself, setting your own hours, and even working from home. But it's tough not having someone to talk to or bounce ideas off of.

Going too long without meeting new entrepreneur friends actually starts to negatively affect your freelance career. Maybe you begin to doubt yourself more than usual. Or perhaps you get in a funk you can't pull yourself out of.

Socializing is an essential human need. Having friends by your side who see you for who you are boosts your well-being and your career success.1


Here are four reasons it's so helpful to make entrepreneur friends:


Get advice.

You probably ask friends and family for work advice. But does it ever feel like they don't *really* get it? Other entrepreneurs know what you're going through, and they offer you guidance in specific circumstances.

Entrepreneur friends bond over shared experiences and give you thoughts and support on what you're going through. They're more equipped to answer your questions because they've been in your shoes.


Talk out your insecurities.

Self-doubt and negative self-talk are common when you first start freelancing. If you don't speak your fears out loud, your brain becomes an echo chamber.

Voicing your fears to someone who knows what you're going through is so helpful. An entrepreneur friend creates a safe space to share your insecurities and get an objective perspective.


Keep you accountable.

As a freelancer, you don't have a boss or mentor to make sure you reach your goals. Setting and reaching milestones is up to you. Having an entrepreneur friend to share your goals with keeps you motivated and accountable.

I recommend finding an accountability buddy to share your goals, wins, and milestones. You check in with each other and even brainstorm ideas about your career together – getting you closer to checking off those goals.


Share your wins.

Do you ever find it hard to talk about your wins with friends and family? Maybe you feel like they won't get it, or you feel a little shy to share your big wins.

Entrepreneur friends cheer you along on your journey. And it feels so good to celebrate your wins with someone who knows how far you've come.


You may be thinking that you're okay with doing your entrepreneur journey alone. But I promise you, once you make entrepreneur friends, you'll feel the benefits right away. You'll probably wonder why you didn't find them sooner!

So, where exactly do you start?
How to Find Entrepreneur Friends
Finding entrepreneur friends is not as hard as it may seem right now. You're likely already in online communities, groups, and environments with other freelancers.


Here are a few ways to meet and socialize with other entrepreneurs:


Find local entrepreneur meetups.

Do a quick Google search of the phrase "entrepreneur meetups in [insert your city]. Most cities have networking events, online groups, and other ways to meet with local entrepreneurs.

Growing your network is always worthwhile as an entrepreneur. You could even meet qualified clients at events like these.


Meet in an online course.

A course or program is a good place to meet like-minded entrepreneurs with similar offers and interests. You'll likely meet other freelancers with similar goals in these courses.

Of course, you don't need to purchase a new course just to meet entrepreneur friends. Check out the programs you've already invested in for other members like you. And keep this in mind the next time you buy a program.


Join entrepreneur groups on Facebook.

Facebook is a fantastic place to meet other freelancers and even new clients. There are countless entrepreneur groups, like Women in Business, Small Business Connections, and The Startup Chat, to name a few.

After you join the group, pay attention to the posts in the discussion channel. Are there any opportunities to meet virtually? Does a post catch your attention as someone you might get along with? Reach out!


Join a coworking space.

Don't get me wrong, I used to love working from the couch in my PJs too. But after too many days alone in your home, you may start to feel unmotivated, lethargic, and just a little off.

I recommend working from a coworking space in your town a few times a week. It feels good to get dressed up and get out of the house. Spark up a conversation with like-minded people in those settings.


DM someone on social media.

If you follow another entrepreneur you resonate with, send them a message. Ask them to grab a coffee locally or virtually – depending on where they live.

It may feel uncomfortable at first. But there's a very high chance that person is open to making new friends too. They'll likely be thrilled that you reached out.


Meeting people online is sometimes a little less natural than starting a conversation with someone in person. But once you push through that uncomfortable feeling the first few times, you'll get used to connecting with people on the internet.

Remember, the majority of other entrepreneurs are likely looking for friends like you too. The worst that could happen is you don't hit it off, and that's okay.

It's the best feeling when you find an entrepreneur friend you mesh with. Pretty soon, you'll meet for virtual coffees every couple of weeks. You'll be sharing your wins, keeping each other accountable, and even catching up on your personal life.

I'm willing to bet that these new friends wind up becoming friends that you stay up to date with even outside of work. Everything I mentioned is a seamless way to meet adult friends, which isn't always easy!
Join a Community of Entrepreneur Friends
When you become a freelancer, your network is essential. You go so much further and faster when you have friends in your corner cheering for you.

That's why community has always been one of the most essential aspects of Write Your Way to Freedom.

You get weekly live coaching sessions where you interact with coaches and other students. Plus, a private platform with discussions, direct messaging, and more.

There's even an option to attend an in-person annual event for a small additional cost. I heard from soo many students that they met their new entrepreneur besties and lifelong friends at the last annual event.

These are just a few ways you connect with others inside the course. I'm proud to say that students have called Write Your Way to Freedom the most supportive community on the internet. 🥰

If you're ready to meet your new accountability partner or entrepreneur friend – apply for a strategy session to see if Write Your Way to Freedom is for you. We can't wait to welcome you!


Want to Watch Instead?
View my Youtube video on how to find your entrepreneur friends. Subscribe here for more videos on mindful entrepreneurship and freelance copywriting.
Resources: