Plus, tips for effectively working remotely while traveling the world.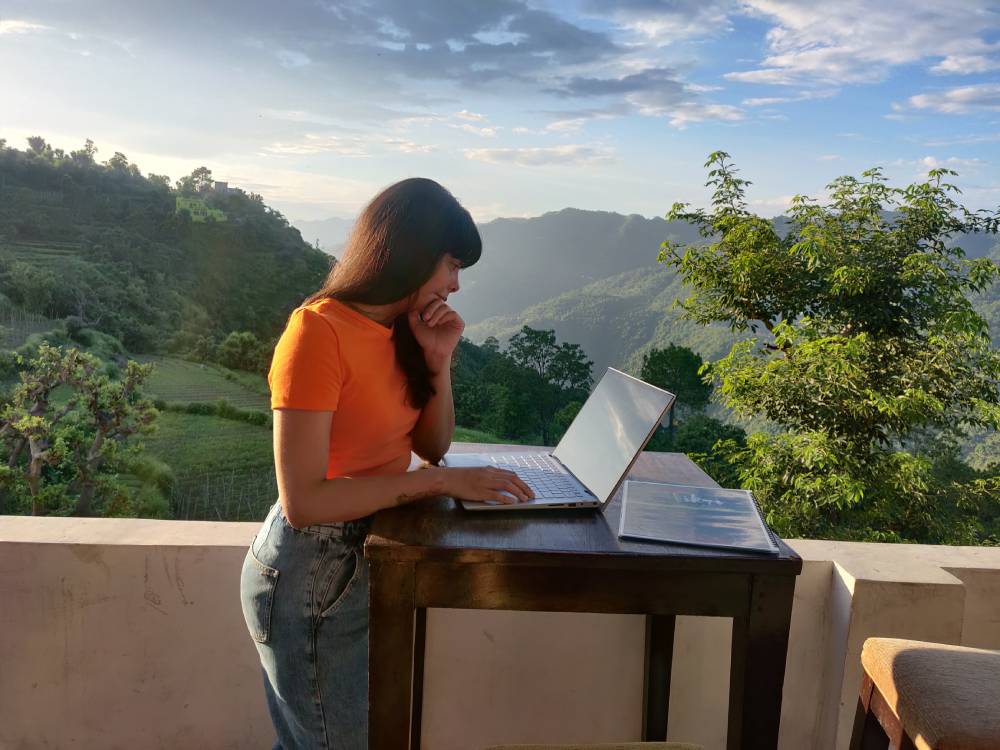 Does traveling the world while working a flexible job you love sound like a pipe dream?

I have great news: it's not. 🥳

Freelance copywriting is one of the best jobs you can do while traveling. Copywriting is lucrative, flexible, and location-independent – and it's also incredibly fulfilling.

Life is too short to put off traveling or being with family until you're retired. Learn how you can experience purposeful work and gain control over your schedule as a freelance copywriter.
Traveling While Working as a Copywriter
Imagine waking up in Paris to the smell of fresh croissants wafting up from the bakery below your window. The sounds of the city fill the room as you set out to explore.

You pick up breakfast at a local spot and eat beneath the Eiffel tower. Then, you stroll the streets, looking for the perfect little café to settle into for a few hours of copywriting.

The culture energizes you with motivation stronger than the Parisian coffee you're sipping. The city's inspiration makes the words flow out of you and onto the page effortlessly.

You close your laptop a few hours later, feeling proud of your work. You can't believe that you have a job you can do while traveling. You are truly experiencing your life to the fullest.


This future is possible for you when you become a freelance copywriter. Here are six reasons why copywriting is one of the best jobs you can do while traveling the world.


Location Independence. Your business is online, so you can work remotely while traveling – whether your goal is to see the world or spend more time with family.

The first business I started was in the event planning industry. After a few years, I realized I craved being able to work from anywhere, which led me to explore copywriting.


Schedule Control. As a freelance copywriter, you make your own decisions. You get to schedule and manage your projects on your own time.

As long as you set the right expectations, you don't have to stress about immediately answering emails. I tell my clients that I usually respond within 24 business hours, except on the weekends.


Income Control. You may have heard that a full-time job at a company is more stable than starting a freelance business, but I want to help you challenge that belief.

If you were to lose your full-time job, you'd lose your entire salary overnight. But as a freelance copywriter, you work with multiple clients at a time. If you lose one client or project, you don't lose your entire income.


Value-Aligned Work. You might be wondering: would it be easier to work for an agency instead of working for myself? When you work for an agency, their team assigns you projects and clients. So, you risk working on an account that doesn't match your values and isn't fulfilling for you.

As a freelancer, you get to choose who you work with. You get to work with brands and clients you believe in, that align with your values.


No Experience Needed. Most people assume they need a new degree to switch careers, but you can learn to be a copywriter even if you don't have relevant experience in the field.

Your clients care way more about the knowledge you demonstrate now than about the past jobs on your resume. And you can learn how to become a copywriter online for a fraction of the cost of a degree, and in a fraction of the time.


Freedom to Grow. In a corporate job, your company decides when you get a promotion or raise. As a business owner, you control your pricing. When you evolve as a writer, you can increase your rates to reflect your improved skills.

You also control your income through the number of projects you accept. If you're budgeting for a trip you've had your eye on, you can take on an extra project to save up.


If you work a traditional 9-5 job, it's hard to imagine traveling while working remotely. You'd probably wind up spending the day on Zoom calls in your hotel room. And you have limited vacation days to begin with, so you keep putting off the trips of your dreams.

As a freelance copywriter, you have total control over your workload and schedule. There's no set time you must be online, so you can plan your work around your life and travel – instead of the other way around.

And when you choose your clients intentionally, your copywriting positively impacts your clients' lives and their audiences. This career truly brings you both freedom and fulfillment.

Tips for Effectively Working Remotely While Traveling

If you decide to pursue a job you can do while traveling, it's essential to create a routine to balance work and travel. Working efficiently lets you enjoy the location you're in while still feeling proud of your work.

These are a few tips for effectively working while traveling:

Set focus time. Decide when you're going to give yourself a focused time block to complete your work. When are you most productive? Do you need to answer emails in a certain time zone?

Batch work beforehand. As a copywriter, you usually plan your projects in advance. You could work longer hours than usual leading up to the trip to get more done before departing – allowing you more time to enjoy your travel.

Keep a flexible mindset. As much as you prepare, traveling isn't always predictable. You may not always have a perfect workspace with silence and solitude. But when you're prepared to adapt and solve problems as you go, you become more open to solutions.

Eventually shift from freelancer to entrepreneur. Once you get in the swing of things, hire a virtual assistant to help you with administrative tasks. You can also work with another copywriter, editor, or researcher to offload some of your work. This kind of support allows you to focus on high level tasks, ultimately allowing you to earn more and it makes traveling much easier.

I always recommend you travel slowly if your schedule and budget allow it. Spending a few weeks or a month in one location allows you to immerse yourself in the culture and create a routine.

Traveling for long periods of time is easy when you can bring your purposeful work with you!
Want a Job You Can Do While Traveling? Become a Copywriter.
Before starting my freelance copywriting business, I was just like you: working in a 9-5 job with no control over my schedule and projects. I was tired of feeling like I had to wait until retirement to experience the world. I craved a life of both fulfillment and freedom.

So I forged my way into the world of freelance copywriting. But back then, there was no roadmap. My journey was confusing and filled with a lot of ups and downs.

That's why I decided to share my path so that others could have a clear plan of action.

To learn the exact path I took to create a lucrative and fulfilling copywriting career, take my free online copywriting masterclass: How to Build a Lucrative Freelance Copywriting Career. My students have quit their jobs and replaced their income in as little as three months!
Prefer to Watch?
Watch my YouTube video for the exact reasons copywriting is one of the best jobs you can do while traveling. I walk you through the routine I used when working remotely while traveling for seven weeks in Europe! Subscribe here for more tips on creating a life of freedom through copywriting.