Create a fulfilling and flexible career as a freelance copywriter – no experience required.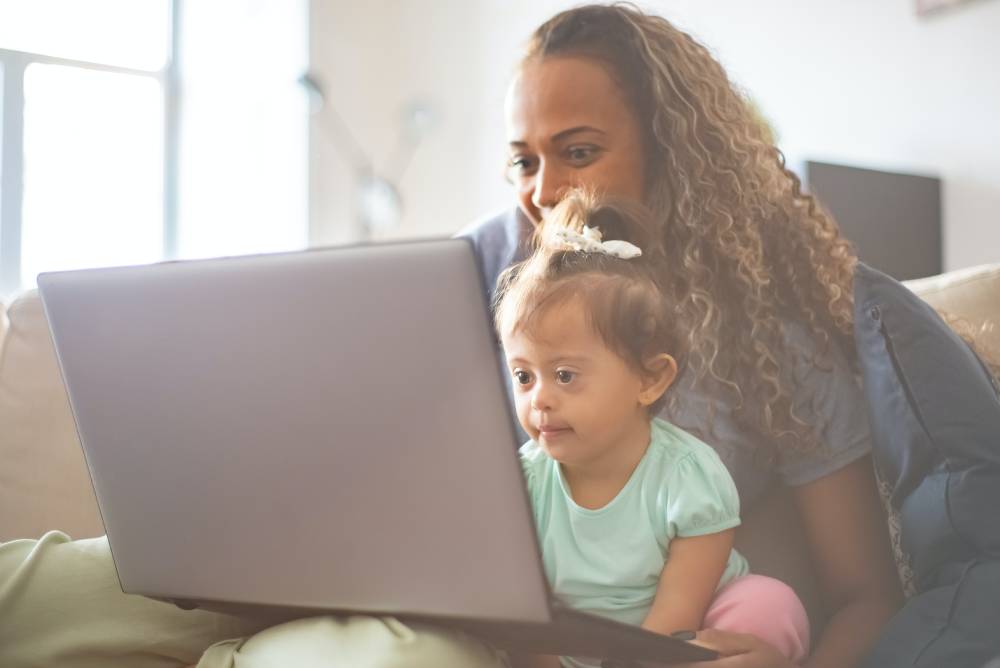 Finally, there's a way to have a meaningful, lucrative career and be a full-time mom.

As a freelance copywriter, you get to be in control of your schedule, income, and priorities.

Creating a successful business on your own terms means you can schedule your work around your family – instead of the other way around.

Keep reading to learn why copywriting is one of the best jobs for stay-at-home moms and how you can pursue it.
What Is a Freelance Copywriter?
A copywriter writes the marketing content that businesses use to promote their offerings. Essentially, most of what you read online is actually called "copy."

Copy helps businesses and entrepreneurs grow their audience and revenue. And when their business grows, they can make a positive impact on more people.

For example, a copywriter probably wrote:
The blogs you read at 3 am for advice on getting your little one to sleep
Marketing emails from the countless brands you buy products from
Social media captions for the child development account you follow


If you feel a pull towards being a writer, copywriting could be a great fit. But if you didn't love the essay writing you did in school, don't worry.

Copywriting is much more conversational and casual than academic writing. Copy is actually more effective when you infuse personality.

Some copywriters work for marketing agencies. But as a freelance copywriter, you acquire and sustain your own client base.

Being a freelancer means you have control over your time, schedule, and the brands you work with. This is the key to creating meaningful, lucrative work – while also having time and headspace for your family.

Copywriting is one of the best remote jobs for stay-at-home moms because you get to choose who you work with. So if this kind of freedom sounds appealing – I've got tips for you.
Why Copywriting Is One of the Best Jobs for Stay-At-Home Moms
Imagine this… you wake up early one morning just before sunrise. Your kids are finally sleeping through the entire night – and you feel rested. They're still asleep, warm and cozy in their beds. So, you grab your coffee and head to your home workspace.

You open up your laptop to your most recent copywriting piece – a blog article on a topic that fascinates you. The smell of your coffee, the peace and quiet, and the sun slowly peeking through your window get your creative juices flowing. You write for an hour and send it off to a client you love working with. ☕

When you go to wake up your kids and begin your family morning routine, a sense of pride washes over you. You've created a business you love that contributes to your household income or maybe even supports your family entirely. And you still have the ability to show up for your family, both physically and mentally.

You finish the rest of your work and emails in free moments throughout the day – like naptime or when the kiddos are at school.

You go to bed feeling like you were the best mom you could be and delighted that you were more than just a mom today. Today you were a super-mom and a copywriter, using your skills in a purposeful way. This scenario is why copywriting is one of the best jobs for stay-at-home moms.

I've heard from SO many of my students that as moms, they sometimes feel that once they become moms that's all they are.

They have less time for hobbies or to chase their dreams. It can feel like they've lost a part of themselves.

When they start working they feel a sense of purpose aside from mom-ing, and it feels AMAZING! It's like "YES! I've still got it! I'm useful to this world! I am more than just a mom! I'm a fantastic mom AND a copywriter!"

My heart explodes when I hear these students talk about a renewed sense of purpose. 🥰

These are a few benefits of becoming a freelance copywriter:

Flexibility. You set your own hours and project workload. Unlike a traditional 9-5, there are no firm hours that you need to be online or in the office. The number of hours you work, and the hours of the day you work, are entirely up to you.

Your schedule isn't always predictable as a stay-at-home mom. Sometimes your kids sleep well and take long naps. On other days they may need more attention or have appointments.

Having control of your schedule allows you to be flexible for their needs and still get your work done.


Purposeful. As a freelance copywriter, you get to choose the clients you work with. Choosing to work with clients whose mission you believe in feels meaningful.

When you work with clients who add value to their audience's lives, you can feel confident your copy is making a positive impact.


Lucrative. Effective copywriting is in-demand and provides massive value to your clients' businesses. You can earn a profitable salary even when you're first starting out. And, you can quickly grow your rates and revenue as you improve.

Remember to position yourself as a copywriting business owner, not an employee. Freelance job boards may underpay you for what your work is worth. Copywriting business owners set their own rates and acquire clients who are excited to invest in them.


Accessible. Looking for jobs for stay-at-home moms with no experience? You don't need experience or to go back to school to become a copywriter. You can learn copywriting skills through a comprehensive online course.

Copywriting clients care way more about the knowledge you show than the degree you have. Your copywriting portfolio that showcases your skills becomes your resume. And you can learn all these skills online.


Reliable. All businesses need marketing. So, all businesses need a copywriter. Opportunities are abundant for effective copywriters, and they're continuing to grow.

Freelance copywriting is also an entryway into the world of entrepreneurship. You can absolutely create a lucrative living on copywriting alone. But if you wanted to, you could expand your offerings in many other lucrative ways to earn money online.

As a copywriter, you get to do meaningful, high-paying work and be present for your family – physically and mentally.

It's not too good to be true, if other moms can do it, and trust me, they are, so can you!

You no longer need to choose between having a meaningful career and taking care of your kids. As a freelance copywriter, you can have it all.
How to Become a Freelance Copywriter
So, you're ready for a fulfilling and flexible remote job as a stay-at-home mom. How do you start your copywriting business?

My course, Write Your Way to Freedom, shows you the exact process. Learn everything from effective copywriting, building your portfolio, acquiring clients – and much more.

Beyond skills, you also get to join a growing community of other copywriters, many of who are also moms. Hundreds of members are creating lucrative businesses while being super moms – like you.

You could be like Write Your Way to Freedom student, Becky. A stay-at-home mom who's making $11k per month with copywriting. She has the flexibility to homeschool her kids, AND she finishes work by noon!

She got started with my free masterclass. To learn more, sign up for my free online copywriting masterclass: How to Build a Lucrative Freelance Copywriting Career.

One of the main reasons I became a copywriter was to have the flexibility to spend more time with family. It truly makes me proud to help you create a meaningful, lucrative career that allows you to spend more time with your loved ones. 🤗