Learn how to write headlines that wow your copywriting clients and their readers.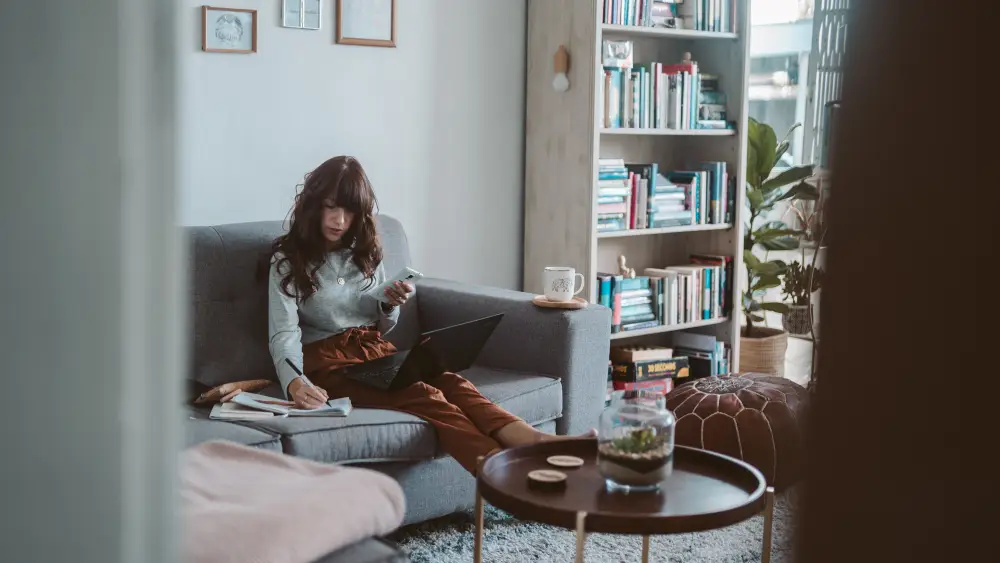 Why is it important to learn how to write a headline as a copywriter?

As Jay Abraham famously says, "If you can improve your headline, you can improve the response to your copy by 16 times." Headlines are the initial hook essential to get your readers to engage with the rest of your copywriting.

Effective headlines clearly communicate the value of your content. They offer a compelling element that drives the reader to click.

Sounds simple, right? Well, writing captivating yet concise headlines is easier said than done.

Most people can explain a topic in long paragraphs. But distilling all that information into a short, punchy headline is a challenge. That's exactly what this article is here to teach you.


I. What Is a Headline – And Why Are They Important?
II. How to Write a Headline: 10 Steps and Considerations
III. Headline Examples for Different Formats

Make sure you aren't treating headlines like an afterthought. Learning how to write effective headlines is essential as a copywriter. You could write the most amazing piece of copy – but it needs a captivating headline to get people to open and read it!

You're about to learn the headline formulas I teach my copywriting students for websites, blog articles, and even email subject lines. These are the same techniques I've used to help my clients develop multi-year waiting lists for their services and 10x their revenue. Mastering this skill ultimately helps you deliver better results so you can charge more and get more clients. 💪
Learn How to Build a Lucrative Freelance Copywriting Career
Get my free copywriting masterclass that walks you through exactly how I went from zero to consistent five-figure months with copywriting – with no experience and no portfolio.
Gain instant access – right to your inbox – when you sign up below. 👇
We will never spam you or share your email with anyone. In addition to the guide you'll also receive semi-regular email updates with tips, tools, offers and exclusive resources. All emails include an unsubscribe link, you may opt-out at any time. Read our Privacy Policy to see how your data is handled.
What Is a Headline – And Why Are They Important?
Imagine you're planning a trip to Italy.

You Google "best activities to do in Sicily" and scroll through the results. Many results look like similar listicles until one particular headline grabs your attention. You decide to click on the blog and discover activities that look like a perfect fit for you.

As the reader, you benefit because you have many exciting activities to add to your list.

And the brand benefits, too, because reading their blog increases their site traffic and potentially gets you aware of their resources and offers. All because you decided to click.

This is the power of a compelling headline. It's often the difference between someone reading your content or scrolling right past.

A headline is the title or heading at the top of a piece of copy – like a blog article, website page, product description, or even an email. The headline is the piece that draws the reader in and compels them to keep reading.

Here are a few reasons why learning how to write catchy headlines is important:


Only about 20% of people who see your headline actually click through to read your article. It's the first interaction readers have with your content, so their decision to read further hinges on that initial impression.1


Advertising expert David Ogilvy says that headlines are read by approximately five times more people than the body of your text. Your headline is sometimes the only piece of your content that people see, so it must be impactful and enticing.


Marketing pro David Garfinkel suggests that 75% of purchasing decisions are made just by reading the headline. The headline is an introduction, but it can also be a significant driver of sales.


A headline is one of the most critical elements of effective copywriting. Because you need to compel your audience to open and read your content – that's the headline's job.

We all see a ton of marketing messages these days. Headlines can cut through the clutter and compel a reader to read a specific content over other similar pieces.

Plus, well-crafted headlines have the power to improve search engine optimization (SEO). They tell Google and other search engines what the content is about, which increases your client's visibility and traffic on organic channels like Google.

While headlines may seem insignificant, focusing on this skill actually improves the copy's overall performance. Because you'll get more clicks, readers, and engagement.

And the best part? Writing headlines is fun! You get to showcase your creativity while still being clear and concise. But this skill is actually a tricky one to master because it's often harder to write short copy that communicates all your ideas succinctly.

The good news is you don't have to approach this skill blind – there's a proven formula for how to write catchy headlines.
How to Write a Headline: 7 Effective Techniques
An effective headline hooks the reader, communicates the value of the content, and gets them to click now – all in around 70 characters or less. How do you pack all these elements in?

The format of your headlines varies across different platforms. The way you approach them shifts slightly between website headlines, blog articles, emails, and more.

Before we dive into those specific formats – let's review what makes headlines effective overall.



General Headline Techniques
Here are seven techniques on how to write a headline that applies to all formats:


Understand Your Audience. Researching your reader is vital for copywriting in general, and it's especially critical in headlines. You'll want to explore questions like, what's the #1 problem they want to solve? And are they aware of the solution?

Communicating how the content solves a specific problem the reader is experiencing makes a headline compelling and relevant. But make sure the content actually delivers on the information and doesn't overpromise.



Use Clear and Concise Language. A headline is a place to infuse creativity. But remember that clear is always better than clever. The top priority in how to write a headline is to make sure you communicate exactly what the content offers.

Using industry jargon or complicated terms might confuse your audience, so try to avoid them! Instead, opt for simple words that resonate with them to ensure your headline is easily understood.



Incorporate Power Words. Power words evoke strong emotions and capture the interest of your audience. These words add depth and impact to your headlines – making them more compelling.

Use power words like "irresistible," "essential," or "unbelievable" in your headlines to pique curiosity and draw readers in.



Include Numbers or Statistics. Numbers have a unique way of grabbing attention and adding credibility to your headlines. Including stats can increase engagement and even result in a 73% increase in social shares.2

For example, instead of saying "Ways to Improve Your Writing Skills," try "10 Proven Techniques to Enhance Your Writing Skills." Including a number gives readers a clear expectation of what they gain from reading further.



Use Strong Verbs. Strong verbs and an active voice create a sense of urgency and encourage action from your audience. They infuse energy into your headlines, compelling readers to take immediate notice.

Examples of strong verbs include "discover," "transform," or "master" to convey the benefits readers can expect from engaging with your content.



Incorporate SEO (When Applicable). Headlines are the place to tell your readers and search engines like Google what your content is about. Incorporating SEO keywords helps search engines rank your content so readers find it.

A general rule is to include SEO when writing content for a website, like a web copy or a blog article. You wouldn't incorporate SEO in content not hosted on the web, such as email marketing.



Create Urgency. Effective headlines answer the question, "Why should the reader act now?" Creating authentic urgency leads to more clicks, but be very careful to avoid clickbait. Avoid overpromising or instilling negative emotions like fear or anxiety.



You've probably spotted clickbait like "Become an Overnight Millionaire With These 3 Simple Steps." Overpromising can destroy readers' trust, whereas authenticity and truthfulness create longer brand loyalty.

The next time you head to Google and search for a topic, study the results. What catches your attention – and why? The headlines that captivate you likely incorporate one or many elements above because they're all backed by human psychology.



General Headline Examples
Headlines are a great place to incorporate Dr. Robert Cialdini's 6 principles of persuasion.

The principles outline the primary reasons people make decisions. Touching on these principles is an effective way to prompt action and make your headlines even more engaging.

Here's how each principle can be applied to how to write a headline:


Reciprocity: People feel inclined to give back when they receive something. For headlines, you can promise useful information or insights. Example: "Free eBook: Master the Art of Public Speaking and Impress Your Audience"


Scarcity: People place higher value on limited opportunities. Creating a sense of urgency or exclusivity in the headline can drive action. Example: "Limited Time Offer: Get Exclusive Access to Our Premium Course Now!"


Authority: People tend to respect and follow credible and knowledgeable experts. You can leverage this principle by highlighting expertise or authority in the headline. Example: "Investment Guru Reveals Top 5 Stocks to Buy in 2023"


Consistency (or Commitment): People prefer to be consistent in their commitments. Craft a headline that prompts a small commitment or aligns with previous actions. Example: "You've Mastered Beginner Yoga: Now Try These Intermediate Poses"


Liking: This principle shows that people are more likely to say 'yes' to those they like. Crafting a friendly, relatable, or agreeable headline can increase its effectiveness. Example: "Like Baking? Here's a Delightful Cookie Recipe You'll Love"


Consensus (or Social Proof): People often look at the behavior of others to guide their own actions. Using testimonials and reviews in your headline makes it more persuasive. Example: "Join 10,000 Happy Users Who Improved Their Fitness With Our App"



Learning how to write a headline is a skill you can hone over time.

I encourage you to experiment with different types of headlines – and have some fun in the process. Try incorporating questions, stats, and statements. As you practice, you'll start to get the hang of writing headlines, and it starts to come naturally.

Pro Tip: Use the website Coschedule to analyze your headlines. This free site gives you a headline rating and feedback on how to improve it. A general rule of thumb is to aim for a score of 70 or higher – but it's oddly satisfying when you get a score of 80 or above. 😅
Headline Writing Examples for Websites, Blogs, and Emails
All the techniques above are impactful ways to approach headlines. But how you write a headline varies between the type of content you're writing it for. This is why it's important to study headline formulas – and what works the best on different channels.

Here are specific examples of headline formulas to use on different types of channels:



How to Write a Blog Headline
A blog article is a common place for copywriters to write headlines. These headlines are important because they compel readers to click on the blog and read further.

Structure: Blog headlines are usually 1-2 sentences long. Headlines with 12 words and 70 characters tend to earn the highest click-throughs.

Approach: As you write a blog headline, consider what your audience would type into a search bar to find your content. Are they already aware of the solution that you're offering? Often, readers research the problem they're experiencing before they're aware of a solution.
Here's an example from Women's Health:

This headline captures the problem the audience wants to solve (fatigue). Later in the article, they say eating too much sugar could cause your blood sugar to spike and then crash. The article suggests the solution of reading a book on this topic that they link to.

This headline is effective because it captures the problem the audience is searching for and then introduces the solution in the article. They also incorporate a few of the techniques we covered, including a question, number, and resonating with the audience's emotion.
How to Write a Website Headline
A website headline usually captures a brand's unique value proposition. This communicates exactly what the brand does, how they do it – and why it matters to their audience.

Structure: Website headlines tend to use a heading and a subheading. The heading is generally a short, compelling hook, and the subheading gives more context.

Approach: As you write a website headline, consider the audience's top priorities. You can communicate the top benefits in the headline and then describe how the benefits get delivered in the subheading.

Here's an example of how to write a website headline: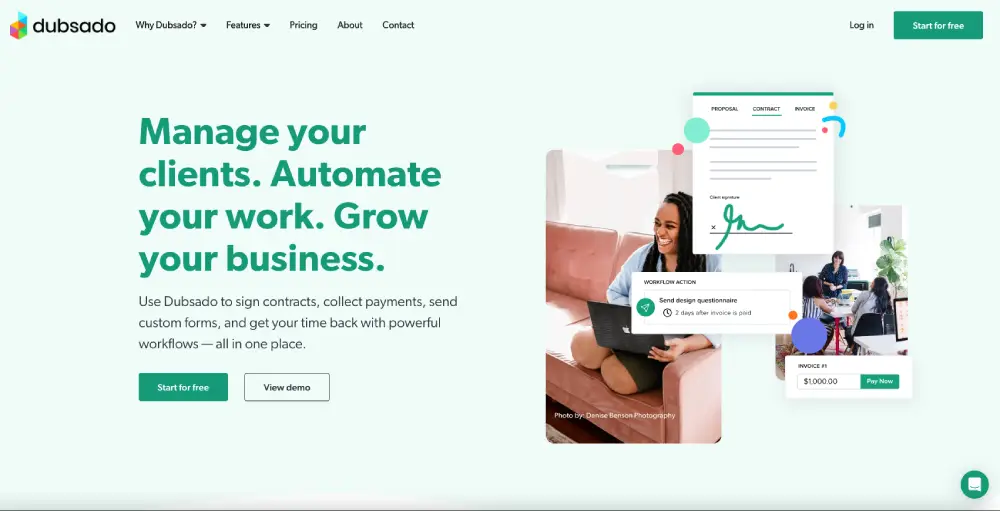 Dubsado masters the clear over clever tactic. While their headline is short and punchy, it's straightforward and communicates exactly what they offer. The subheading also tells the reader exactly how it works – "powerful workflows all in one place."


How to Write an Email Headline (Subject Line)
An email's subject line is similar to a headline. This is the piece of copy that compels the reader to open the note, which is particularly important for email marketing.

Structure: An email subject line is usually between 41 to 50 characters. It's concise enough to be fully displayed in most email inboxes without getting cut off.

Approach: Email subject lines are a great place to pique the reader's curiosity. You might ask them a question or hint at a solution without giving the full answer. The goal is to intrigue them enough to want to open the email and see the answer inside.

Here's an example:

This subject line speaks to a common priority for service providers and new entrepreneurs (getting more clients). It implies the email holds the solution and uses appealing words like "predictable." This speaks to the freelancer who wants to break out of the feast-to-famine cycle and get consistent clients.

A way to make this even more effective is to add personalization, like their first name, in the subject line. Subject lines with personalize are 22.2% more likely to be opened.3
Learn How to Write a Headline (And Other Essential Copywriting Skills)
Headlines are key to encouraging click-throughs and readership.

By learning how to write a headline effectively, you can significantly boost engagement and conversion rates in your copy. Delivering results like these helps you build a happy client base who refer you to more clients and return for more!

Do you find it challenging to build a consistent, high-paying copywriting client base like this? My copywriting education program, Write Your Way to Freedom, is here to show you how.

The program offers in-depth training on results-driving techniques – like how to write a headline and so much more. But we go a step beyond copywriting skills and teach you exactly how to land high-paying clients that align with your values and vision.

Are you ready to finally build a successful copywriting career that feels good and supports your goals? Apply for a strategy session to discover if Write Your Way to Freedom is for you.


Resources:
Copyblogger
Conductor
InvesP