Learn why you don't have to offer all types of copywriting to be a successful freelance copywriter.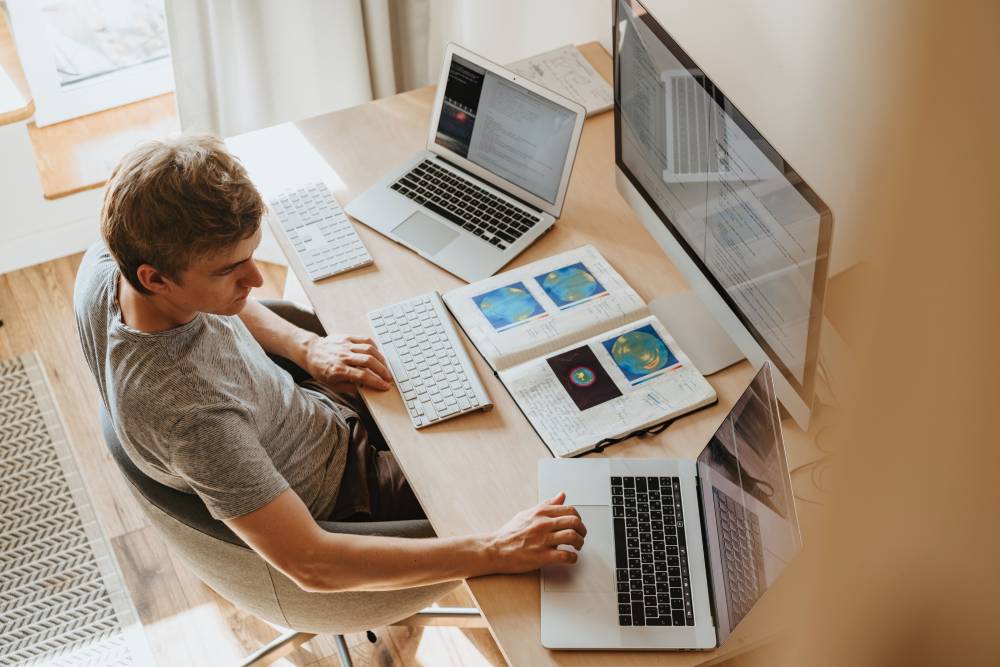 In today's world, copywriting is everywhere. There are many different types of copywriting to offer as a freelance copywriter.

Website copy, blog articles, white papers, ad copy, email marketing, landing pages – and so much more.

Maybe you're starting to feel overwhelmed by trying to master all these different skills. Or perhaps you've noticed you really enjoy some types of copy over others.

But do you have to offer every single type of copy to be successful?

No, you don't! As a freelancer, you get to choose what services you offer based on your strengths and preferences. Focusing on specific types of copy makes your work more effective and enjoyable. Keep reading to find out why.
Specializing in Types of Copywriting
Most freelance copywriters try all different types of copywriting when they're first starting. Getting experience in different areas is the best way to learn what types of content you enjoy working on.

But as you grow as a copywriter, you don't have to continue offering everything in the gamut. You focus on the projects that excite and energize you.

Specializing in specific types of copy enables you to become an expert in that area to attract more clients with specific copy needs.

Many people talk about the importance of choosing a copywriting niche to become known as an expert in one industry. But did you know that specializing in certain types of copywriting is also considered a niche?

Offering one specific type of copy is an effective way to work with different industries while still being seen as a specialist. Instead of talking about your expertise in the industry, you show your expertise in the type of copy.
You could be the go-to website copywriter who creates beautiful brand messaging.

Or the trusted sales page copywriter who helps people launch their programs.

Or the email specialist who's known for getting clients high conversion rates in email.

Becoming a specialist in one type of copy is a route that some copywriters love to choose. But even if you decide to stick with one industry as your copywriting niche, you still don't need to offer every type of copy.

If someone asks you for a different type of copy, this won't turn them away. And you can always refer them to another trusted freelancer for that part of the project.
How to Decide What Types of Copywriting to Offer
So, you've decided you want to narrow down the types of copywriting you offer. How do you choose which services to focus on?


Here are five areas to consider when you're deciding on your offers:


Explore Different Types.

Like I said, exploring different types of copywriting is beneficial – especially when you're first starting out. Experimentation is the best way to figure out what kind of copy you enjoy working on. Book unique projects with different types of clients to get a breadth of experience.

Keep challenging yourself to try new skills. You may start to get comfortable with one type of copy. But don't be afraid to try new areas, even if they're unknown at first.


Consider Your Income Goals.

You can charge more for some types of copy than others. Some of the highest-paying types of copy are direct-response copy that directly influences a sale. Because you track how much revenue the copy generates.

If you'd like to earn more money while offering fewer types of content, direct-response copy is a lucrative skill. You could focus on email marketing, sales page writing, or ad copy.


Choose What Energizes You.

Your energy is one of your most important assets as a copywriter. Pay attention to which types of copy you procrastinate or feel drained working on. The sooner you stop working on those projects, the more successful you'll be.

Are there any types of copy that you absolutely love? Think about the projects that flew by because you felt so inspired to work on them. Those are the types of projects to focus on.


Consider Your Ideal Client.

What types of content does your ideal client need? If you become an expert in that type of copy, you could work with your ideal client more often.

Let's say you love working with course creators. They usually need content to promote their online programs and courses – like sales pages and launch email sequences. Focus on those offers that meet their needs.


Consider Your Client Acquisition Strategy.

Would you like to always work with new clients on one-time projects? Or would you prefer to work with clients on an ongoing basis? The types of copy you offer determine the length of your relationship with your client.

If you offer one-time projects like website copy, you may need to spend a lot of time marketing your services and finding new clients. If you'd prefer to work with clients on an ongoing basis so you can spend less time on client outreach, you may want to add other types of copy to your offers.


You could also do a mix of one-time project packages and client retainers. This allows you to attract clients for specific copy needs and then upsell them into an ongoing monthly retainer.


Focusing on specific types of copy shows that you're rising to your next level.

You're no longer saying yes to every single project that comes your way. You're choosing to work on the types of copy and projects that fit your interests, income goals, and skills. That's a huge milestone! 🥳
How to Specialize in Types of Copywriting
Focusing on two specific areas allows you to narrow down the types of copywriting you offer by:


Doubling down on your skills and technique.
Attracting new clients for specific projects.


To become the go-to writer for a specific type of copy, you want to be sure that your copy is effective and gets your clients results. Plus, you need to pitch your skillset and attract ideal clients for your offer.

Are you ready to learn how?

With Write Your Way to Freedom, you learn both skill and client acquisition.

Take the guesswork out of specializing in types of copywriting. And learn how to grow a freelance copywriting career you love based on your priorities and interests.

Apply for a strategy session with one of our amazing team members to see if Write Your Way to Freedom is right for you.
Want to Watch Instead?
View my Youtube video on why you don't have to offer all types of copy as a copywriter. Subscribe here for more tips on building a freelance copywriting career on your own terms!