Learn how to plan and execute a content strategy that leads to real results for your clients.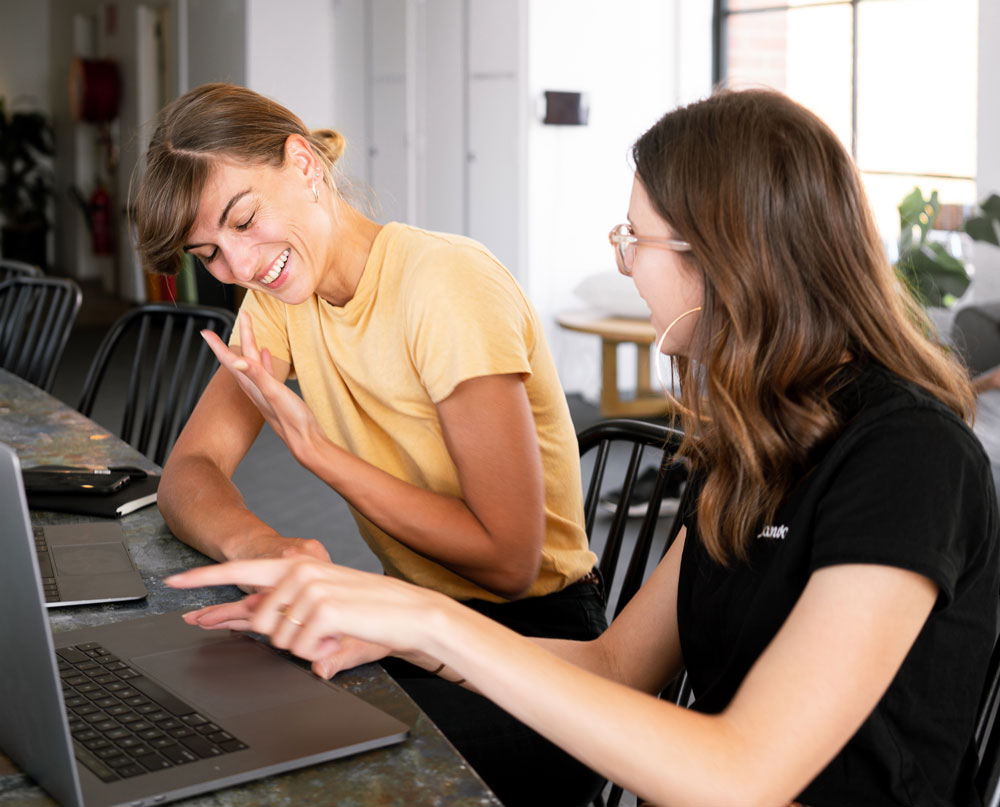 You're meeting with a potential copywriting client to talk about your services. When you get on the discovery call, it's clear the client has no clue what they're looking for.

Client indecision might fluster other copywriters – but not you. You confidently communicate a content strategy that accomplishes their business goals. This makes you stand out from other copywriters and earn the client's trust. 

Learn how to be a trusted content strategist and watch your and your clients' businesses grow.
What Is a Content Marketing Strategy?
When you first started out as a copywriter, your top priority was developing your writing skills. You viewed blog posts, emails, and websites as singular pieces of content. But now you're curious: how does all this content work together to help a business achieve its goals?

If this sounds like you, I'm proud of you! Starting to think about larger copy strategy is a sign you're growing to the next level – and I'm here to help.

Developing a content strategy begins with understanding the marketing funnel.

At the top of the funnel are people, called leads, who are completely unaware of your brand or services. As they learn about you and become more interested in your services, they move down the funnel, eventually deciding to purchase. This process is called the customer journey and usually includes three phases: awareness, interest, and conversion.1

Your content's job is to move the lead along their journeydown the marketing funnel. So, your content strategy outlines how your content works together to meet business goals at different points along the funnel.

Here's a content marketing strategy example for making each phase effective:

Awareness: SEO Website + Blogs.
Your site and blog posts should include the keywords your ideal audience uses when searching for services online. This is known as Search Engine Optimization (SEO), and enables new customers to find your site and become aware of your services.


Interest: Email Opt-In + Welcome Email.
After the user lands on your website, an opt-in incentivizes them to sign up for your email list. This is their peak point of interest in you, so you want to make a memorable first impression. Send a welcome email to turn them into warm leads. Continue nurturing your relationship with regular emails to keep your leads warm.


Conversion: Email Sequences & Sales Pages.
Warm leads will be interested in hearing about your products and services when they launch. To promote an offering, create a sales email sequence that communicates your service's benefits and incentivizes them to work with you. And bring it home with a sales page that converts interested readers into loyal customers.


A solid content strategy makes all your content build on each other in an effective way. For example, an opt-in is a valuable way to capture a new lead's email address, but to make the most impact, you need to send a welcome email right away.
Creating a Custom Content Strategy
Most small businesses need an effective way to generate new leads and nurture their audience. So, the content strategy above can apply to almost any business. But you should personalize your strategies to meet your client's specific goals and objectives within each phase.

You may have ideas about what could help your client, but you want to make sure your content strategy focuses on the areas most important to them.

Here are a few questions to ask your client that can inform your content strategy recommendation:
Goals. In your own words, what are your most pressing, important goals at the moment?
Obstacles. What are the biggest challenges in reaching those goals for you right now?
Current Tactics. What marketing tactics are you currently using? Or, in simpler terms: how are you currently attracting and booking new clients?

Map out a content strategy with three sections for each stage of the funnel: awareness, consideration, and conversion. Determine where any tactics they're currently using fit into the funnel, and identify the gaps that need content.

Now, fill in the gaps using your new knowledge of content strategy. You got this! 👏🏽
Helping a Client Who Doesn't Know What Content They Need
Some copywriting clients know the exact content they want. Others will look to you for guidance on which content can help them reach their goals. This is an opportunity to demonstrate your knowledge and build credibility.

In my experience, there are usually three reasons for a client not knowing what they want.

Maybe they…
Don't have marketing experience. Your client is an expert at the services they provide, but these services may not include marketing. For example, marketing may feel foreign to a functional medicine doctor.

Help this client by becoming the trusted partner that handles their marketing so they don't have to. Demonstrate your knowledge of content marketing without using fancy marketing jargon, which can make them more confused.


Are stretched for time. Your client is handling the many aspects of running a business. They may not have extra time to dedicate to marketing, even if they know how important it is.

Showing them that you can help their business grow while saving them time makes you invaluable. When I work with clients who are stretched for time, I make sure that my emails are succinct and that I make things as easy as possible for them.


Had a bad experience with a freelancer in the past. Just like you might have had a bad experience with a freelance client, your clients might have had a bad experience with another freelancer. 

If you uncover a bad experience, try to get a sense of what went wrong. Be empathetic to what happened and reassure them by explaining how you're different, and leaning on your success stories. Demonstrate that you value their time and business.

Keep the above in mind while guiding clients through your recommended content strategy. Showing a client that you understand their experiences and have their specific goals in mind earns their trust. Becoming a trusted partner leads to more work and fulfilling client relationships.
Learn Content Marketing Strategy
Knowing copy strategy makes your copywriting services all the more valuable. When you position yourself as a trusted content strategist, you stand out from the sea of copywriters who churn out one-off content. 

My course, Write Your Way to Freedom, teaches you how to write persuasive, converting, and compelling content. Plus, it walks you step-by-step through creating a content strategy that will make any marketing funnel more successful.

If you're looking to truly set yourself apart from other freelance copywriters, Write Your Way to Freedom is for you. Become more than a freelance writer: be a business owner and strategic partner who helps your clients grow!

To learn more about Write Your Way to Freedom, sign up for my free online copywriting masterclass: How to Build a Lucrative Freelance Copywriting Career.

I can't wait to watch you up-level from a copywriter to a masterful content strategist!
Want to Watch Instead?
Check out my Youtube video below to learn how to help clients create a content strategy – even when they don't know what they want. Then, subscribe to my channel for weekly videos with tips on copywriting and running your freelance business.



Resources: 
Sarah Turner: Write Your Way to Freedom