Finally, a lucrative and flexible alternative job for doctors.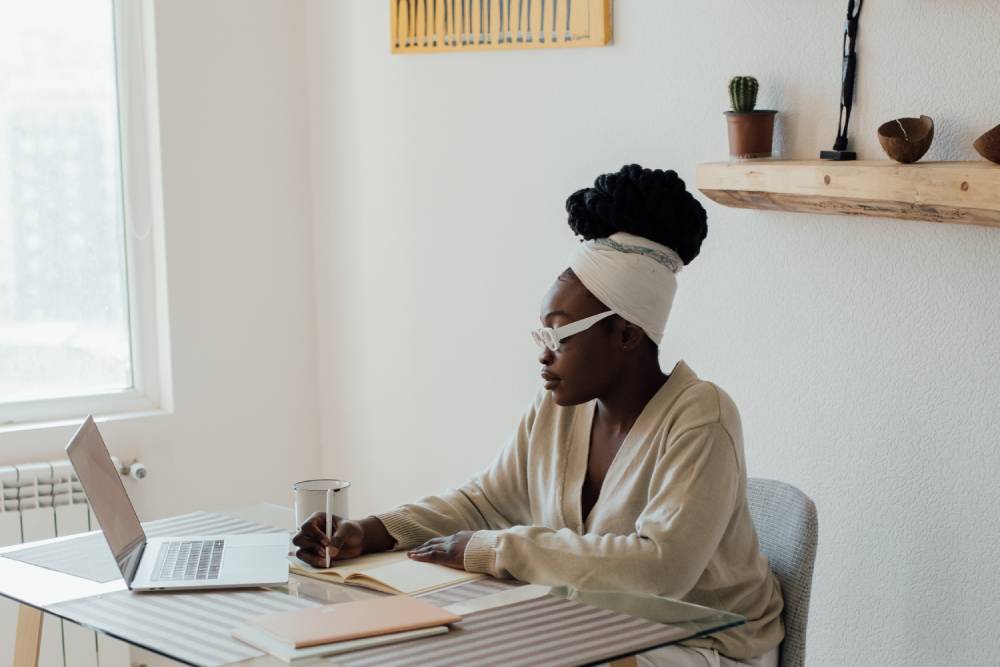 Are you looking for alternative jobs for physicians? If you're a doctor interested in leaving the medical field, this blog is here to help.

Maybe you're feeling burnt out and looking for more freedom. Or you want a lucrative job to pay off your loans. With freelance copywriting, you can have both.

Sounds too good to be true? Keep reading to learn how you can replace your income working half the time with freelance copywriting.
The Challenge of Finding Alternative Jobs for Physicians
It may be difficult to allow yourself to realize you want to leave the medical field. Becoming a doctor is no easy task. You've worked hard to get to where you are.

Maybe you're just coming out of your residency and have already put 7+ years into your higher education.

Maybe you're still in medical school, but you're wondering if this is really the right path for you.

Or perhaps you're years into your fellowship and feeling like you're in too deep to consider a switch. 

Whichever stage of your career you're in, there are a few things that may hold you back from pursuing an alternative job for physicians:


Time spent on education. You've spent, or will spend, at least 11 years in education – between undergrad, medical school, and residency. It's hard for you to justify not "using" your degree in a traditional way.



Income and student debt. You've taken on lots of loans with the assumption that you'll earn enough to pay them off years from now after your residency. But now your loans make you feel like you're stuck on this path.


Your impact on others. Even though it can be challenging sometimes, you love that you're making an impact on people's lives. You feel a sense of fulfillment that you're not sure you can get in any alternative job for doctors.


All these hesitations are completely valid. You've invested a ton of time, money, and headspace into getting where you are today.

But I have good news. Freelance copywriting can solve most of your concerns about leaving the medical field.

A freelance copywriter writes marketing materials for brands and entrepreneurs. Like website copy, ads, blog articles – and so much more.1

It may feel like marketing is such a different world than what you do. But you can actually work within the medical niche writing about topics you already know.

If you're ready to explore a career where you can use your skills – but earn more money in less time, stick around.
Alternative Jobs for Physicians: 5 Benefits of Copywriting
With everything you've poured into your career, a job would need to be really worth it for you to leave the medical field. Well, look no further.

Here are five benefits of freelance copywriting as an alternative career for physicians:


Control Your Headspace.

Being a doctor is one of the most stressful jobs, especially since the pandemic. If you're experiencing burnout and overwhelm, you're not alone.

My entire community and I are so grateful for the way you've cared for others in the past few years. But if you feel like it's time to pursue a role with less stress, you're completely within your right.

As a freelance copywriter, you get to choose how much work you take on, your working hours, and who you work with. I like to say that you even get to choose what stresses you out since your work is within your control.


Work Remotely.

So, you're watching as such a massive portion of our society is starting to work remotely. But as a doctor, remote work has never been an option for you. Your work requires you to be on-site, helping patients 1:1.

Imagine how it would feel to suddenly get to work from anywhere. You could take that trip to the national park you've been dreaming about. Or spend a few much-needed weeks with extended family.

One of the best perks of freelance copywriting as an alternative career for physicians? You get to take your work with you wherever you go. And you can batch work ahead of time so you can take a vacation whenever you want.


Replace Your Income.

Maybe you feel like you're not qualified for any alternative careers with a medical degree that compare to your earning potential. Freelance copywriting can solve that problem.

To give you an idea, the top-earning copywriters I know are earning around $25k per month. Once you start freelancing, you quickly get exposed to the many ways you can earn money online.

The opportunities to generate multiple income streams online are abundant. The time to dive in and benefit from these opportunities is now.


Choose Your Schedule.

What if you *never* had to miss a holiday or family event again? No more getting scheduled to work on Thanksgiving or Christmas – or both. 🤦

As a freelance copywriter, you get to choose your schedule, workload, and working hours. Batching work ahead of time will prepare you for the time you want to take off – whenever.

And it's not just the holidays you take off. You can work fewer hours regularly. No more 24-hour shifts or flipping your schedule for a night shift.


Make an Impact.

The impact you make as a freelance copywriter isn't the same as saving lives – and I won't pretend it is!

But as a copywriter, you feel fulfilled helping your clients. And getting products you believe in into the hands of people who need them. 

You'll finally have time to cultivate the hobbies, relationships, and experiences that fulfill you outside of work, too.


Is it overwhelming to explore alternative jobs for physicians? Maybe you grew up wanting to become a doctor, so it's confusing to come to terms with the feelings that want a change.

But – at the risk of sounding a little cliche – we only get one life. You deserve to spend it in a career that lights you up and supports the life you want outside of work.
How to Become a Freelance Copywriter
Maybe freelance copywriting is sounding pretty fantastic. But the last thing you want to do is go back to school and take out more loans. You're wondering, "am I even qualified for this sort of role?"

The answer is yes. A million times yes. Copywriting is a skill you can learn and cultivate – and you can use your skills as a doctor in this field.

All those hours you've spent researching, studying, and writing reports? Those are the fundamental skills you use in researching and writing for your clients.

All your knowledge about biology and medicine? You can use it by writing for other doctors or medical brands about topics you're already an expert in.

You don't need to go back to school or get another degree to pursue freelance copywriting as an alternative job for physicians.

With my copywriting course, Write Your Way to Freedom, you get all the steps you need to learn copywriting. And start earning money in three months or less.


Comprehensive modules to learn the techniques of copywriting
Step-by-step direction on how to find clients and build your client base
A supportive community of other like-minded copywriters


And truly so much more. 

A life of freedom is so close for you, friend. 🕊️

Apply for a strategy session to find out if Write Your Way to Freedom is right for you.


Resources: