Discover a career with more freedom, flexibility, and earning potential.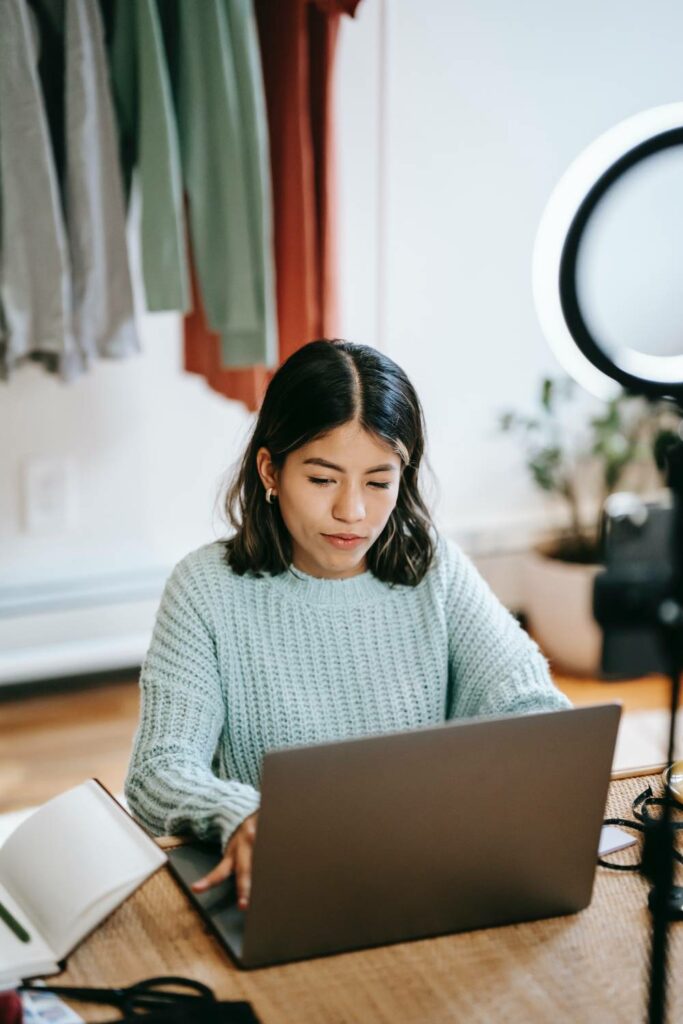 Are you looking for alternative jobs for occupational therapists? 

If you're ready to leave the medical field for a job with more flexibility and income, freelance copywriting could be the perfect fit.

Learn all the benefits of this versatile career – and how you can start copywriting today.
Copywriting as an Alternative Job for Occupational Therapists
Remote work opportunities have continued to rise in the years since the pandemic. More than ever, people are able to work from anywhere they choose.

But as an OT, your work is location-dependent and tied to your hourly wage. You have to show up in person to earn your income and support your lifestyle. Which was great for a while, but it no longer aligns with what you're looking for in life. 

Maybe you're craving the ability to work remotely and experience more freedom. Or perhaps you're feeling burnt out from the medical field and want a job with less stress.

If this sounds like you, freelance copywriting is one of the best alternative jobs for occupational therapists. But what exactly does that mean?

Copywriters write the words – aka copy – used in marketing materials. Brands use these marketing materials to sell their products and services. 

For example, a copywriter likely wrote:


The website copy on your OT practice's website
All those articles you read about how to apply to grad school
The ads you get about new scrubs 
The product description on that sensory book you've been eyeing


Marketing *with effective copywriting* is essential to every brand's success. Which means copywriting is a highly in-demand skill – and opportunities continue to grow.

As a freelance copywriter, you can choose who you work with, what you work on, and how long you work. Ultimately, you help brands you believe in grow.

If you're starting to think, "I'm not creative enough to be a writer," I'm going to stop you right there. You can absolutely learn and cultivate copywriting skills. So many of my copywriting students come from a scientific, medical background. If they can do it, you can too. 👏
9 Benefits of Freelance Copywriting
Making a career shift is a big deal, and you want to be sure you're making the right choice. I get that. To help with your decision, here are some of the major benefits of pursuing freelance copywriting as an alternative job for occupational therapists:


Control Your Schedule.

Tired of working 40+ hours a week and having your schedule set for you? As a freelance copywriter, you have control over when you work and how much you work each week. 

It's entirely possible to earn a full-time income while working only 15 hours per week as a copywriter – many of my students are doing this. And you can always increase your workload depending on your goals.


Stop Working Hourly.

I always recommend you charge by deliverable, not hourly, as a freelancer. This means you get paid the same amount for a project, no matter how long it takes.

Charging by deliverable motivates you to get your work done faster. You can work less and enjoy your life more while knowing exactly how much you'll earn.


Earn More Money.

Imagine how it would feel to never have to wait for a raise again. As a freelance copywriter, you set your own rates and raise them as you learn and grow.

Maybe you don't see a huge earning potential in your future as an OT. With freelance copywriting, you can increase your income and create multiple income streams.1


Have Location Independence.

As an OT, your job will always be location-dependent since your patients need you in the room. As a freelance copywriter, you can travel anywhere and take your work with you.

Imagine being able to spend weeks with your family in another state. Or to travel to Paris and finally see the Eiffel Tower. Being able to travel is a huge perk of pursuing this alternative job for occupational therapists.


Use Your Interpersonal Skills. 

You're likely incredible at communicating and empathizing with your patients as an OT. Your interpersonal skills are directly transferable to copywriting skills.

Effective copy empathizes and resonates with your reader. You can continue using your existing communication skills in a positive way.


Reduce Stress. 

Does working in healthcare ever feel emotionally demanding? You help people through hard physical situations, which you love doing and is the reason you became an OT. But the stress can take a toll on you.

As a freelancer, you control the amount of stress in your work and life. You can plan your workload around your energy and set boundaries to prevent stress – all while still positively impacting people.


Less Physical Strain. 

Do you get tired of standing and training with your patients for long periods of time? Being an OT is a physically demanding job, and maybe you're ready for a change.

If you'd rather be able to cozy up in your desk chair with a cup of coffee, copywriting is for you. Plus, you'll have more time for intentional exercise when you want it!


Start Part-time. 

Not sure if copywriting is for you? You don't have to go all-in right away. I recommend starting on the side and building up a client base before quitting your full-time job.

Learn copywriting and get your first few clients as a side hustle. Something tells me you'll be hooked once you discover the benefits of copywriting.


No More School Needed. 

You invested a lot of time in getting your Master's Degree. Maybe you dread the thought of having to go back to school to switch careers again. More school isn't your only option.

You can learn copywriting skills through an online course, like Write Your Way to Freedom. Discover how to launch a freelance copywriting career and earn money in three months or less.


Freelance copywriting is one of the most incredible alternative jobs for occupational therapists. Maybe you're interested in copywriting, but worried about not using your degree.

I understand why this can feel scary. You spent time and money getting your Master's degree, and it's hard to walk away from it. But here's the truth, friend…

Life is too grand to stick to a path you don't align with simply because you're on it. You deserve to pursue what makes you happy, so you can fully enjoy the rest of your life how you want it.

Many students in the Write Your Way to Freedom Community no longer use their Master's Degree in a traditional way. But this doesn't mean their degrees go to waste.

You don't need a degree to be a copywriter. But applying the communication, writing, and work ethic skills you learned absolutely benefits you.
Start the Best Alternative Job for Occupational Therapists
Picture this: you wake up on a workday and feel excited to start your day. You can't wait to start the projects you're working on.

YOU are in control of your workload and time – and the freedom feels so good.

This could be your reality every week when you become a freelance copywriter. And you don't have to figure out the process alone.

My course, Write Your Way to Freedom, teaches you exactly how to become a successful freelance copywriter. You'll get step-by-step instructions and support on how to:


Learn and develop expert copywriting skills
Pitch clients and build your client base
Expand your skill set and reach the next level


The list goes on. 

Aside from getting almost 60 comprehensive training lessons, you also become a part of a community of other freelance copywriters. Many of these copywriters left their jobs in the medical field to pursue copywriting full time and have never been happier.

If you're craving a life of more freedom and flexibility, don't wait. Copywriting could be the job that aligns with your goals out of all the alternative jobs for occupational therapists. Book a strategy session to see if Write Your Way to Freedom is right for you.


Resources: