Discover how to infuse AI business tools into your daily processes to grow your freelance copywriting career faster.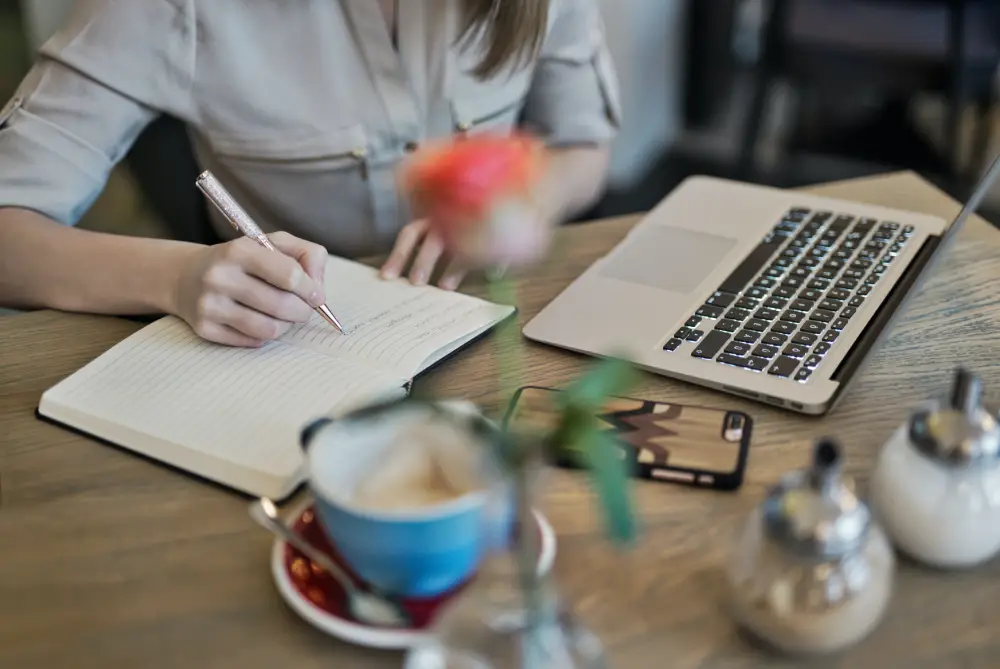 Do you ever wish you just had more *time* as a freelance copywriter?

There are so many creative projects you'd love to pursue. With a little more time in your day, you can finally write blog posts to attract clients. Or send out more pitches to land more projects. Or maybe you'd simply enjoy more of your life outside of work! 🙌

AI business tools can help you streamline your daily processes so you can work more efficiently and get precious time back in your day.

We've already talked about how to use AI in your writing process. But there are so many ways to leverage AI to work smarter, not harder, beyond writing alone. With so many tools available, you might wonder, "What do I actually use – and how?" That's what you'll learn today.


I. What Are AI Tools for Business and Productivity?
II. AI Business Tools for Client Prospecting and Pitching
III. AI Personal Assistant: Automating Tasks and Time Management


Helping my copywriting students work smarter, not harder, has always been a cornerstone of the Write Your Way to Freedom copywriting program. As a freelancer, you're in control of your time – the more efficiently you work, the more freedom you have.

You don't need to work 40+ hours weekly to earn a full-time income.

In fact, many of my copywriting students have replaced – and exceeded – their income while only working around 20 hours per week. And now, with the assistance of AI, it's even more possible to get high-quality, meaningful work done in less time.

So, let's dive into the ways you can use AI to streamline your workdays to grow faster
Learn How to Build a Lucrative Freelance Copywriting Career
Get my free copywriting masterclass that walks you through exactly how I went from zero to consistent five-figure months with copywriting – with no experience and no portfolio.
Gain instant access – right to your inbox – when you sign up below. 👇
We will never spam you or share your email with anyone. In addition to the guide you'll also receive semi-regular email updates with tips, tools, offers and exclusive resources. All emails include an unsubscribe link, you may opt-out at any time. Read our Privacy Policy to see how your data is handled.
What Are AI Tools for Business and Productivity?
As a copywriter, you might've already dabbled in using artificial intelligence (AI) to assist with your research, writing, and content creation. (If you haven't yet, check out this article to discover how to use AI in your writing process and set yourself apart).

But aside from writing, AI can help you enhance many different processes in your daily workflow. And when you embrace these tools, you can save time, get more done, and grow faster – which is a really exciting aspect of AI tools for business.

Freelancers wear *many* different hats on a daily basis. You're the…


Salesperson who attracts and lands new client relationships regularly.
Copywriter who develops all the high-quality copy for your projects.
Project manager who communicates effectively and handles admin tasks.
Marketer who creates all the content to grow your brand.

…And so much more. While there are many rewarding aspects of working for yourself and being your own boss, taking on all these different roles can sometimes be overwhelming.

AI is the handy assistant that can help you with these tasks.

Tons of different software tools now integrate AI into their technology. You can use AI tools for business to streamline your processes – from client prospecting to managing projects. But even with this benefit, I don't see many freelancers using them to their fullest extent.

That's why I want to inspire you to embrace these tools and feel excited about their potential. Because one of the biggest benefits of using AI business tools is that you save time you can then devote to the aspects of your work you're most passionate about.

Think about all the projects you've put on the back burner because you feel like you don't have enough time. Maybe you're craving to

Create your own content that attracts your ideal clients.

Start up an email list to nurture your audience.

Develop a digital product to sell.

Have a 4-day work week and take Fridays off all summer!

We're living in such a fantastic time where technology can help us get closer to goals like these.

I'm going to show you how to get the *most* out of AI business tools to spend less time on draining tasks and more time on the things that light you up. Whether that's growing your copywriting career faster, having more time outside of work – or both!
AI Business Tools for Client Prospecting and Pitching
Pitching and landing new clients can make or break your success as a freelancer. Your monthly earnings and career longevity rely on bringing in new projects. But it can be challenging to keep up with client prospecting and pitching when you get busy.

Has this ever happened to you? You double-down on client pitching one month and land a ton of copywriting work. But then you're so busy with the work that you feel like you don't have time to do client prospecting. So the following month, your lead pool dries up again.

This is called the feast-to-famine cycle, and it's verrry common when you're starting out.

You avoid this cycle by staying consistent with networking, prospecting, and pitching – even when you're busy with client work. And AI significantly helps with this entire process. Let's get into how.


AI Prompts for Client Prospecting
Cold emailing is a numbers game. The more people you reach out to with a high-quality, personalized pitch – the more responses you'll get. But finding potential clients to pitch to is a time-consuming part of client acquisition.

Here's how AI tools for business can help you put together client prospecting lists much faster:


Ideal Client List. Spend some time finding an example of your *ideal* client. Write down what excites you about them and their brand. Once you've identified your ideal client in detail, ask an AI tool like ChatGPT to create a list of similar people. Don't forget to ask it to refine this list as you go.

ChatGPT Prompt: I'm a freelance copywriter specializing in [niche]. I want to work with [ideal client] like [example client]. What I like about [example client] is that [what you like to work on]. Generate a list of ten other [ideal clients] that have a similar brand model and philosophy.

Example: I'm a freelance copywriter specializing in the health and wellness niche. I want to work with high-level functional medicine doctors like Dr. Smith. What I like about Dr. Smith is that she has different content channels I'd love to work on, like Youtube and blog articles. Generate a list of ten other functional medicine providers with similar business models and philosophies.


Ideal Client Research. You've got a whole list of potential clients! Now it's time to research their brands and learn how you can help them. You can ask AI to go a level deeper in helping you understand their brand model and strategy.

ChatGPT Prompt: Tell me more about [ideal client]. What are the main types of content they use to market their brand? How large is their audience? Have they been in the media for anything recently?

Example: Tell me more about Dr. Smith. What are the main types of content she uses to reach her audience? How large is her following? Has she been in the media for anything recently?


This prompt helps you identify which channels you might be able to help the client with. And mentioning a recent piece of content or media event is a great way to personalize a cold email that gets opened and read.


AI Prompts for Cold Email Ideation
Finding the *right* clients to pitch to is a key element of successful client acquisition. But the next step is even more critical – it's time to write a compelling pitch!

Cold emails are an opportunity to really showcase your copywriting techniques. As a copywriter, only you have the marketing knowledge and writing skills to make each cold email as unique and compelling as possible.

But you can leverage AI to get your creative juices flowing, create ideas, and help you with developing a cold email template for different types of clients. Here's how:


Define Your Purpose: What is the purpose of your email? Are you looking to introduce your service, pitch a product, request a meeting, or something else? Be clear about your objective before you start writing.


Identify Your Recipient: Understand who you're sending this email to. What are their interests, roles, responsibilities, and needs? Are they a business executive, an HR manager, a potential client, or maybe a journalist?


ChatGPT Prompt: Help me write a cold email to a potential client who [introduce client with details about their brand]. I want to introduce my [offer], which can greatly improve [this part of their brand]. The call to action is to [action].


Like I said, use an AI template as a starting point, not an end product. It's super important to go in and personalize your cold email as much as possible. This might mean mentioning a recent achievement or how your offer can solve a *specific* problem the brand has.
AI Personal Assistant: Automating Tasks and Time Management
Here's an exercise that will *radically* change your efficiency and enjoyment as a freelancer.

Every few months, write down all of the tasks you're performing daily and weekly. Then, divide these tasks into two categories: draining and energizing.


Energizing tasks are the ones that you love to do. They light you up, and you often don't even feel like you're working when you're doing them. It's easy to get into the flow state.


Draining tasks are the ones that don't excite you. You tend to procrastinate them, take a ton of time to complete them – or avoid them entirely.



Now, it's time to offload or outsource your draining tasks. Reducing the time you spend on these tasks frees up so much headspace for things you enjoy and help you grow.

In the past, the primary way to outsource was to hire a virtual assistant (VA). Now, you can also train an AI tool to be a very helpful assistant to support you with repetitive tasks and business processes.

Of course, using AI is not the same as hiring a VA. The biggest difference is that a VA would tackle all the tasks you give them (after proper training). Whereas with AI, you still need to spend time prompting and interacting with the tools.

But if you're not ready to hire yet, there are a few key ways that AI can save you time and reduce the mental load of your draining tasks.

Here are a few software tools with AI integration that can automate tasks and workflows:


Email Management. Email software like SaneBox leverages AI to help you manage your inbox effectively. The tool sorts through your emails and categorizes them. It even responds to simple ones if you give it permission. Email tools can save you a lot of time – especially if you have tons of daily emails.


Time Tracking. Tools like Toggl use AI to help you track how much time you spend on each task. This gives you insights into where your time is going and how to improve your productivity and manage your time even more efficiently. I've always recommended time tracking, and AI makes it easier to accomplish.


Meeting Notes. You can integrate tools like Supernormal with your calendar to help you take meeting notes and create next steps emails. Communicating the next steps with your clients is a key aspect of project management. Tools like these take this task off your headspace so you can focus on being fully present in meetings.



There's a *lot* to monitor in the AI space over the next few months. Microsoft and Google are both rolling out new software with full AI integration. Your office suite will have AI-powered productivity tools that take meeting notes, create email drafts, manage your calendar, and more.

Here are a few ways you can interact with ChatGPT as your VA:


Tech Questions. Managing all your own tech is definitely a challenge. Have you ever spent *hours* trying to fix the formatting on your website? Been there. ChatGPT can help you navigate tech questions and challenges.

ChatGPT Prompt: You're on the customer service team of the [software I'm facing a challenge with]. I'm trying to [outcome you're seeking], but [this challenge] is happening. How would you explain how to do this to a 5th grader?


Task Prioritization. As your own boss, no one tells you what to work on. Prioritizing the right tasks is key to your success as a freelancer. But it can be hard to decide what to work on when you have lots going on at once, and that's where AI can help.

ChatGPT Prompt: You're a virtual assistant helping me decide which tasks to prioritize [this week OR today]. I have a few client projects to work on, project management tasks, and tasks for my own business. What information do you need from me to help me prioritize my tasks and schedule?


AI tools for business prioritize your time based on your deadlines, task importance, and even the times of day you're most productive. I've always been a huge advocate of working with (not against) your energy to get the most out of your time and feel good in the process.

As a freelance copywriter, you manage your own schedule. Becoming *ruthless* with your time and calendar is how you get work done faster and free up time for more projects – or honestly, just more time to enjoy your life outside of work.

I can't wait to see how you use AI to save time on administrative tasks like these and have more freedom in your day. 🙌
Use AI to Enhance Your Copywriting Career
AI is quickly changing the way that we work in all industries.

The best way to stay relevant and ahead of the changing technology is to embrace AI and keep an open mind. There are so many ways to use this tool to your advantage to work more efficiently, create better work – and even set yourself apart from other copywriters.

That's why AI is a continuing topic of conversation in the Write Your Way to Freedom copywriting program. We help you navigate how to leverage the tech and remain irreplaceable as a copywriter, even amid new AI tools.

Write Your Way to Freedom teaches you the elements that give you an edge, such as:


Next-level copywriting skills. This includes the valuable copywriting techniques and strategy knowledge that outperforms AI-generated content.


AI Tools and Education. Training on exactly how to integrate AI tools for business into your writing process and daily systems to enhance your work and workflow.


Write Your Way to Freedom teaches you more than how to launch and enhance a lucrative copywriting career. You also learn how to create a career that aligns with your values and big-vision goals for your life.

If you're ready to leave your 9-5 or have more freedom in your day, Write Your Way to Freedom is for you. Apply for a strategy session to chat with our team today.