And Reinforce Your Business Savvy Mindset in the Process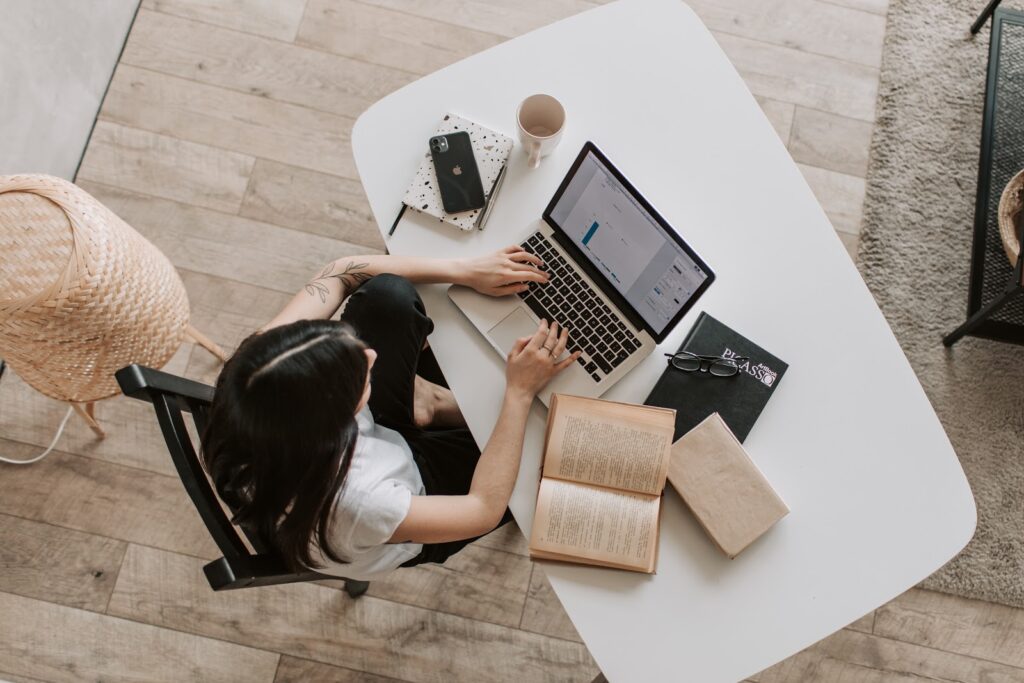 You've written blogs, product descriptions, website pages, and maybe even an occasional email sequence. You're feeling more and more confident, as a business owner, a freelancer, and as a copywriter.
Now you're looking to expand your skills and offerings to really serve your favorite clients, and take your writing to the next level.
Yes, you know a little bit about what landing pages are. You know they're a standalone web page, one with focus. And you certainly understand the power of conversion copy.
So you're considering adding landing pages as your newest service, as a way to round out your offerings and deliver real results for your clients.
Let's grow your understanding as you explore if landing pages makes sense for you and your copy business. 
Why Landing Pages?
First of all, landing pages are fun. Fun to read. And write. I mean, have you stumbled across one lately that really grabbed your attention?
Take a minute and reflect. How did it make you feel? Did you feel seen? Understood? Reassured? Or even valued? Like it was speaking directly to you?
Gosh, words have power. And a solid landing page connects to the reader in an authentic, value-driven way.
Second, landing pages provide you the opportunity to get in on the action. Most have multiple buttons or call-to-actions. And when writing a landing page, you use all your direct response copywriting skills.
And third, results. Results. Results. Results. Landing page projects give you actual conversion numbers. You can use these conversion stats as a way to boost your confidence, enhance your portfolio, and increase your client's appreciation for you.
Conversion rates give you feedback on your actual copy.
Soon you'll know what works, what doesn't, and you'll be a stronger freelancer for it.
The Two Categories of Landing Pages
Landing pages fall into two categories. The first captures leads for future marketing purposes.
This type of landing page is generally called an opt-in landing page. It's where you get an email address in exchange for a coupon, tool, or resource.
In its simplest form, it can be a pop-up offering 10% off your favorite pair of leggings.
Or they can be more complex, like a free video series, workbook, or quiz. This approach provides the reader a lot of value when they "opt-in" while establishing instant credibility.
The second category is a sales landing page, and it gets a potential customer to make an actual purchase. It takes the customer on a journey toward a specific action, usually, a sale or a purchase.
When you write a sales landing page that connects to the reader, it's pure gold for its owner. It drives results and revenue, changing the business landscape for your client.
How to Prepare to Write a Landing Page
Okay, so you're ready to give it a go. And you want to know what you should be doing to set yourself up for success.
The first and most important thing is to have a clear goal. You'll want to work with your client to understand and be crystal clear on the objective of the page.
So ask, what's the ONE thing your landing page is trying to accomplish?
Next, you'll want to have a deep understanding of the market you're talking to. Interview current customers, past customers, and future customers. Really get to know your audience's pain points.
These are essential for writing strong copy. You'll want to connect, really connect, with the reader about where they are, the pain they feel, and how your product or service could help fix that.
And that means explaining the benefits, not the features. Explain how you're going to help them.
Next, you'll need to know where people are coming from when they land on your landing page. The traffic source.
You're going to write different copy if they're coming from Facebook or a Google search. If Facebook is the source, an ad may have caught their eye. Maybe they've never even heard of your product, or you. However, with a Google search, chances are good that they're primed to learn more and are already looking for information, for the next step.
And finally, you'll want to know the value proposition. Said a bit differently, you'll want to know what your client's product or service is promising your target market.
Make sure you're clear on all of this. Do your research.
The Anatomy of a Landing Page
You've had conversations, maybe even strategy sessions with your client. You understand the type of landing page you're writing and the value proposition. You've talked to beta testers or past customers and listened.
You're dialed in on the pain points and benefits.
Now, you're ready to write your first draft. But what does it look like? What do you include?
Here are 6 things that are usually present on a sales landing page:
Headline.
You want to stand out and instantly connect with the reader. The headline does just that while reinforcing to the reader that she is in the right place.
Always, always make sure the headline is in alignment with what it is the reader is looking for. If she clicked on an ad to boost the curl in her hair, be sure your landing page copy and headline serve that need.
Pro Tip: The traffic source is an important factor here. If a Facebook ad led them to your landing page, make the headline reminiscent of the ad. It needs to be catchy and it's number one job is to make the reader want to continue reading.
Subline.
This is your chance to reinforce the product's value, yet again, and add more information to get the reader to continue reading. It's the jelly to the headline's peanut butter.
Action.
For an opt-in landing page, this is most often a lead form, where the reader will enter her email address in exchange for the desired information. For a sales landing page, it's a Call-to-Action button. Either way, you want the reader's eye to be drawn to the action box or button. Make sure it's vibrant and stands out. And you want to be specific, very specific.
Pro Tip: Which would you click on? "Download Your Free Guide Now," or "Click Here."
Description.
This is what you think of when you think of a landing page. You'll want to list the product's benefits, clearly, in an authentic way. It's an opportunity to address the biggest pain points and handle objections.
The best descriptions include storytelling, testimonials, and reviews. Social proof boosts credibility and trust in a reader.
Pro Tip: Be specific on who your product or service is for, and who it's not for. You want your reader to feel as though you're speaking directly to her. The bonus, you'll sort out bad fits and save your client – and yourself – a ton of wasted time and effort.
Click Trigger.
This one is optional. The point of a click trigger is to make your reader more comfortable. Things like a money-back guarantee, a privacy policy, or a line reassuring them that they can unsubscribe at any time are all examples of click triggers.
FAQ.
Ahhhh, frequently asked questions. This section is so, so helpful. It's where you'll combat the most common objections. It makes the reader feel as though you understand her because you do. So go on, call out those objections, and watch how she connects.
Pro Tip: FAQs are towards the end of the sales page, and it's an effective way to handle any loose ends.
You and I both know words are what sell, so go on, emphasize them. Include numbers and specifics to help your reader understand you or your client. You can also add design notes and visual elements to compliment the tone of the product. Something to keep in mind as you flex your skills in your new offer.
Kickstart Your Business Mindset
Okay, okay. So you know the types of landing pages, how to research your first project, and the anatomy of a landing page. And you're feeling drawn to write one because you're passionate, and you want to put your conversion copy skills to the test.
You've made the decision, you are going to add them to your service offerings.
Your next step? Find a landing page you love. Not a run-of-the-mill, cookie-cutter kind, but a thoughtful, customer-centered one that you really connect with.
And read through it three times.
The first time, read it as a curious student. With intention. Look at the headline, the subheadline, the descriptions, FAQs, call-to-action-buttons, and search for any click triggers.
Then, read it with the lens of a customer, one that's in the market for what the page is selling. A customer on the verge of buying because she has a genuine interest in it.
Gauge your interest. What makes you want to read more? Or when do you lose interest? What objections of yours did the writer not address?
And finally, go back through the landing page with your discerning copywriter's eye. Think about how the reader landed on the page, what stories are being told, what social proof exists. Take a look at the design and layout. And identify the copywriting techniques used.
What do you notice? What stands out? And what would you rewrite or rearrange? How do you feel reading it? What pain points resonate – or don't?
Identify what makes the page strong, what you like, and how you might go about making it even stronger. Put all of your hats on, from business owner, potential customer, learner, to copy expert, and really take a look at the page.
This is what will set you apart, taking you to that next level quicker. Because you… You're pushing yourself to be better. You're ready to put in the work to accelerate your growth and your mindset. And in the process, elevate your business and your life.

So go on, continue learning – and most importantly – start doing the work. Write a landing page. Seek feedback. Listen to your peers, your friends as they comment on your work. Refine it.
"Far and away the best prize that life offers is the chance to work hard at work worth doing."
– Theodore Roosevelt
Put your new offering out into the universe. It's work worth doing.

You've got this.
---
P.S. Want to continue your landing page journey? Check out this video, where I reinforce what you just learned about landing pages and walk you through a real-life example. I give ideas and suggestions as I review the sales page copy. I even point out what works well for the business coach and offer recommendations to strengthen the page.
You'll also get my advice on how much information to include on a landing page. It really is a must-watch!
---
Curated Copy Content, Just for You:
Creating Landing Pages That CONVERT👤🔀💰| Tutorial + Examples
ATTN: COPYWRITERS 🚨 | Knowing When & How To Raise Your Rates 📈
If You're Feeling Stuck, Check Your Narrative
---
About Sarah Turner
Hey you, I'm Sarah Turner. An entrepreneur, copywriter, and writing mentor. And I love helping people, people like you, gain financial freedom with writing. Sharing my knowledge and nurturing my community lights me up. Guiding your transformation, a real change in your professional life is my true calling.
If you're looking for a more aligned, heart-centered mentor, I'd love to connect.