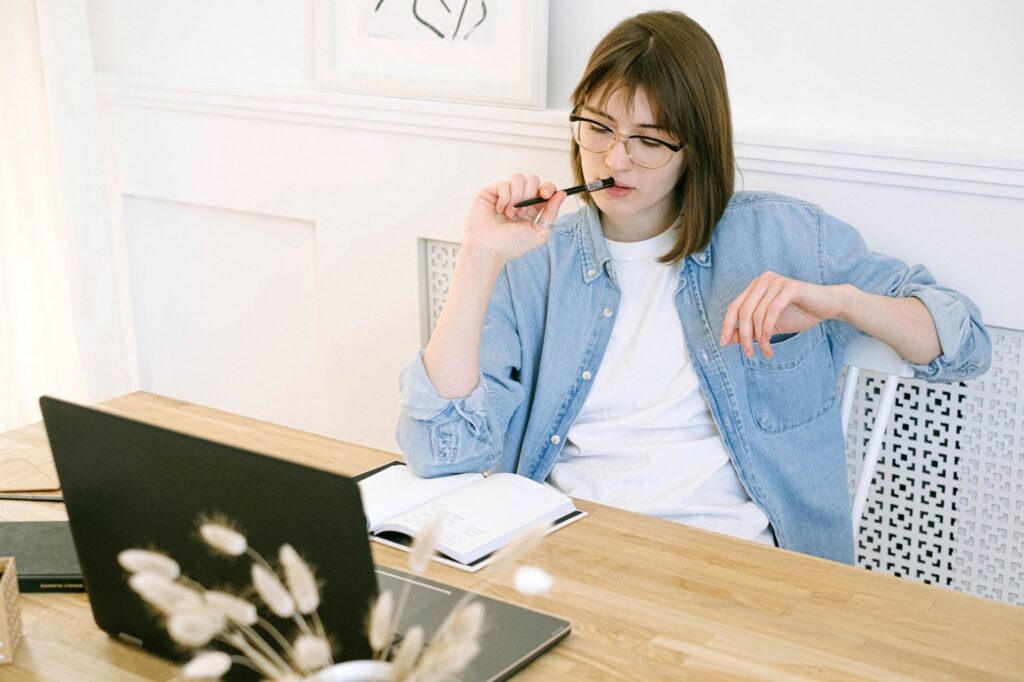 Learning how to get into your writing flow is crucial to a successful copywriting career.
It's bright and early. You're fully caffeinated and ready to work on your next copywriting project. But when you open your computer to get started, your mind goes completely blank. 
*crickets*
You don't know where to start, so you stress over the upcoming deadline – which only makes things worse. It's a classic case of every copywriter's fear…writer's block. Cue dramatic music.
Overcoming writer's block is crucial to becoming a successful freelance copywriter. 
To make money writing online, you need to consistently get into a writing flow state to meet your deadlines. This might sound like a foreign concept, but I promise you it's not as hard or scary as you think!
Despite popular belief, writer's block is only powerful if you give it power. And it doesn't come from out of nowhere.
Writer's block is usually caused by specific environmental and mindset factors like distractions and stress. So, creating a writing routine that addresses those factors can lift your creative block. 
When you regularly practice that routine each time you sit down to write, it'll start signaling your brain that it's time to get to work. So you can trigger your flow state anytime you want – instead of waiting around for it.
Don't just take my word for it – the best writers use this exact tactic. As William Faulkner once said, "I only write when I am inspired. Fortunately, I am inspired at 9 o'clock every morning."
Faulkner had the discipline to write every morning. Regardless of whether he felt particularly inspired. Once he got started, inspiration and flow would find him.
Let's dive into what the writing flow state actually looks like, and my seven tips that'll help you make writer's block a thing of the past.
What Is the Writing Flow State?
You know when you're writing and the words flow easily onto the page? 
You're completely immersed in writing and you shut off the outside world.
Basically, it's the exact opposite of writer's block.
This state of hyper-focused creativity is the writing flow state. And for a freelance copywriter, the flow state is where the magic happens.1
That zone is where your best writing takes place. You're inspired, concentrated, and productive. But if you're a writer that waits for the flow state to find you… you'll be waiting a long time. 
If that sounds like you, I get it. It took me a lot of mindset work to realize I could actually create my own flow state.
This skill is so important to making copywriting your career. So later on I'm going to share the mindset and pre-writing routines I use that can help you find your flow state too.
Okay, to be fair, you may still have days where your creativity doesn't want to show up to the party. That's just part of being a copywriter. But most of the time, a writing routine can get you into the right headspace to write a killer piece with ease.
Because ultimately, you can't get into a state of flow without starting!
How to Overcome Writer's Block
As a copywriter, you hear about writer's block all the time. It's when you can't think of new ideas or you can't seem to piece together a string of words to save your life.
But writer's block isn't an elusive concept that comes out of nowhere. It's usually prompted by underlying emotions or distractions in your environment.
Here are a few common causes of writer's block:
Perfectionism: You're afraid your work won't be "good enough" or perfect, so you're paralyzed before you even start.3


Anxiety: You're thinking about deadlines, client emails, and your seemingly never-ending to-do list. The anxiety of it all makes it hard to focus on writing.
Distraction: You're tempted by distractions like those pesky phone notifications or your dog clearly being up to no good. Your mind wanders and you break your writing flow.
When copywriting is your career path, deadlines and client interactions can add pressure. But as a freelance copywriter, you love creating impactful work for your clients.
It's time you put the stress and distractions in check – so you can keep writing effective and unique copy. And let's be honest, pay the bills.
The key is creating a writing routine that allows space for creative energy to flow. This means minimizing distractions, achieving the right mindset, and dedicating time to writing.
7 Tips to Get Into the Writing Flow State
You've probably heard of Pavlov's dogs. 
You know, the ones that would start drooling when he rang a bell, because they knew that ring meant food was coming. The bell would trigger a physical response before the dogs even saw the food.
This is also called "classical conditioning" – and you can use it to your advantage. 
If you practice a routine before every writing session, your brain will start to associate that routine with writing. The specific series of actions in your pre-writing routine communicates to your body and mind that it's time to start writing some killer copy. 
And that can trigger that magical flow state where your best work takes place. Similar to a consistent morning routine, it also improves your mindset, productivity, and stress response.2 
So, here are 7 actions to help you get into the flow state when copywriting:
1. Create a Power Playlist
Listening to the same music before you get down to business helps trigger your flow. Use the music that gets you motivated – whether that's a pump-up jam or calming nature sounds.
2. Use Noise-Cancelling Headphones
Distractions like outside noises and phone notifications snap you out of your flow. Minimize those distractions with noise-canceling headphones and by turning off your phone notifications.
3. Dictate. Dictate. Dictate.
Have you ever woken up and thought: "Wow, I have nothing to say today?" Of course not! Sometimes it's easier to speak the words instead of writing them. Use a dictation app to get your ideas on the page and edit them later.
4. Keep a Swipe File
Having a swipe file is key to becoming a successful freelance copywriter. It's a list of effective copy examples that you can emulate when you're struggling to get started.
5. Create an Outline
It's so important to create a solid outline before you start writing. Breaking down your main points and sections will create structure. Then, you can tackle one section at a time instead of the whole piece all at once.
6. Begin With a Ritual
Create a brief starting ritual that helps you get in touch with your creativity. This could be reading a poem, meditating, or even cleaning your desk. Doing this ritual every time you start writing tells your brain it's time to get in the zone.
7. Just Start Writing!
Start getting words down on the page, even if your ideas aren't fully formed or you think the writing is "bad." Challenge that inner perfectionist and write it anyways. You can edit it later, but it's always easier to start with something rather than staring at a blank screen.
8. Start Small
Don't pressure yourself to write your whole piece in one sitting. If there's one thing I've learned, it's that pressure and stress make your creativity run for the hills. Start small and commit to writing for thirty minutes – that's it. Flow finds you once you get started, so ten minutes is likely all you need to get into a flow state and continue writing.
Minimizing distractions and overwhelm is key to creating a successful writing routine. It's important to carve out time to focus solely on writing and not read client emails or take calls. 
An effective pre-writing routine can relieve stress and put you in the right mindset to get creative and tackle your project!
Learn the Copywriting Formula
Effective copywriting captures the readers' attention, uses storytelling, and drives action. Once you understand the structure behind killer copywriting, you can break down your copywriting projects into smaller pieces. 
Knowing that structure means you won't have to start from scratch. Which means less time staring at a blank screen and more time in that glorious state of creative flow.
Developing your own pre-writing routine is key to beating writer's block and becoming a successful freelance copywriter.
A lot goes into exceptional copywriting. Plus, to make copywriting your full-time job you need to know how to build a reliable business. There's a ton to keep track of. That's why Write Your Way to Freedom is such a game-changer. Write Your Way to Freedom is the most comprehensive online copywriting course for becoming a successful freelance copywriter.
Write Your Way to Freedom offers step-by-step instruction on writing effective copy, working with your dream clients, and continuously leveling-up your skills. All while being plugged-in to a support community of copywriters who've gone before you.
Yep, it offers all of that. 
To see if copywriting is right for you, sign up for my free Masterclass: How to Build a Lucrative Writing Career – with No Experience. 
Prefer to Watch?
Here's the step-by-step video on how to get into a flow state when you're copywriting! Subscribe here for more tips on copywriting, mindset, and entrepreneurship.