Learn to make your copywriting website effective, without overcomplicating it.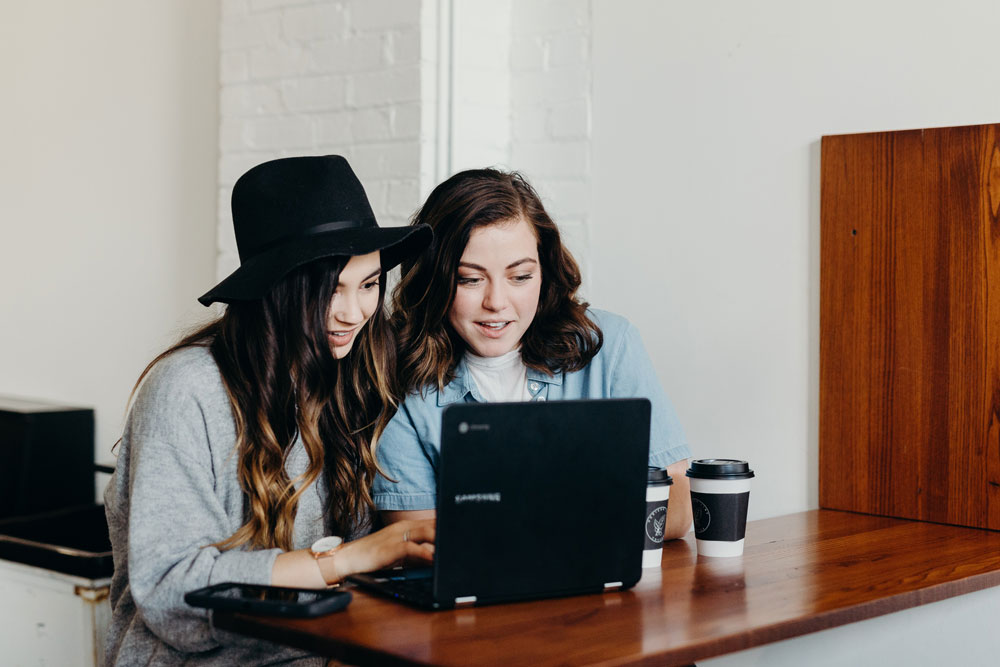 Are you consistently getting new client leads through your freelance copywriting website?

If not, it may be time to optimize your site.

An effective copywriting website helps your ideal clients find you and compels them to reach out. But to do so, it needs expert SEO to get in front of them – and conversion copy that gets them to click "contact." 🎉
The Most Important Page of Your Copywriting Website
Imagine your ideal client is looking for a copywriter like you. They carve a few minutes out of their busy day to scour the web for a qualified freelancer. They open up at least ten websites to skim and decide who to reach out to.


Will your website hook their attention in 20 seconds or less?


Yep, the average reader only takes 10-20 seconds to decide whether to stay on your website.1 So, your homepage is the most important page on your copywriting website. It needs to hook your client's attention quickly and give them a reason to stick around.

I actually recommend that you only create a homepage for your copywriting website. If you put everything on separate pages, you need to ask your audience to click to view your offerings. And every time you ask your audience to click away, you lose their attention.

Remember this: every click loses a percentage of readers.

Instead, create one homepage that includes all the information they need. Then, your user can simply scroll down your site – and you can still link to each section in your menu bar for easy navigation.

When it comes to designing your copywriting website, simplicity and conciseness are key. You don't need to overcomplicate it with a fancy website design. Look for a clean and professional template on Squarespace.

Prioritize these elements when developing your site:
Design. Use fonts and colors that complement each other and are easy to read. For example, don't place white font over a light background.

Mobile Optimization. More than half of your website visitors will view your website on their phones. So, be sure that your site is readable on mobile.2

Loading Time. Again, you have under 20 seconds to hook a potential client. Make sure your site loads quickly so you don't let any second go to waste.

My golden rule is, always focus on clarity and simplicity over complex design – especially for a copywriting website. Your potential clients want to see your writing skills above everything else. Even the most beautiful websites aren't effective without SEO and expert writing.
Why SEO Is Crucial for Your Copywriting Website

Search engine optimization, or SEO, increases your site's relevance in search engines. You want to target the SEO keywords that your clients are searching for. This increases the likelihood that they'll find your site on Google when searching the keywords.


So, before you get started writing, determine the keywords you plan to target. Then, layer them into your website copy where they naturally make sense.


If hearing the words "SEO" is already stressing you out, I'm here to help. My course: Make Google My BFF, takes the confusion out of SEO. In three days or less, you'll learn exactly how to strategize and plan keywords that help clients find you. Plus, once you master SEO for yourself, you can use these skills to add more value to your copywriting work, too!


Using SEO strategy in your copywriting website can bring in new leads consistently. But once they're on your site, you still need to compel them to work with you.


This brings us to the most important part of a copywriting website: the copy itself.

7 Sections of an Effective Copywriting Website
Many freelancers make the mistake of making their websites focused on them. And it makes sense – since your website serves as your portfolio, it's natural to think it should be about you. But your audience actually wants to know more about how you help them.


Like any piece of copy, the best copywriting websites communicate how you support your audience's needs.


These are 7 sections to include on your copywriting website:


Page Title. Your unique page title should communicate exactly what you do and who you help. Write 1-2 brief sentences for the top of your site. The goal here is clarity – you can add more detail later on.

Don't over complicate your page title. You may want to create something unique or witty, but clarity is most important. You don't want your audience to be confused about what you do!


Summary. Below your headline, include a section that communicates how you help your audience. Get specific on the pain points your services solve.

Write this section, and your whole site, like you're speaking to one individual person. Make them feel seen and heard by your copy.


Services. Get specific about the tactical services you provide and exactly what's included in each. To make the most impact, refer to the larger benefit that each service leads to.

For example, SEO blogs generate inbound traffic to your clients' websites. The larger benefit is that their website converts into paying leads.


Copywriting Portfolio and Results. Include samples of your copywriting pieces for your audience to read. If you can, tie these pieces back to a direct result so the reader understands their impact. An example of this could be a piece about how to increase open rates on an email sequence, or conversion rates from a landing page.

If you're just starting out as a freelance copywriter, it's okay if you don't have client work to show. You can self-publish a piece on Medium.com and link out to the article. This looks professional and gives your reader an idea of your writing style.


Testimonials. Testimonials demonstrate your credibility and social proof to potential clients. You can display these on your site in a slider format. When you finish a project with a client, ask them if they'd be willing to share a testimonial about working with you.


About You. A brief section that communicates who you are, your values, and how you can help. You could include a few personal details that help them get to know you. Although this section is about you, it's still important to position these details in a way that shows how you help them.


Call to Action. Include call to action buttons throughout your website that link to your contact information. Make it extremely clear what step the reader should take next.

I recommend offering a consultation call. Demonstrate that you provide a ton of value on these calls. So, even if you don't end up working together, the call is still worth their time.


Your copywriting website's job is to give your reader an idea of what it's like to work with you – and the value they'll receive if they do. You can make it feel personal by demonstrating your personality in your words. But remember to focus on the reader's needs and pain points above all else.


If you're a newbie copywriter, I'm giving you permission to create your website even before you've worked with clients. You'll learn a ton as you practice writing your own website copy and creating a professional website helps you land your first few projects.

Your website is not a "one-and-done" project. Create one now to build your momentum, and optimize it as you grow into the expert copywriter I know you can become.

Prefer to Watch?
Check out my Youtube video to learn exactly which sections to include in your copywriting website. And if you're looking for consistent tips on SEO, copywriting, and growing a lucrative freelance business, subscribe to my channel. Can't wait to see you there!