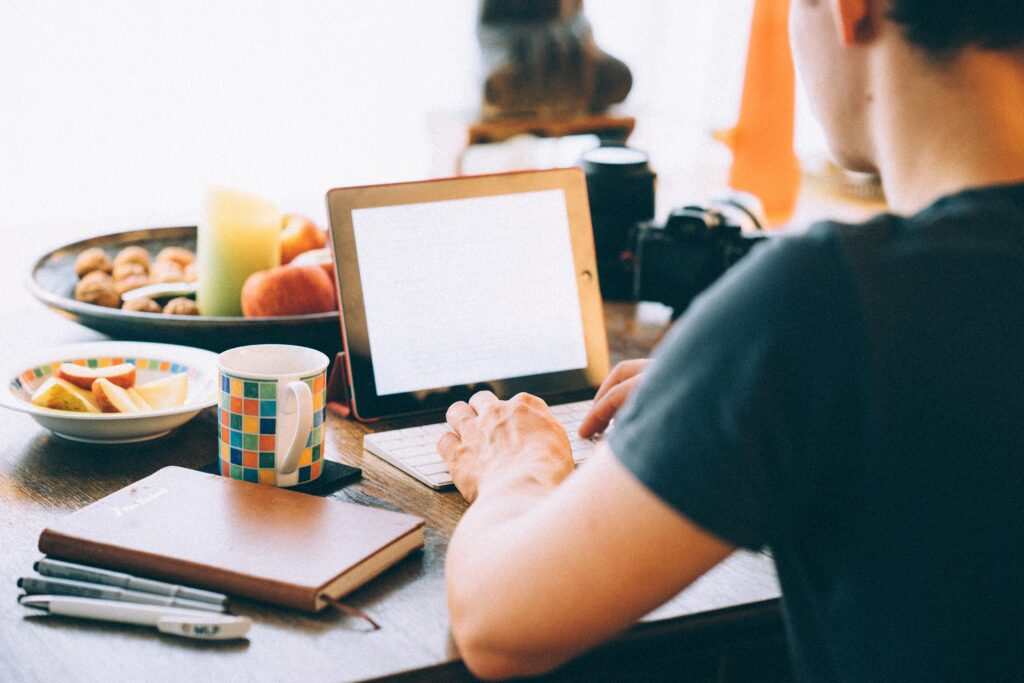 How to make your research process efficient and write sales copy that gets results.
As a freelance copywriter, obviously you want to write sales copy that gets results. But you also want to write efficiently so you can take on more clients, earn more, and have more time for yourself.
A solid copywriting research method can maximize effectiveness and help you write faster.
With an overabundance of resources online, you need a clear and focused path to find the right facts. Without a reliable process, you can accidentally spend hours drowning in information.
Honing my research and outline process has been so crucial to the success of my copywriting business – and the results my copywriting gets for my clients. Yep, it's a win-win!
When you master your research and outlines, your pieces start to write themselves. You'll be able to get more work done in less time.

You know I'm all about helping you get more success for your copywriting business and more freedom for you. So I'm going to take you through the exact method I use to research and write effective copy for my clients.
First Off, What Is Sales Copy?
Imagine that you're looking to register for an online fitness program, but you're on the fence. You know you need to get more exercise, but it sounds like a big commitment.
When you go to the company's website, you start reading about the benefits of the program. Instead of focusing on the details, the copy talks about how you're going to feel after just 5 weeks.
You start picturing how your life will change. You envision yourself with more confidence, energy, and charisma. It's not about the program anymore – it's about who you'll become by purchasing it.
*Psst… sales copy is influencing you.*
Effective sales copy guides your audience from who they are to who they want to be. And it positions the product or service as the vehicle that'll make your transformation possible.
Here's a simpler definition: sales copy compels your audience to buy a product, enroll in a program, or take an action that results in a sale.1
Common sales copy includes landing pages, email sales sequences, and social media ads. But the most effective freelance copywriters know that the truth is – all copy is sales copy.
Every copywriting piece is an opportunity to compel your reader to take an action. This is pivotal to increasing the value of your work as a freelance copywriter.
When you're writing sales copy, you'll be researching a ton. Here's where picking a niche comes into play – and spoiler alert – it makes your life sooooo much easier.
Why You Should Pick a Copywriting Niche
A writing niche is a specific topic area or industry. Some examples include:
Health and Wellness
Beauty
Cannabis
Fashion
E-commerce
Agriculture
Vegan Products
Sustainability
Fitness
and so much more!
Picking one writing niche to work in is a catalyst for success as a freelance copywriter. And if you've done any research on becoming a copywriter, you've probably heard this before.
But I know first-hand the power that comes with choosing a niche. It leads to:
Authority: You become an expert in your topic area which builds your credibility.
Client Referrals: Your clients recommend you to similar clients in the field.
Efficiency: Researching in one field informs the copy you write in the future.
As you'll read in a moment, the researching process for writing sales copy is pretty extensive.
But the more you know about the subjects and topics in your field, the less time you'll need to spend getting up to speed.
It's more effective to become an expert in one industry than to know a little about a lot of industries. Picking a niche will lead to authority while working faster and more effectively.
6 Effective Steps for Your Copywriting Research Method
So you've picked a niche and you're ready to write sales copy. Woohoo!
To get you started, here are the five exact steps of my copywriting research method:
Read product reviews. Learn what problems your product is solving, and take note of customers' objections. You'll want to address your audience's pain points and doubts about the product.
Join relevant Facebook groups. Get insight into what your ideal audience is looking for in the product. FB groups give you an inside look at the language they use to refer to the service or product, and how you can resonate with them.
Define the emotional problems your product solves. Focus on the benefits that each feature of your product offers. How will your audience feel when they buy the product? Who will they become? The most effective copy taps into the emotions and dreams of the audience.

Address objections. Throughout your research process, list the reasons people hesitate to invest in the product or service. Validate and address these hesitations in the copy head-on. You can even include them in the FAQ section.
Define your avatar: Get extremely specific about who you're writing to. Define their name, age, gender, what they do in their free time, where they're feeling stuck – all of it. The more direct and personal your copy is, the more effective it'll be.

Describe the transformation. Define who your audience is now, and who they'll be after using the product or taking part in a service. Describe what they're frustrated about, and how your product/service is going to change that. Your customer is the hero, and your product is the guide that will lead them through transformation.
Use these six steps to compile the right information instead of all the information.
Once you've done the research, I recommend you create an outline to structure your piece. That way, you'll already know what to cover in each section, you'll just need to add creativity.
Keep a folder of effective writing samples that you can turn to for inspiration. This is called a swipe file – and every freelance copywriter should have one!3
As you start writing, remember that emotion is your most compelling writing tool.
We're emotional creatures by nature and make our decisions based on feelings. So always go back and add emotion evoking sentiments and stories wherever you can. Focus on the dreams your product will bring to life!
Learn How to Write Sales Copy
As a freelance copywriter, getting results for your clients is a top priority. Results lead to happy clients – which means more client referrals and business for you.
So, learning to write effective sales copy is one of the lucrative investments you can make in your copywriting business.
My course, Write Your Way To Freedom, teaches you exactly how to write powerful copy that drives sales. You'll learn proven methods and get access to over 20 workbooks that help you put them into practice.
Beyond getting results, I want you to have more freedom, confidence, and success as a freelance copywriter. That's why Write Your Way to Freedom also teaches you how to build a successful business and master your mindset.
To get started, sign up for my free online copywriting masterclass. How to Build a Lucrative Writing Career – with No Experience.
Prefer to Watch?
View my Youtube video on the exact steps for researching sales copy. Subscribe here for more tips on copywriting and entrepreneurship!
Resources:
Hubspot: 6 Tips for Writing Sales Copy
Sarah Turner: 7 Things Every Successful Freelance Copywriter Does
Sarah Turner: How to Overcome Writer's Block: 7 Powerful Tips for Freelance Copywriter