Finally, an alternative career for teachers that's relevant, flexible, AND high-paying.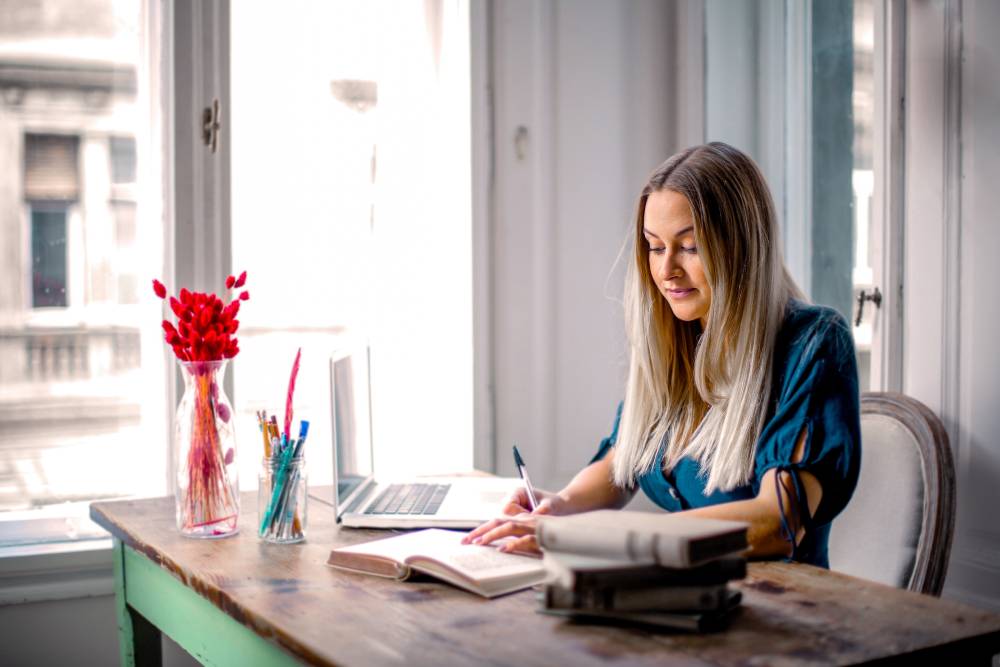 Have you been tirelessly searching for other jobs for teachers without any luck?

Many resources provide you with a list of jobs that feel totally out of left-field (like a sales job). While others suggest jobs with the same salary, which doesn't solve the problem.

If you're eager to find an alternative career for teachers that's relevant to your skills *and* offers more flexibility and income – you're in the right place. 🙌

As a freelance copywriter, you can continue making your impact, being creative, and educating. And you can do it all while working on your own schedule and earning more.

And the best part is: you don't need to go back to school or get another degree.
Sounds too good to be true? Stick around because this article is going to walk you through all the benefits of freelance copywriting and how to get started today.


I. What Is Freelance Copywriting?
II. Benefits of Freelance Copywriting as a Second Career for Teachers
III. Success Stories: Teachers Who Became Freelance Copywriters
IV. How to Transition from Teaching to Freelance Copywriting


Freelance copywriting can open doors for many people with different career backgrounds. But I believe it's a particularly well-suited second career option for teachers. Because it brings in a lot of the skills and qualities you likely love about your teaching career, *minus the burnout.*

But don't just take it from me.

I've watched so many wonderful teachers create highly successful copywriting careers after taking my signature copywriting program, Write Your Way to Freedom. Many are even earning $10k+ every month while working fewer hours than they ever did as teachers.

This article highlights some of their stories, so you can get real-life examples of what's possible for you. Because as a freelance copywriter, YOU get to decide what success looks like to you.
Learn How to Build a Lucrative Freelance Copywriting Career
Get my free copywriting masterclass that walks you through exactly how I went from zero to consistent five-figure months with copywriting – with no experience and no portfolio.
Gain instant access – right to your inbox – when you sign up below. 👇
We will never spam you or share your email with anyone. In addition to the guide you'll also receive semi-regular email updates with tips, tools, offers and exclusive resources. All emails include an unsubscribe link, you may opt-out at any time. Read our Privacy Policy to see how your data is handled.
Other Jobs for Teachers: What Is Freelance Copywriting?
Being a teacher is one of the most purposeful jobs.

You may have become a classroom teacher because you wanted to make a positive impact on young students' minds. Or perhaps you became a college professor to dedicate your time to the craft you love, like writing.

But unfortunately, there's no denying that teaching is also one of the most challenging jobs. You're dealing with:


Long hours
Emotional labor
Unpaid administrative meetings
Low pay – even when you're taking on extra work


If you're feeling overworked in this profession, you're not alone.

More than 44% of teachers report feeling burnt out almost all the time.1

And with an average salary of $61,000 a year in the United States, the financial limitations of being a teacher add to the stress.

Perhaps you've been searching for other jobs for teachers for some time now. But it's hard to find something that checks all the boxes. You want a related field where you can have more flexibility and earn more money – but still use your transferable skills.

That's why I'd love to introduce you to freelance copywriting.

Simply put, a copywriter writes the marketing content that promotes a brand's offerings. A brand needs a ton of different types of content to market themselves successfully. They need website copy, email marketing, social media – and much more.

Brands often want to outsource their content to an expert so they can make their marketing more effective and save themselves time. That's where copywriters come in.

Here are some of the types of content that copywriters create:


Website Copy. The words on a website, like a home, about, or services page. Website copy needs to communicate the brand's unique value and compel the audience to take action.

A catering company's website copy may include a captivating homepage introduction that outlines their culinary expertise. It'll also give mouth-watering descriptions of their menu items to entice potential clients to purchase their culinary services.



Blog Articles. The pieces of content a brand publishes on the blog section of their website. Blogs help brands establish credibility, provide value, and drive traffic to their products and services.

A fitness instructor may publish blog articles like "10 Easy At-Home Workouts for Busy Professionals." Someone searching the web for at-home workouts might find this blog and land on the instructor's website, making them a potential client.


Promotional Emails. The emails that get sent to subscribers on an email list – aka, potential customers. Emails play a key role in showcasing a brand's offers, increasing sales, and strengthening customer relationships.

An online clothing store might send a promotional email to their subscribers announcing a limited-time sale, including discount codes and featured items. All this encourages their readers to visit their website and make a purchase.



Social Media Ads. Paid ads that run on platforms like Facebook, Instagram, and Pinterest. A brand pays to get their ads in front of specific audiences based on demographics, interests, and behaviors.


An online business coach might create Facebook ads that promote a compelling free resource in exchange for the audience's email list. This incentivizes new audiences to enroll in their list and potentially buy products from there.

Copywriting is essential to building a brand in the present day. Content – with compelling copy – grows brand awareness, builds customer relationships, and increases online sales.

Brands need copywriters and strategists who can consistently create effective content and marketing strategies. Even with the rise of AI tools like ChatGPT.

Some copywriters work within the marketing department of a brand or agency. But *freelance* copywriting allows you to have more control over your schedule, projects, and income.

As a freelancer, you work with multiple different brands on a contract basis. Since you're not an employee, freelancing gives you the freedom to work on your terms.

Plus, copywriters often teach their audience new information when writing value-packed content. Meaning you won't have to give up your passion for educating.

And the best part about this other job for teachers is that you don't need to go back to school or get another degree to become a successful freelance copywriter.

You can learn copywriting online and start earning money in 3 months or less.

Are you craving more autonomy over your time and earning potential? Let's dive into all the reasons why freelance copywriting is one of the best second jobs for teachers.
Benefits of Copywriting as a Second Career for Teachers
Picture this: it's a relaxing Sunday afternoon, and you're preparing for a new work week. 

You're sitting in your backyard, and the sun starts to set as you take out your planner to plan for the week. You no longer experience the *Sunday scaries* you felt as a teacher. A warm breeze picks up as you look over your to-do list.

You have a few articles to write so you can educate people about topics that fascinate you. You're meeting with two potential new clients whose missions you're passionate about. And you have your weekly coffee chat with another copywriter friend. ☕

The best part is that all your fulfilling tasks fit around your personal priorities. Finally, your calendar feels manageable and rewarding.

This new reality is entirely possible for you. And you can achieve it sooner than you may think.

Here are six reasons why copywriting is one of the best other jobs for teachers:


1. Make an Impact.
You likely became a teacher to change students' lives and give them the education they need to become successful adults. Although you want to switch careers, you still want to make a meaningful impact.

Freelance copywriters get to work with brands they believe in. You can choose brands doing good in the world and help them expand their ripple effect by growing their brand through copywriting.


2. Use Your Existing Skills.
Maybe you're wondering, "What other jobs are teachers qualified for?" You don't need prior experience to become a copywriter. But your writing, researching, and interpersonal skills give you a leg up on this new venture.

These transferable skills are the building blocks of effective copywriting. Keep in mind, copy is more conversational than academic writing. So, be prepared to break some of the writing rules you're used to when learning copywriting skills.


3. Ease Into It.
If you're not ready to quit your teaching job yet, that's completely okay. Many Write Your Way to Freedom students start copywriting as a side hustle before turning it into a full career.

Of course, if you're already feeling burnt, I wouldn't recommend side-hustling for too long, and you don't have to. It's entirely possible to create a sustainable income with copywriting in 3 months or less (as proven by many of those same students).


4. Earn More Money.
As a freelance copywriter, you set your own rates and create your own packages. Are you tired of waiting for a raise? Increase your pricing as your skills improve. Charge what your work is worth (and add 20% to account for imposter syndrome 😉).

Many of my copywriting students earn a 6-figure income working 20-30 hours a week – and some work even less. And it's entirely possible to earn even more than this or earn a sustainable income while working fewer hours. It all depends on your goals!


5. Have More Flexibility.
One of the biggest benefits of copywriting is that you have control over your time, schedule, and priorities. You set your own workload and the time you spend working.

Want to spend time with your kids in the morning and get work done in the afternoon? Done. Want to wake up early and finish your work before noon so you can finish that book you've been obsessing over? Also possible!


6. Avoid More Student Loans.
Maybe you have a bachelor's degree and a teaching degree. Perhaps you even have a master's degree, like an MFA. You might feel like your only other option is to get another degree – but you don't have to.

You don't need to go back to school to become a lucrative freelance copywriting career. You can learn the skill online by taking copywriting training programs and save a ton of money avoiding student loans.


I commend you for all your hard work as a teacher in the past few years. 👏

I've heard from so many former teachers who feel burnt out after teaching through the pandemic. You went above and beyond for your students in the classroom and online.

And maybe you're experiencing a bit of guilt as you consider leaving this career… that makes so much sense. But it's so important to take care of yourself.

You're completely in your right to look for other jobs for teachers. It makes me proud to hear those same teachers talk about a renewed sense of control over their lives when they become freelance copywriters.

As a freelance copywriter, you continue using your skills to help others while experiencing more peace in your own life.
Success Stories: Teachers Who Became Freelance Copywriters
Want to hear more from a former teacher who became a successful copywriter?

Before becoming a copywriter, Kristin was an adjunct professor at a university. While she loved certain aspects of her teaching career, she found herself feeling burnt out and looking for more (sound familiar?).

Kristin started Write Your Way to Freedom in February 2020 and earned ~9,900 in her first 3.5 months as a copywriter. And in under two years, she created a signature copywriting service that consistently helps her reach five-figure months.

Now, Kristin is also one of our amazing coaches in the Write Your Way to Freedom program. She teaches other copywriters how to grow their value-aligned copywriting careers. Listen to Kristin's incredible story here:
How to Transition from Teaching to Freelance Copywriting
Maybe freelance copywriting sounds like an exciting other job for teachers, and you're ready to give it a try. But you're probably wondering, "How do I actually become a freelance copywriter?" The process is simpler than you might think.

Here's a condensed version of the primary steps to take to become a freelance copywriter:


1. Learn Copywriting Skills
Like I said, copywriting is a different style than academic writing. You'll first want to study persuasive techniques and copywriting methods.

I'd recommend starting with a book like The Copywriter's Handbook. Then, start hand-copying successful copywriting pieces to emulate the style.


2. Create Your Portfolio
Your copywriting portfolio, or website, showcases your work and attracts potential clients. Before you create your website, spend some time thinking about the type of clients you want to work with.

After you choose your niche, write a few portfolio pieces that would be relevant to that industry. Then, write your website copy specifically to that audience.


3. Pitch Potential Clients
Now that you have a professional-looking website, you can pitch potential copywriting clients with your services. Many of my copywriting students have built 6-figure businesses by sending personalized cold emails to clients they want to work with.

I also recommend tapping into your existing network to get your first few copywriting clients. Create a list of all the people you know with small businesses or brands. You probably know more than you realize!


As you grow in your copywriting career path, there are tons of other opportunities to consider. But for now, keep your focus on these primary areas to get your first few clients.

And if you're looking for more support on the three steps above, you can sign up for my free copywriting masterclass below. This presentation walks you through exactly what copywriting is, how to study copywriting, and the steps to take to get your first clients.
Learn How to Build a Lucrative Freelance Copywriting Career
Get my free copywriting masterclass that walks you through exactly how I went from zero to consistent five-figure months with copywriting – with no experience and no portfolio.
Gain instant access – right to your inbox – when you sign up below. 👇
We will never spam you or share your email with anyone. In addition to the guide you'll also receive semi-regular email updates with tips, tools, offers and exclusive resources. All emails include an unsubscribe link, you may opt-out at any time. Read our Privacy Policy to see how your data is handled.
Learn How to Become a Copywriter for Free
If you're ready to go from teacher to thriving freelance copywriter, I'm here to help.

Many teachers have started copywriting using my signature program, Write Your Way to Freedom. In this one program, you have access to the A-Z steps of learning copywriting, building your client base, and leveling up your skills as you grow.


The resources include…
Over 70 comprehensive step-by-step lessons
Live coaching calls and Q&As every single week
Access to our supportive online community


And so much more. The program is built to work through your schedule, so you can do it whenever from wherever – and on your own timeframe.

Want to link up with other former teachers turned successful copywriters? Our community is the place to do so. Learn more about Write Your Way to Freedom by registering for the free copywriting masterclass.

Freelancing copywriting is truly one of the most purposeful other jobs for teachers like you.

When I started freelance copywriting, I had such a strong desire to have control over my time, income, and impact. Now it's my mission to help people like you achieve the same.


Resources: