Optimize your LinkedIn profile and use the platform to book new freelance clients.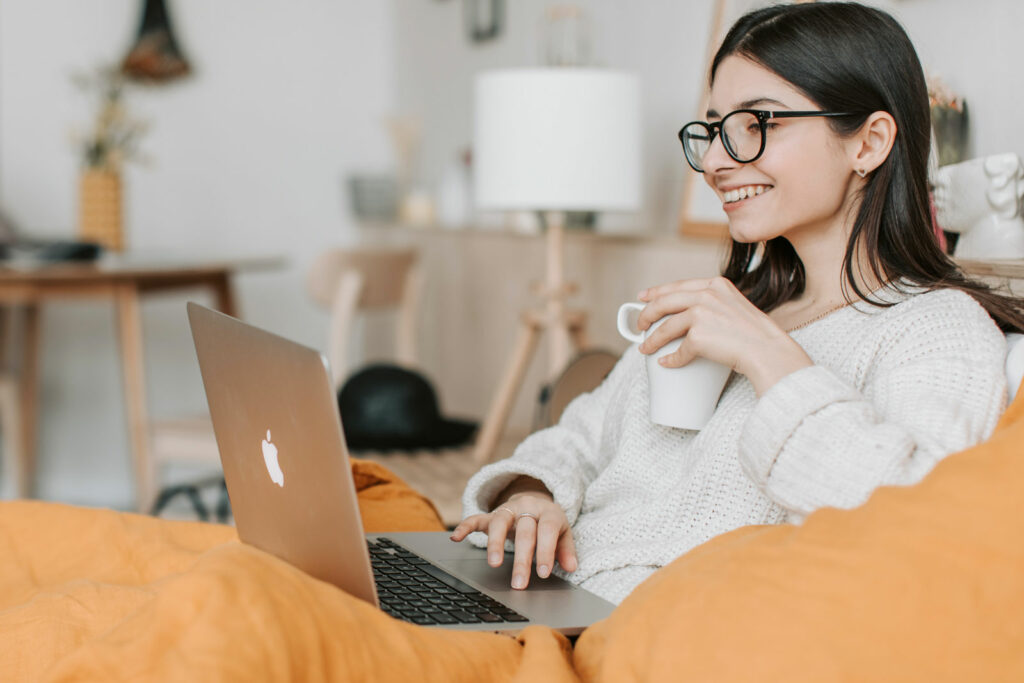 Connecting with new freelance clients is vital to growing your copywriting business. While cold emailing is effective, it's impactful to have more than one method for landing new clients.
LinkedIn is another strategy to add to your client acquisition toolbox. But you might be surprised to discover that I don't recommend you send cold messages on the platform.
Instead – share your work, network with clients, and create conversations on LinkedIn. When you do so effectively, clients start reaching out to you organically.
Benefits of Finding Clients on LinkedIn
You've been sending out 10+ cold emails per day. At the start of the week, you were super engaged and passionate about writing each email. But the longer you go without receiving a response, the harder it is to stay motivated.
Remember that cold emailing is a numbers game. If you're receiving one response for every 15 emails, that's awesome, and I encourage you to keep at it!

But I know it can feel lonely to send out tons of emails when you feel like you're not getting much traction. So adding an interactive client acquisition strategy like LinkedIn can keep you motivated and win you clients while you wait for cold email responses.
LinkedIn used to be a buttoned-up platform for sharing your professional background. Now, it leans more towards a professional social networking site.
These are a few of the benefits of using LinkedIn to find clients…
It's Social and Interactive. Joining conversations and interacting with members is an effective way to attract new clients on the platform. This can feel more organic and energizing than cold emailing.

Networking Establishes Your Credibility. Just like you help your clients become thought leaders, you can become one too. Sharing your own thoughts and content demonstrates your knowledge and builds credibility with your audience.

LinkedIn Connects You With New Leads. Similar to other social sites, LinkedIn shows users the content that their connections have liked. Meaning, you can attract the attention of those third-party connections.
Using LinkedIn is like going to a virtual networking mixer. You can connect with others in a more casual format that's still professional. But before you join the virtual party, let's make sure your profile is set to impress.
How to Optimize Your LinkedIn Profile
LinkedIn started as a professional site to find and apply for jobs. But now that it's used for professional social networking, you don't need to set up your profile like a resume.
Create your LinkedIn profile like you would your website or a landing page. You can definitely add personality to the language you use. With so many stuffy profiles out there, your network will find it refreshing when you sound relatable and human. But instead of telling your own story, focus on the clients you help and how you help them.
Here are 3 sections to optimize on your LinkedIn profile to make you stand out:
Branded Banner. Use Canva to create a simple image to use as your profile banner. You could use the same colors on your website to look consistent and professional. Add a headline that communicates what you do and where to contact you.
Attention-Grabbing Headline. Your headline should be extremely clear and communicate what you offer and who you help. Use one title that encapsulates all the services you offer – like "content specialist." For example, here's my branded banner and headline: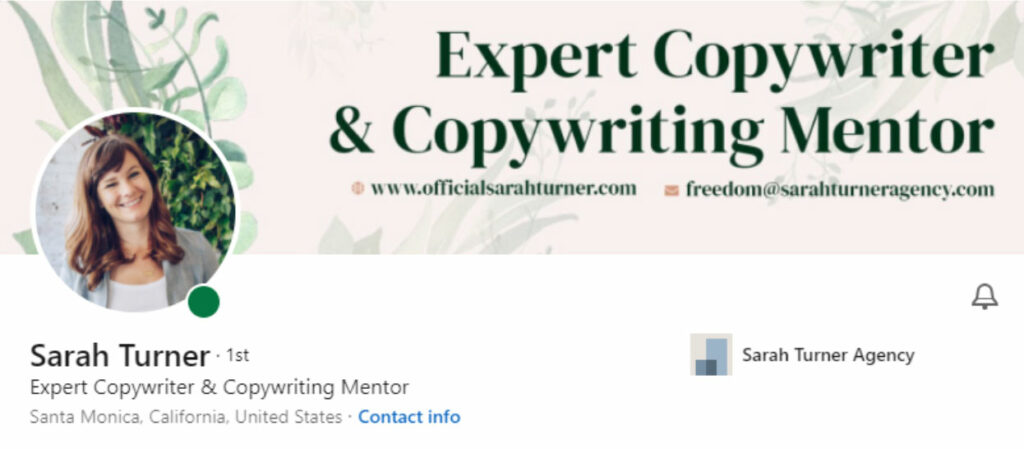 About Section. Use this space to outline the features and benefits of your services. Be confident, genuine, and assertive. Remember, you are a business owner – so this isn't a job interview. Communicate the types of clients you work with to reinforce that you're not an employee.
You may be wondering, "will it look bad if my work background isn't in copywriting?" The answer is: not necessarily. If you have relevant work history then it's awesome to include! But if your background is in a different field – or you don't have a work history – that's completely okay, too.
Your audience cares WAY more about the knowledge you show than your qualifications.

Countless students of mine have become successful copywriters despite coming from working fields different from their niches. Show your audience how you can transform their business, and they won't bat an eye at your background.
4 Actions to Take To Find Clients on LinkedIn
Now that you have a killer profile, it's time to attract the attention of potential clients. You want to start interacting, sharing – and staying top-of-mind with your connections. Here's how.
Make Connections. The first step is to grow your audience of people in your industry. To do so, search for people using keywords and job titles in your field. Personalize these requests to incentivize them to respond.

Disclaimer: LinkedIn will lock you out of your profile if you send too many connections in a week. So, remember to keep your requests personalized and authentic – and not too spammy. This is less of an issue if you're using a LinkedIn profile that's existed for a while, so I recommend updating an old profile rather than starting fresh.
Share Content. Become a thought leader by sharing content that's relevant to your industry. Posting blog articles that drive traffic back to your website is impactful – but these posts don't always need to be full-length articles. Create conversation by simply sharing a short post with your insights, and following up with your thoughts in the comment section.

Comment on Content. Commenting on your ideal client's content is an effective way to get their attention. Plus, it increases your engagement with third-party connections. 

When you comment on a post, it appears in the feeds of users who follow the original post. This helps you connect with potential clients outside of your immediate network.

Offer Services. Business owners use LinkedIn to find freelancers for the services they're looking for. If you register the services you provide, your profile could come up when a potential client searches for them. 
First, send a request to LinkedIn to activate the services feature on your account. Once your services feature is active, follow the instructions below:1
Click "View Profile" to go to your profile page. You'll find instructions underneath your headline. Follow these to showcase your services. 
Click "Add Services." Fill out the form providing details about the services you provide. Be as detailed as possible to inform members who view this section.
Clicking "Continue" will automatically add your services to your profile.
Follow these four steps to create connections with potential clients naturally. Then, grow the relationship by following up in their email inbox or setting up a consultation call.
How to Get Copywriting Clients
Is finding new clients your least favorite part of growing your freelance business? It doesn't have to be. My course, Write Your Way to Freedom, gives you the step-by-step instructions I wish I had when I first started out as a freelance copywriter.
With an entire section dedicated to client outreach, you learn how to get copywriting clients using the channels that feel right to you. From cold emailing, to LinkedIn, to Facebook – you get step-by-step instructions on how to build a client base you love.
Your copywriting services are much needed in this world. But it's up to you to find the clients that need you and communicate your value so you can help them. Write Your Way to Freedom makes that process easier for you.
To learn more, sign up for my free online copywriting masterclass: How to Build a Lucrative Freelance Copywriting Career.
Want to Watch Instead?
Watch my Youtube video to learn exactly how to find clients on LinkedIn. I even share my screen while walking you through creating your profile. Subscribe to my channel for more tips on growing a lucrative copywriting business!
Resources: