Leading client discovery calls with confidence differentiates you from other freelancers.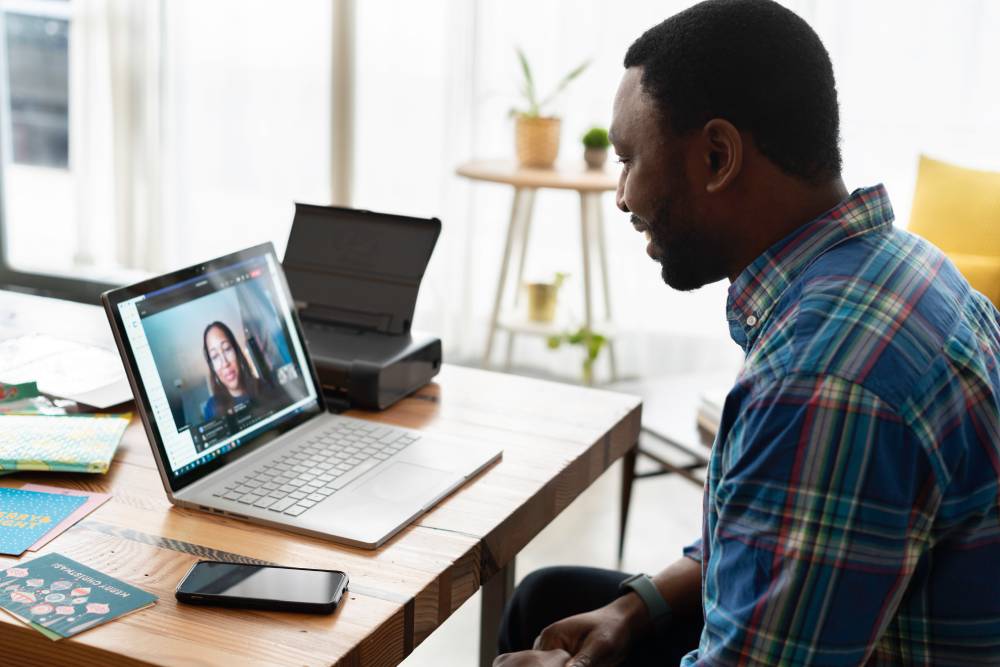 Do you get super nervous before a new client discovery call?

You anxiously wait for the client to join the call. Once they do, your heart races, your hands sweat, your face turns bright red.

If this sounds familiar, I totally get it. I used to *dread* speaking with clients over the phone because of my phone call anxiety.

But discovery calls are vital to building client relationships and growing your business. So, it's time to overcome your fear by learning how to lead client calls like a pro.
Why Discovery Calls Benefit Your Freelance Business
Have you ever received client feedback over email and immediately assumed the worst? You read their language as short, so you start thinking they disliked all your writing.

But when you talk to them over the phone, they seem excited and appreciative. You realize you misinterpreted the tone of their email and sent yourself into a frenzy for no reason.

Yep, we've all been there.

Messages can get lost in translation via emailing or instant messaging.

Not hearing the sender's tone of voice or seeing facial expressions makes their intentions harder to interpret. And a phone call usually feels more personable and casual than an email.

Don't worry, I'm not saying you need to always talk on the phone with your freelance clients. I actually recommend you handle questions via Loom videos and voice memos when appropriate to save you time.

But holding an initial discovery call with confidence sets up your client partnerships for success. The discovery call is your chance to…

Demonstrate your knowledge and build trust
Answer questions and field objections
Decide if your personalities are a good fit for working together

A discovery call is your time to assess the client, too. If you decide your personalities aren't the right fit, it can save you from a potentially negative experience working together.

But if the thought of talking to a client on the phone is sending you into a tailspin of self-doubt – don't worry. There are a few simple steps you can take to prevent phone call anxiety.
7 Tips for Preventing Phone Call Anxiety
First off, don't feel pressured to hold a video call with new clients. Zoom has become the norm since more people started working from home in 2020. But if turning your camera on makes you nervous, you're allowed to have a good old-fashioned phone call.

Here are my top recommendations to help you squash phone call anxiety:


Reframe your thoughts. When you first start out as a freelancer, you want every single discovery call to go perfectly, which puts a ton of pressure on them. Instead, view each discovery call as a chance to learn – regardless of the outcome. If the client doesn't end up booking with you, simply move on to the next opportunity. I promise you there are an abundance of clients out there who'd benefit from working from you.

Dwell in your fear. Avoiding your fear and anxiety usually gives these feelings more power. When you bring them into the light and really examine them, you may realize they're less scary than you think. The worst-case scenario is the client decides not to work with you, which is totally okay!


Write a discovery call script. Be prepared to answer the questions that make you nervous. Write down the scariest questions you can imagine and then how you would answer them. Practice your answers repeatedly – to yourself, to a friend, or in the mirror.


Create a call agenda. Having a plan for the call gives you confidence and puts you in control of the conversation. Outline the structure of the call beforehand to feel prepared. Hint: keep reading through the next section to steal my exact agenda for a discovery call. 😉


Put yourself in their shoes. When you're nervous speaking to a client, remember they could be just as nervous to talk to you. You're the expert in your field, which could intimidate them. Approach the conversation with confidence, knowing you can both learn from each other.


Smile! Don't forget to smile, which is actually proven to build trust and connection. I used to actually write "Smile!" at the top of my client call agendas to be sure I remembered.1


Have a business owner mindset. A client discovery call is not an interview because you're a business owner – not an employee. Remind yourself that you are an equal peer to your client who's adding value to their business.


Discovery calls may feel daunting at first, but the more you expose yourself to the situations you're afraid of, the less scary they become. Once you have a few client calls under your belt, you build confidence and become less afraid of them.
Steal My Client Discovery Call Agenda
The most effective way to beat phone call anxiety is to prepare and practice. When you have a set plan for the discovery call, it reduces the potential of anxiety-inducing silences. So, here's my time-tested discovery call agenda to help you out:


Get Personal. Open with a friendly question like "where are you calling from?" When you jump straight into business, you miss an opportunity to create a connection.


Outline the Agenda. Show them you're in control of the meeting and what value they're going to receive out of the call.


Ask Discovery Call Questions. Don't make assumptions about what your clients need. Ask them about their…



Business goals – What's most important to them right now, and why?
Current marketing tactics – What's working and what isn't?
Marketing experience – If they've worked with a marketing agency or copywriter before, how did it go? What can you do to improve their experience?


These questions inform the content you recommend in your proposal and help the conversation flow smoothly.


Define Next Steps. Tell them exactly what they can expect to happen after your conversation ends. For example, "expect a proposal with content, pricing, and next steps in your inbox in the next 24-hours."


Ask For a Follow-up. Before we hang up, I always ask my potential client to send me a piece of copywriting that they feel captures their voice. This shows you're committed to learning their unique brand and making their experience personalized.

Use this client call outline to lead the conversation and show your knowledge. Remember, you are the copywriting expert in the conversation.
Master Discovery Calls and Client Management
There's a lot of client interaction involved in running a copywriting business – but this doesn't need to scare you. You can have rewarding, beneficial relationships with your clients. Which actually makes running your business even more fulfilling.

My course, Write Your Way to Freedom, doesn't just teach you how to become an expert copywriter. You also learn how to handle client acquisition and management like a pro. In the course, you learn step-by-step how to…


Find and pitch high-paying clients
Lead an effective discovery call
Follow up with proposals that get them jumping at the chance to work with you

To learn more, check out my free online copywriting masterclass: How to Build a Lucrative Freelance Copywriting Career. And remember – you can overcome your phone call anxiety and evolve into a confident business owner! I believe in you.
Prefer to Watch?
My Youtube video walks you through how to prevent client call anxiety and lead your discovery calls with confidence. Subscribe here for more tips on setting yourself apart as a freelancer.

Resources: