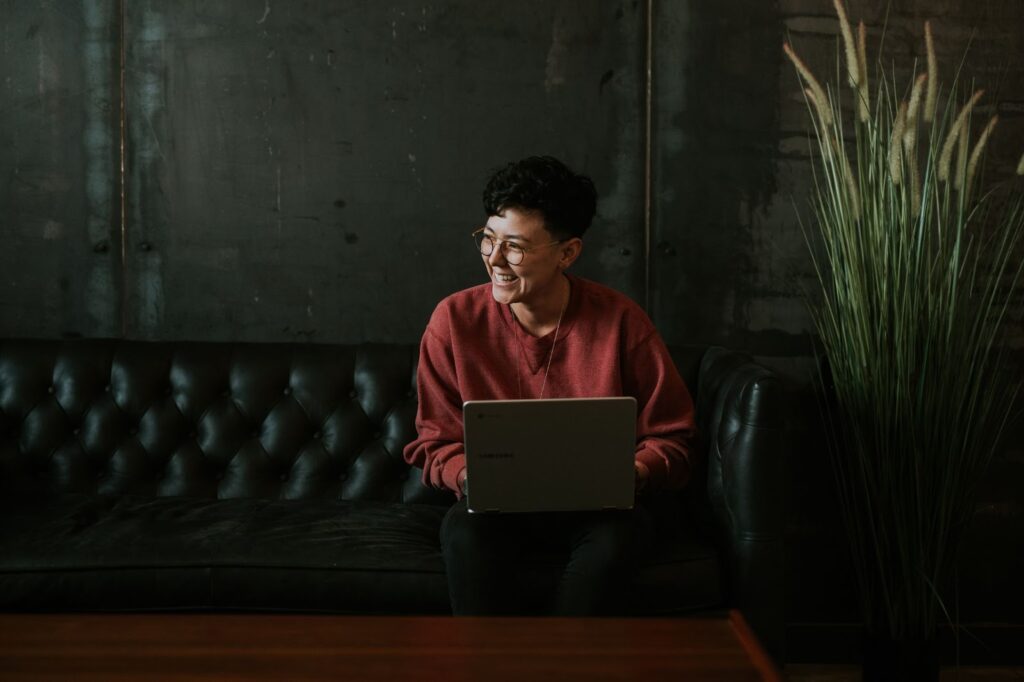 Tips for making your days as a freelance copywriter effective and enjoyable.
When you first become a freelance copywriter, you can't wait to be your own boss. You want freedom from your controlling managers and schedule.
But sometimes it turns out you trade your old boss for an even tougher one. They're your biggest critic, they overwork you, and they don't respect your time off!
And… oh right… that new boss is yourself.
Most newbie copywriters tend to work long hours and be their own toughest critic.
I get it because I was once there, too.
Eventually, I had enough. I didn't want to live a life where I was living in constant fear, doubt, and anxiety. I spent a ton of time researching and working on my mindset and daily routine. So I could make my days as a freelance copywriter effective and enjoyable.
I'm happy to report, times have changed. I now consider myself a professional work-life balancer.
Now, my daily routine balances structure with flexibility. And guess what – it doesn't involve working 40+ hours a week.
I've found that you're actually a lot more productive when you work fewer, more efficient hours. And your life has more meaning when you have time to invest in the things you enjoy – family, friends, hobbies, travel – whatever floats your boat.
You are the boss afterall.
I'm going to show you exactly what a day in my life as a copywriter looks like. So you can see if there's anything you want to borrow for yourself. So you can love your workday, be efficient, and stop overworking yourself.
Challenging the Traditional Work Culture
As a freelance copywriter, you can define your own workday and schedule. It's one of the best parts of the job! But if you're used to working a traditional 9-5 role, it may take some mindset work to actually allow yourself to do this.
I want you to challenge your thoughts around the traditional workday. Because *drum roll please* you don't have to work 40+ hours a week to be successful. And you don't have to prove your work is valuable by subscribing to old-school beliefs around work, (ie. working 9 to 5).
Old school work culture attempts to condition us to believe that working longer hours equates success. But we no longer live in a time where this is true.
And entrepreneurial culture doesn't help either because it glorifies hustle.
So when you first start out, you may find yourself overworking to prove that you're being productive. I was guilty of this, too.
But I've found that working in shorter, more intentional time blocks fuels productivity. And I'm a lot more impactful when I work that way – instead of chaining myself to the desk all day!
As a freelance copywriter, try working during the times of day that you're most efficient. If that falls outside of the traditional 9-5 work schedule, that's okay.
Every copywriter's day may look a little different. But there are four main tips you can use in your daily routine to help you be successful.
4 Effective Tips for Working for Yourself
When you work for yourself, your schedule should center around your work rhythms. These are the times of the day that you work most efficiently. Since our work rhythms may be different, your daily routine may look different than mine.1
So before I walk you through a day in my life as a copywriter, I want to share four tips that can work for any copywriter. Use these in your daily routine, no matter what your work rhythms are.
1. Create a Morning Routine
Before you get swept up in work, take some time to set your intentions with a morning routine. Value-aligned goals, gratitude journaling, and affirmations can set your mindset up for success.2
I like to switch it up between reading, meditating, and journaling. But whenever I start feeling stressed, I always go back to a structured morning routine.
2. Focus On Your Business Before Your Clients' Businesses
If you're still stuck in an employee mentality, you may feel like you have to work on paid client work before your own. But spending the first hour of your day on your own business ensures that you're consistently growing.
Dedicating your attention to your own growth makes your business more effective. Which, in turn, benefits your clients too!
3. Work Smarter, Not Longer
Like we talked about, you don't have to work 8+ hours a day to be productive. In fact, I find that working in shorter time blocks makes me work faster and more effectively – and I suspect it's the same for you!
Getting your work done in shorter, more efficient hours gives you time to explore hobbies. This can make your personal and professional lives feel more meaningful.
4. Go With the Flow!
Some weeks, you'll get in the zone and want to work longer hours. But you may also have phases where you're more imaginative and thinking about the big picture. Don't beat yourself up for that.
I've found that thinking about the big picture is just as important as drilling down into work. So allow yourself to go through both of those phases.
I've been working for myself long enough to know that these phases come and go and it's much more enjoyable to go with the flow. If you give yourself permission to experience this with curiosity and without judgment, you'll learn a ton about yourself.
The key to working for yourself is a routine that balances structure and flexibility. You want to have a plan for tackling your day efficiently. But you should be open to switching it up if you need to.
For example, if you're not feeling inspired, it might be helpful to take a walk to clear your mind. As a freelance copywriter that creates your own schedule, you can do that!
With these four tips in mind, here's what my daily routine looks like as a copywriter.
A Day in My Life as a Copywriter
First off, I used to dread waking up to my alarm and dragging myself into my corporate office. We're talking multiple snoozes before I'd finally get out of bed.
But now copywriting as a career is so fulfilling that I love my work.
I jump out of bed at 6 am because I'm stoked to start my day – without an alarm! Past Sarah wouldn't believe that was possible. But here we are.
Here's what my routine looks like from there:
My morning routine has been the true key to my success as a copywriter and business owner. I spend the first hour of my day journaling, reflecting, and dreaming before even looking at my phone.
And I try to push back my first cup of coffee but that doesn't always happen – In fact, this is a tough one for me… I just love my cold brew so dang much!
Before I dig into client work, I spend time working on something that truly moves the needle forward in my business. Maybe it's client acquisition or working on a new scale, whatever it is… it's priority number one. Sometimes it's the scariest task, or the thing I've been procrastinating on. Which brings me to my next step…
The night before a workday, I always identify the biggest, scariest task that I need to tackle the next day. Whether it's a big assignment or dealing with a pesky client – that's the first thing I'll knock out in the morning.
It's tempting to get all those little, easier tasks done first. But tackling the biggest task gives you a win right off the bat and clears up your headspace for the rest of the day.
As a freelance copywriter, you have a lot to write! Whether it's for a client or your own business. I block out a specific time to get creative and get into my writing flow state.
Minimizing distractions and focusing on my writing is the key to beating writer's block! I usually dedicate 1-3 hours a day to writing.
Notice that up until this point I still haven't checked my emails. Getting my planned tasks done before checking new requests makes me more productive.
Of course, it's super important to respond to emails timely, but doing this at the end of my workday allows me to complete existing tasks faster. And I get a lot of emails these days, so this takes a good chunk of time!
My day usually ends around 3 pm. In 2019 I promised myself that I'd stop working 40+ hours a week. And now, I get a lot more done in a shorter timeframe than I did when I worked 9-5. People are often surprised to hear this but try it yourself and find out how powerful shortening your work day is!
Once I end my workday, I focus on getting outside and enjoying my hobbies.
Starting a Copywriting Business
You became a freelance copywriter for the freedom and flexibility. But now, you're struggling to enjoy working for yourself.
I know what it's like to be your own worst critic and overwork yourself. You can change that by viewing yourself as more than a freelance copywriter, and instead see yourself for what you actually are – a copywriting business owner.
There really isn't any difference between being a freelance copywriter and a copywriting business owner other than how you approach your work.
Mindset work is so important acting like the copywriting business owner you are. It's the key to your success – and your happiness. That's why my course, Write Your Way to Freedom, is so much more than a copywriting course.
Write Your Way to Freedom offers a step-by-step roadmap for starting a lucrative copywriting business. But it also offers the exact mindset tools you'll need for success. Like creating your morning routine and shutting down self-limiting beliefs.
To get a sneak peek at the steps it takes to build a freelance writing business, take my free online copywriting Masterclass: How to Build a Lucrative Writing Career – with No Experience.
Start viewing yourself as the ah-ma-zing business owner that you already are!
Prefer to Watch?
Here's a video that walks you through my day in the life as a copywriter! Subscribe here for more tips on starting a copywriting business, mindset, and entrepreneurship.
Resources:
Business Insider: A Millennial Who Left the Corporate World and Scaled a 7-Figure Copywriting Business Explains How She Did It
Sarah Turner: The Only Elements You Need in a Successful Morning Routine
Sarah Turner: How to Overcome Writer's Block: 7 Powerful Tips for Freelance Copywriters