Copywriting is a lucrative and fulfilling new career for former teachers.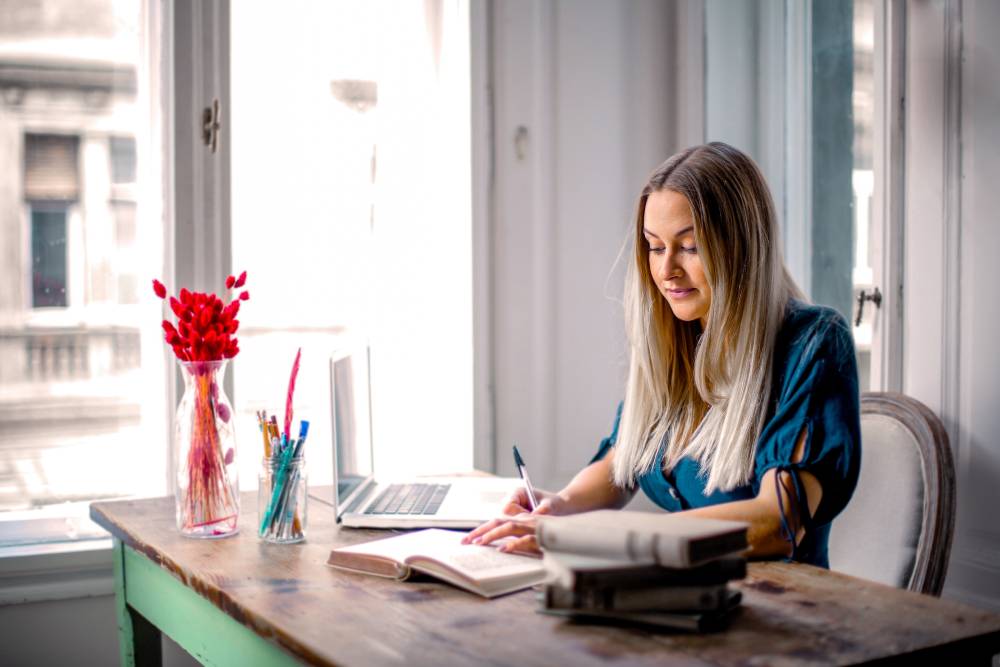 What if you could have all the aspects you love about your teaching career – without burnout?

As a freelance copywriter, you can continue making your impact, being creative, and educating. And you can do all this while working on your own schedule and earning more money.

Sound like the kind of job you're looking for? 

Learn why copywriting is a wonderful second career for teachers like you.
First Off, What Is Freelance Copywriting?
A copywriter writes words that persuade action. Oftentimes these words are used to generate more sales. 

Copywriters also create the marketing content that brands use to promote their offerings. Okay, so "marketing content" may sound broad, but that's because it is!

Think about all the words you read on the internet each day: website copy, blog articles, promotional emails, Facebook ads. A copywriter writes all these types of content and more.

Copy is essential to building a brand in the current world. It's how brands grow their awareness, build audience relationships, and help people – plus earn sales online.1

So, brands need copywriters who can create effective copy and content for them consistently. As a freelance copywriter, that's where you come in.

Some copywriters work within the marketing department of a brand or agency. But freelancing allows you more control over your schedule, projects, and income. Freelancing gives you the freedom to work on your terms.

So, are you craving more autonomy over your time and earning potential? Here are the reasons why freelance copywriting is one of the best new jobs for teachers.
Copywriting as a Second Career for Teachers
Picture this: it's a relaxing Sunday afternoon, and you're getting ready for a new work week. 

You're sitting in your backyard, and the sun starts to set as you take out your planner to plan for the week..

You no longer experience the *Sunday scaries* you felt as a teacher. A warm breeze picks up as you look over your to-do list.

You have a few articles to write on topics that fascinate you. You're meeting with two potential new clients whose missions you're passionate about. And you have your weekly coffee chat with another copywriter friend.

The best part is that all your fulfilling work tasks fit around your personal priorities. Finally, your calendar feels manageable yet rewarding.

This new reality is entirely possible for you. And you can achieve it sooner than you may think.

Here are five reasons why copywriting is one of the best new jobs for former teachers:


Make an Impact. You may have become a teacher because you wanted to make a positive effect on your students' lives.

Although you want to switch careers, your impact is still meaningful to you.

As a freelance copywriter, you can choose to work with brands that make a positive impact. Your copy helps those brands reach and help more people.


Use Your Existing Skills. Maybe you're wondering, "what other jobs are teachers qualified for?" While you don't need prior experience to become a copywriter, your writing and researching skills give you a leg up on this new venture.

These skills are the building blocks of effective copywriting. But copy is more conversational and uses a different structure than academic writing.

So, be prepared to break some of the writing rules you're used to when learning copywriting skills.


Ease Into It. If you're not ready to quit your teaching job yet, that's completely okay. Many of my students start copywriting as a side hustle before turning it into a full career.

Of course, if you're already feeling burnt, I wouldn't recommend side hustling for too long, and you don't have to.

It's possible to create a sustainable income with copywriting in 3 months or less. Hundreds of my students have proven this to be true.


Earn More Money. As a freelance copywriter, you set your own rates and create your own packages. Are you tired of waiting for a raise? Increase your pricing as your skills improve. Charge what your work is worth (and add 20% to account for imposter syndrome 😉)

Many of my copywriting students are earning a 6-figure income while working 20-30 hours a week – and some work even less.

And it's entirely possible to earn significantly more than this or earn a sustainable income while working fewer hours. It all depends on your goals!


Have More Flexibility. One of the biggest benefits of copywriting is that you have control over your time, schedule, and priorities.

You set your own workload and the time you spend working.

Want to spend time with your kids in the morning and get work done in the afternoon? Done. Want to wake up early and finish your work before noon? Also possible!


I commend you for all the hard work you've done as a teacher in the past few years. 👏

I've heard from so many teachers who feel burnt out after teaching through the pandemic. You went all-in on hybrid learning and went above and beyond for your students.

And maybe you're experiencing a bit of guilt as you consider leaving this career… that makes so much sense. But it is so important to take care of yourself.

It makes me proud to hear those same teachers talk about a renewed sense of control over their lives when they become copywriters.

You continue using your skills to help others while experiencing more peace in your own life.
Ready for the Best Second Career for Teachers?
If you're ready to go from teacher to thriving freelance copywriter, I'm here to help.

Many teachers have started copywriting using my signature course, Write Your Way to Freedom.

In one course, you have access to the A-Z steps of learning copywriting, building your client base, and leveling up your skills as you grow.

The resources include…
Over 60 comprehensive step-by-step lessons
Live support 3x a week, every single week
Access to our wonderful online community

And so much more. The course is built to work through your schedule, so you can do it whenever from wherever and on your own timeframe. 

Want to link up with other former teachers turned successful copywriters? Our community is the place to do so.

You could learn from Kristin, a former teacher earning $140k per year with copywriting. Kristin contributed an entire module within Write Your Way to Freedom that explains how she created her signature offer. Now, she has a 6-week waiting list of clients she adores!

Kristin got started with my free masterclass. To learn more, sign up for my free online copywriting masterclass: How to Build a Lucrative Freelance Copywriting Career. 

Freelancing copywriting truly is a purposeful second career for teachers like you.

When I started freelance copywriting, I had such a strong desire to have control over my time and income. Now it's my mission to help people like you achieve the same.


Resources: